Action bars are widely used promotional message type on the Internet today – second to popups. An action bar (sometimes also called top banners or notification bars) is a strip of message that typically comes at the top of your site and includes a click to action or optin form.
There is great history to such action bars – and psychology behind their success. Web browsers show "action bars" to "allow this plugin to run", and people are used to just clicking on them.
Action bars shot to fame mainly thanks to Hello Bar – "the original" action bar service, now owned by marketing genius Neil Patel.
While Hello Bar is a primarily hosted service, there are dozens of "Hello Bar Alternatives"!! And WordPress has its own share of free (and paid) plugins to show such action bars.
Today, I am pitting Attention Grabber (a.k.a. the Hello Bar alternative) against our own Icegram.
Overview
What is Attention Grabber?
Attention Grabber is a plugin for WordPress that allows you to add a notification bar in your website or blog. With it you can easily display custom texts, Twitter posts and even Feed RSS. It also has a good range of options to customize how the notifications look. The plugin is developed by Conversion Insights.
This is not apples to apples…
Technically, Attention Grabber and Icegram are not apple-to-apple comparison. Icegram includes notification bars like Attention Grabber for sure. But it also includes popup windows, toast notification messages and messengers.
So we'll focus on comparing Icegram's Action Bar message types with Attention Grabber plugin.
Creating your first top notification bar…
Attention Grabber has a 3 panel editing window. You need to set them up before you launch your first action bar.
These three panes are: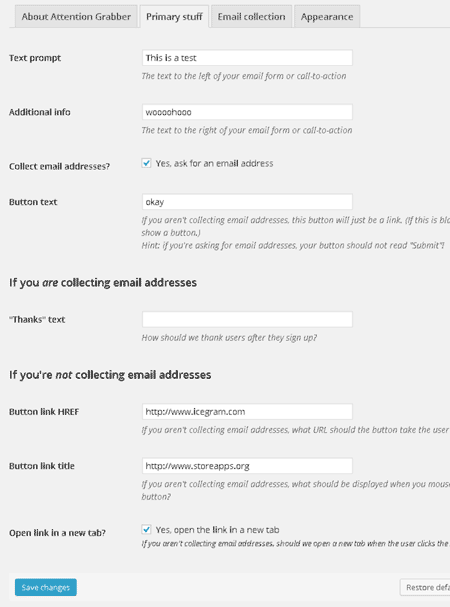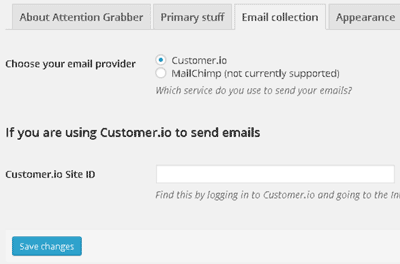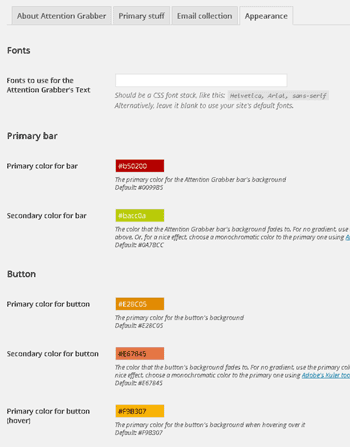 With Icegram, you can start with a default sample campaign or create your own. The single screen campaign / message setup window lets you add a new "Action Bar" to your campaign. You can enter your headline, body message, select a theme, setup call to action and then choose rules for when this campaign should be shown.
Styling Options
Both Attention Grabber and Icegram allow you to change background and text color of your message. However Attention Grabber is loaded with styling options.
Icegram is minimalistic. It offers four different looks (themes) for action bars. Most design complexities are hidden behind these themes. But if you want customizations, you can do so with custom CSS / JS in the message body.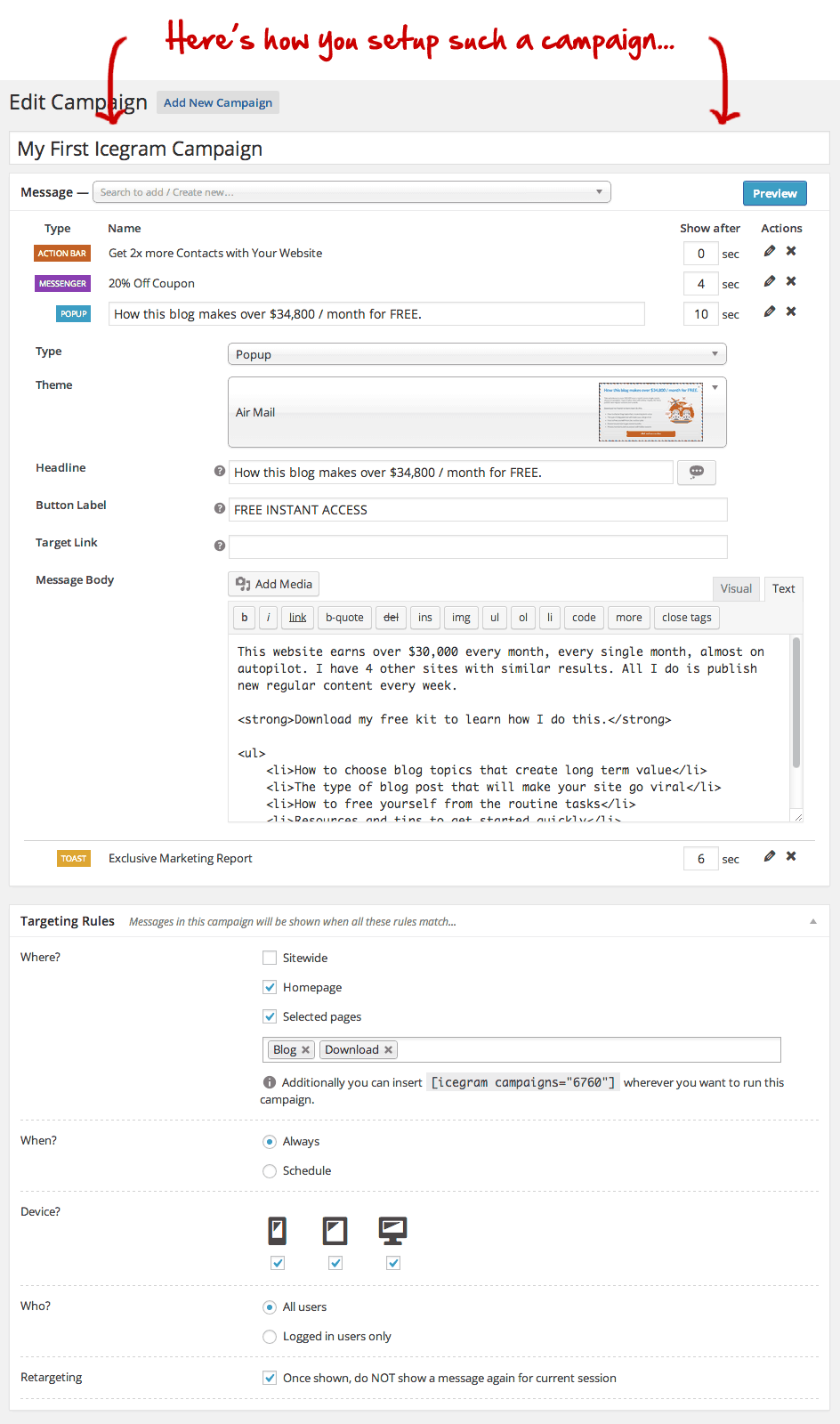 Designing your Message Body
A typical top notification bar does not have much to it. A simple line of text and a button (possibly with a subscription form) is what you typically see everywhere.
Since Icegram is designed to be an all-in-one solution, you can use the action bars, beyond typical hello bar like situations. You can add as much content as you want, add images and make the top bar more like a "top panel". You can even add a video if you like – since Icegram gives you the fully powered WordPress editor.
Mailing  Service Integration
Capturing leads and inviting people to subscribe to your list is one of the most command goals for action bars.
Attention Grabber currently only supports only one mailing service – customer.io. While customer.io is fantastic, you may want to integrate with a service of your choice.
Icegram works with all mailing list services. All you need to do is paste in the subscription form's html code into message body of the action bar. You can style it as you like and it will work just like a standard subscription form embeded on a webpage.
Cool utility in Icegram – Headline Generator
A unique and useful tool within Icegram is its Headline Generator. When you are creating a new message, a "Give Me a New Headline" button sets you up with a random high convering headline. Keep clicking the button until you get something that suits your needs and then take it from then on.
It makes creating the message copy a lot easier since the first hurdle of picking a good headline is over! It's a creativity igniter for sure!
Preview Option
You would like to see how your action bar looks before making it live. Icegram includes a preview option that gives you a visual confirmation of how your message will look – before making it live. This is great for quick checks and corrections.
Attention Grabber does not have a preview feature. So you need to make the action bar live on your site to test it.
Beyond Hello Bar – footer bars with Icegram
Attention Grabber allows showing the action bar as a strip at the page top. There is no other position possible.
Icegram lets you show the message either at the top or at the bottom of the page. So you get both header bars and footer bars with Icegram. This is great because sometimes you want to draw attention, but not be too loud!
Targeting Rules – where / when / whom to show…
Attention Grabber does not have any targeting rules. There is only one notification bar and that's what will show on your site.
Icegram allows creating and managing unlimited notification bars. You can create unlimited campaigns, and can have as many messages in each as you like.
You can define exactly where, when and who will see those messages with Icegram.
Where – Homepage, Site wide, Selected pages
When – Always or during a Scheduled period
Device – What devices – desktop, table or mobile – to show the messages on
Who – only show to logged in users of specific roles or to show to everyone
Retargeting – lets you hide a message after user saw it once…
These rules make Icegram extremely powerful. You get full control and can target messages to niche segments.
Analytics
Attention Grabber supports event tracking for Google Analytics. So button click and newsletter subscription events will be registered with Google Analytics and you can track performance there.
On the other hand, Icegram provides detailed analytics of how your campaign performs. It igves you the impressions, conversions percentage right next to the campaign in the Icegram dashboard.
Summary & Conclusion
Here's a comparative summary of Attention Grabber vs Icegram.
| | | |
| --- | --- | --- |
| Feature | Attention Grabber | Icegram |
| Ease of Use | Good | Very Good |
| Themes | None | 4 themes built-in |
| Styling Options | Many options | Limited |
| Editor | No Editor | WordPress Editor |
| Mailing Services | Customer.io | All |
| Headline Generator | No | Yes |
| Preview | No | Yes |
| Positioning | Top only | Top and Bottom |
| Targeting Rules | No | Yes, Extensive |
| Analytics | Basic event tracking | Tracks impressions & Conversions |
This was our take on Attention Grabber v/s Icegram… We would like to know your experience with these plugins. Do post a comment!