Imagine how great it would be if you have a physical store where a worker would be kept to greet individual customers every time they visit the store? Or someone who keeps in constant touch with the customers to remind them to visit the store again? Physical stores have an advantage in this situation to build more customer relationships as compared to online stores.
But over the years, brands have been working round-the-clock to build this feature virtually in order to connect with their customers from time to time and build long term relationships.
Hence, if you are a digital marketer and if you haven't heard of autoresponders or drip campaigner then here's a quick look at how it can benefit your organization.
First, let's understand what autoresponders are
Autoresponders or drip campaigners or email autoresponders is a tool that helps marketers set pre-scheduled automated series of emails to a list of recipients.
These are pre-scheduled automated emails that a customer receives throughout his customer journey and they are triggered by a specific event like buying a product, joining your list, abandoning the cart, browsing behavior, etc. An autoresponder tool cuts your work by sending pre-created emails at different points in a customer's journey.
Hence, it is also called drip campaigns as you 'drip feed' a number of targeted newsletters to a recipient over a period of time, usually for a specific purpose, until the series has ended.
What are the steps to create effective autoresponder emails?
Set goals: First and foremost it's important to crystalize the motive behind sending autoresponders. Ask yourself questions like 'why should I send a sales emailer?', 'Will a welcome emailer be of any good to recurring customers?'. Once your goals are set, then you can proceed to plan.
Plan series: The best way to plan an autoresponder series or drip series campaign is to look at a customer journey. You may want to have a different series of targeted emails for onboarded customers and a different series for customer acquisition. Since autoresponder emails are triggered basis a user's action. You can create a plan of action to target a specific customer with a specific message e.g, sending offers to those customers who have abandoned their shopping carts.
Build lists: Building lists is the next step towards creating effective autoresponder drip campaigns. This is the most important step as it will define your target audiences. Many email plugins don't cater to features that can help you build lists, hence, keeping this in mind we have created a list-building and cleaning feature in Icegram Express Pro which automatically cleans redundant and fake accounts from your database.
Write eye-catching content Once you have things in place, begin creating eye-catching content. Some tips that you can follow for the same are:

Research and choose topics carefully
Keep up with social media trends
Take inspiration from other brands
Use email optimization tools to create trendy content

Schedule with accuracy: Schedule autoresponder email according to the convenience of your target. For example, sending a welcome email when a customer has been onboarded or a 'we miss you' email when the customer stops visiting the website can go a long way to build relationships.
Monitor from time to time: No drip campaign can be effective if they are not monitored from time to time. Monitor. Learn. Gin insights and use these insights to plan further campaigns. Email marketing autoresponders can really help improve your marketing efforts.
Few successful drip campaigns
Now that you know the steps to make your autoresponder efforts count. Let's look at a few examples of successful drip campaigns below:
Welcome Emails
Welcome emails are the best way to connect to customers, they create a feeling of importance in the minds of new customers. Here's the sample of Welcome Email
Confirmation Email
These emails are important to not just confirm an activity but also help customers ensure that things are in place. Refer to this Confirmation Email sample.
Support Emails
No business is complete without good customer support. It is advisable to send customer support emails from time to time to customers for help. Here's an example of Support Email
Sales Emails
Sales emails are the most used kind of autoresponder emails. You can use creative ways to send offers to customers at the right time and place by setting up triggers. Here's how your sales emails may look
Newsletter Emails
Newsletters and behind-the-scenes emails are a great way to create a brand-connect and keep your customers updated about your company. Example of Newsletter Email
Review Emails
Review emails are an effective way to understand your product performance. They bring a fresh perspective to your marketing efforts. You can always ask a customer to review your product or give their thoughts about your company's performance because there is always a scope to do better.
Here's how you can ask users for review
Relationship Building Emails
These are simple emails to help connect with customers. These types of emails can be sent at any time in a customers' journey. From asking how your customers are doing to reminding them about your company, they help maintain brand presence in the minds of the customers.
This is how you can build a relationship with your customers using email
Conclusion
Email autoresponders are an amazing tool. Not only do they save you time but they also keep in touch with your customers on your behalf.
Not many tools today provide you complete email service but we have created Icegram Express MAX with this marketing need in mind. It's a complete email solution that understands your business and marketing needs and provides you with a vast array of services.
Some notable benefits of Icegram Express are:
It's a great time saver
Helps build customer relationships for the long term
You need zero monitoring efforts as the smart tool handles everything on your behalf
You just need to configure the set-up once, you're now good to go!
It's a great tool to scout, onboard and retain customers for your business
Here's how you can set up autoresponders using Icegram Express MAX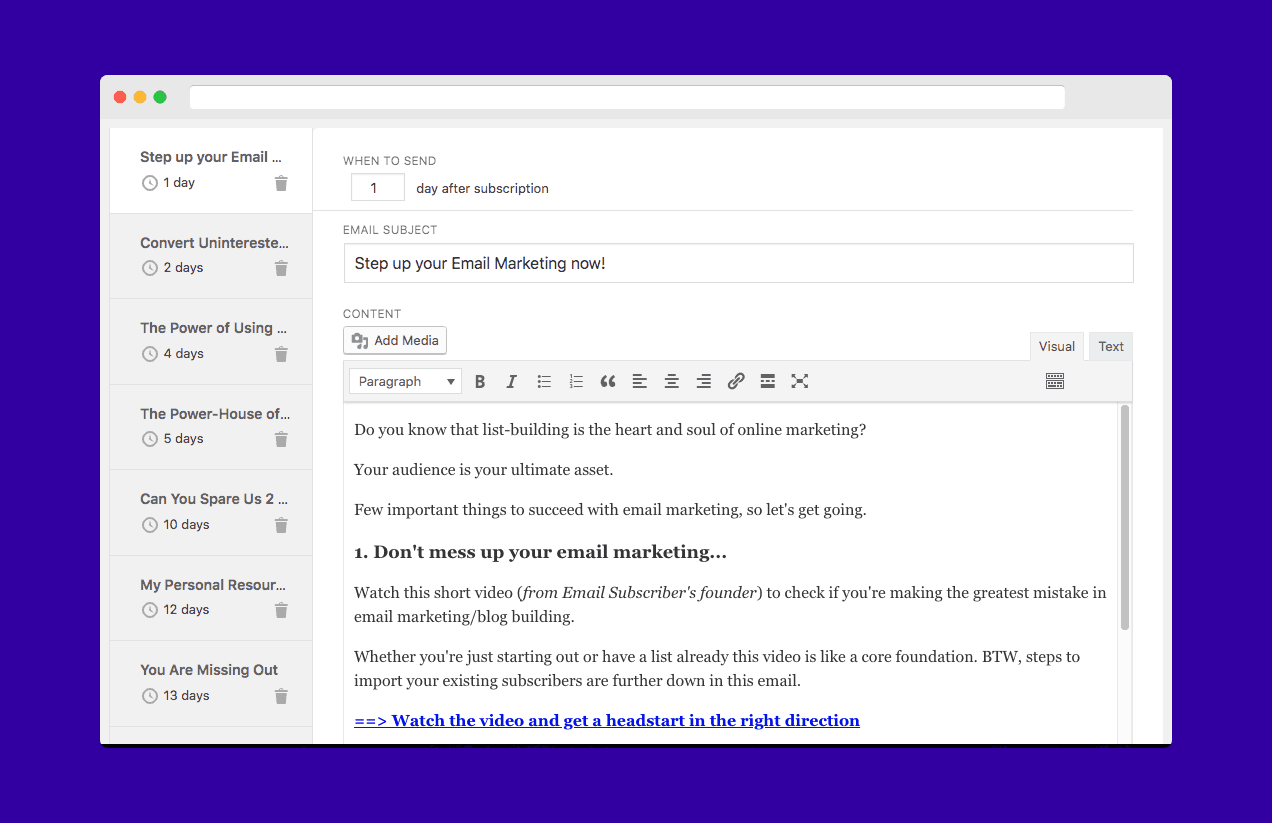 If you're looking for an email marketing and autoresponder tool then we highly recommend that you give ES Pro a try.