General B2C email marketing tactics do not work the same for B2B email marketing.
Because the approach is different, the audience is different, the budget is more, and the sales cycle is also long. Though the objective is the same – get more revenue.
In this post, you'll learn how to craft the perfect B2B emails that get high open rates, high conversion rates, and, of course, more revenue for your business.
What is B2B email marketing?
B2B email marketing is a form of digital marketing that involves creating and sending email campaigns to businesses and other organizations.
The campaigns can be newsletters, product updates, event invitations, and other types of promotional content, with the aim of generating leads, creating brand awareness, building long-term relationships, and ultimately, driving sales.
B2B email marketing involves segmentation, personalization, and automation strategies to maximize the effectiveness of email campaigns.
What's the importance of B2B email marketing?
Here are some of the key reasons why B2B email marketing is important for businesses:
B2B email marketing allows targeting specific businesses and decision-makers with customized messages that speak directly to their needs and interests.
By providing valuable content and personalized messages, you can establish yourself as a trusted partner and thought leader in their industry.
By providing relevant information and offers at each stage of the buyer's journey, businesses can help prospects move closer to making a purchase decision in the sales funnel.
With the use of persuasive messaging and calls to action, you can encourage other businesses to take action and make a purchase.
Detailed analytics and insights into the campaigns' performance help identify what's working and what's not, and make data-driven decisions to optimize the email marketing efforts.
Best strategies to follow for B2B email marketing
Here are some best practices for strategies for B2B email marketing.
Define your goals
Are you looking to generate leads, nurture existing prospects, or promote a specific product or service? Your goals will determine the content and messaging of your email campaigns.
Define your target audience
Without a clear understanding of your target audience, your email marketing campaigns may fall flat and fail to generate the desired results.
Before you can create effective email campaigns, you need to define your target audience. This involves identifying the industries, job titles, and other characteristics of the businesses and decision-makers that you want to reach.
These individuals may include executives, managers, department heads, or procurement officers who have the authority to make purchasing decisions on behalf of their organization.
Create buyer personas
Buyer personas are fictional representations of your ideal customers that are based on research and data. They help you to understand the needs, pain points, and motivations of your target audience.
Consider you want to sell an upsell plugin for WooCommerce to marketing department heads.
You need to identify the pain points for marketing executives and what they need. For example, .
They would be looking out for a solution that solves their problem, without costing them heavy on the pocket.
A set goal, a defined target audience and created personas make it easy to craft engaging email content.
Personalize your email
What you write will decide whether the receiver will communicate with you further. The more personalized your email is, the more it converts.
Address the recipient – By using the recipient's name, job title, or other personalized information, you can make your email messages more relevant and engaging.
Segmentation – If you have people in your list with similar characteristics such as industry or job title, segment them and create customized messages for each segment.
Craft compelling subject lines – Use action-oriented language and create a sense of urgency or curiosity to encourage recipients to open your email.
Use clear and concise language – B2B email marketing recipients are often busy and don't have time for lengthy emails. Use clear and concise language to communicate your message effectively and quickly. Use bullet points, images, and other visual elements to break up text and make your message more easily digestible.
Include a clear call-to-action (CTA) – Your email campaign should include a clear call-to-action that encourages recipients to take the desired action, such as clicking a link or filling out a form.
Use social proof – Incorporate social proof into your B2B emails to build trust and credibility. This can include customer reviews, testimonials, or awards and recognition.
Videos – Video is an effective way to engage B2B email recipients and communicate complex ideas in a more engaging way.
Optimize for mobile – B2B email recipients are increasingly reading emails on their mobile devices. Make sure your emails are optimized for mobile devices to ensure a seamless user experience.
Automate your emails
Use automation to streamline your efforts. Email automation can help streamline your B2B email marketing efforts and ensure that your emails are sent at the right time, to the right audience, and with the right message.
If you are in the WordPress space, try the Icegram Express plugin, trusted by 100K+ users.
You can set up autoresponder series, and schedule them for the B2B segment.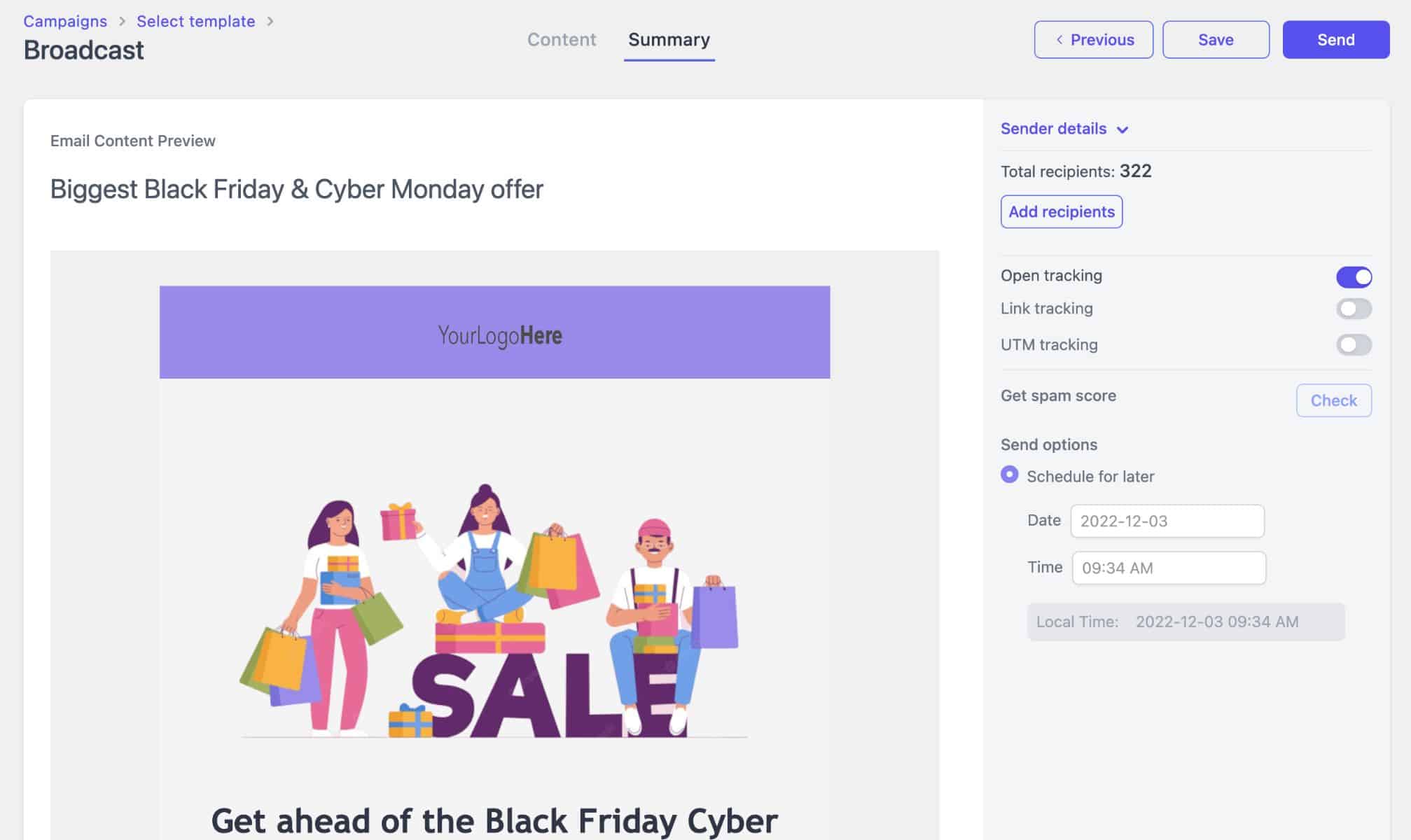 To help you draft perfect emails and deliver messages to the recipient's inbox, the plugin provides premium features like readymade campaigns, captcha, bounce handling, spam score check, and list cleanup. All these are at an unbelievable price.
Make emails compliant
Beyond personalization is security.
Keep your emails compliant with regulations. Make sure your B2B email marketing campaigns are compliant with regulations such as GDPR and CAN-SPAM. This means including an unsubscribe link in your emails and obtaining consent from your recipients.
Monitor your competition
Analyze their email campaigns to see what types of messaging and offers they are using, and use this information to inform your own campaigns. To do this, you can simply subscribe to competitors' email lists and keep a watch on their emails.
Use data to personalize your messages based on the recipient's past behavior, interests, or other characteristics.
That's it for the strategies.
B2B email marketing examples
Adding emails will make this blog a storybook. Until we curate some top and selected emails, here are 50 powerful B2B email marketing examples that have worked for top brands.
These examples include emails from Uber, Shopify, Buffer, Slack, Grammarly, Zoom, Adobe, etc.
Final words
In conclusion, B2B email marketing is a highly effective way to reach and engage with your target audience in a cost-effective manner.
Overall, B2B email marketing should be an important part of any company's marketing strategy, as it can help generate leads, build relationships, and ultimately drive growth.
By following the best strategies such as understanding your audience, creating effective email campaigns, and using automation to streamline your efforts, you can achieve your marketing goals and drive conversions.