Black Friday season is around the corner and you know what that means, 'Getting your eCommerce store ready for Black Friday' to boost revenue this holiday season.
Black Friday is one of the biggest sale events of the year and you are lucky if you own a WordPress website/store.
WordPress has tons of resources like Black Friday website banners, Black Friday email templates, etc. to help you gear up for the ultimate sale season.
In this article, you'll learn about the best eCommerce Black Friday resources that'll help you prepare your store for Black Friday.
eCommerce Black Friday Website Resources
Black Friday 2022 arrives on November 25, which means you've to get your WordPress website ready weeks before D-day.
It is not a great practice to start your eCommerce Black Friday preparations a week before Black Friday. To help you out, we have listed some of the most needed resources for your website so you can get started right away.
Black Friday WordPress plugins
First things first, to make the Black Friday season sale successful, you need to enhance your store with the best WordPress plugins. Here are some of our best and most apt picks for your website.
Icegram Engage
Grab your visitor's attention and display your deals via attractive popups. Icegram Engage is one of the best WordPress popup builders, acquire new leads and nurture them by using Icegram Engage and boost your sales on Black Friday.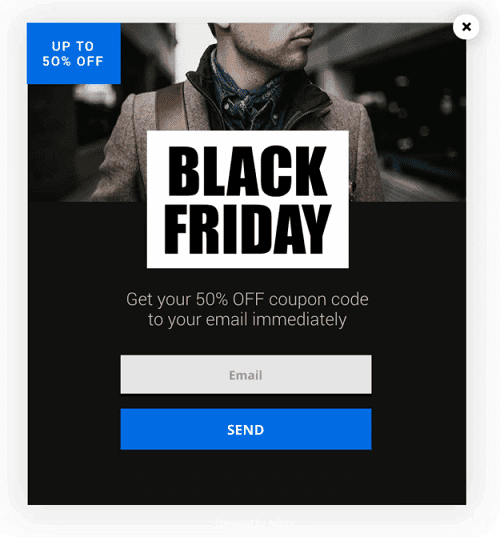 Icegram Express
You need to send out emails to inform your customers about the Black Friday sale. Use the Icegram Express plugin to create an automated email campaign and send a series of Black Friday emails using the best Black Friday email templates.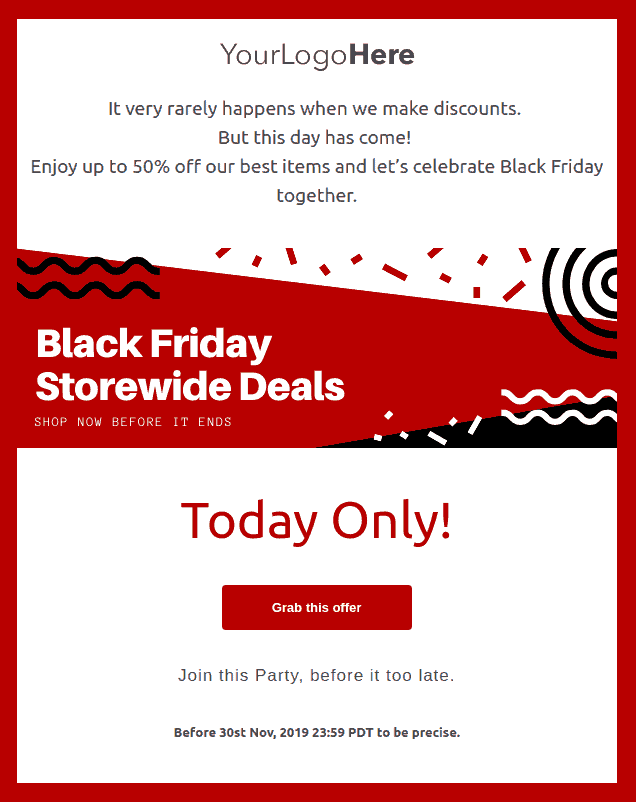 WooCommerce Smart Coupons
Coupons are an integral part of Black Friday. Create the best condition-based coupons using Woo Smart coupons. You can create BOGO coupons, storewide discount coupons, and more using Woo Smart coupon plugin and send them via emails and popups.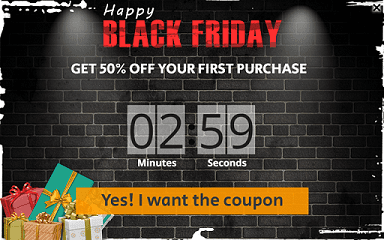 Putler
Making improvements from mistakes is the key to growth, and to make improvements you need data and performance analytics reports. This is where Putler saves the day, getting instant performance data from visitors to sales in real-time using Putler.
Compare your data with the previous campaign cycles, rectify the issues and make necessary improvements to your campaigns.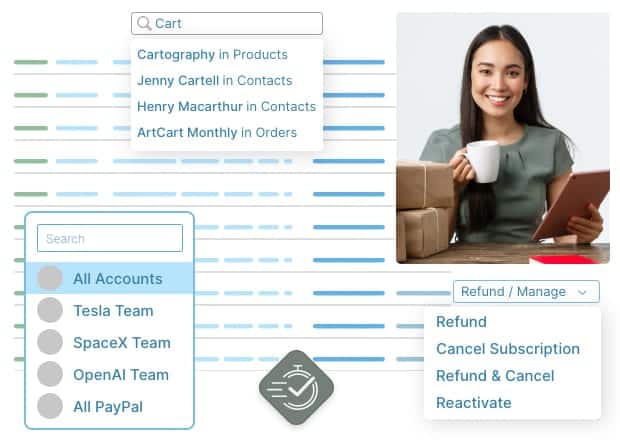 Elementor
Persuade your customers by creating an attractive Black Friday landing page using the best WordPress website builder plugin, Elementor. Not just websites, you can design your Black Friday website banners, popups and other visual Black Friday resources using Elementor.
Affiliate for eCommerce
Customers are the driving force behind a successful Black Friday sale. And now is the right time to increase your customer base by running an affiliate program in your store.
Customers acquired through an affiliate partner program tend to purchase more than other costumes, take advantage of the opportunity and use plugins like Affiliate for WooCommerce to boost your word of mouth and sales.
Website banners are the first thing a customer will see when visiting your site. Use Icegram in your WordPress store and display intuitive Black Friday website banners to let customers know of the discount you are offering and redirect them to the sale page.
eCommerce Black Friday coupons
Black Friday is meaningless without coupons!
You can display static coupons in your website popup or send dynamic coupons to customers via email.
Most businesses send coupons via email a week before Black Friday to get their customers geared up for the sale. Every store will have customers in various stages of their journey, it is not the best practice to send coupons of the same value to all customers.
For example – If a customer only purchases from a particular category, then you can send a category-based discount coupon. Or if a customer usually purchases in bulk, then you can send a bulk discount coupon to that particular customer. 
To do that, you need a robust WordPress coupon plugin that lets you create discount coupons based on various conditions. That is why we recommended WooCommerce Smart Coupons to create discount coupons for Black Friday.
Woo Smart Coupons have ready-made coupon designs which you customize to suit your style. And you can use email marketing tools like Email Subscribers to create email newsletters and send coupons to customers during Black Friday sales.
Black Friday email subject lines increase open rates, never miss out on it. And you can choose newsletter templates to save time. Both can be done easily using Email subscribers.
Let us break down the process in simple steps,
Step 1 – Install the Icegram Express plugin in your WordPress.
Step 2 – Activate it and head to Campaigns → Send Broadcast

Step 3 – From the list of Black Friday email templates, select one, it will take you to the email editor page.

Write a persuasive Black Friday subject line in the Subject section and you can customize your email copy. Add visual elements to make it more engaging. Once done, click Next.
Step 4 – In the final preview page, select the recipients, check the spam score and schedule the timing of the broadcast.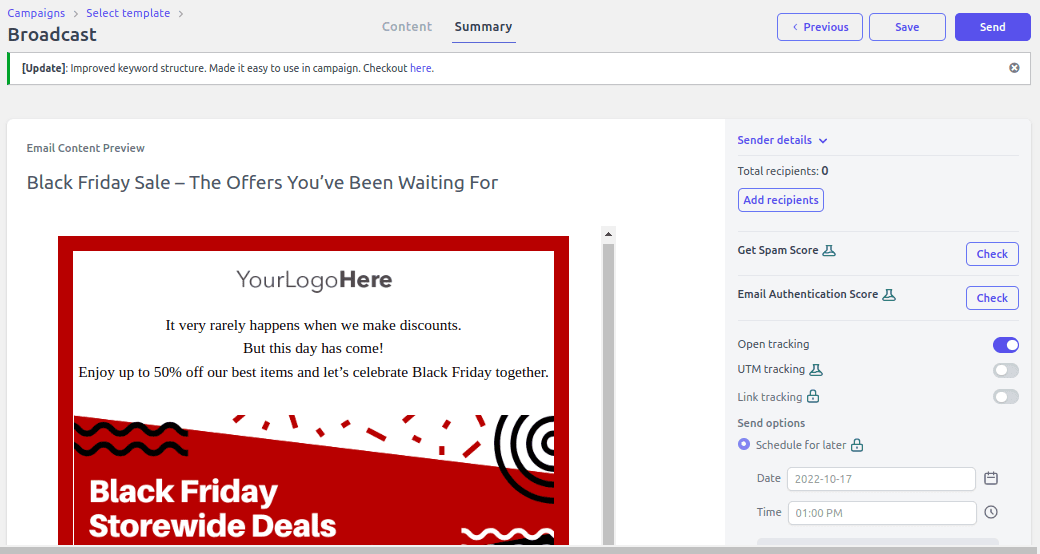 Step 5 – Once you click Send, the email will be broadcasted to all the recipients at the same time.
You see, all it took is five simple steps from installation to sending the broadcast. Email subscribers have multiple Black Friday email templates to help you create your campaigns quickly.
Resources to get free Black Friday stock images
What sets you apart from other websites is how effectively you use your website space to feature attractive Black Friday images. Customers will not read an all-text Black Friday message – using an image to announce Black Friday will persuade them and increase conversions,
So, here are some of the best resources to get your Black Friday stock images,
Istockphotos
Pexels
Shutterstock
Unsplash
Pixabay
Conclusion
Black Friday is one of the much-awaited sales weekends of the year; you need to gear up your store before the traffic hits.
The most important resources you'll be using for Black Friday are popups, coupons, emails, banners, and images. And this article showed you how to find them and make your eCommerce Black Friday day successful.
Make sure you use the right Black Friday email subject lines to increase the email open rate or else all your efforts will go in vain.
These plugins come with Black Friday email templates and Black Friday website banners to make it easy for you. Don't wait until the last moment to prepare for eCommerce Black Friday.
Now is the right time for you to start, so when the time comes you can easily handle the demands. Plugins listed in this article are currently used by multiple stores, even your competitors, so stop waiting and start preparing.