Emails enable businesses to engage with customers in a more direct way than social media. Aside from that, emails have the highest ROI – a report by Litmus shows that for every $1 marketer spends on emails, you can get $36 in return.
And eCommerce emails have been proven to have a 45% return on investment per email, which is the highest in any industry. This is why marketers are slowly leaning towards WordPress email marketing.
After the rise of Social media, marketers abandoned email marketing for a while. But thanks to its flexibility and ease of use, email marketing is getting popular again.
What difference does email marketing with WordPress bring to businesses?
Getting started with email marketing is easy and cost-effective.
Emails are more direct and is more personal.
Offers unlimited scaling possibilities to other marketing channels.
Customer engagement is critical for long-term success and WordPress mailing is a cost-effective way to boost engagement.
But in this competitive world, your emails need to be quick to achieve that engagement. Or you might lose your customers to your competitors.
So, how will you reach your customers at the right time before your competitors do?
Simple, by automating your email campaign using a WordPress email marketing automation plugin like Icegram Express plugin.
But before we get to automation, you need to know what is WordPress email marketing and why your business needs it. So without further ado, dive into this article to know more about email marketing with WordPress and the high sales-yielding secrets behind it in this article.
What is WordPress email marketing?
WordPress email marketing is the activity of creating an email campaign, sending them to customers and tracking the KPIs using a WordPress plugin.
Users will be interacting with your blog/store in various ways throughout their journey. You cannot manually send emails to customers based on their actions, it will be cumbersome and time-consuming.
But with a WordPress email marketing automation plugin, you can easily reach the right customers at the right time with automated emails. And the best thing is it only requires minimal manual effort.
What makes WordPress email marketing interesting is that there is a multitude of tools like the Icegram Express plugin to help automate your email campaigns.
Unlike other email marketing platforms, Icegram Express plugin is a WordPress email marketing automation plugin, which makes it more reliable and easy to use.
Email Marketing WordPress Guide 101
Before we get into email marketing with WordPress, there are a few things you need to know that make it special.
Why WordPress email marketing is the best choice?
Yes, there are hundreds of email marketing platforms that can help you run email marketing campaigns on your WordPress site.
But certain benefits make WordPress email marketing plugins the best choice.
Easy
No complex navigation or API connectors are needed. You just search, install and activate the plugin in just a few clicks. And launch the WordPress email marketing campaign within minutes.
Cost-effective
We told you email marketing is the most cost-effective one of all the other marketing channels. But this is only possible if you choose a WordPress email marketing plugin.
An external email automation platform will empty your wallet with monthly, emails, contacts and user-based subscription plans. All those platforms come with various limits, once you exceed them you need to pay a lot.
WordPress email marketing plugins on the other hand are extremely cost-effective with transparent pricing plans. WordPress plugins don't have a limit, you can store as many contacts and send unlimited emails as you want with no additional costs.
Own your data
Your WordPress email list plays a vital role in your email marketing campaign. Imagine growing your email list from scratch and losing all of it in a flash just because you didn't renew your subscription.
Yes, this is the reality of using an email marketing automation platform. They have a plethora of mandatory rules and regulations that you must adhere to, violation of those terms might get your account blacklisted and all your valuable data will be thrown into the trash.
Also, these platforms don't take it easy with overused subscriptions. Once you've reached the subscription limit, you're given a limited warning and time to re-subscribe to the service.
Though you might consider this to be the right practice – what makes this wrong is that failing to renew your subscription might lead to the loss of all your valuable data with no backup options.
So, you need to take your steps carefully with external email marketing platforms.
In the case of WordPress email marketing plugins, you own your data – as it is self-hosted, all your data collected will be stored in the cloud whether you re-subscribe or not.
Seamless integrations
Let's say you own an eCommerce store and you're using multiple tools for various activities like lead generation, security, backup, etc. Now you have to integrate these apps with your email marketing platform so that you can automate certain tasks like sending email notifications, etc.
The major issue here is that integrating your apps with email marketing platforms can be a daunting task. You need technical assistance and complex navigation to successfully connect your apps with the platform.
But you don't need to go through all that trouble with a WordPress email marketing plugin as they come with native integration capabilities.
How to set up WordPress email marketing?
Setting up email marketing in WordPress is simple, all it takes is a few easy steps.
1. Navigate to your WordPress dashboard, Plugins → Add New. And search for Icegram Express.

2. Click 'Install Now' to install the plugin. This will be followed by the 'Activate' button. Click it to activate the plugin.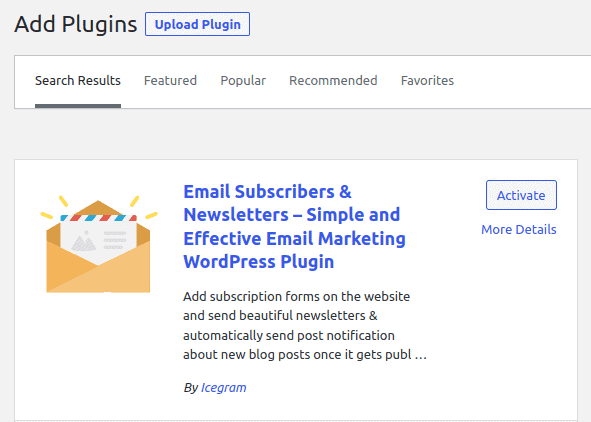 The Free versions of Icegram Express are installed in your WordPress store. This is how easy it is.
Similarly, you can also install the premium versions of the plugin in a simple manner.
To install the premium version, click here.
Newsletters are essential monthly engagements that businesses send to keep their customers engaged with the products.
They can also be used to educate customers, new announcements, feature updates or launches, offer updates and more.
But, you should not fall into the trap that most business newsletters are the victim of, the spam trap. Once your emails are considered spam, you need to spend a whole lot of resources and energy to bring them back.
Luckily, you can easily write spam-free email content if you follow these steps,
Keep the subject line precise and to the point. Do not overpromote or oversell in your subject lines. Good subject lines increase open rates.
Make it easy to unsubscribe.
Send relevant content
A conclusive opt-in WordPress email list is necessary. Only send emails to customers who opted for the service.
Use web-friendly typefaces and content.
Now, you know how to write a spam-free email and let's look at how to create a newsletter campaign for free.
1. Navigate to Icegram Express → Campaign from your WordPress dashboard.

2. You'll see a list of newsletter templates on the following page. Choose the one you want to send or you can create it from scratch.
For this instance, we are choosing the Welcome email template,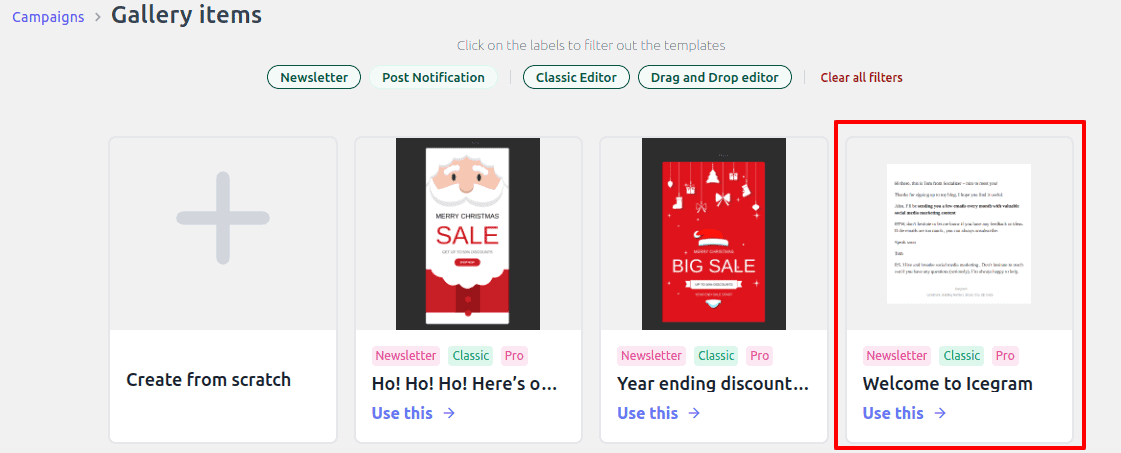 3. In the email template page, you can edit your Subject line and the body of the email.
Follow the steps we mentioned above and write a persuasive email,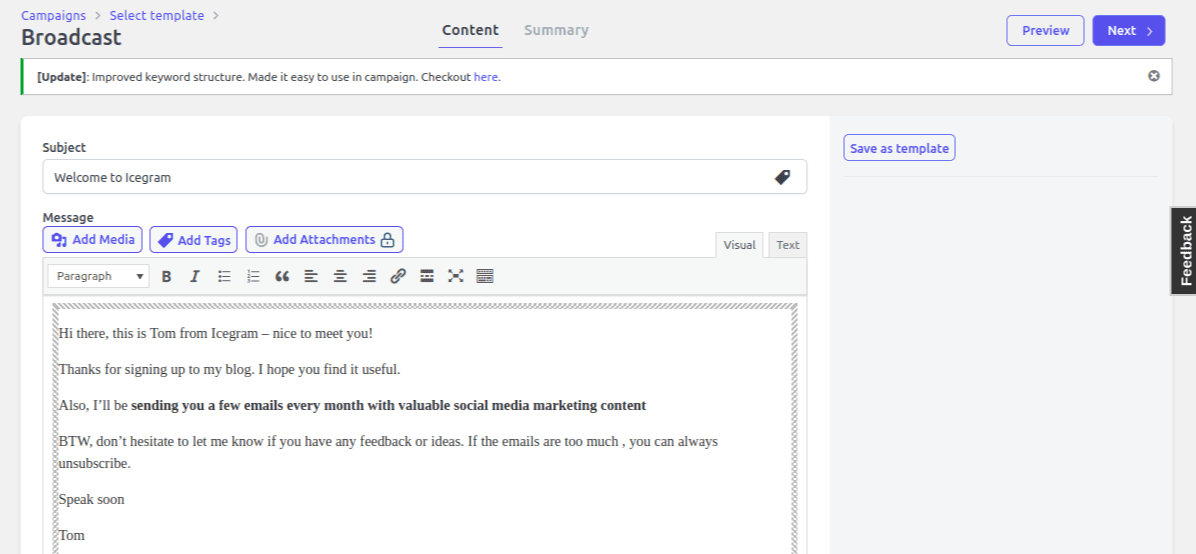 You use either the visual editor or HTML editor to edit the email. Also, you can add media and other attachments to your emails to make them more compelling.
Keywords are available to add more flavor to your email like personalization. It helps increase your email conversion rates.
Once done, click 'Next'.
4. You'll see the email preview on the following page. Add recipient details, and also check your Spam and Authentication score before the email is sent.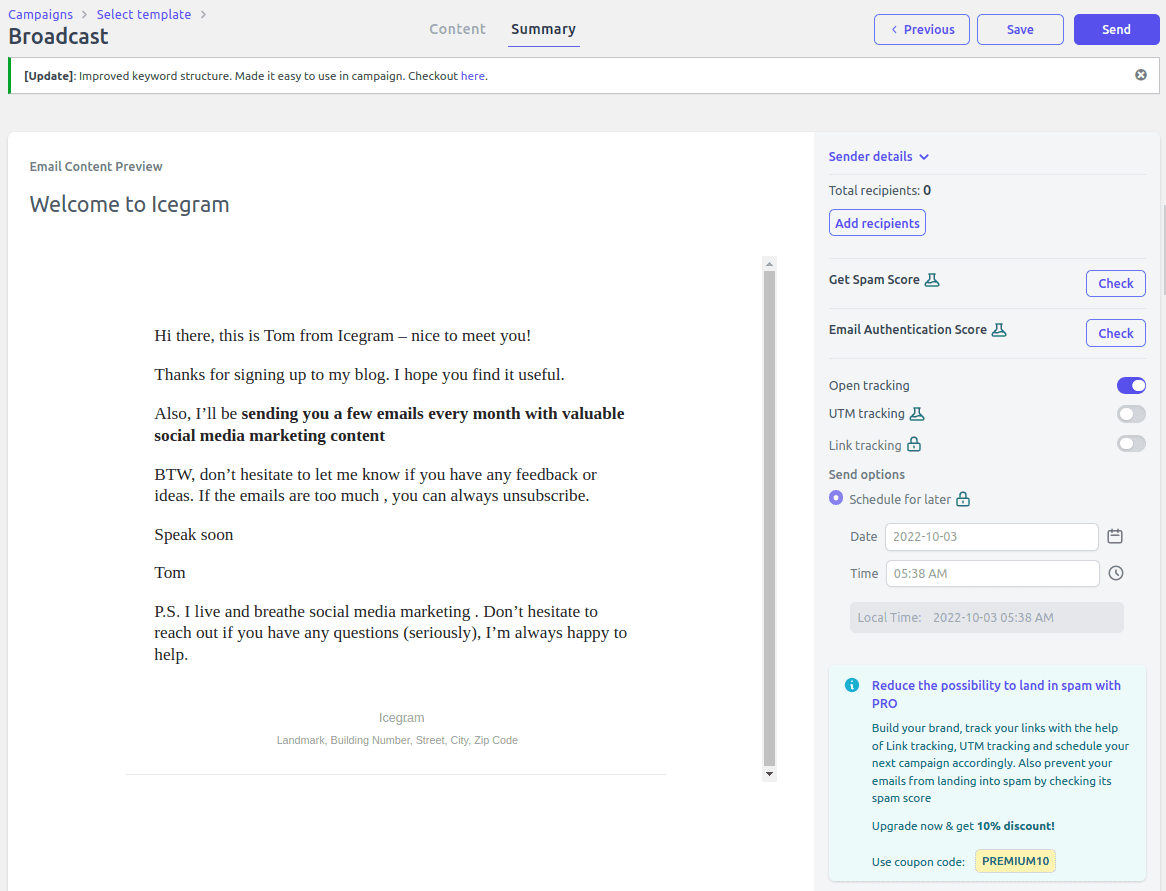 Enable tracking mechanisms and schedule your emails. Once done, click 'Send'.
Your welcome email newsletter campaign will be live and broadcast to the customers at the right time.
Automating email sequences & workflows
Sending emails manually to all the customers is a tedious task. With the Icegram Express plugin, you can easily automate your emails and minimize your workload.
Here's how you do it,
1. Navigate to Icegram Express → Workflows → Add new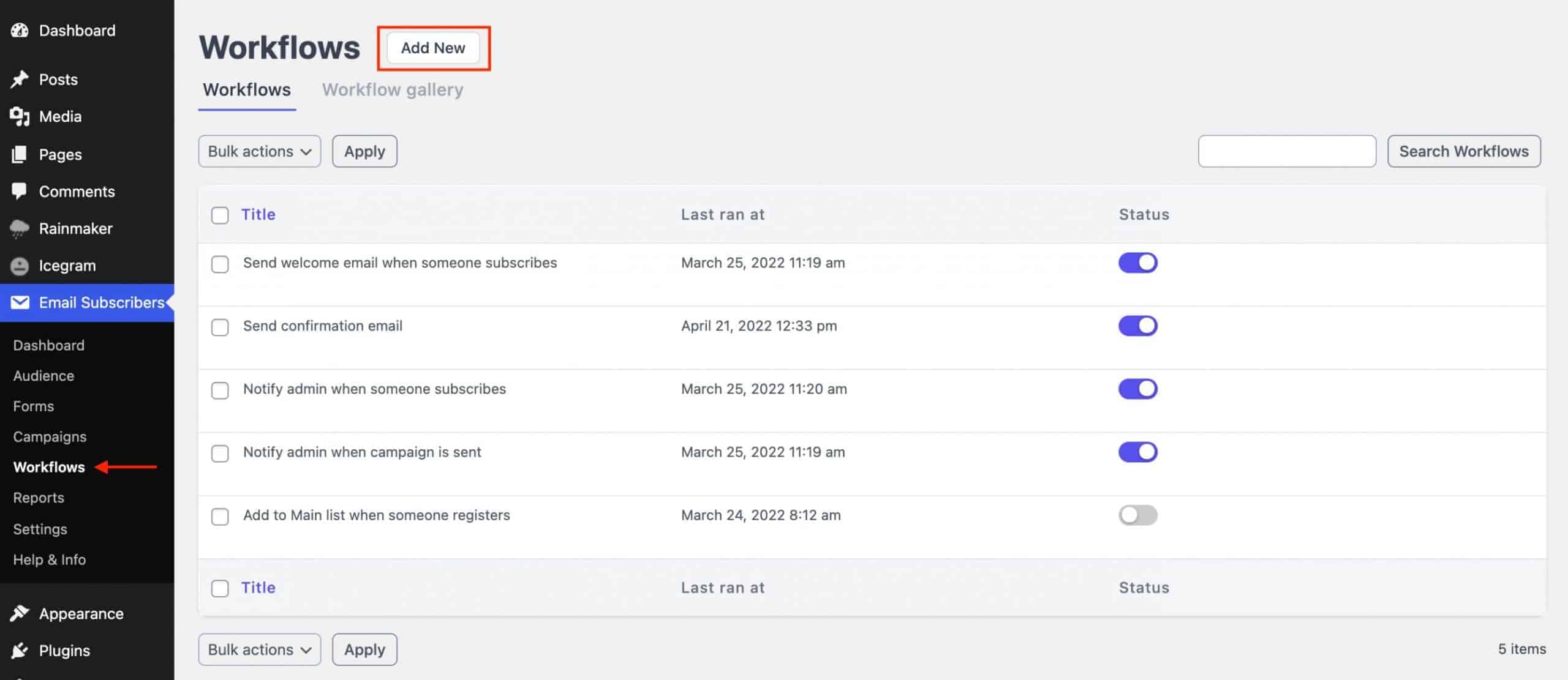 2. Name your Workflow and choose the trigger.
There are multiple triggers for you to choose from. The trigger will initiate your email campaign.
3. Add action will tell the plugin that it should add the email address to the subscriber's list.

This will add the email address to the subscriber list you choose.
4. Save the workflow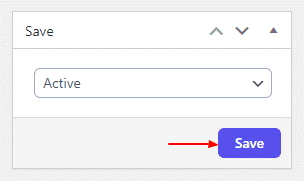 No manual effort is needed after the workflow is configured. Once the user subscribes, he will be automatically added to the subscriber list.
Likewise, there are multiple WordPress email marketing automation triggers for you to choose from.
Send new blog post notification emails
Blogs are still the best way to increase organic traffic. Once the blog is published, let your customers know by sending notification emails.
The process is very simple.
Go to Icegram Express → Campaigns – Create post notification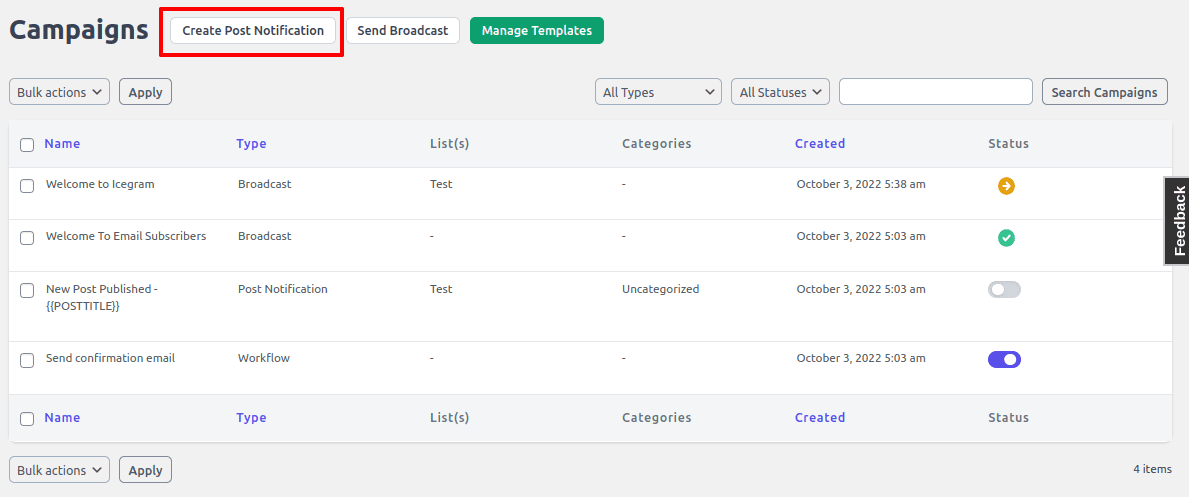 2. Choose the template from the list. And head to the Email template page to edit the email subject and body of the email.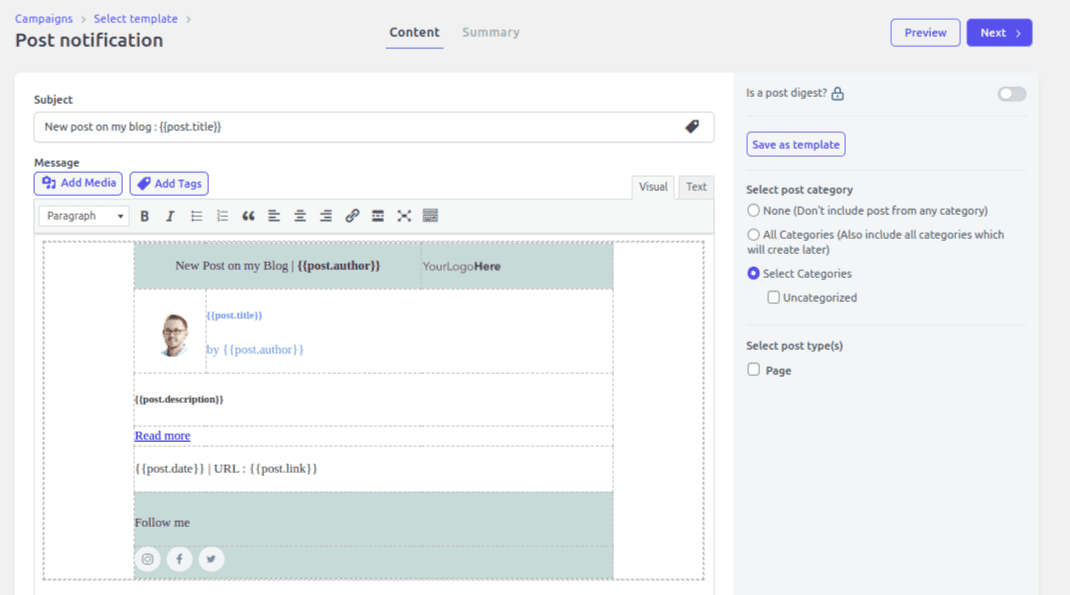 Once you've customized the email, select the blog category and the page. Once done, click 'Next.'
3. Preview your email in the next step. Add recipients, check spam score, enable tracking and click 'Activate' to set it live.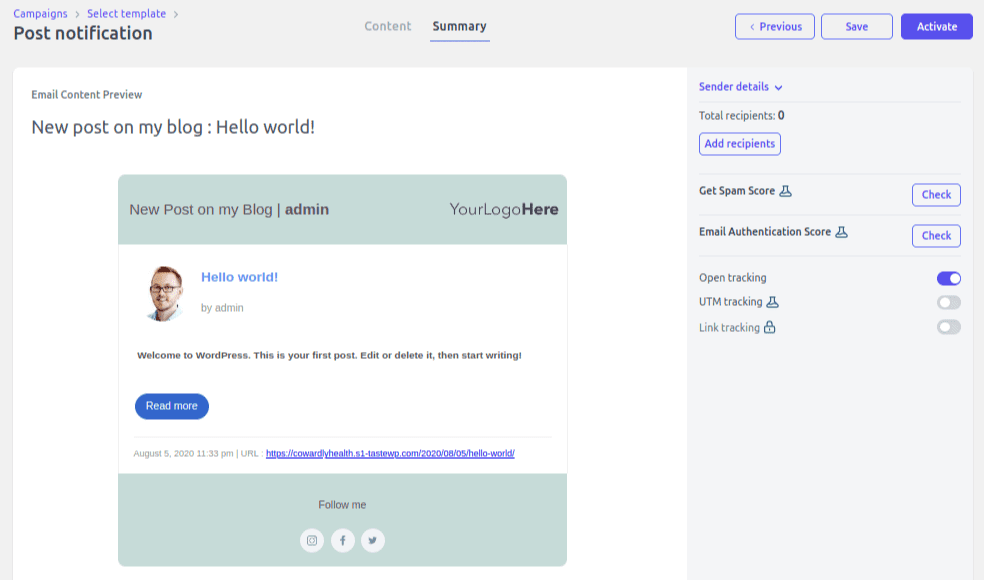 Once the campaign is live, a new blog notification will be sent automatically when you publish the post in the respective category.
Use cases to grow your business online
Let's talk about one of the popular WordPress email marketing plugins – Icegram Express and how you can use it to grow your business.
Automated email campaigns
Customers visiting your site will be interacting in various ways. To engage with them you need to track them throughout their journey and trigger an email when they perform a certain task.
Doing this manually is a tedious task, this is where Icegram's automated email campaigns can help you out.
Whether you want to promote a new offer, notify a new blog post, send email reminders, welcome customers, share a success story, ask for feedback, etc. Icegram has a campaign pre-built for you.

You can create offer announcement emails like the above example using the Icegram Express plugin and send them to your mailing list. All you need to do is just configure the campaigns (hardly takes a few minutes) and launch them. Emails will be triggered automatically based on your customer's action.
WordPress mailing possibilities are limitless with Icegram.
Upsell
The ultimate goal of a business is to increase sales and what better way is there than Upselling products on the checkout page?
Using Icegram you can Upsell a better or complimentary product on the checkout page and encourage customers to add more value to their cart.
Upselling will increase the average order value of a customer, resulting in better sales.
Audience list & Broadcast
Your WordPress email marketing will standstill if you don't have a conclusive WordPress email list.
Luckily, Icegram has got you covered in that section too. Use newsletter subscription optins or forms to collect customer details, especially their emails.
Organize those emails based on customer details and create individual audiences.
Why?
In the case of a Black Friday event, you might have to send the same email to multiple customers at once. Sending them one by one is not practical.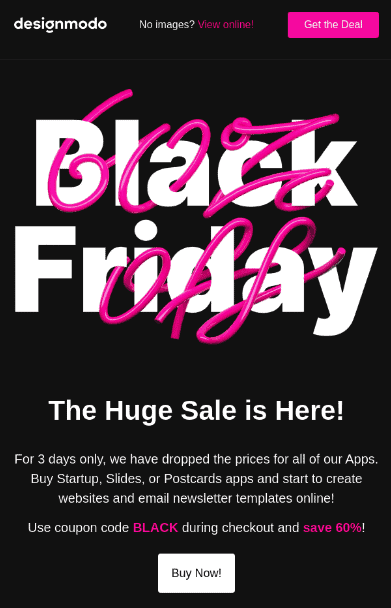 Build an email like this using the plugin and you can use the Broadcast feature of Icegram to send the email to multiple customers at once.
3 Best Email marketing WordPress plugins
Icegram Express

Icegram Express is a popular WordPress email marketing plugin that can help you create automated email campaigns and broadcast them to your audience easily.
It has all the essential features required to run an end-to-end email marketing campaign for your WordPress site. From subscription, optins to collect mailing addresses to sending email newsletters, automatic updates, abandoned cart recovery emails, real-time reports, etc. It has everything you need to increase customer engagement.
If you're tired of sending emails manually or sending them one by one to customers. Then Icegram is the affordable solution and the best email service for WordPress that you can get your hands on.
You can automate WordPress email marketing and broadcast them so your emails will be delivered to your entire WordPress email list at the same time. Save your time and minimize your workload with Icegram Express plugin.
You can also send free WordPress emails to your address as part of your A/B test campaign to see how your campaign works.
Features
Pre-built workflows
Native integrations
Subscription Optins
Automated email campaigns
GDPR Compliance
HTML editor
Real-time track and analytics
Automatic spam score checking
Broadcast
Lead generation forms
Pricing
Free version available
Starter – $79/year
Pro – $129/year
MC4WP

MailChimp for WordPress is one of the best WordPress email marketing plugins for more than 2+ million active installations. It is ideal for any type of business that is looking to grow a WordPress email list, automate emails, and increase engagement conversions.
MC4WP lets you create Sign up forms that can be placed anywhere on the website. You can also create a signup form with multiple topic options for your visitors to choose from, this will help you gauge their interest which can help in building buyer personas.
It is packed with WordPress email marketing features that can help you automate your emails, set up auto-responders and effortlessly manage your subscriber list.
There are several add-on plugins of MailChimp which can add various functionalities to your WordPress site. It can seamlessly integrate with your WordPress site and other apps that you're using.
Features
Sign up forms
Integrations
Auto-responders
Newsletter customization
Reports and analytics
Email notification
Styles builder
Pricing
Hobbyist – $59/year
Professional – $99/year
Agency – $149/year
Hubspot

This email marketing WordPress plugin doesn't need an introduction. Hubspot is one of the prominent plugins in the digital space for its CRM, email marketing and automation capabilities.
HubSpot is the ultimate WordPress plugin that lets you easily manage your customers, engage customers and deliver a better experience with chatbots, add attractive signup forms for lead generation, build high-converting email campaigns, and much more.
If you're looking for an all-in-one WordPress email marketing tool then Hubspot can be the right fit for you if you have the right budget – because Hubspot is expensive and is best suitable for large-scale enterprises.
Features
Lead generation
Pipeline management
Email marketing automation
Reporting
Customer relationship management
Pricing
Starter – $45/month
Professional – $800/month
Enterprise – $3600/month
Conclusion
Email marketing with WordPress is more simple than using external email marketing platforms. WordPress plugins are easy to install, offer native integrations, are cost-effective and are easy to use.
In this article, you learned about email marketing with WordPress and how it is better than other marketing platforms. You learned how to create a newsletter campaign, workflows, and new post notifications using the best email marketing WordPress plugin, Icegram Express.
The use cases will show the various ways customers are using the Icegram Express plugin to increase customer engagement.
Also, we've listed the go-to email marketing WordPress plugin for your consideration. The effective practice is to choose an affordable, yet dynamic solution.
And the one plugin that fits that description is the Icegram Express plugin. So, install our email marketing with a WordPress plugin and share your experience.
We're waiting to hear from you.