A new holiday (sales) season, a new and unique game. Presenting the "Try Your Luck" game from Icegram which users can't ignore.
One of the best and innovative tactics for the holiday season to increase your conversion rate, and sales of course.
---
Ditch the old school pop-up
How many times you have faced this?
You create and run a mind-blowing popup
Show a highly converting headline
Place the perfect CTA
But get poor conversions at the end?
It really lets you down, doesn't it?
This is a common issue faced by fellow marketers, bloggers, businesses and the top experts as well.
Users today are smarter than we think. They don't want to give their email-id for the content or offers even if it's good.
But, if there are some jaw-dropping deals, the user might click on the CTA.
But when you
---
Easily converts both new and returning users
Our new halloween offer – 'Try Your Luck Game' is exciting.
It is not the same old popup asking for an email for the discount code in return.
It's an Inline message where discounts are hidden.
Oh boy!! A game to get discounts!! That's interesting.
Here's why it works?
The user will be offered 3 pumpkins, each one hiding a special discount. (Try it yourself. Click on the pumpkin displayed above)
The 'Try Your Luck Game' builds anticipation and enthusiasm and makes the customer curious to reveal the discount.
---
Proven results – 18% boost in sales
It's not that we are running it for the first time.
What if the user clicks all the three pumpkins?
Good question! But there's a provision to restrict that. User can click only one pumpkin.
Once a user clicks on a pumpkin, he will be only shown a discount coupon corresponding to that pumpkin.
The user could only apply that coupon which he has received.
---
Limited time period offer
This is NO TRICK. ONLY TREAT.
We are also running a special deal on Icegram using this inline. So get a hook of as to how it works. Just click on the pumpkin of your choice and get our plugins at the best price.
Btw…this inline message is available both in Icegram's PRO and MAX plans only.
So, hurry up, get it now. I'm sure you'll see soaring profits.
PS. If you click on the pumpkins above, you will get a discount. You can use it to purchase a Pro or Max plan incase, you don't have one.
---
How to configure Try your Luck Game?
1. Go to Icegram's Gallery, locate this Inline and click 'Use this'.
2. You will notice the campaign has 4 messages.

3. Open the Message 'Halloween Main'. Go to the message body and locate
'window.icegram.get_message_by_id(17112).show()'.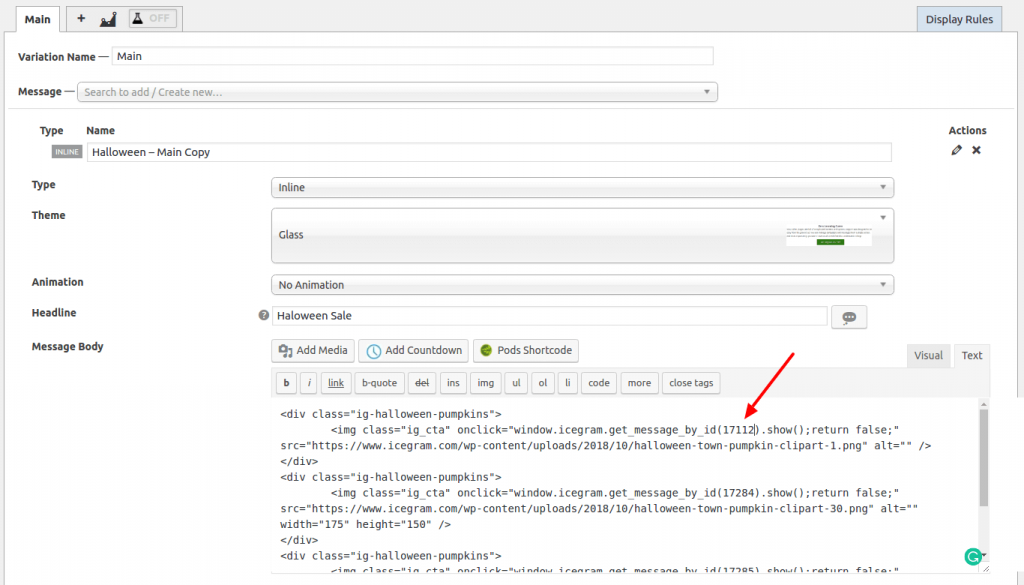 4. Now go to the Message 'Halloween Offer 1'
In the message body, add the coupon code that will be applied to pumpkin 1.

Next, Go to 'Show Trigger'
Choose option 'Using JavaScript', you will see a JavaScript code right below
window.icegram.get_message_by_id(17283).show().

NOTE: The id 17283 is unique and it will change as per your message.

Copy this id '17283'
5. Now go to the message 'Halloween Main' and replace the id '17112' with the new id from 'Halloween Offer 1' that's 17283.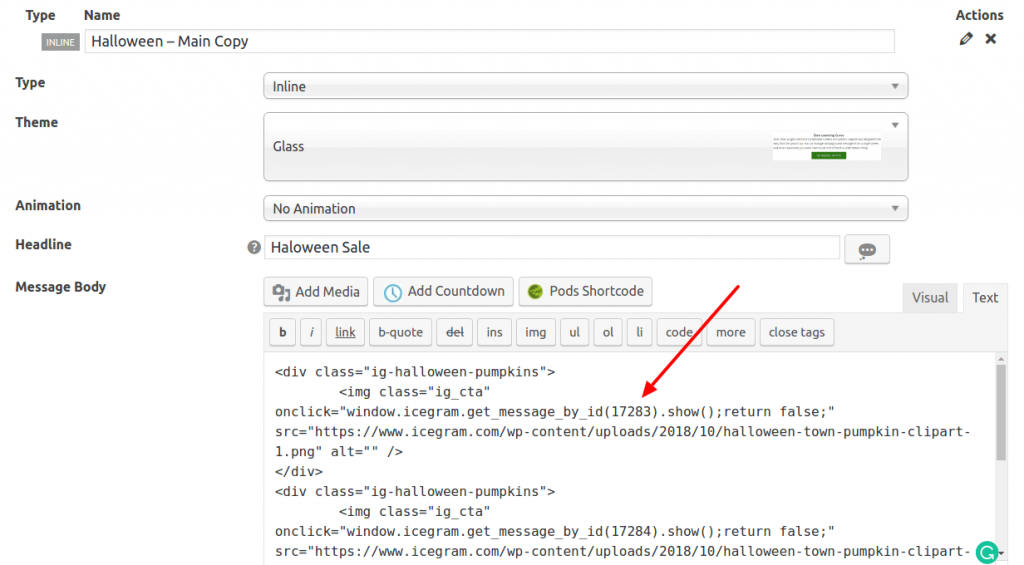 6. Repeat the above steps and replace the id 17284 and id 17285 in the Halloween Main with the new id's from 'Halloween Offer 2' and 'Halloween Offer 3' respectively.
Get "Try you Luck" Inline
---
Ideas…suggestions?
I hope you like the concept and will start using it on your store right away. Suggestions and feedback on the same are highly welcome.
If you have more ideas for special use cases message types, let us know in the comments section below. We may develop it too.