Marketing professionals still use email marketing to connect with their customers.
Because email marketing works wonders!
While social media marketing is popular, email marketing remains the most effective tool for increasing ROI. Email marketing is a low-cost tool that can be used by both large and small businesses.
As a small business owner, email communications most likely can assist develop long-term and fruitful relationships with customers.
In this guide, let us explore small business email marketing hacks, the best email service for small businesses, and a plan of action – email marketing small businesses.
Why should small businesses consider email marketing?
Are you wondering if email marketing is good for small businesses?
Yes! Email marketing for small business is an excellent way to engage and build relationships with their customers and leads throughout their journey.
According to Emarsys, email marketing is the best tactic for driving customer acquisition and retention for 80% of SMB retail professionals.
It is the go-to solution for promoting products, presenting special offers, and reducing abandoned carts.
Low customer cost
With low to no setup costs, the price of an email marketing tool varies depending on factors such as
The number of emails sent
The size of the contact list, and
The email service provider.
Create customer relationships
Email is the most effective way to communicate with, engage and build stronger relationships with your customers. You can send personalized emails so that people reading them feel connected to the brand.
Statistics say that nearly 64% of small businesses use email marketing to reach their customers.
Increased ROI
When it comes to ROI generation, email marketing beats all other marketing channels. In fact, email marketing makes an impressive ROI, i.e., $36 for every $1 spent.
Customer retention
Small businesses can easily nurture and retain customers, thanks to email marketing.
You can send win-back emails, cart abandonment recovery emails, reminder emails, and other types of emails to get your customers to use your product or service again.
Why WordPress is the best choice for SMBs?
WordPress is the most popular, user-friendly platform for bloggers and business websites.
WordPress is a natural choice for small business websites because it provides excellent value without requiring a large investment in a paid solution.
It does not require much training to use its most important core features because it is intuitive and simple to use.
By installing and running WordPress, your small business will be able to compete with much larger companies in terms of a proficient online presence.
Here are a few advantages:
A sizable online support community
A free and open-source platform
A wide range of themes
Plugin availability for every functionality
SEO-friendly
Extremely responsive designs
Trustworthy and safe
3 best WordPress plugins to automate your email marketing efforts
Are you looking for the best email service for small business? To make it easy for you, we have handpicked the 3 best email marketing platforms for small businesses.
Icegram Express
Icegram Express is a fantastic tool for managing your mailing list and sending newsletters to your subscribers. It is a trustworthy and best email marketing tool for developers and marketers.
It enables you to
Gather new leads using subscription forms
Send automatic notification messages for every new blog
There is no limit to the number of email contacts or newsletters you can send
Automatic welcome emails and drip campaigns
Segment your email list on a regular basis and keep a fresh email list with no invalid email addresses
Make and ship broadcasts
and more. It has a simple and easy-to-use interface that allows you to effectively craft and send messages, manage email lists, design layouts, and a lot more.
Icegram Express is designed with conversion in mind, so it will not slow down your site's performance.
AWeber
To provide the best email marketing for small business, Aweber provides a variety of features.
It is simple to get started with AWeber. It connects to the majority of platforms, including WordPress.
AWeber has over 10,000 active installations and provides all of the features you need to:
Develop your email list
Monetize your content
Sell your products or services
Make your emails more automated
weMail
weMail is a cloud-powered email newsletter platform tightly integrated with WordPress that allows you to send emails using your preferred SMTP provider.
weMail is an emerging plugin with over 10,000 active installations. It is a WordPress email marketing solution that has been simplified to assist you in
Sending newsletters
Gathering leads
Displaying subscription forms
Adding subscribers to a list automatically, and
Single dashboard management
Email marketing ideas for small business
Here are a few hacks on how to use email marketing for small business.
Email Automation
As the owner of a small business, you are responsible for a variety of tasks.
This is why email marketing automation can be so beneficial to your expanding business.
You can start nurturing your growing customer relationships with automated customer onboarding and welcome email sequences.
Email marketing automation can also assist you in personalizing your emails, creating templates for tailored messages, and sending emails periodically.
Make Your Subject Line Perfect
Do you want to learn another quick but effective email marketing small business growth hack? Put down an effective subject line in your email.
Following are a few instances to create effective subject lines:
Informative statistics
Personalization
Uncommon facts
Announcement-based
List-based
Question-based
Proofread
Making grammatical and spelling mistakes is one way to tarnish your reputation.
Proofreading is a rookie mistake that is especially unfortunate because it is so easily avoided. Most mistakes can be avoided if you or someone on your team proofreads your emails before sending them.
Your Electronic Signature
Have you considered the potential power of your email signature in all of your email marketing efforts? That is correct.
You can generate free traffic by including links to your website. Including your phone number or other contact information may encourage a customer to contact you.
Including social buttons on your email can help you gain more followers on your social media profiles.
Lead Magnets
Making lead magnets is one of the best email marketing strategies for small businesses.
Lead magnets help you to gather email addresses and develop your mailing list. You can do it by giving something away resources for free in exchange for customers' email addresses. For instance, you can offer them an offer code, trial subscriptions, or even a report.
Segmentation of Customers
Segmentation can be used to create personalized email experiences. Given the power of personalized marketing today, this method is a must-have for many businesses.
As you can send targeted emails that customers will not find irrelevant and ignore.
You can, for example, divide your customers into different lists based on criteria such as geographic information, buying behavior, age, gender, and so on.
Make special offers to encourage sales
Email marketing is a quick and effective way to communicate your latest offer when launching a sale or special promotion. You can use the tool's high-converting ready-to-use offer and promotional email templates to create one.
Small business email marketing examples
Let's look at some small business email marketing examples that will increase trust and conversions.
Welcome email
A welcome email is one of the best onboarding email campaigns you can have. A welcome email is straightforward: you welcome your subscribers to your brand, explain to them why you are the best in your industry, and how you can assist them.
Check out how SurfStitch is creating its brand image and building credibility in the first impression. Also, in the later part of the email, they offer coupons to encourage the customer with making the purchase.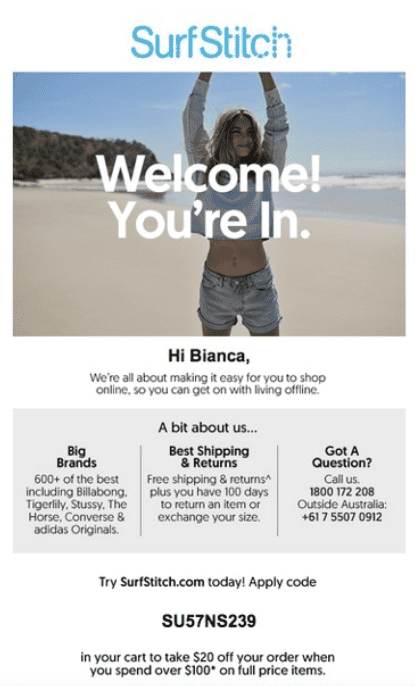 Consider the welcome email as an opportunity for your subscribers to know you for the first time. What information do you want them to know about you and your work?
Your welcome email should also include links to any of your products, link to your social media page that you like to advertise, and, most importantly, entice your new subscribers to open your subsequent email.
Transactional emails
Emails that are sent automatically in response to customer actions on your website are transactional emails. Abandoned cart emails, password reset emails, account alert emails, and so on are examples of transactional emails.
Check out an example transactional email from Amazon: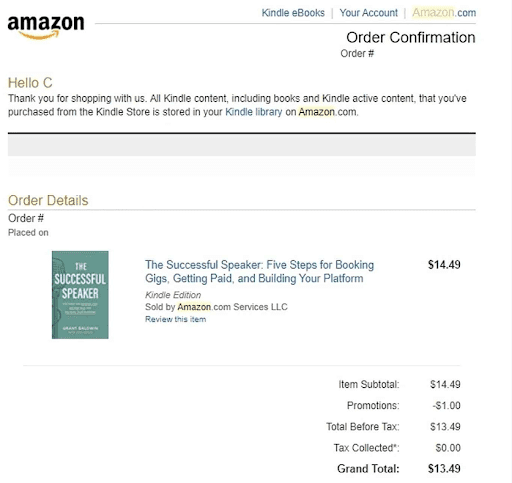 Newsletters
They work well if you provide your subscribers with unique email content that you do not post elsewhere.
You can include a call to action (CTA) to optimize each newsletter for your products. You can use newsletters to enlighten and engage your subscriber base. By sending out regular informative content, product updates, and other information.
Depending on the level of engagement and content creation, you can send weekly or monthly newsletters.
Is Icegram Express the best email marketing tool for SMBs?
It is essential for an emerging small business to be different from the crowd and get noticed by the target audience.
Then Icegram Express is unquestionably the best marketing tool for small and medium-sized businesses. It provides creative optin display types, more email templates, and extensive features at a low cost.
With Icegram Express, you don't need any additional plugin to avail the most important features of email marketing. So it gives you a hassle-free plugin management experience. And most importantly, you only pay for the features you avail.
Icegram Express is extremely popular among its users with 100,000+ active installs mainly because of its comprehensive feature set.
Some of the key features are
Unlimited contacts and newsletters
Automating your email marketing efforts, notifications, and sequences.
Enable captcha and block spammers
Keep track of your audience lists and segments. To enhance list quality, it clears duplicate and invalid emails.
Use your preferred email sender to reduce costs while improving deliverability and stature.
Use the drag-and-drop email editor to create email designs that boost engagement, open, and click rates.
Cheatsheet – Plan of action for email marketing ideas for small business
Define your email marketing strategy
SMBs need to define their strategy and plan early in the email marketing process because they have little time and no money to waste.
Here are some considerations for your email strategy.
Set your email marketing goals
Know your target audience
Determine campaign frequency
Decide on the email marketing platform
Among the available marketing platforms for small businesses, it is essential to identify the right one for you.
The following are a few factors to consider when selecting an email marketing platform.
The platform's cost-effectiveness
Do they provide working with unlimited contacts?
Do they have a drag-and-drop email builder?
Do they help you maintain list hygiene and block spammers?
How does the platform assist you with list management, segmentation, and personalization?
Platform popularity and customer service.
Design your email content
It's time to create unique email content and design to get noticed by your audience.
Best practices for email content include:
Focusing on your audience
Keeping it simple
Write concise and personalized email content
Ace the subject line
Add a call to action
Create the campaign
You are now ready to launch your first email campaign. However, ensure that emails are error-free by testing them.
You can send test emails to confirm the email address. Also, segment your mailing list in order to send the email campaign to the relevant people.
Monitor and improve the outcomes
Furthermore, tracking allows you to understand which campaign works, and based on the success rate, you can enhance your marketing campaign and achieve the desired results.
Conclusion
You now know how to set up your small business email marketing campaign.
All small business owners should leverage the most cost-effective marketing strategy and gain the highest ROI.
Brainstorming sessions with your team will help you generate a burst of creativity that will entice your subscribers.
Email marketing is an excellent way to convert your existing customer base into sales and profit to help your small business grow.