Backups are an essential part of WordPress security. They work as a safety net for your website. Backups protect your website from all sorts of crashes, errors, and hacks.
In the moment of a problem like that, you need a plugin that is easy to use and reliable and Backuply shines at that.
Backuply is an easy-to-use and reliable backup plugin that gives you enough control to save the backup data in the location you trust. So is it the easiest and best WordPress backup plugin for your website?
Our experience using this plugin has been blissful. For backup plugins, restores are the true test of reliability and restoring with Backuply is smooth and just a one-click process as advertised. Let's analyze the plugin.
What is Backuply?
Backuply is a WordPress Backup plugin installed by 200000+ users worldwide for its reliable one-click restore. Its unique selling point is its easy and intuitive User Interface (UI). This makes it easy to create and restore backups, without the technical skills.
With Backuply, you can create backups in just a few clicks, or you can use auto backups and schedule the backups. And if you ever need to restore a backup it is as easy as a click. All you need to do is select the backup you want to restore and click on restore.
There is also a Cloud service offered by Backuply for a zero-configuration and automated backup system.
Backuply features: A brief overview
We list six features that will help you analyze how the plugin helps protect your website.
Backups
Creating a backup with the WordPress backup plugin is quick and straightforward.
Select what you want to backup – the database, the directories, or both.
Choose where you want to save the backup, locally or in remote storage.
Finally, click on the Create Backup button and wait for the backup to complete.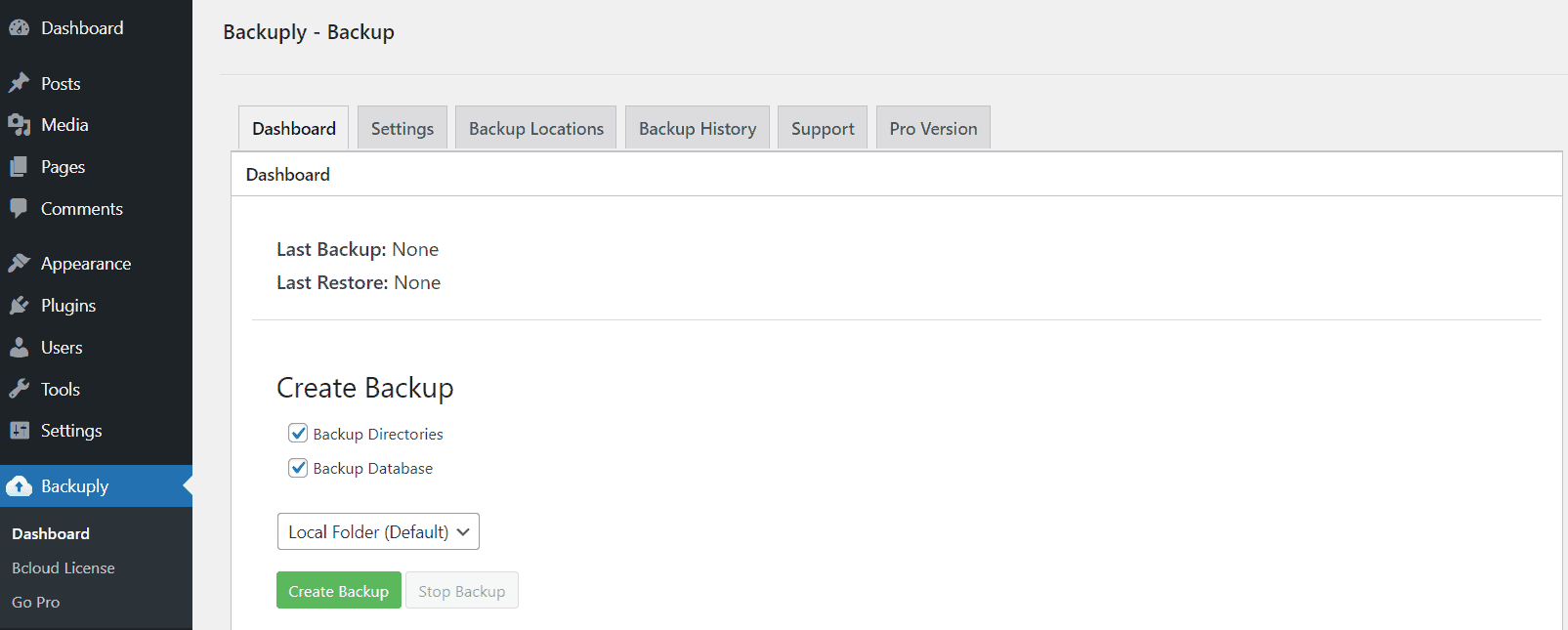 This helps improve productivity as the learning curve to use it is close to none. You install it and you are already ready to create your backup.
Restore
Restore is a one-click process, all you need to do is select the backup you want to restore and then click on Restore and wait for restore to complete.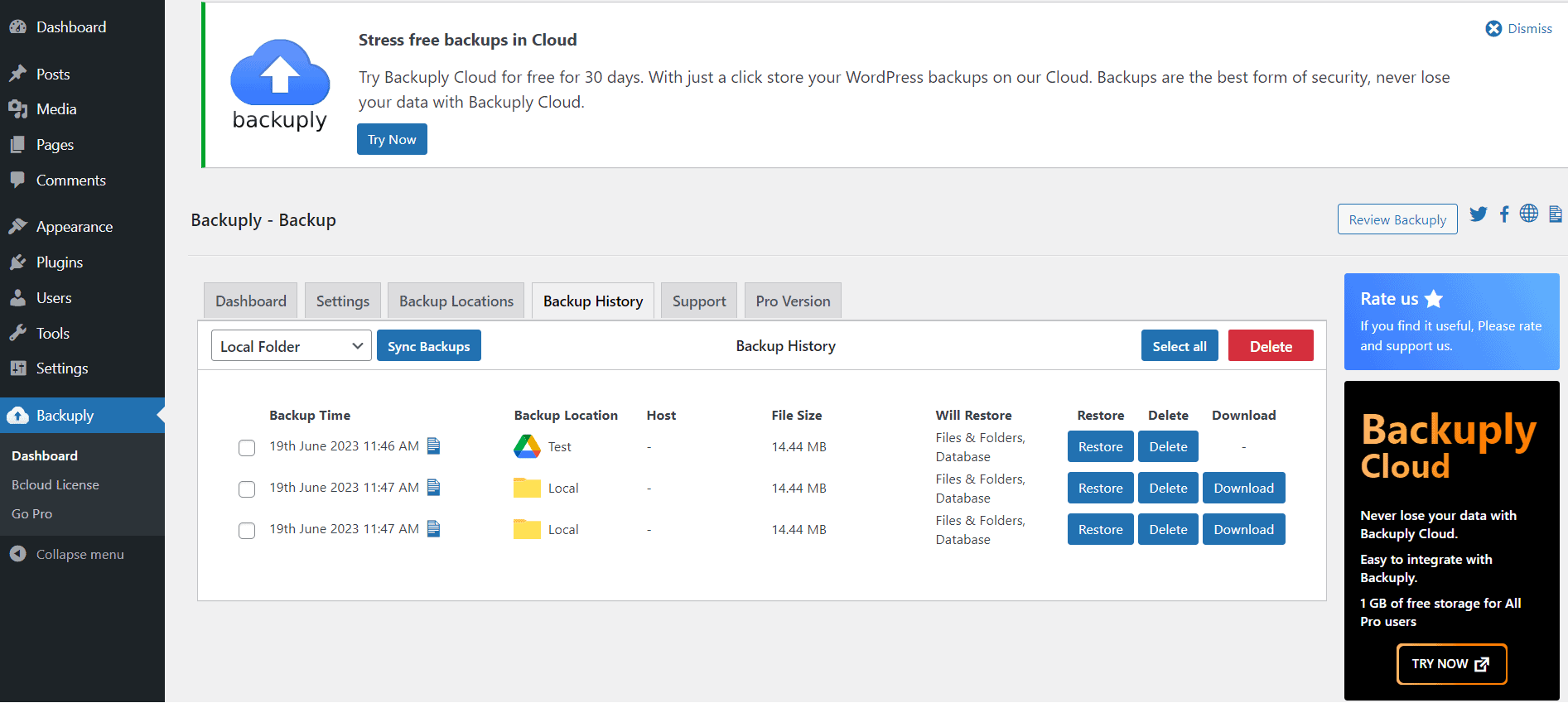 The backups created using Backuply follow a single file structure, which means everything is backed up in a single archive file. And it uses tar as the archiving format which makes it universally accessible. This means backups created using Backuply can be restored manually too on any system.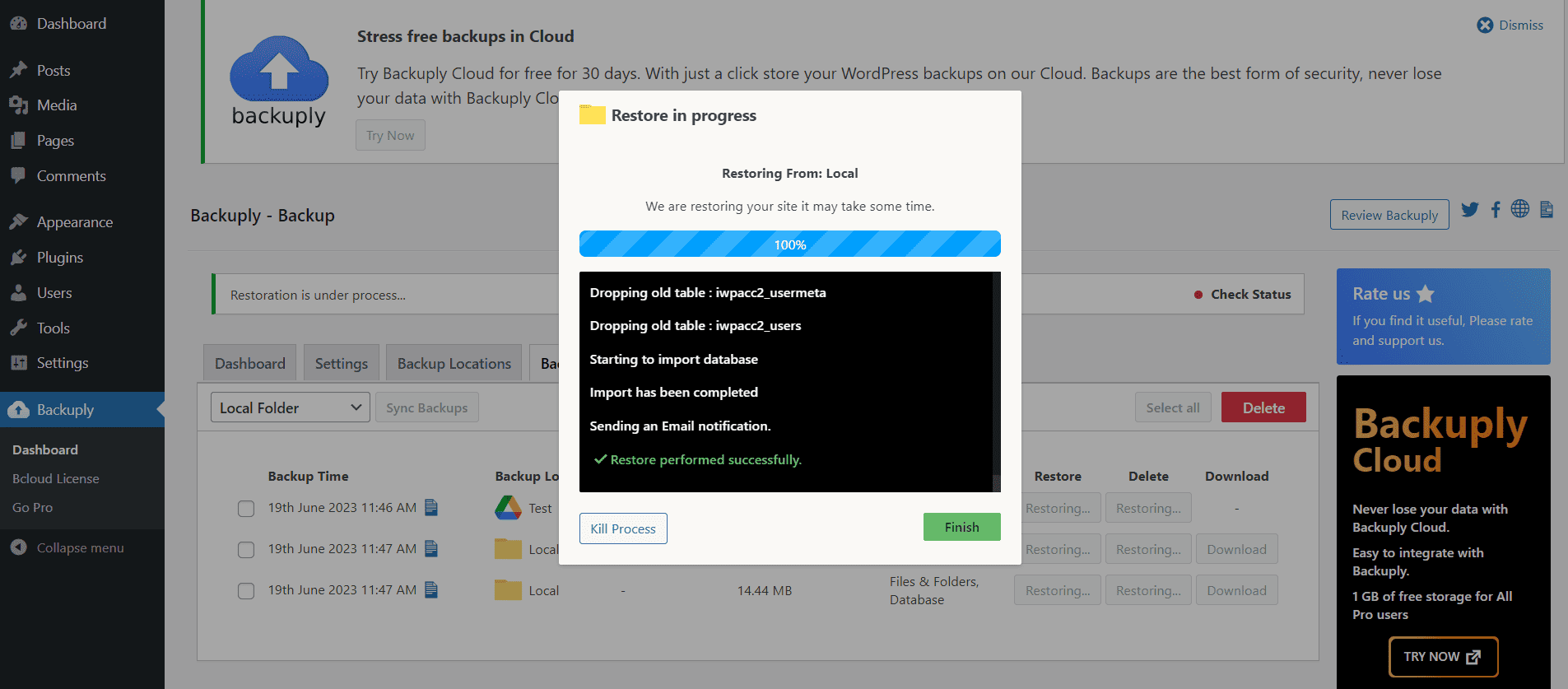 Backup to remote locations
Backuply supports around 13 remote backup locations from proprietary cloud storage options like Google Drive, Dropbox, and OneDrive to Cloud storage locations like AWS, and AWS S3 compatible locations like DigitalOcean Spaces, Cloudflare R2 storage and more.
Backuply has its own remote backup storage option which is Backuply Cloud and you get 10GB of Backuply Cloud storage with the Pro version.
Auto backups, backup rotation
Manually creating backups can be cumbersome. Therefore, Backuply has the option to automatically create backups or schedule them.
And to prevent auto backups from consuming all your storage you can use Backup Rotation, which will limit the number of backups Backuply retains in your backup location by deleting the oldest backup whenever a new auto backup is created.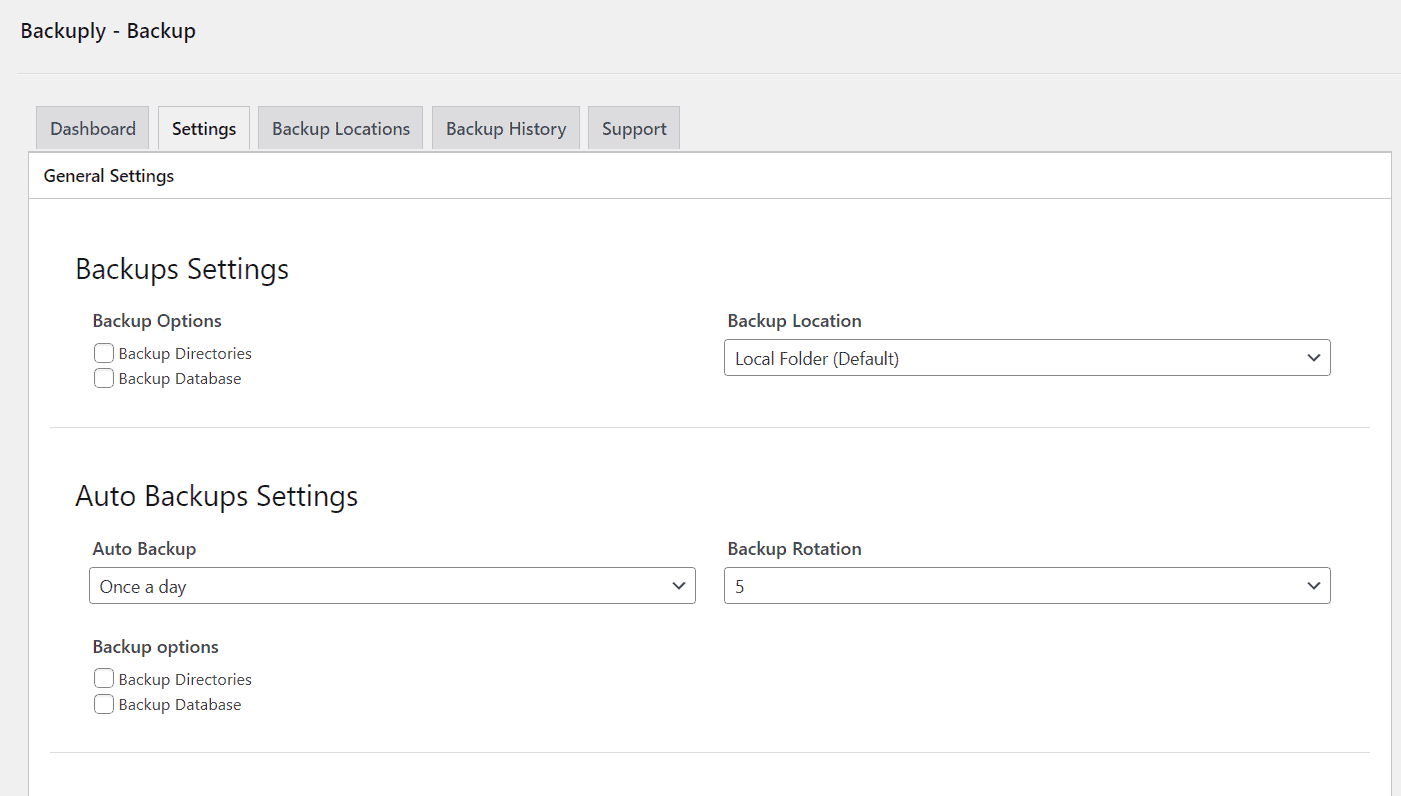 Cloning and Migration
Backuply supports cloning and migration and it's quite similar to how restore is done. It works more efficiently if the Backup is created in some remote location as syncing backup is easier that way.
Backuply Cloud
There is also a cloud offering by the Backuply team in which you can simply buy backup space from them and all backups are stored in the cloud. The cloud option is the simplest to use and gives absolute peace of mind when it comes to backups.
Backuply Pro pricing
Backuply is an affordable WordPress backup plugin compared with other backup plugins.
The Pro version includes features like Auto Backups, Backup Rotation, Backup storage like OneDrive, Dropbox, AWS, AWS compatible storage, and more.
It also comes with 10GB of Backuply cloud storage for the base plan of Backuply which costs $39.
Backuply offers a variety of plans to fit your needs:
Personal Plan $39/year with 10GB Backuply cloud storage.
Professional Plan $69/year with 25GB Backuply cloud storage.
Business plan $249/year with 50GB Backuply cloud storage.
To learn more about the plans, visit Backuply pricing page.
If you don't need automatic backups, you can use the free version available on WordPress.
Backuply Cloud pricing
Backuply cloud is included with every pro plan. For example, 10 GB is included in the Personal Plan which is priced at $39/year.
However, there is a Backuply cloud plan only for $18/year which includes 10 GB of space. You can purchase additional space as well from their client center as per your requirements. In our opinion, the Backuply Cloud is the best solution for backups and the pricing is very cheap.
| Additional Space | Price/GB/Year |
| --- | --- |
| More than 0 GB | $2.5/GB/Year |
| More than 25 GB | $2.2/GB/Year |
| More than 100 GB | $2/GB/Year |
| More than 250 GB | $1.7/GB/Year |
Conclusion
Backups are important irrespective of how big or small your website is. As WordPress is not immune to errors, hacks, and crashes, having your WordPress site data backed up will give you peace of mind.
With Backuply at your side, it's easier to back up and manage them. It is a great way to protect your WordPress website from data loss.
It's easy to use, reliable, and affordable WordPress backup plugin.