Do you want to know the best WordPress popup plugin? Getting a good popup plugin is a great way to convert website visitors into email subscribers or customers.
By using a popup plugin, you can create a highly engaging and relevant experience for your website visitors. These plugins can be used to capture leads, grow your email list, or offer new products or discounts. In this article, we will discuss the best WordPress popup plugins that you should be looking into.


Icegram Engage is a plugin that lets you create and customize popups for your WordPress site. It has many use cases. You can use it to grow your email list, promote blog posts, offer a discount or ask someone to subscribe to your newsletter.The plugin offers different popup types and customization options like background color, text color, border color and more. The best part about this plugin is that it is free and easy to install.

You have done everything but your sales do not grow? We know what is missing. The WordPress Popup plugin is exactly what you need. You can be 100% sure that this plugin will ensure your sales growth.
Using the WordPress Popup Box plugin, you can make completely customizable, engaging popups. It is really simple to create fully customized popups or you can use one of the lovely pre-made templates they suggest.
By getting this plugin you will be able to create an infinite number of popups. This popup generator is expertly built to deliver the finest user experience while guaranteeing a notable rise in your website's conversion rate.
This user-friendly plugin will appeal to more customers and without any knowledge in coding or marketing, you may turn visitors into paying customers. It is mobile-friendly as well, thus perfectly and smoothly fits on all types of mobile devices and tablets. What is more ideal than this?
This plugin has a lot of wonderful features and functionalities which are very simple and everyone can use them with ease. Anyway, if something is unclear the best support team is always ready to assist you.

Optinly is a plugin that helps you to create a popup for your WordPress site. It can be used to collect emails, build a newsletter list, or generate leads.
Optinly is an easy-to-use plugin that has many features. You can create popups with different shapes and sizes. It also has an A/B testing feature that lets you split test the popup and see which one performs better.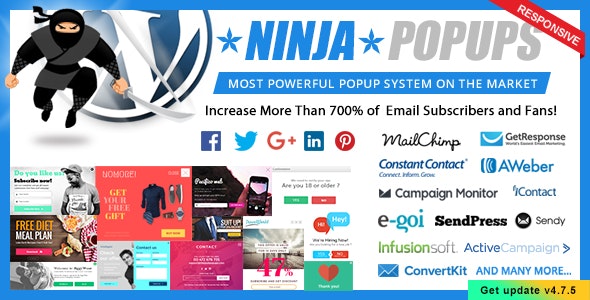 Ninja Popups is a plugin that allows you to create popup boxes on your WordPress website.
This plugin is best for anyone who wants to increase their conversion rates and also for those who want to make their website more interactive.
The popup box can be triggered by a countdown timer or by an in-page trigger.
The countdown timer will be the first option that the individual will see. The popup box can also be triggered with a link to the popup box in a different location on the website. These are perfect for those who want to increase their conversion rates or make their website more interactive.

Bloom Popups plugin is one of the best WordPress popup plugins. It is a premium plugin with a free version also available.
Bloom Popups plugin has many features that make it stand out from the rest of the WordPress popup plugins. One such feature is Geo-targeting, which enables you to target specific countries or states where your website visitors come from. Another great feature is Bloom's custom redirects, which allow you to redirect your visitors to any page on your website after they click on a popup or exit a popup.

Getbrave.io is an AI-powered popup plugin that lets you create and customize your own popup forms. You can use these popups to collect email addresses, build a mailing list, or to generate sales leads.
Popups are a great way to get people's attention and convert them into customers. But not all popups are created equal. Getbrave's AI-powered popup plugin makes it easy for you to create custom forms that match your website's design and collect the data you need from your visitors.
Conclusion
Many people are not returning to your website again, so customizing popups play an important role in connecting with these people.
So, in order to help with your decision-making process and make it easier for you to choose the perfect plugin, we have included a list of what each plugin offers. We hope you find this information helpful!