Every eCommerce store owners look for strategies to grow their online shop. Being a WordPress user, one can easily set up their eCommerce store using the WooCommerce plugin. There are tons of add-ons and marketing plugins available for the WooCommerce platform to boost online sales. In this blog post, you'll learn about 10 practical strategies to boost your WooCommerce sales using the Icegram Engage plugin.
What is Icegram Engage?
Icegram Engage is a powerful on-site messaging and lead-generation WordPress plugin. It turns your visitors into subscribers & customers. You can engage with your audiences in a smarter way.
The Icegram Engage platform offers a lot of features to optimize your website's conversions. With this plugin, WooCommerce sales and product exposure are maximized to the fullest extent possible.
Different ways to boost WooCommerce sales using Icegram Engage
WooCommerce store often requires tweaking and add-ons to drive more sales. Anyone can make use of extensions that does more than what the traditional platform has to do. If you're serious about converting more sales and engaging your website visitors, follow the below methods today.
Before getting started, install and activate the Icegram Engage plugin on your WooCommerce website.
With Icegram Engage you can create multiple marketing campaigns such as
Popups
Floating Action Bar
Toast Notification
Messenger
Full-screen Overlay
Inline Block
Tab
Sidebar
Interstitial
Ribbon
Sticky
Badge
Let's dive into WooCommerce sales strategies deeper!
1. Show marketing campaigns on specific eCommerce pages
You can show any on-site marketing campaigns such as popups, action bars, overlays, sticky and more on specific WooCommerce products/pages. For example, you can consider showing your marketing campaigns in these locations
Specific product page – If you want to show the campaign only on a specific product page,
Create a campaign and click "Display Rules".
In the "Where" section select " Specific URLs on this site".
Enter your specific WooCommerce product URL. You can add multiple products too.
Finish setting up your campaign and make it live.
Now, your campaign will be shown only on the product pages you added to the campaign.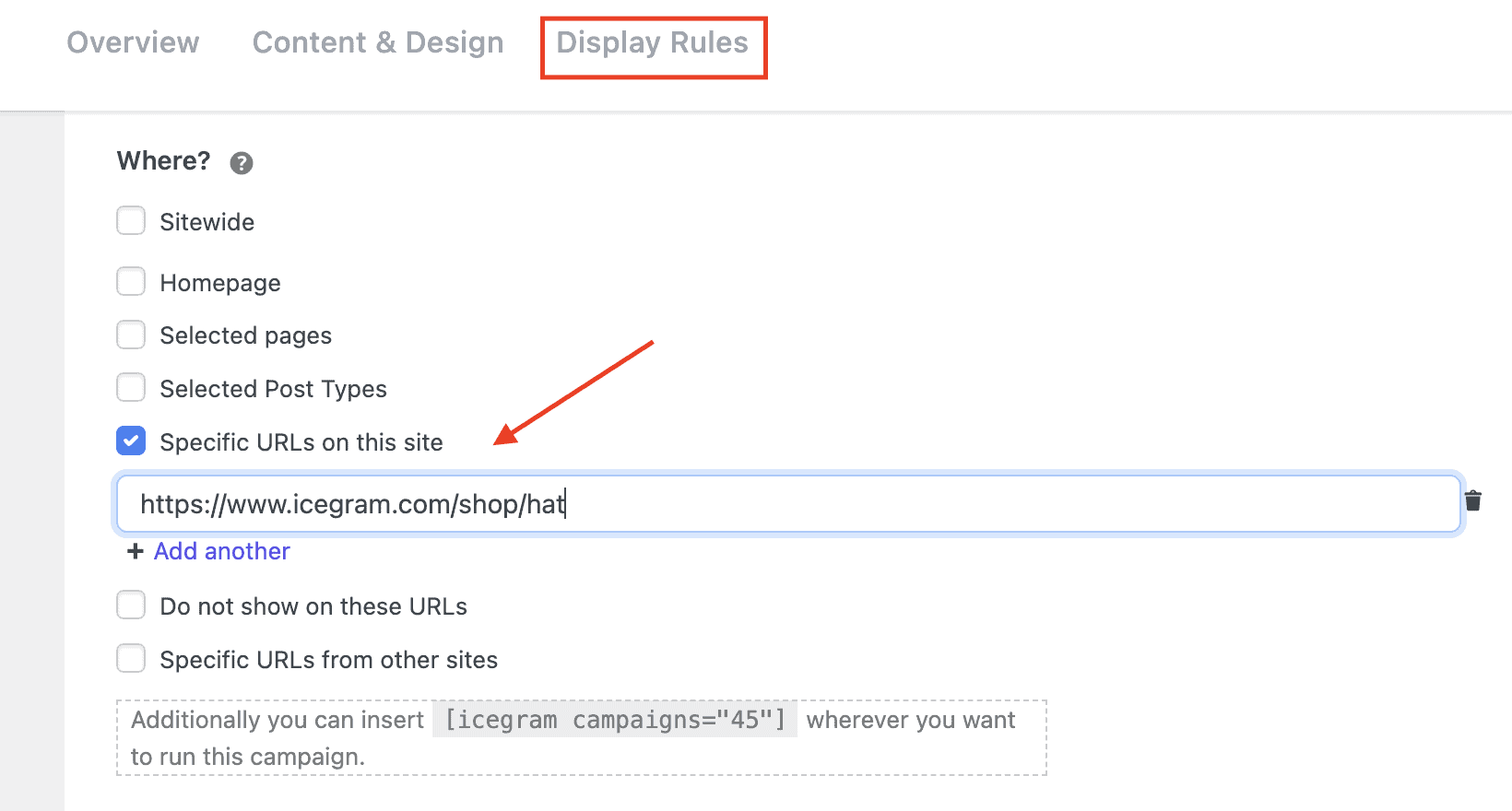 WooCommerce cart page – You can show promo banners or messages on the cart page by choosing the "Selected pages" option and picking the cart page. This will drastically allow visitors to take action to buy your product without hesitation.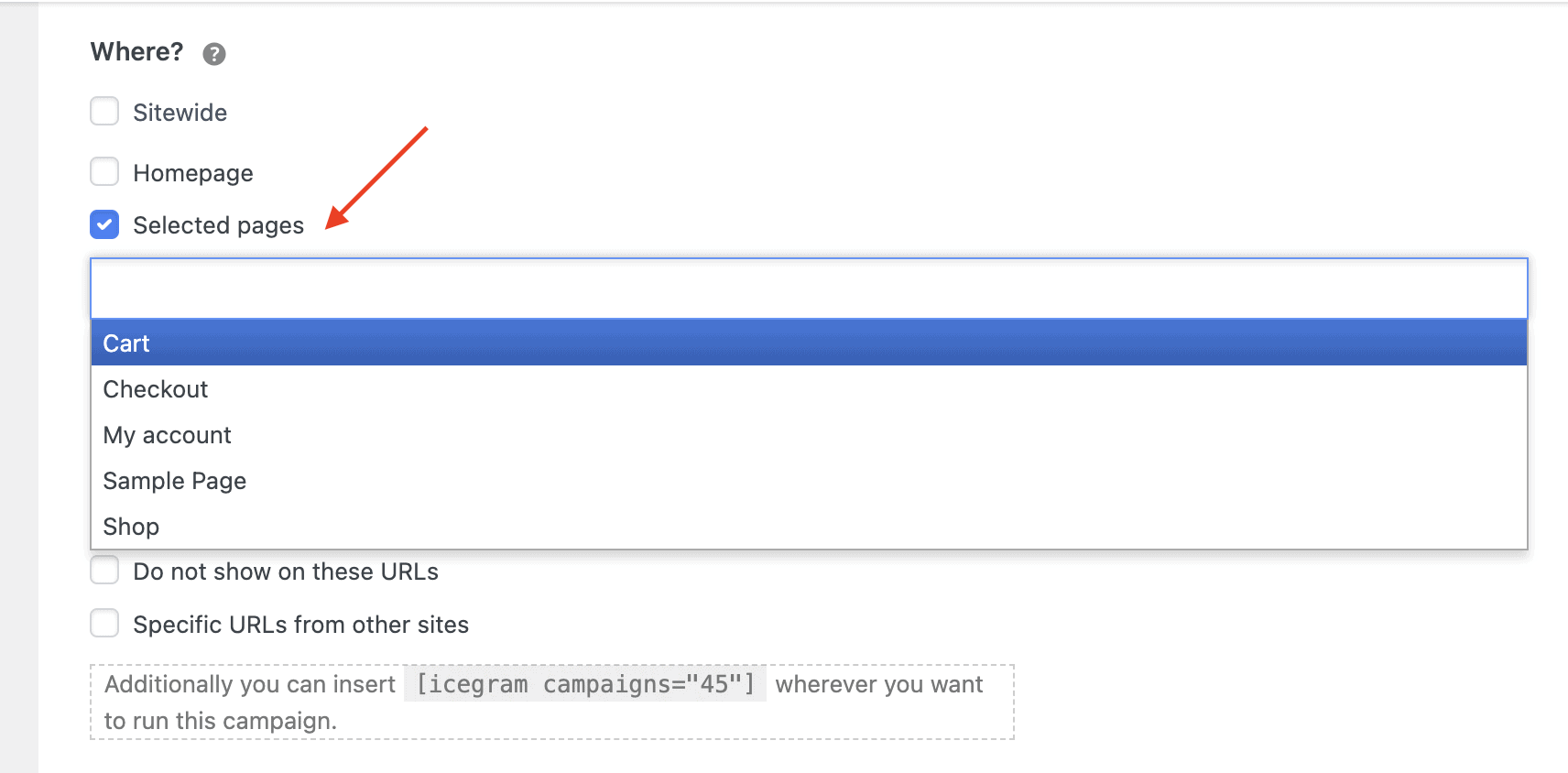 Checkout page – Similarly you can pick the "Checkout" page under the "Selected pages" option to display your campaign on your final checkout page.
My account section – If you run a WooCommerce store, your customer often interacts with your store keeping the "My Account" page as an index. It provides them with all eCommerce data such as orders, downloads, customer profiles and more. Make use of it by running a promotional campaign on that specific page.
2. Display welcome bars that convert
An action bar is a static or floating bar that draws the attention of web visitors at first sight. You can display a free shipping notification bar either on the top or bottom of your website.
To display welcome bars,
Click "Add New Campaign" under the Icegram menu
Choose "Action Bar" in the message filter dropdown
Select your desired action bar
Finish setting up your campaign and make it live.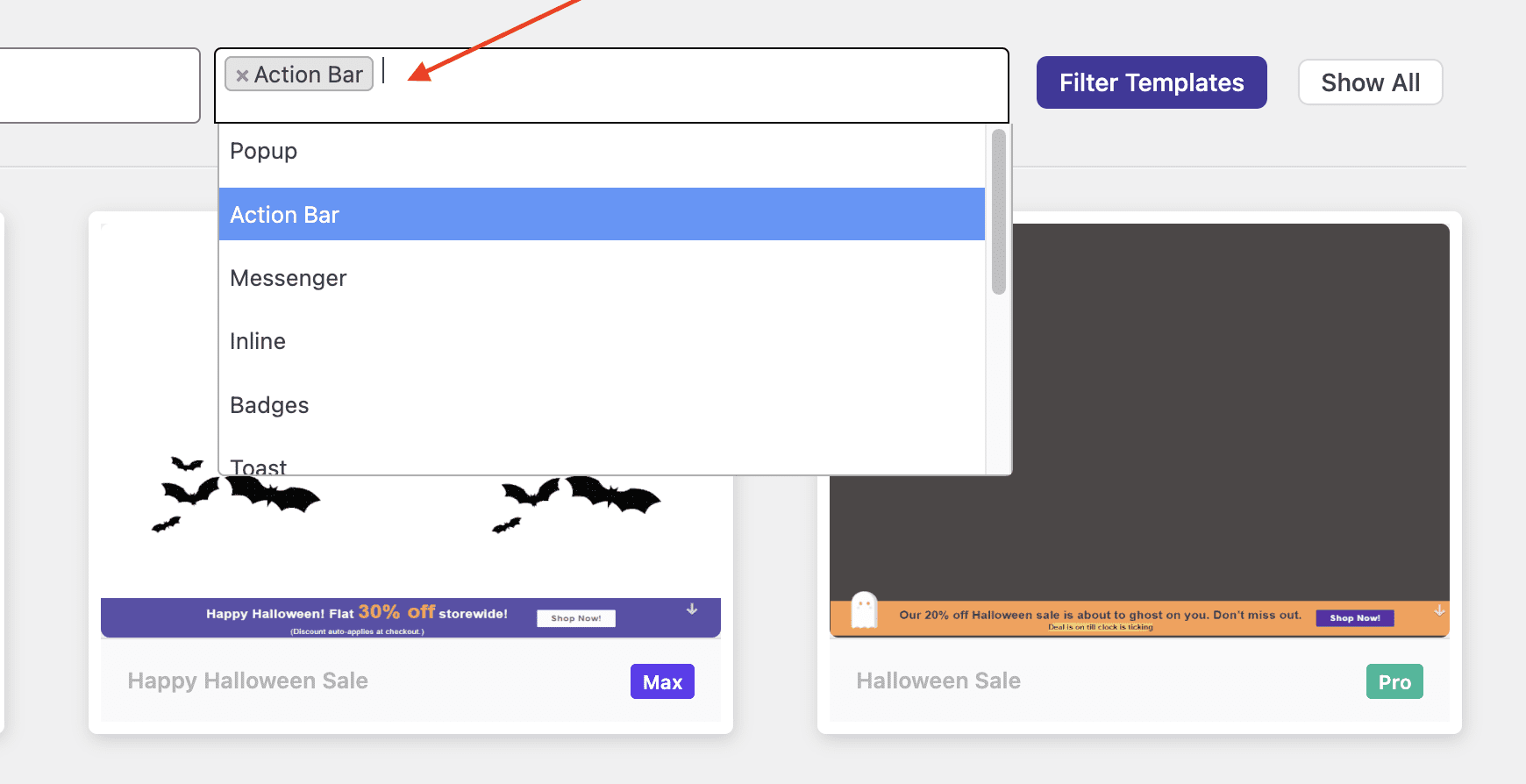 3. Reduce cart abandonment
More than 70% of online shoppers abandon their carts for various reasons. Icegram Engage can help you reduce cart abandonment with the exit intent popup strategies.
You can either set up an exit popup campaign for the entire website or only for the cart page. Displaying a retention message in the popup will reduce people abandoning the cart.
To set exit intent in your campaign, go to the "Behavior" tab and choose "Exit Intent" under the "Show Trigger" dropdown menu.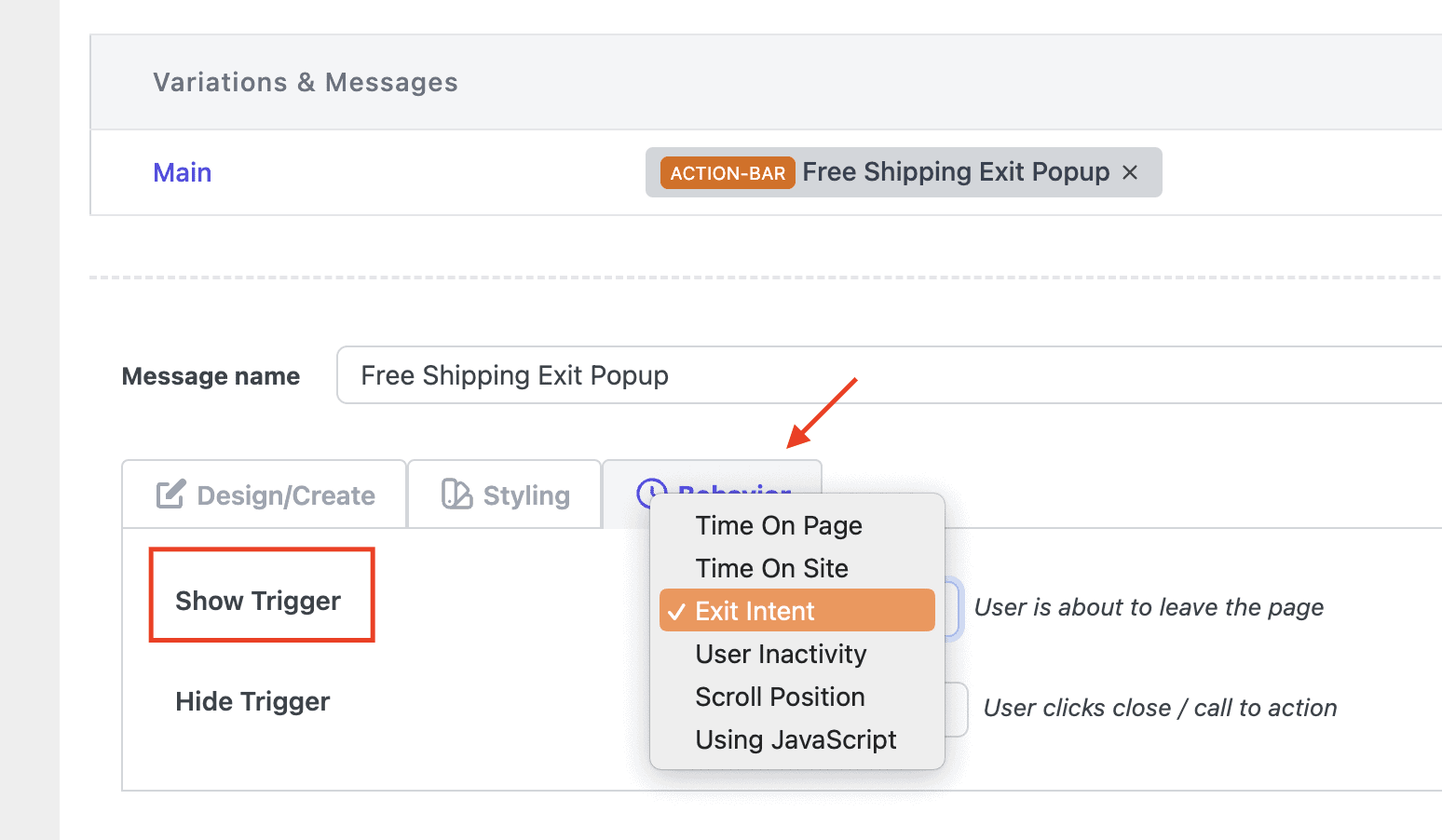 4. URL coupons
Some extensions allow WooCommerce store owners to create URL coupons for customers to redeem coupons automatically when clicked. One such plugin is StoreApps' Smart Coupons extension.
Set up the "Coupon URL" CTA
Install Smart Coupons extension.
Go to your WordPress admin panel. Under Marketing > Coupons, click on Add coupon.
Add your discount type, coupon amount and other essential settings.
Publish the coupon.
Now, go to the "Coupon shareable link" section and copy the "Coupon URL"
You've successfully copied the coupon URL. Now, create a new Icegram Engage popup campaign.
In the Design/Create tab, go to the "Call To Action" section and choose the "Open a link" option under the "Action" dropdown.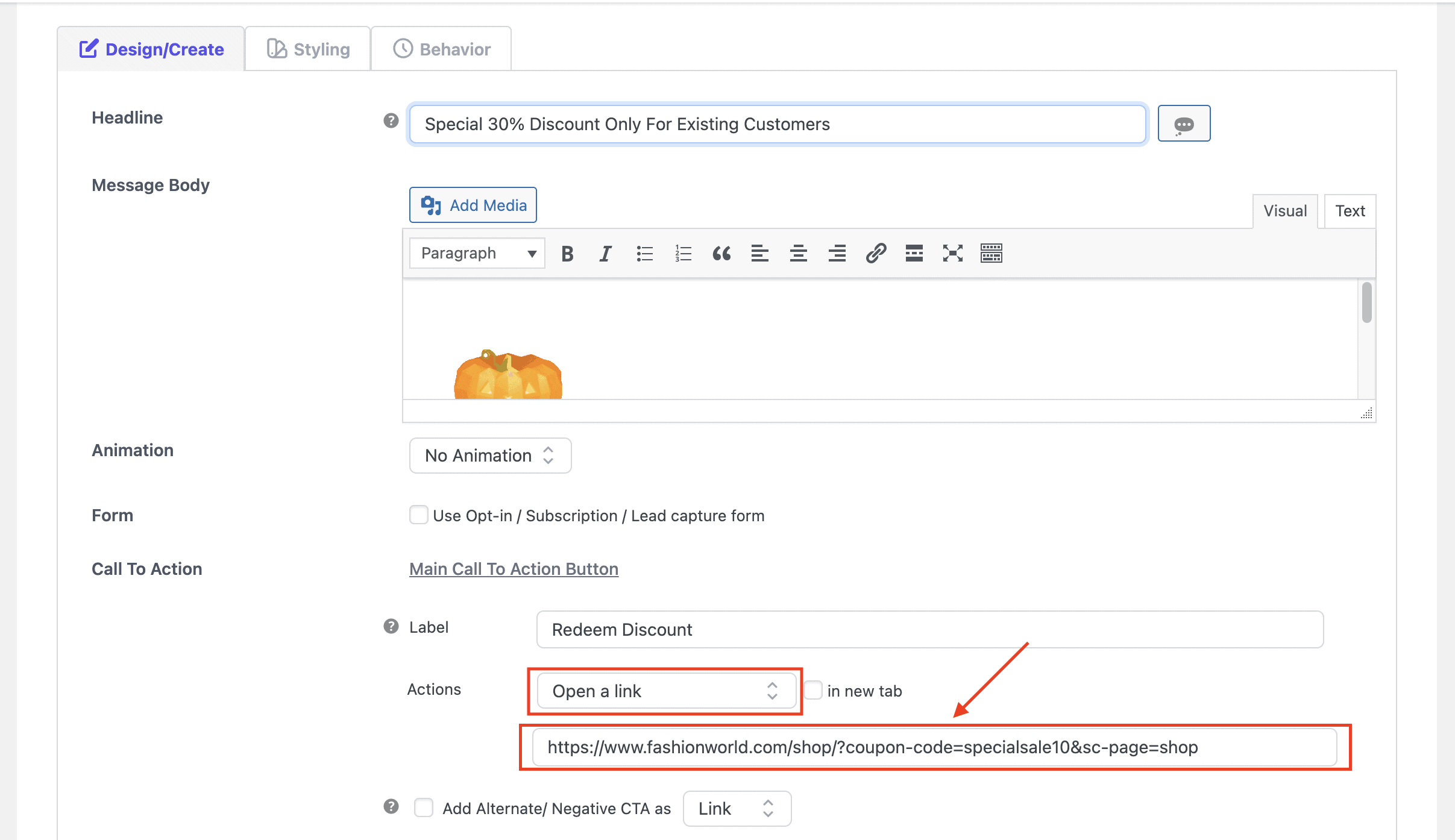 Finally, paste your Coupon URL to configure the CTA and publish your campaign.
Whenever your targeting event gets triggered your campaign shows up. The visitors can redeem the store coupon automatically when they click the CTA button. This will drastically improve your WooCommerce sale.
5. Run a targeted popup campaign
You can personalize your marketing campaign for a set of people, devices, countries and even more. You can also run a campaign only for logged-in customers to help them get discounts on their next order purchase.
Customers will be prompted to add more items to their cart and take prompt action as a result. It is not only the cart value that increases, but also the lifetime value of the customer.
A number of targeting options are available to personalize campaigns only to potential prospects.
6. Create urgency using a countdown timer
Creating a "FOMO – Fear of missing out" scenario will definitely trigger window shoppers to make their purchasing decision quickly. It helps increase your eCommerce revenue with less effort.
To activate the countdown timer in your eCommerce marketing campaign, click the "Display Rules" tab and enable "Countdown Timer". Set your start and end date to add urgency to your campaign.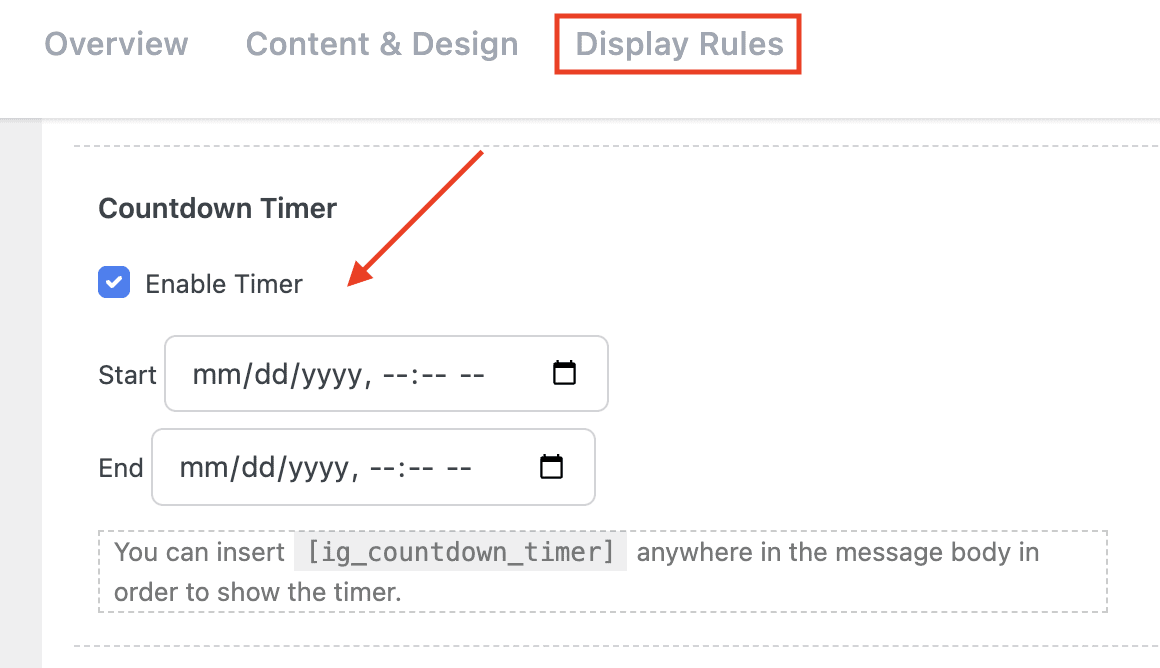 You can paste the shortcode
anywhere inside the message to display the countdown timer.
7. Promote fast-moving products
The best product in your store may not be the one in every category. A niche or category of products may sell better than the rest of your store's offerings. When you use Icegram Engage, you can promote fast-moving products even better based on popularity and demand.
Set up campaigns only for a specific product category or tag and boost your WooCommerce sales.
Create a campaign and click "Display Rules".
In the "Where" section select " Specific URLs on this site".
Paste your WooCommerce category and add an asterisk * at the end. This Wildcard URL will command the plugin to display your campaign on the specific category pages. When the user moves to the next page to view the same category of products, they still get a chance to view your targeted campaign.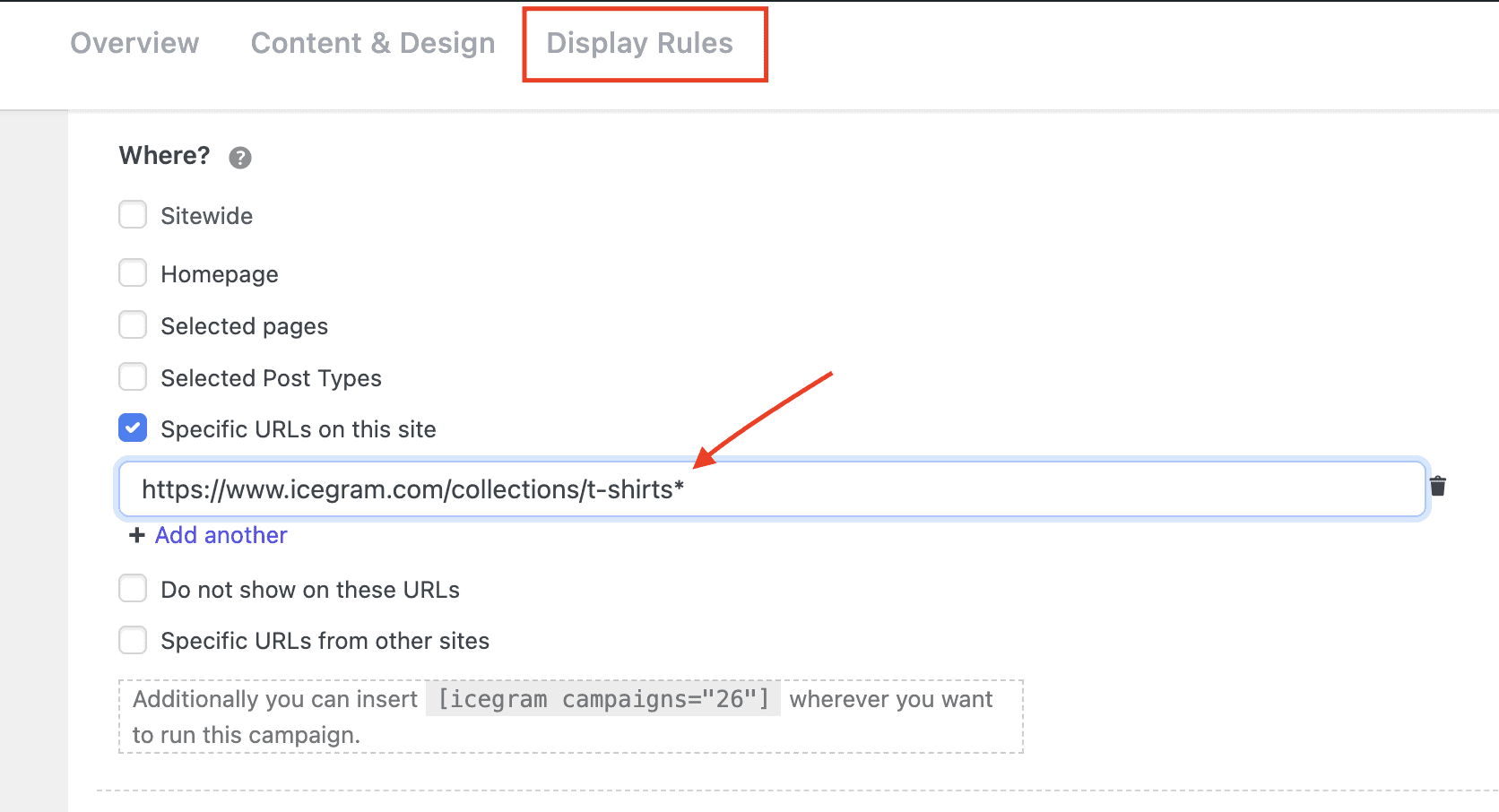 You can do this with tags and any pages that have a structured permalink. This will definitely create more traction for fast-selling products. Minimal effort on targeted campaigns can improve your WooCommerce revenue.
8. Gamification discount campaign
Gamification is the use of game-like elements and mechanics in the sales journey to engage customers the better way. We can create a gamification campaign in WooCommerce using the Icegram Engage plugin.
Create your campaign and choose the "Inline" message type. Pick a template and hide a discount coupon behind it. Whenever a website visitor clicks the inline banner, he/she will get the coupon code to save on their next purchase.

9. Messenger-styled discount slide-ins
Slide-in messenger-type popups are non-intrusive and can create an impact without interrupting the user experience. Icegram Engage has readymade slide-in templates to grab visitors' attention.
To set up a messenger-styled slide-in, choose "Messenger" message type and pick the template that suits your store. You can collect emails, display announcements, show discount coupons and more.

Online shoppers these days pay keen attention to a website privacy policy, GDPR consent, return policy and how their data gets processed. Taking this into account, you can show a GDPR or cookie consent when a new visitor lands on your website.
With Icegram Engage, you can create a cookie notice bar [pick action bar template] and also set the expiry date to re-display the consent bar. This will build trust and keep your WooCommerce store authentic and real.
Make sure you have a privacy policy page that includes all your terms, GDPR and remarketing policies.
Dos and Don'ts
Keep your website clean and avoid creating more distractions. Focus on one campaign at a time.
Don't ruin your shoppers' experience by creating more discounts and offers.
Be real, keep your privacy policy updated and add how you process website data.
Personalize your campaigns and make use of A/B testing to pick which messages work better.
Always, test yourself before making any campaign live on your WooCommerce store.
Track the performance – don't just stop the campaign and disappear. Analyze the results.
Make sure your coupons are valid and available for the respective user group.
Don't be afraid to test the campaign. You don't know which one will bring massive sales for you.
Use Putler to check your WooCommerce product sales performance and run potential campaigns in the future.
Check Icegram Engage documentation to optimize your campaigns further.
Wrapping Up
WooCommerce is a robust open-source eCommerce plugin for WordPress that lets anyone build their online store in no time. With the help of add-ons and extensions, it becomes more useful for store owners to drive better sales without any technical knowledge. This blog covered most of the practical WooCommerce sale strategies with the help of the Icegram Engage plugin.
Icegram Engage grabs raw website visitors' attention and converts them into loyal customers. Boosting sales in WooCommerce is no longer hard. Plugins make it easier for store owners to optimize their revenue smartly.
Happy selling!
If you have got any queries, do let me know in the comment section.