Season to be jolly!
I know most of you will be busy baking Christmas sweets. But the team at Icegram, was busy baking some fresh themes that you can use on your website during the Christmas season.
Christmas Themed Optins
Yes, we created a collection of 5 themes. You can find them in Icegram's Gallery and start using them directly. Here's a quick peek at all the 5 themes.
Popup themes – 2
Overlay theme – 1
Action bar theme – 1
Toast Notification theme – 1

Start Using These Themes Now
Where to find these themes?
These themes are directly available in the Icegram Gallery.
Go to the admin panel >> Icegram >> Icegram Gallery.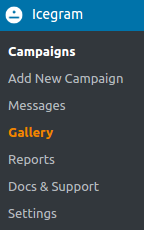 Note: Icegram Gallery is not available in the FREE plan.
How to use the themes?
You don't have to design or code too. All you do is edit the content and start using the theme on your website.
When to use these themes?
You can use these themes for showing your;
Christmas offer
Building your customer list
Simply giving away your favourite Christmas giveaway
Whatever be your usecase, I'm sure these Christmas themed designs will make your website festive and joyous.
Your Turn
Go ahead, choose your favourite Christmas theme and make your website, Christmas ready today!