During the holiday season, business owners and marketers anticipate the opportunity to make their landing pages stand out.
This is why, during the Christmas and New Year's Eve seasons, businesses are more focused on creating a celebration mode on their website and mesmerizing their customers with immediate sales, exclusive holiday sale offers on products, and impacting customers to purchase on the spot.
You must put in an additional effort to give discounts and unique offers on your products and to display them attractively on your website.
Keep reading! Let's uncover some of the Christmas template ideas like Christmas coupon templates, Christmas newsletter templates, and WordPress Christmas plugins for your website. WordPress themes are templates that can be used to customize the design and layout of a WordPress website. WordPress templates can be used to create various types of content, including pages, posts, and custom post types.
Christmas website ideas
A few changes to your website before the holiday may appear meaningful.
Include a Christmas greeting message.
Include entertaining Christmas games.
Modify the colors on your website.
Use a Christmas-themed background using Christmas templates.
Customize your social profile buttons by changing your logo.
Some snow effects.
Change the fonts on your website.
Personalize your newsletter using the Christmas newsletter template.
Announce Christmas sales using a Christmas coupon template.
Some fantastic free and premium Christmas WordPress themes and WordPress Christmas plugins are available to help you create an eye-catching website.
Curated Christmas resources
WordPress Christmas Plugins
You can decorate your store with Christmas-themed optins to stand out among your customers during this holiday season.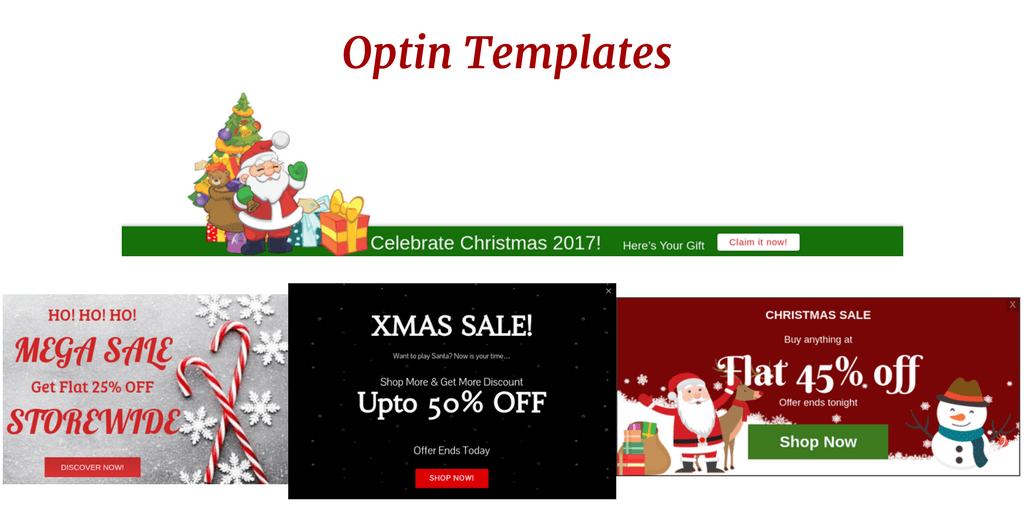 The Icegram Engage plugin has created some elegant-looking popups, action bars, overlays, and so on.
Want this Christmas email template?
Get the Icegram Engage plugin now
With Icegram Engage plugin, you can even convert your welcome or abandoned cart series into Christmas emails.
From the readymade Christmas email template to the Christmas newsletter template, this email marketing plugin is ideal for targeting and engaging your customers before the holiday season.
The Smart Coupon is the best plugin for you to create Christmas card photo templates, and generate bulk Christmas discount coupon codes, store credits, and other features to help you boost Christmas sales.
Putler tool combines, analyses, and enriches your eCommerce data for you to understand and take big decisions quickly and accurately.
You can easily analyze your Christmas and holiday season sales to track what has worked and what hasn't so as to take key decisions while planning for the upcoming Christmas season.
The WordPress countdown clock plugin allows you to add a Christmas countdown widget and a flash countdown clock to your sidebar.
You can either select from pre-defined occasions, such as Christmas and New Year's, or create your own custom event, such as a Christmas sale.
Christmas coupon template
Are you convinced that a gift coupon is a great way to both celebrate and increase sales? Store owners use emails to send greetings, offer announcements, coupons, and other information to their customers.
The best Christmas templates, whether it's a Christmas coupon template or a Christmas wishlist template, are the only way they'll remember you.
You can use online Christmas coupon templates to provide your customers who make a purchase with a discount coupon for their next visit.
Christmas website templates & popups
It is critical for a website owner that the website looks appealing and trustworthy during a festive sale. Website and popup Christmas templates are the most effective ways to attract visitors and boost conversion rates.
With the Icegram Engage plugin, you can select the best eCommerce template for your online store and create a visually appealing online store without any coding knowledge.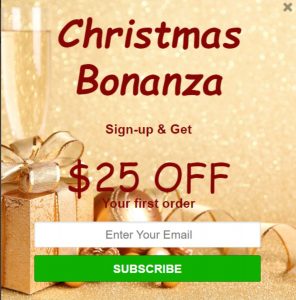 Icegram Engage has a well-designed website and popup templates that blend seamlessly with your existing website. You can easily change the text, images, background color, and background picture to suit your website.
Christmas flyers, cards, and posters
Greet everyone with Christmas posters! The pre-built online Christmas poster templates, which range from sparkly lights to traditional scenes, make holiday event promotion a breeze.
They are stunning, appealing, and the best medium for conveying personal messages for eg: Banners, they are a common form of advertising used on websites and in other digital media.
Add event details and upload photos or logos to make it your own. You can easily change the text, and colors, add/remove objects, and so on to create a variety of combinations to suit the mood of your event.
Canva has a fantastic collection of Christmas templates for cards, posters, banners, flyers, and a variety of other uses.

Sneak peeks and preview emails generate interest, foster subscribers, and boost enthusiasm.
As a result, you can begin sending out holiday-themed email newsletters at the beginning of December.
Send an email at the beginning of the month to get a head start. Send follow-up reminders once or twice a week, at the most convenient time for your customers. All of it by using the unlimited number of pre-built email and Christmas newsletter templates designed and available in the Icegram Express plugin.
Christmas email templates are pre-designed templates that can be used to create holiday-themed emails. Free Christmas flyer templates are templates that can be used to create promotional flyers for holiday events or sales. These templates can be customized with images, text, and other design elements to create unique and effective promotional materials.
It is an email and newsletter plugin to manage your mailing lists and newsletters, create and send emails quickly, manage subscriber lists, design templates, and so on
When you activate Icegram Express Max, you can find those templates by going to Icegram Express > Templates.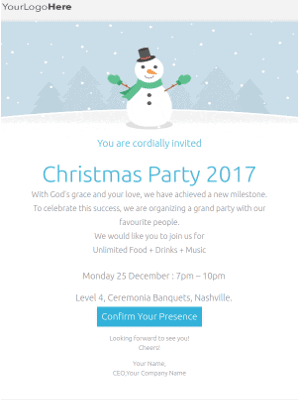 Check out the other ready-made email templates in the Icegram Express plugin.
Christmas design assets
We have curated various Christmas design assets that include GIFs, Christmas email templates, Christmas icon sets, etc., so you can use them to decorate your store.
Download them here.
Conclusion
Use the best WordPress Christmas templates to make your holiday sales skyrocket this year.
You can select a template to enhance the festival atmosphere based on the purpose of your website. All of the themes mentioned have eye-catching designs that promise to improve aesthetics and expand the customer base.
To enlighten you further, here are the key points to remember when decorating your store and emails for Christmas. By using these resources, businesses can create professional-looking marketing materials and website designs that reflect the holiday season and help to promote their products and services.
Create a vibrant Look
Establish a sense of immediacy
Make sales and announcements noticeable
Keep the purchasing procedure simple
Personalize them
Do you know of similar resources? If yes, make sure you add it to the comment section below. I will quickly update it on the blog.