It's that time of year again! Black Friday is just around the corner, and if you're in charge of your brand's email marketing, it's time to start thinking about how you can create content that converts. After all, Black Friday is one of the biggest shopping days of the year, so you want to make sure your email campaigns are up to snuff.
An effective Black Friday campaign can make all the difference for your business, so it's important to start planning early. Fortunately, we've got some tips to help you get started. Read on for our guide to creating Black Friday email content that converts.
Overview of Black Friday, Cyber Monday
The biggest sales opportunities for online businesses occur on Black Friday and Cyber Monday. In 2021, a record $109.8 billion was spent on e-commerce during those days, according to Adobe Digital.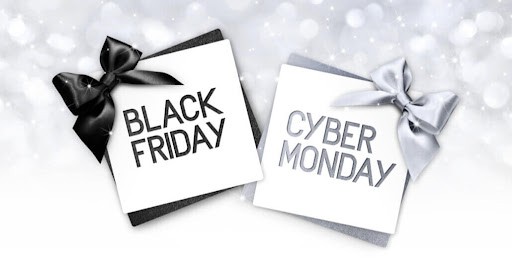 So, what does that mean for you as a marketer? It means that if you want to reach your target audience and drive conversions on Black Friday and Cyber Monday, email is the way to go. But simply sending out an email blast isn't enough. You need to create content that will capture your reader's attention and persuade them to take action.
Here are some tips for creating Black Friday and Cyber Monday email content that converts:
First, start planning early. Determine what your goals are and what you want to accomplish with your campaign.
Keep it short and sweet: No one wants to read a long, drawn-out email on Black Friday or Cyber Monday. Keep your emails brief and to the point.
Use strong subject lines: Your subject line is your one chance to make a good first impression. Make sure it's catchy and informative so that people will actually open your email.
Personalize your content: Generic emails are a turn-off. Take the time to personalize your message so that it feels like it was written just for the recipient. Create an offer that customers won't be able to resist on Black Friday or Cyber Monday.
Focus on the benefits: What's in it for your reader? Make sure your email copy focuses on the benefits of taking advantage of your offer rather than just listing features.
Promotions to reach out: Promote your campaign heavily in the weeks leading up to Black Friday and Cyber Monday. Use all of your marketing channels – social media, email, website, video platform, in-app, push notification, etc. – to get the word out about your sales and promotions.
Finally, on the big day, make sure your website is prepared for the influx of traffic and that your staff is ready to handle any customer questions or issues that may arise.
Tips for preparing your "sales pitch" before Black Friday
An effective Black Friday campaign can mean the difference between a successful holiday season and a disappointing one. To prepare for Black Friday, businesses should start by creating a sales pitch that will resonate with shoppers.
The pitch should be tailored to the target audience and focus on what makes the product or service unique. It's also important to keep in mind that price is often a key factor on Black Friday, so businesses should be prepared to offer discounts or special deals.
Plan your Black Friday email content in advance.
Keep your sales pitch short and sweet.
Use images and videos to grab attention and show off your products.
Offer a great discount or free shipping to entice customers.
Make it easy for customers to purchase from your emails by including links to your website or online store.
By following these tips, businesses can set themselves up for success on Black Friday and beyond.
When should I send my email campaign and what should it include?
You should aim to send your campaign out at least a week before Black Friday, and ideally sooner if possible. This will give people time to see it and start making plans to take advantage of your offers. Your email should include a subject line that will grab attention, such as "Black Friday Sale!" and "Get Ready for Black Friday Savings!"
In the body of your email, be sure to highlight some of your best deals and offer a call-to-action (CTA) for recipients to shop now. You may also want to include a countdown timer or an announcement about early access to your sale. Finally, don't forget to include links to your website or specific product pages.
The Top 10 Things to Include in a Black Friday Email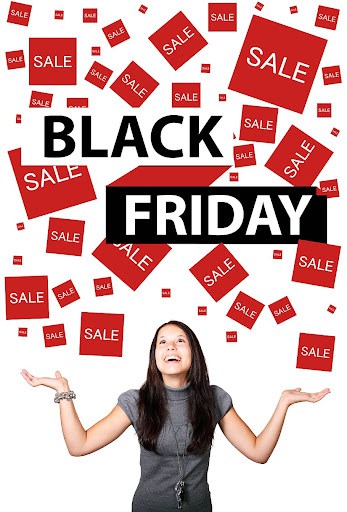 Your campaign should include all the relevant information about your Black Friday deals, including any discounts or special offers you'll be running. You should also include the below-listed tips to make sure your campaign is clear and concise so people can easily understand what you're offering and take advantage of it
A clear and concise subject line that grabs the attention
A catchy headline
A firm offer or discount
Eye-catching images with link
A well-designed email layout
Compelling copy that highlights the benefits of your offer
Social proof to build trust
A strong call-to-action (CTA)
Incentives to encourage click-throughs
The urgency to create a sense of urgency.
How to create BFCM email campaign using Icegram Express
Icegram Express is a powerful email marketing tool that can help you create content that converts. There is no limit to what you can do with its privacy-focused email automation and newsletter plugin for WordPress and WooCommerce!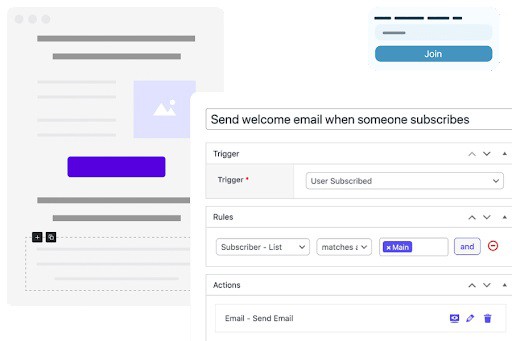 With Icegram Express, you can easily create beautiful email campaigns that are optimized for conversion.
To create a BFCM email campaign
Step 1: Install Icegram Express and activate the premium version to get started.
Step 2: Go to Icegram Express → Campaigns.
Step 3: Click on Send Broadcast to set up the Black Friday email campaign.

Step 4: Now you can see the Gallery email templates, pick any BFCM template and proceed.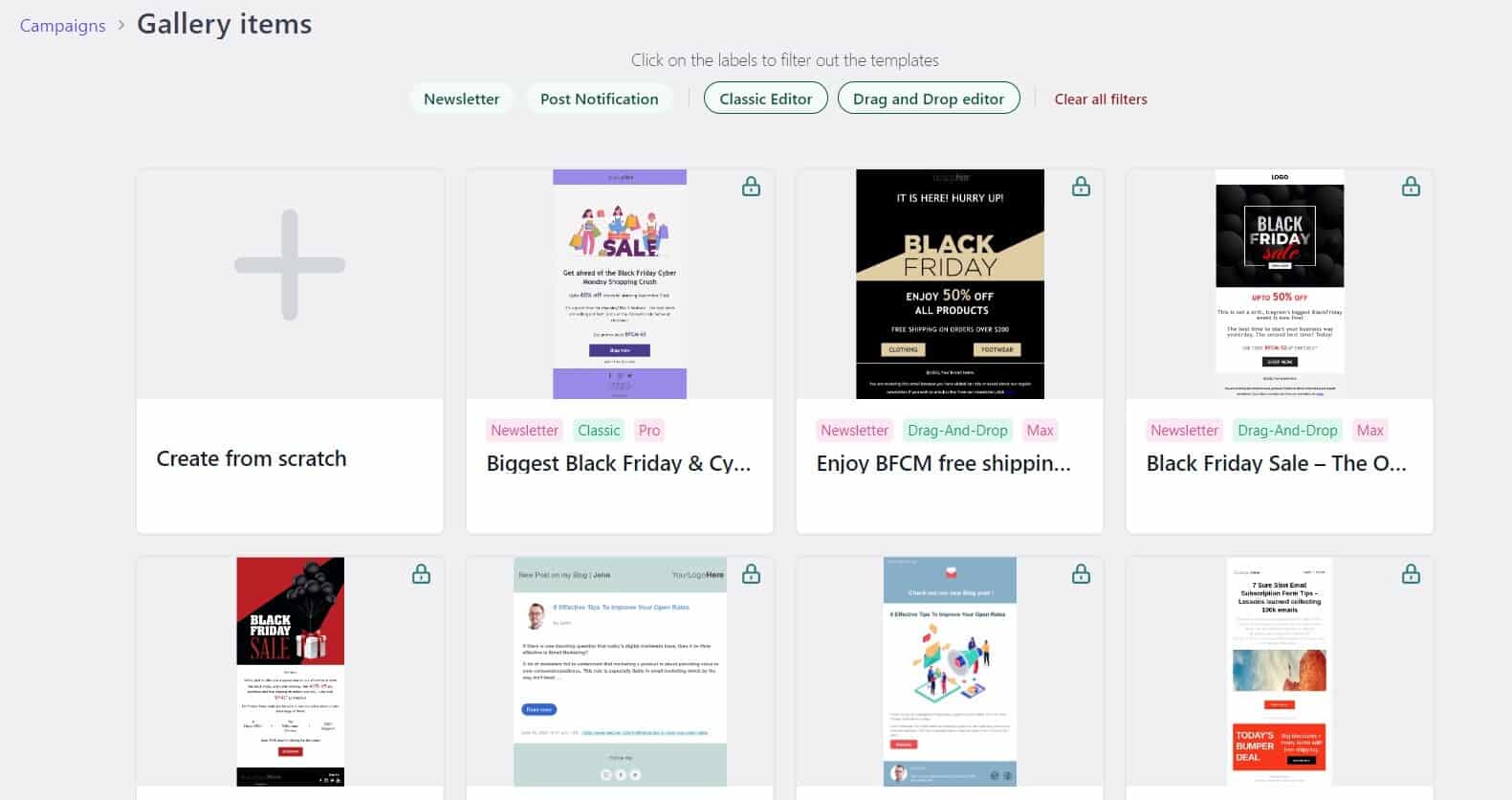 Step 5: Edit your email content, and add logos, links and images. Click the Summary tab to review your email.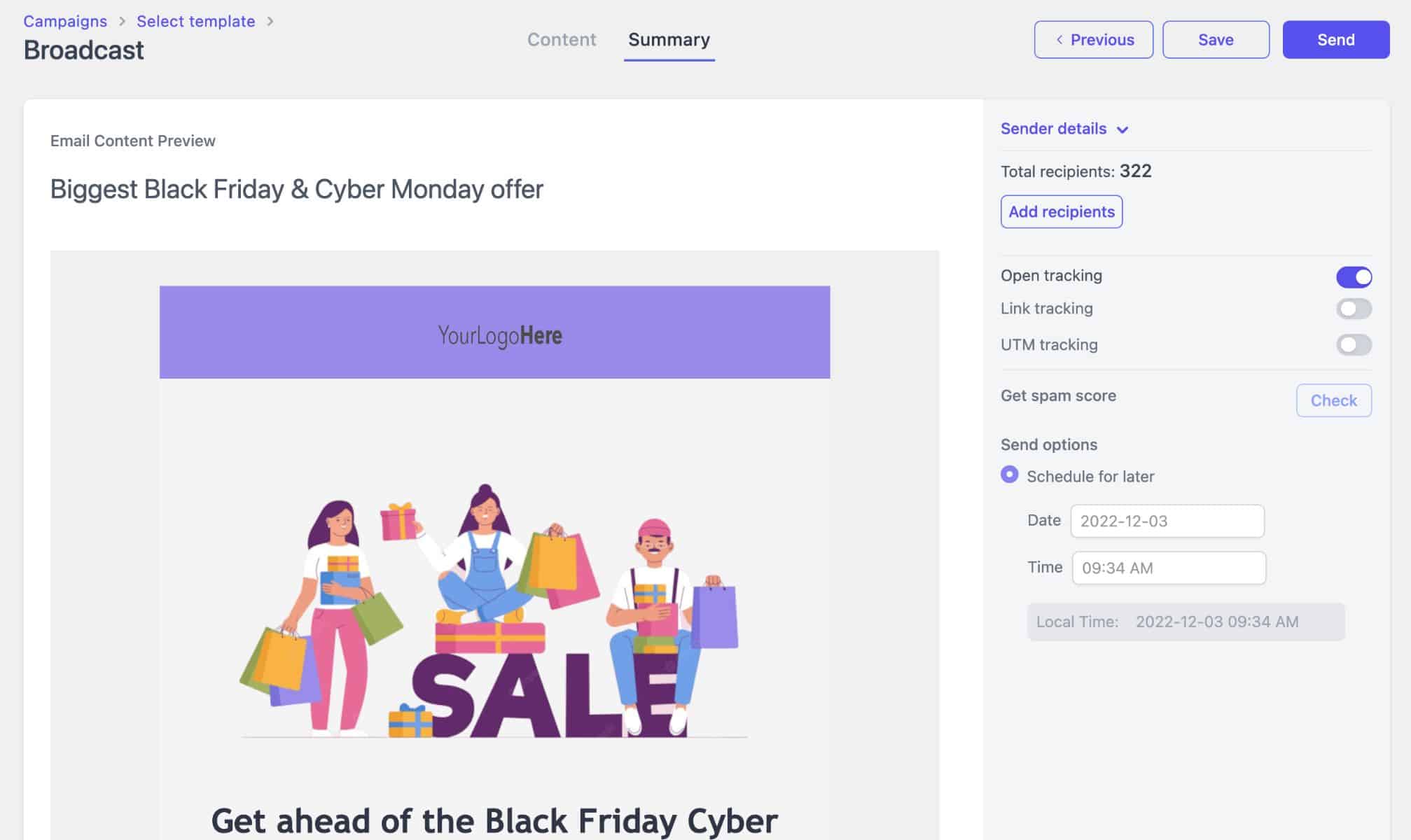 Step 6: Check the spam score and update the message accordingly, then enable/disable tracking and choose your email list to Send/Schedule.
You can also use keywords available for Email Templates according to the template type.
The drag-and-drop editor makes it easy to design your email campaign, and the templates ensure that your campaign looks professional. Plus, Icegram Express comes with all the features you need to run your own email marketing system.
Tips for a Successful Campaign
When it comes to Black Friday email content, there are a few key things to keep in mind if you want your campaign to be successful. First and foremost, make sure your subject line is attention-grabbing and relevant to the rest of your email. You want recipients to actually open your email, after all.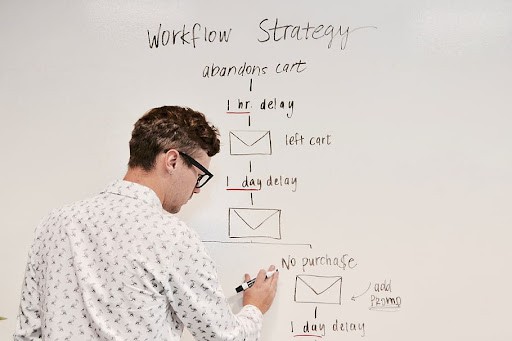 By following these tips, you can create Black Friday email content that's sure to grab attention and convert clicks into customers.
Set clear goals for your campaign.
Have a vital visual component to capture attention.
Create a sense of urgency.
Promote across multiple channels.
Make it easy for people to take action.
Don't wait until the last minute to start planning your Black Friday email marketing campaign. The sooner you start, the better. This will give you more time to come up with creative ideas and make sure that your campaign is aligned with your overall marketing strategy. Additionally, starting early will help you avoid any unexpected problems that might arise (such as technical issues or missing data).
Conclusion
Creating an effective Black Friday campaign is essential for any business that wants to take advantage of the holiday shopping season. You need to make sure your email content is on point. The tips in this article can help you create Black Friday email content that will grab attention, stand out from the competition, and most importantly, provide your readers with what they want and need to become customers.
With a little effort, you can create a successful Black Friday campaign to help your business thrive. So what are you waiting for? Get started on your Black Friday email content today!