Page Builders are a rage these days. Drag. Drop. Configure. Done! All in real time.
In the category of Page Builders, we've some premium biggies like Thrive Content Builder, Visual Composer, Velocity, Fastline and many others.
When it comes to free page builders, we've the most popular page builder by SiteOrigin, and several others.
None of these are perfect, where different page builders may be of your use depending on your requirements. There's none that fits all.
A few weeks ago, we saw a release of another Page Builder – Elementor.
Initially, it seemed like another addition to a big list of Page Builders.But Elementor is on the different level.
Let's begin with what uniqueness does this new Page Builder brings in for you.
Elementor Review – Why It's Far Better than any other Free Page Builders
Elementor is brought to us by Pojo, a company dedicated to developing Premium Drag and Drop WordPress Themes.
Elementor is front-end, drag-drop page and posts builder with which you can build amazing posts and pages live, without any lag or delay.
Elementor's Settings Page
Elementor's Settings Page is clean and super easy to get started with. You simply select where to enable Elementor (on posts and/or pages), select capability roles of who can use Elementor, change default generic fonts (if you wish to), and opt-in to help them collect anonymous data.
Elementor Frontend Interface
Elementor's Frontend Interface is easy to get started with. On launching Elementor's frontend page builder, you'll see the Elementor's control panel on the left, and your site live on the right. The post page is now a blank canvas (if you don't have anything prewritten from the default WordPress editor) for you to show your creativity on!
Also, as you're starting Elementor fro the first time, you're presented with a Quick, 2-minutes tour showing you how to get started with and use Elementor.
Setting up Layout
It's easy to set up layouts with Elementor. You can add a New Section which presents 12 grid-structured column layouts. Or you can simply drag one of the elements into the area to start with.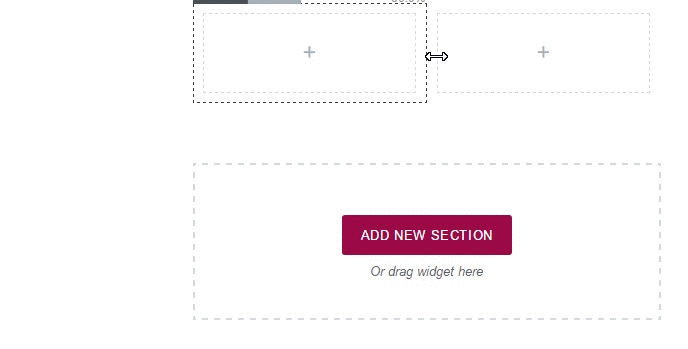 The grid structure is flexible, i.e. you're not bound to choose a fixed particular width and squeeze your elements. You can adjust the grid layout by moving your mouse over a grid, dragging the horizontal clip and adjusting it according to your necessity!
Elements
Elementor is divided into widgets which are referred to as Elements, to drag and drop onto your Canvas and build posts and pages.
As of version 0.3.2, Elementor consists of 24 Elements (Widgets) consisting of several Image Elements, Boxes, Video Elements, Lists, Text, HTML and more.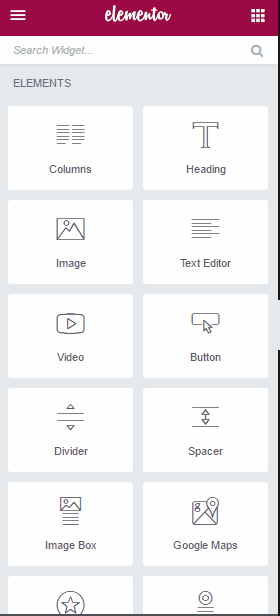 Along with these 24 Elements, there are 12 WordPress element blocks that lets you add WordPress-specific stuff like Categories, Posts, Pages, Menus.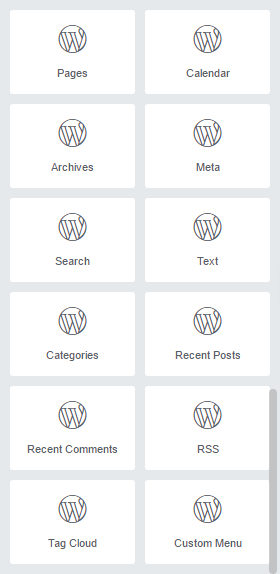 This is very handy at times which does not come packed with many of the Page Builders out there.
Using an Element is very easy with Elementor, the one that you wish to include in your content, drag and drop it in the plain canvas to the right.
Configuring Elements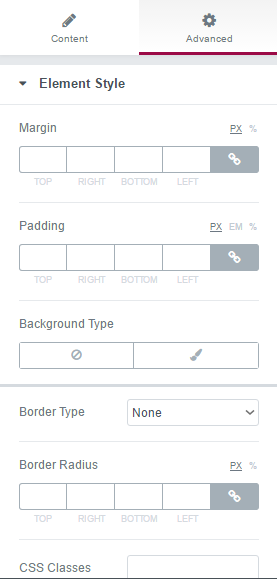 Every element has a custom set of related options that can be configured to match what you want it to be.
Every part of the element can be configured through the custom set of options, including advance adjustments for every element like Custom CSS Classes, Margins, Paddings, etc.
This is from one aspect, important, to have full control over what type of element you add and how you present it. In this aspect, Elementor lives up to its mark well.
Testing your work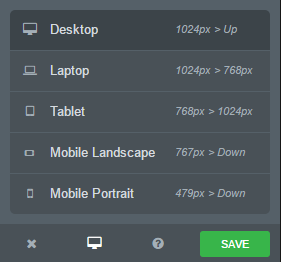 Every page builder builds responsive pages, but very less of them allow you to test it in real-time. And then you have to go to all the browser resizes and difficult stuff. Elementor makes this easy.It has responsiveness tests pre-built into the panel. With a single click, you can view how your post/page will look on Desktops, Laptops, Tablets and Mobiles.
Pros and Cons
Let's summarize this review into highlight points, the major pros and cons of using Elementor.
Pros:
Although Elementor is a Page Builder, it works seamlessly with Posts.
No lag. Instant response to drag and drop.
Easy UI and logical structure.
Advanced configuration possible.
Amazing Support to get your problems solved quickly (this really matters!)
Cons:
Lack of Elements (Widgets)
Final Take
Elementor is indeed a beautiful creation and contribution to the open source community.
Personally, as soon as I started testing and using Elementor, I replaced my current Page Builder with Elementor. And yes, it really lives up to the mark.
Also, the awesome guys at Pojo are working on releasing a premium version of Elementor (Elementor Pro) which will be something at another level, though they promise to keep adding new features to the free version.
Have you tried Elementor? What's your opinion on it? Share with us in the comments below.