Email blast has been the preferred email marketing strategy in the 20th century.
But many marketers are against it today, considering it spammy and annoying.
So should you do an email blast? Yes, provided you follow the right ways.
In this article, we'll mention the email blast definition and how to do it for better conversions.
What is an email blast (eblast)?
Email blast is the strategy of sending a single email to an entire list, a large list or multiple lists simultaneously. It is also called an eblast or mass email sending.
The most common example is of sending a sale email or a newsletter to all your subscribers.
An email blast involves hardly any personalization or segments, so the chances of your email falling flat are very high.
But still, you would be able to reach out to a larger set of audience to convey your message.
Why users don't like an email blast?
Since blast email messages are sent to everyone regardless of their choice and priorities, they consider them as free email bombs; destructive, useless and irrelevant.
Here's why they ignore them:
Not personalized – All of us like an email that addresses us personally. There is a special message or some exclusive offer, which is not the case with an email blast.
Not segmented – What if you greet Happy Independence Day on the 4th of July to your subscribers who are Non-Americans? It won't resonate much with them.
Not targeted – If you don't send emails to customers based on their previous purchases or choices, they may find it less important.
Unexpected – Emails that come randomly or too many irrelevant emails are also shown a deaf ear.
Such emails stand a higher chance of landing in the spam or in the Promotional section that are also ignored many times.
End result is a poor sending reputation and distrust from your audience.
Nowadays, social media, affiliate marketing and ads have eaten up email marketing space.
So does this mean a dead end for email blast marketing?
Absolutely not. Email marketing is still the king of conversions, and email blast is no exception provided you do your email blast campaign rightly.
Even the big companies do it but they do it effectively. And that's what the next section of our article is all about.
8 effective ways how to do email blasts
These eight tips or ways will refine the way you do email marketing and ensure that your next email blast will:
Get delivered
Keep your audience engaged
Encourage them to take an action
Choose an email blast service
You need to have an email marketing service to send your email blast. This email blast software will help you create segmented lists and send out bulk emails.
But before that, you need a lead magnet to build your list. Here are some best lead magnet ideas that will help you gain more subscribers.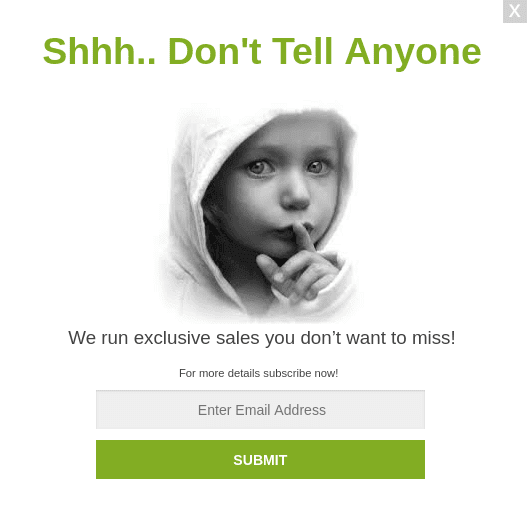 You can try out popular email marketing solutions like MailChimp, Aweber, Constant Contact if you don't mind spending more money.
But if you want a pocket-friendly solution that is very easy to use and works very well like the big guns, try Icegram Express for WordPress.
List building, segmentation, readymade templates, list cleanup, spam check, captcha…Icegram Express provides them all.
Build your targeted list
Determine who you want to reach with your email blast and prepare lists or segments accordingly.
You can segment your email subscribers based on their age, gender, previous purchase frequency, order total, geographical location, interests, etc.
For example:
A master list that consists of all your subscribers to send out newsletters.
Black Cyber sale list containing only top spenders on your website to date.
A list containing only subscription-canceled customers to nudge them with a discount to re-subscribe.
Create a compelling subject line
Write a subject line that will grab the recipient's attention and entice them to open the email.
Try to keep the subject short and maybe a list of what's inside the email. You can add some urgency or scarcity triggers for promotional emails.
We observed that adding icons and brackets in emails increased our open rate by around 12%.
Design an attractive and effective email
An attractive email does not mean it should be very fancy. A plain text email with a minimalist design and colors works better. Email is a message, so what you write matters. Use a clear and concise message with a call-to-action (CTA).
If you want to use an image, use it for discount campaigns or product launches.
Also, add a clear unsubscribe option, so if your subscribers wish to stop receiving your emails, they can do so.
Important – Make sure your email blast complies with the CAN-SPAM Act and GDPR regulations.
Test for spam
Before sending the blast, test the email on different email clients and devices to ensure it looks and works properly.
You can use the Mail Tester tool to check your spam score.
Identify the best time to send an email blast
Not all will open your email at the same time or even on the same date. The geographical location also matters.
The best time to send emails is early morning or late on working days. Moreover, emails sent from Wednesday to Friday can bring higher open and click rates.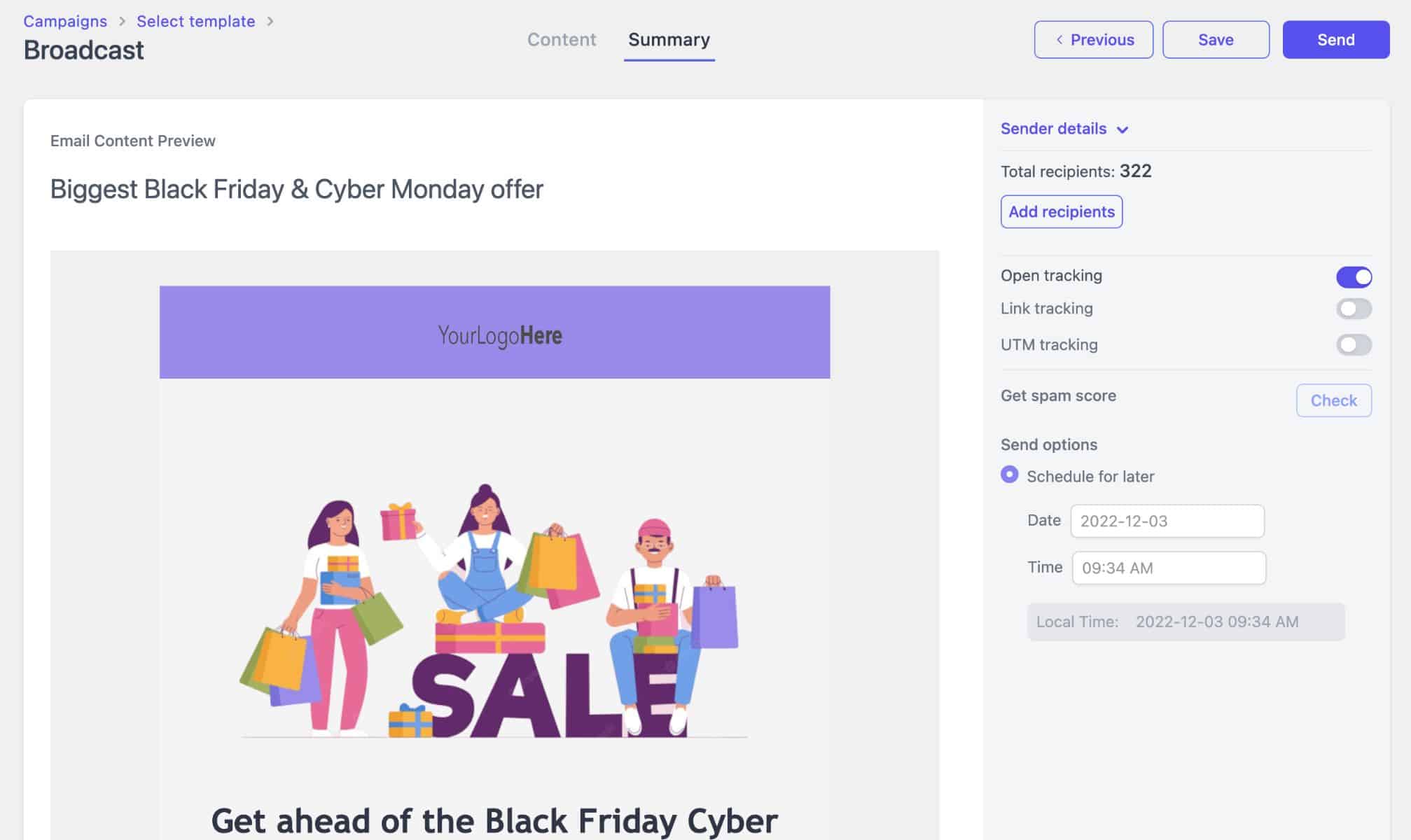 Schedule email delivery
Use the power of marketing automation to send your email blast campaign immediately or schedule it for a later date.
The scheduling feature can help you maximize your email blast's impact based on the time it will reach the recipients.
Track and Analyze
After the email blast, track the open and click-through rates and make changes to improve the results for future campaigns.
Final words
As long as you are sending targeted, relevant messages to your list, conversions are bound to increase for your email blast.
And to do an email blast, Icegram Express is your best option – simple, economical and proven to deliver results.