Email marketing and social media marketing are the two branches of the same tree. Both are important marketing channels and equally essential to build relationships with our subscribers. The combined power of email marketing and social media can give you a massive advantage over any other channel.
By combining email marketing with social media, you can save time and effort, increase engagement, and boost your marketing efforts.
Standing in 2022, when content marketing is the most effective form of marketing, we marketers should not underestimate the power of either social media or email marketing.
I'll be sharing some of the tricks that helped me level up my marketing game by combining email marketing and social media marketing.
Let's get started.
Save time, effort and money through content repurposing
Bloggers, entrepreneurs and marketers are busy people. How are we supposed to create different content for different channels? I tried it once and the result was half-baked content that didn't bring me any engagement.
I wanted a trick that saves my time, effort and brings enough engagement. This is when the idea of content repurposing struck me. I found out that repurposing content between email and social media channels is a pretty easy task.
Later, I discovered that repurposing content is a major part of influencers' social media strategy. In fact, it is a rather cost-effective strategy that startups, mid-size businesses, and individual bloggers can easily adopt.
Here are some tricks to repurpose content on email marketing and social media marketing channels.
I would use my email copywriting skills to create engaging email copies first. Afterward, I can cut the email into multiple tweets and social media posts. I can also use it as a nudge for people to sign up for my newsletter.
Another smart way is to share user-generated content. I asked some questions on social platforms and generated email and social media content from that. I also asked our followers to tag us in their success stories. Then I selected some of the best-written stories and sent them in newsletter format to our Icegram Express. User-generated content is super relatable.
One more idea that works well was to test content ideas first on social media. If they get comments and likes, turn that into a blog post or email campaign.
Using similar content across multiple channels not a problem – as long as you know how to present it well.
One way to balance email marketing and social media marketing is through content repurposing, which involves adapting your email content for social media platforms or vice versa. You can also use giveaways and contests to increase engagement on both channels and grow your email list.
Run giveaways/contests to nudge the FOMO
I guess it is safe to say that contests, giveaways, and polls are tried-and-tested tricks to boost social media engagement. But that's not it. Smart marketers can find a way to grow their email list with this exact simple trick as well. Here are the deets of what I have done:
Give an exciting giveaway post that clearly states what the subscribers need to do and what prizes are waiting for them upon winning
Add a powerful CTA that directs your followers to join your email list
Here's an example of what one could do:
This social media marketing strategy can quickly grow your email list within 24 hours!
The giveaway example you saw earlier is an example of combining email marketing and social media marketing. Two more tricks like that: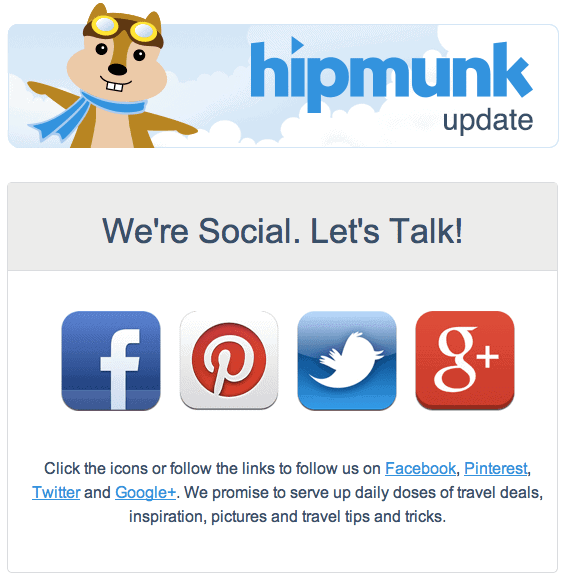 You're probably already using social media icons to your email footer. This is your nudge to follow you. But you can go one step further and do what Hipmunk did. An email in your autoresponder sequence that invites people to follow you on social media.
Secondly, keep encouraging your social media followers to join your email list. Do not forget to provide a strong reason to opt-in. This way you start owning your audience, rather than rely on another platform.
If your audience is happy with your emails, they will follow you on social media. If they like your insights and interactions on social media, they will join your mailing list for in-depth content.
Conclusion
You have many channels to promote your ideas and offerings. However, we often miss out on one of the most critical factors – integrating multiple channels.
Mixing and matching between email and social media can also be effective, such as using social media to test content ideas before turning them into emails or blog posts. By finding the right balance between email and social media marketing, you can create a cohesive and effective marketing strategy that drives results for your business.
To build an impact through email marketing and social media marketing, the best thing we can do is create a balance between these two. Remember that 1+1 is always greater than one when it comes to marketing.