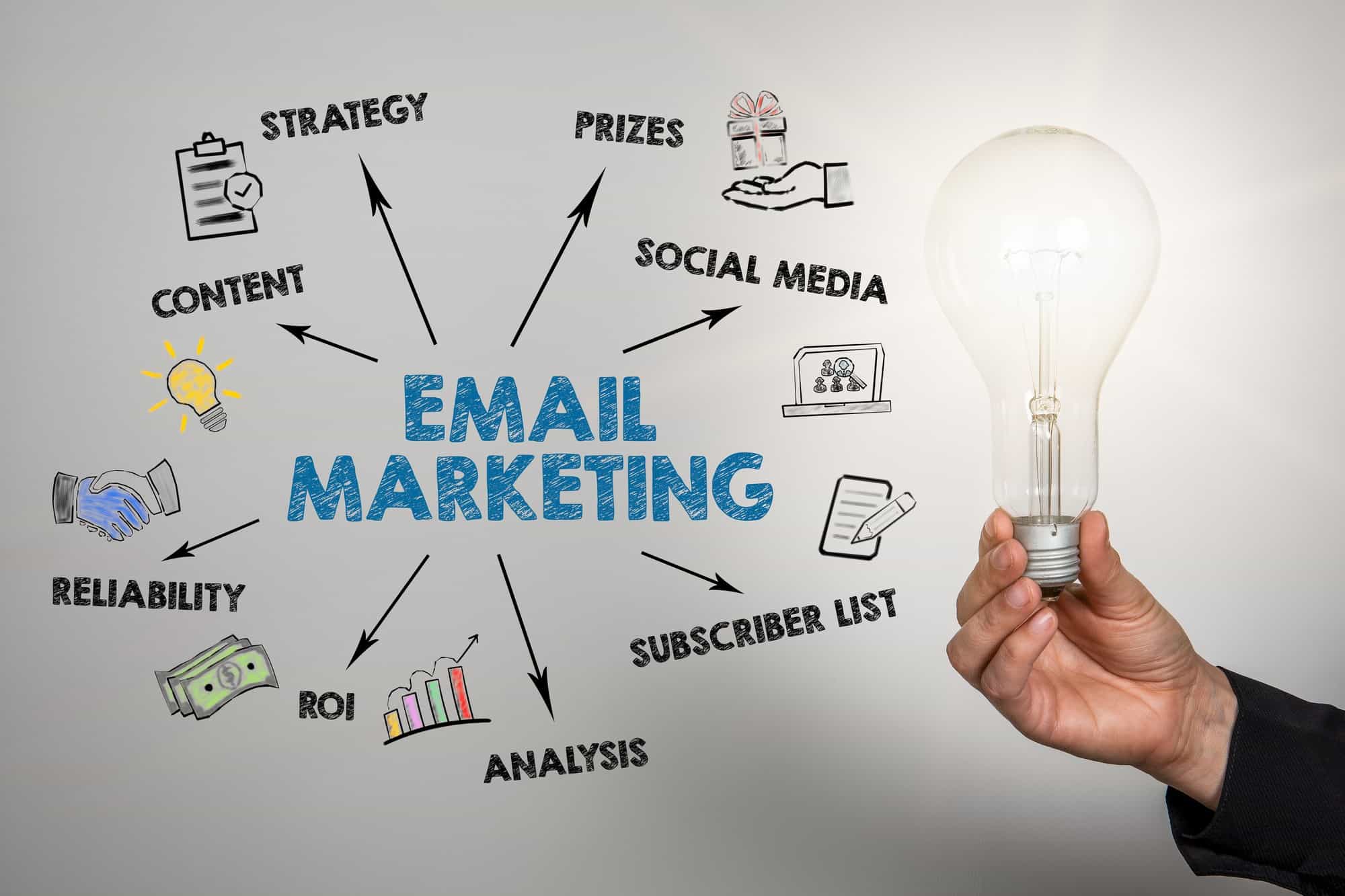 Are you tired of sending the same old generic emails to your entire list, hoping that someone, anyone, will take the bait? Well, fear not! Automation is here to revolutionize your email marketing game.
By using targeted and personalized emails based on customer behaviour and preferences, you'll be like a personal assistant for each and every one of your customers. And the best part? Automation saves you time and money, meaning you can sit back, relax, and let the software do the heavy lifting.
So let's take your email marketing to the next level, shall we? Studies predict that the marketing automation market is projected to grow from USD 5.2 billion in 2022 to USD 9.5 billion by 2027, at a CAGR of 12.8% during the forecast period. So read on to learn how to take your email marketing to the next level!
What is email marketing automation?
Email Marketing Automation is a super cool tool that companies can use to promote and sell their products or services through email. Basically, instead of manually sending out emails, businesses can use email software to automate the process of sending and tracking emails.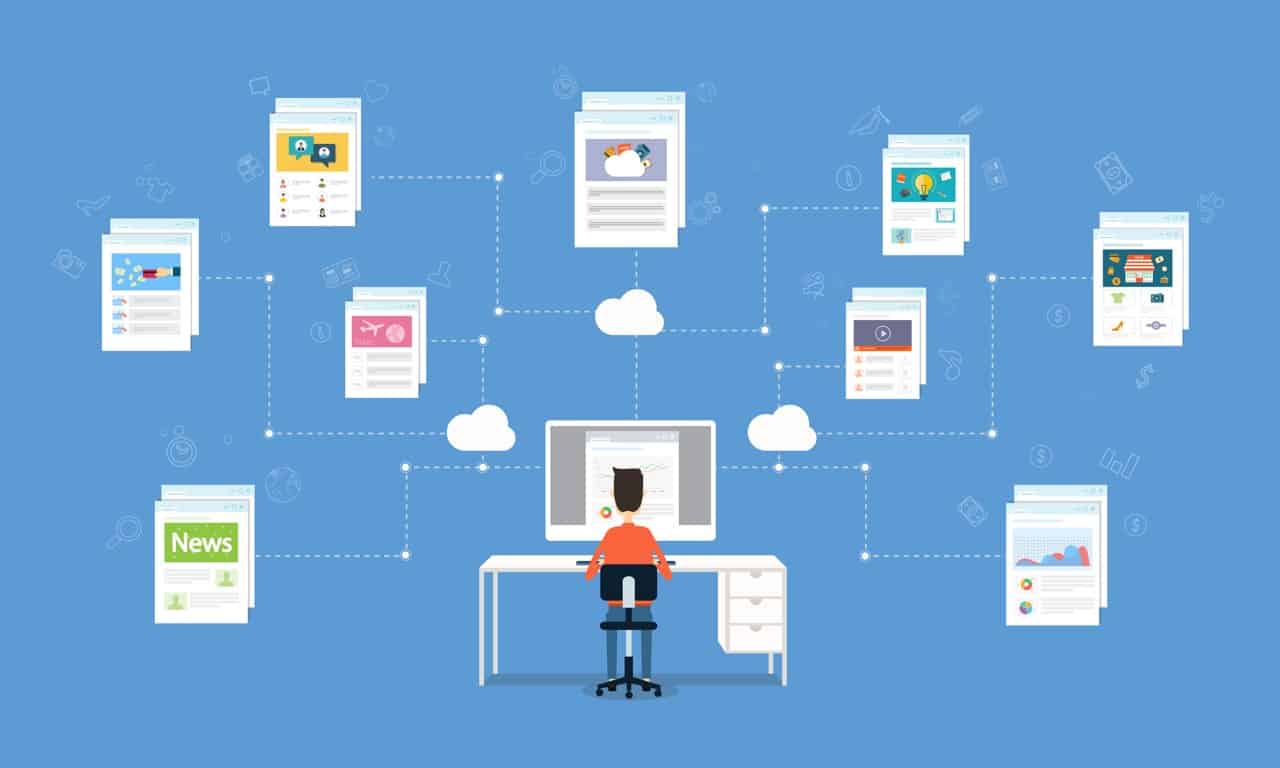 With email marketing automation, you can send out all kinds of emails, like;
Welcome emails
Follow-up emails
Thank you emails
Other promotional or transactional emails.
It's a great way to streamline your email campaigns and make sure your customers and prospects are getting the right messages at the right time.
Why should you set up Email Marketing Automation?
Well, email marketing automation can be a total game-changer for your business! If you're not using it already, you're missing out on some major benefits. Here are just a few reasons why email marketing automation is so important:
Saves time and money by automating email workflows and segmentation.
Reaches more people in less time by setting up targeted campaigns and follow-up emails.
Increases engagement, conversions, and overall success by sending highly personalized emails.
Scales your business by easily growing your list and reaching more people without manual effort.
Types of email marketing automation
It's important to understand that there are different types of email marketing automation, each with its own benefits and drawbacks. Let's take a closer look at each type so you can determine which one is the best fit for your business.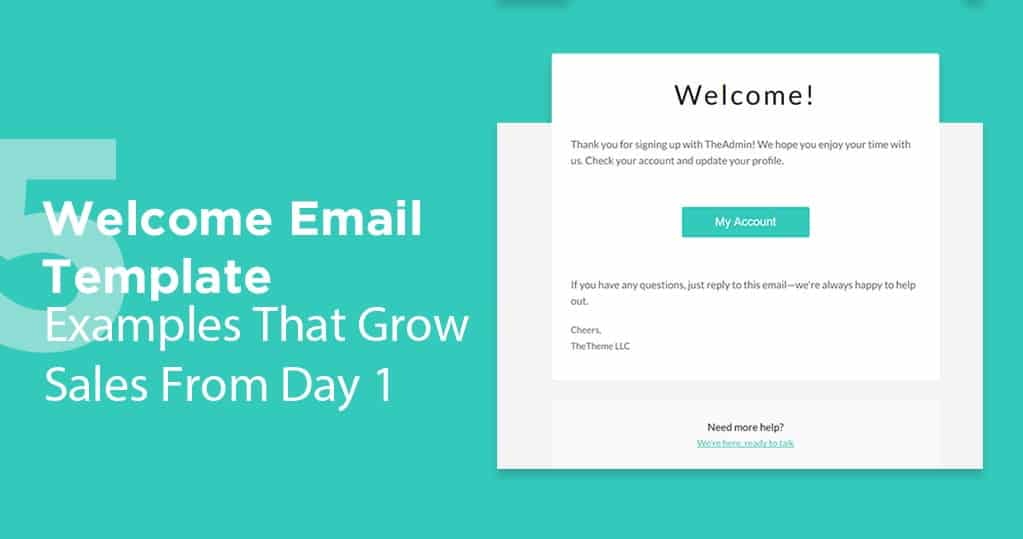 Want to know a secret to make a killer first impression with your brand?
It's all in your welcome email!
This is the first email that new subscribers receive after signing up, and it's your chance to establish a relationship and set expectations.
Here are a few tips to make sure your welcome email hits all the right notes:
Create a compelling subject line that stands out in their inbox.
Show off your brand's personality and recommend your best content.
Offer new subscribers a special discount or promo code to make them feel valued.
Make it easy for subscribers to opt-out. We only want to message those genuinely interested in our brand.
Remember, your welcome email sets the tone for a great customer experience. So get creative and make it count!
Pro Tip: Icegram Express helps you to create a top-notch welcome email sequence without any hassle
Birthday & Anniversary Emails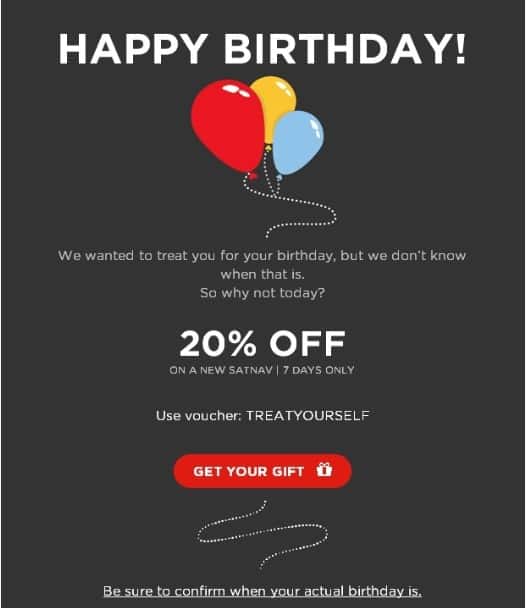 Whether it's a birthday or purchase anniversary, personalized emails are a great way to celebrate special occasions with your customers! By personalizing these emails to each subscriber, you show them that you care about their business and appreciate their loyalty. Here are some great options:
To make your emails more meaningful, collect important dates like birthdays and anniversaries and send special content like free gifts or personalized videos.

Timing is everything! Decide when you want your email to arrive – before, during, or after the event.

Send your emails in the weeks leading up to and after the event to maximize engagement.

Celebrate only one or two anniversaries to keep them special.
By thanking them for their loyalty and offering a unique discount or special offer, you can increase engagement and brand loyalty. McKinsey reports that personalized emails are expected by 71% of consumers and 76% feel frustrated when this doesn't happen. Don't miss out on the chance to show your customers you care!
Follow-up emails
Did you know that sending relevant content can improve your customers' perception of your brand? That's where follow-up emails come in.
Follow-up emails are a great way to keep the conversation going with prospects or customers who have engaged with your business. They can be
Manual – Increase efficiency and tailor your messages to each individual prospect and their specific needs.
Trigger-based – Useful for tracking abandoned carts, clicked links, and other types of triggers that can boost conversions.
Time-based – In situations such as unopened emails, no responses from prospects, or after a specific event or period.
They are effective because they improve the user experience and can generate revenue.
To get the most out of follow-up emails, it's important to find the right balance between staying in
touch and overwhelming your audience. Make sure your content is highly relevant to each
individual recipient.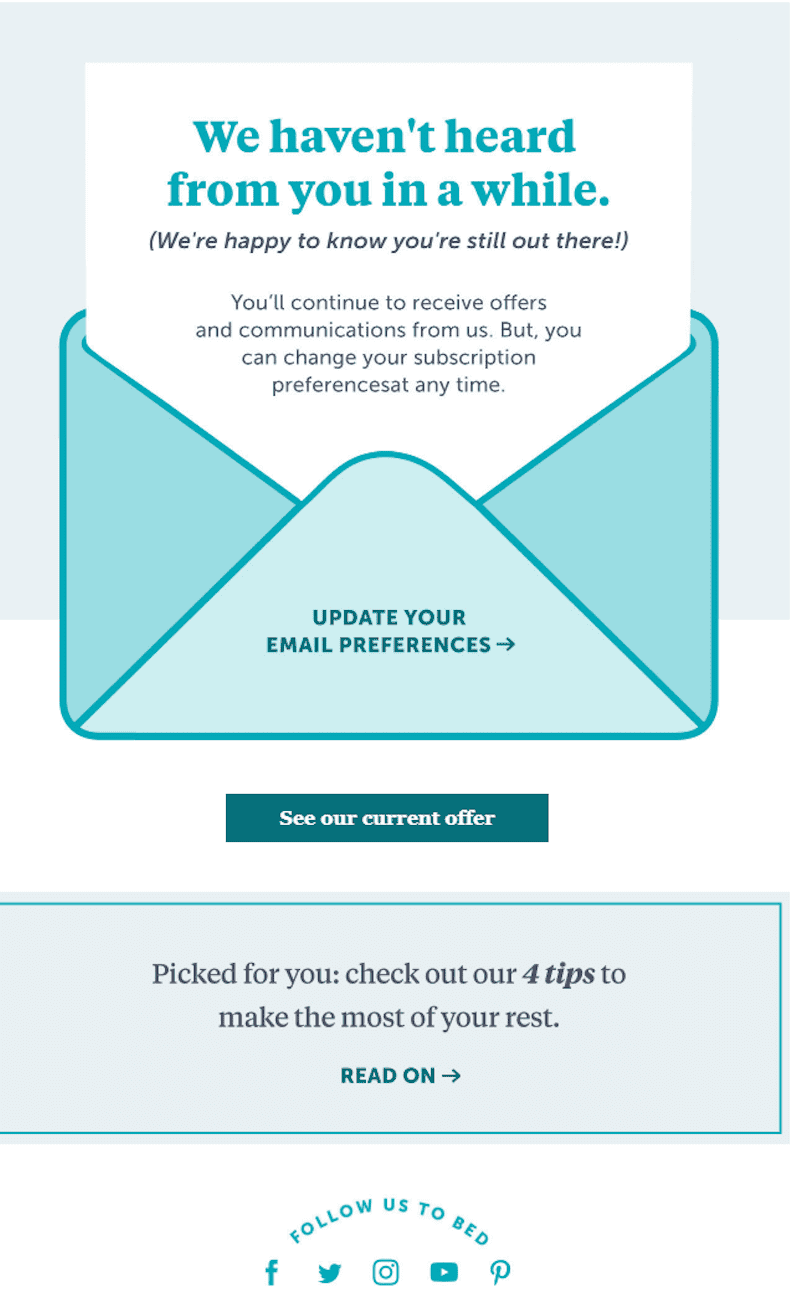 If your email marketing campaigns are losing their spark, it's not the end of the road for you. The solution lies in reactivation emails – the perfect way to reignite the interest of inactive subscribers.
These emails are designed to re-engage inactive subscribers who haven't opened or clicked on your emails in a while. Reactivation emails can help increase engagement, reduce churn rates, and ultimately improve your sales. However, it's important to make sure your reactivation email campaign is well-crafted and personalized to your subscribers' interests.
Here are some Reactivation Email strategies and best practices:
Personalize your emails based on their interests, and position in the buyer's journey.
Test your emails with A/B testing or time your emails to avoid weekends and holidays, taking into consideration your subscribers' time zones.
Keep your emails exciting while maintaining the right frequency.
You should scrub your email list if some of your subscribers fail to respond to your reactivation emails after several attempts.
By following these tips, you can increase the engagement and effectiveness of your email marketing campaigns.
How does successful email marketing automation work?
Investing in email marketing automation is the most effective way to nurture and engage your target audience. According to recent statistics, 96% of marketers have used a marketing automation platform for their business. This is despite the fact that nearly half of all organizations have started using one within the last four years.
Although automated email is valuable, many companies aren't implementing it. You can easily create a smart, targeted automated email campaign and get started driving results right away. Here's how automated email marketing can be successful:
Successful email marketing automation involves using email campaigns to automate tasks like sending emails and delivering personalized messages
To begin, create a plan for your campaigns and decide which types of emails you'll be sending, such as newsletters or product announcements
Then, create engaging content for your emails, including custom HTML templates, engaging copy, and captivating images
Choose an email automation platform like Icegram Express, MailChimp, Mailjet etc and configure the settings according to your goals and objectives
Send a welcome email to new subscribers and start targeting different segments of your list with personalized emails.
Monitor the performance of your emails by tracking open rates, click-through rates, and unsubscribe rates to optimize your campaigns over time.
Top email marketing automation Software
With automated emails, you can provide personalized and valuable information to your customers without lifting a finger. From welcome emails to re-engagement campaigns, the possibilities are endless.
And the best part? By leveraging email automation, you can save time and resources while still delivering an exceptional customer experience. All that amazing stuff is only available if you select the right email marketing automation tools.
My list of some of the best email marketing automation tools options is below:
Icegram Express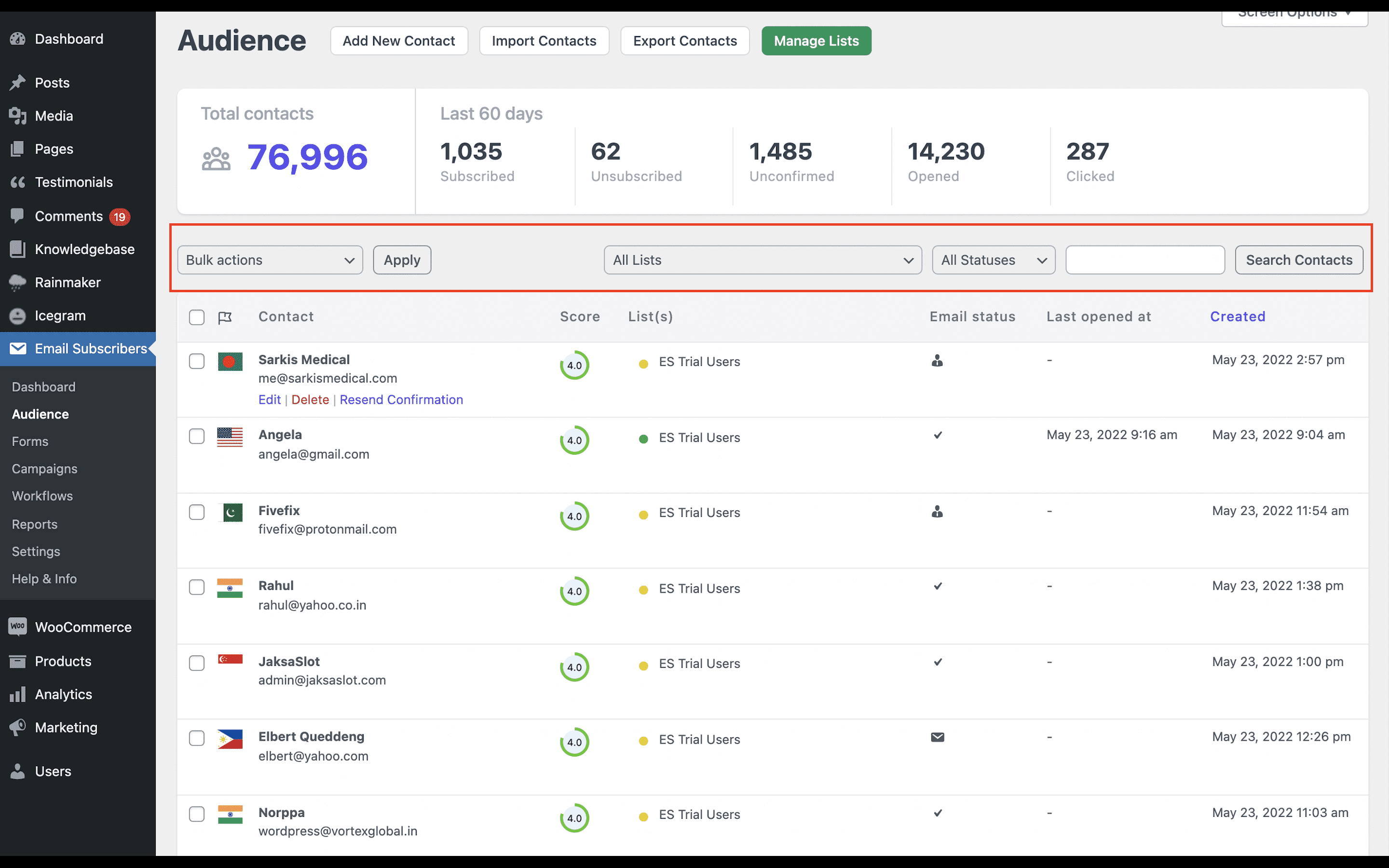 Icegram Express is the ultimate email marketing plugin for your WordPress site. It is the perfect tool for bloggers and site owners who want to take their email marketing efforts to the next level. Here's why you'll love it:
Sequentially triggered emails: Keep your subscribers engaged with timely and relevant content.
Spam protection: Say goodbye to pesky spam with our advanced protection features that include Forms & Emails integration, Engagement Tracking, and Detailed Reports.
Personalized Email Automation: Send a sequence of emails to new subscribers welcoming, reminding or promoting something after a specific time using Email Sequence.
Post digests: Keep subscribers in the loop with regular email digests of your top content. Export/Import Unlimited contacts anytime for free.
Email delivery problem solver: Say goodbye to frustrating email delivery issues with our plugin's built-in solutions.
Pricing:
In addition to a Free Plan, Icegram Express also offers
Pro Plan for $129 per year
Max Plan for $229 per year.
Automate your email marketing with Icegram Express. Start your free trial now!
Sendinblue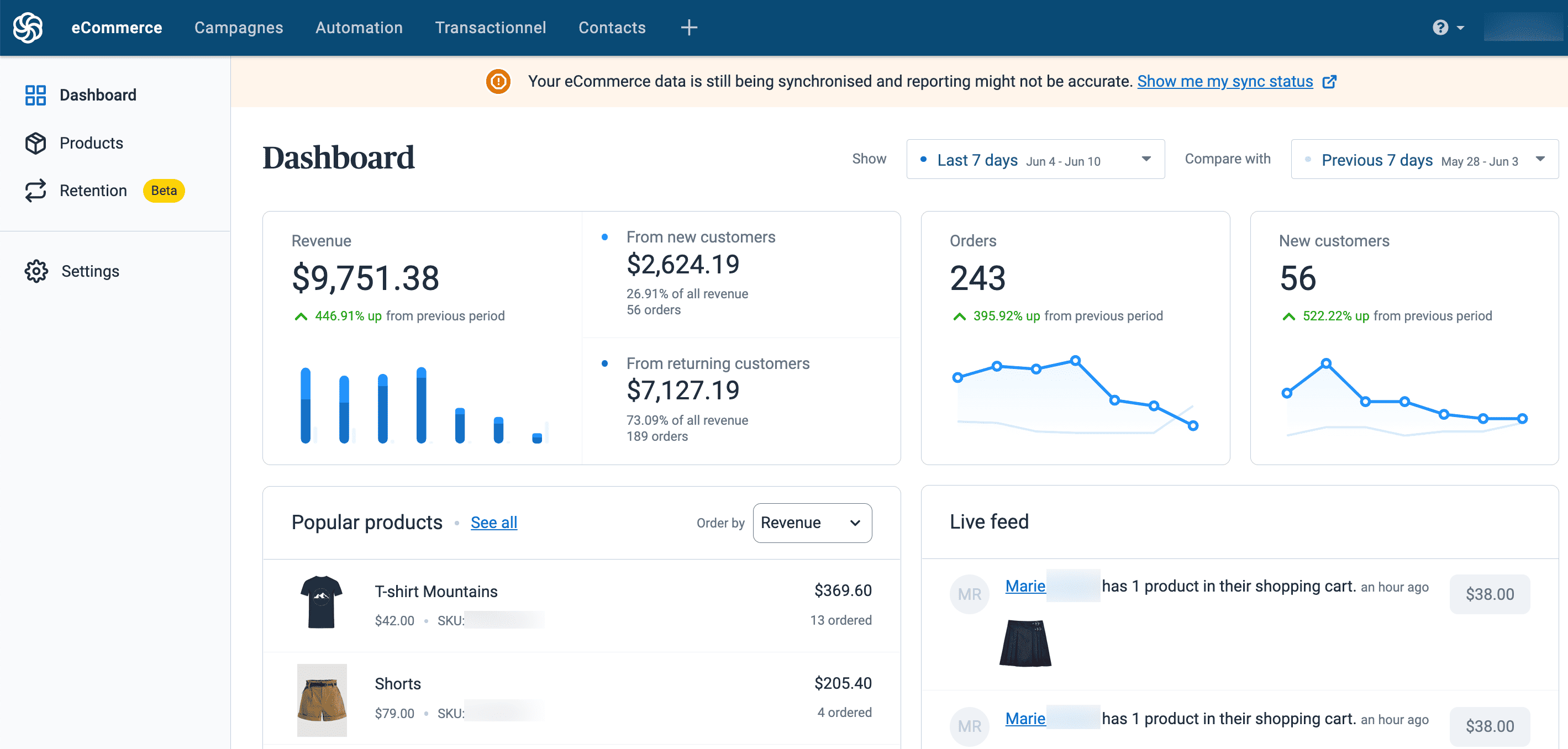 With Sendinblue's official plugin for WordPress, you'll have all the tools you need to create effective email campaigns that drive results. Here's what you'll get:
Subscription forms: Create custom subscription forms and easily integrate them into your site for maximum visibility.
Contact lists: Manage your contact lists and take advantage of advanced segmentation to improve your campaign performance.
Marketing campaigns: Easily create and send beautiful newsletters using our mobile-friendly, drag-and-drop builder to create custom emails or select from our template library.
Statistics: Real-time report dashboard gives you advanced insights into deliverability and performance: opens, clicks, bounce reports, and more.
Marketing automation: Enable Automation on WordPress to auto-install the script on your website and the identify tag on the Sendinblue forms and WordPress Login.
Pricing:
Sendinblue offers a Free Plan as well as
Starter Plan for $25 per month
Business Plan for $65 per month.
Get started with creating effective email campaigns that drive results by installing the Sendinblue official plugin for WordPress today!
Mailchimp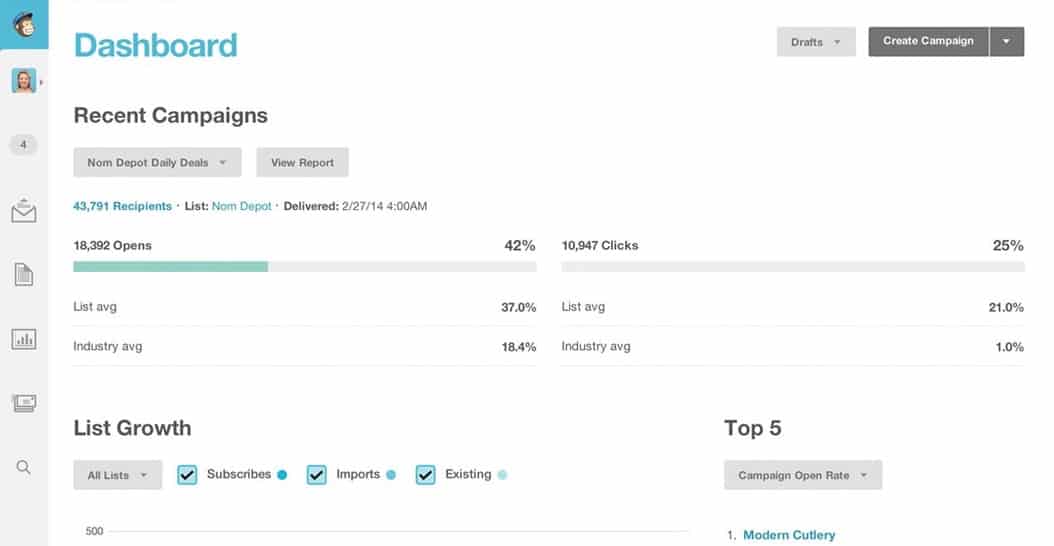 Want to keep your customers engaged and your business growing? Mailchimp is a powerful marketing automation platform for creating, sending, and analyzing email and ad campaigns with complete campaign transparency. Here's what you can do with the official Mailchimp for WooCommerce automated emails integration:
Opt-in subscribers: Sync new subscribers to your Audience when they create an account and opt-in.
Marketing automation: Set up automation to remind customers about items they left in their cart, win back lapsed customers, and follow up post-purchase. (Now available for free accounts!)
Product recommendations: Showcase product recommendations to boost sales and increase customer engagement.
Detailed data: View detailed data on your marketing performance in your Mailchimp Dashboard.
Advertising: Connect with new and current customers and drive them to your site with Facebook and Instagram ads. Then, use Google remarketing ads to turn site visitors into shoppers.
Pricing:
MailChimp offers a Free Plan, as well as
Essentials Plan for $9.27/month
Standard Plan for $13.85/month
Premium Plan for $276.99/month.
Supercharge your email and ad campaigns with Mailchimp for WooCommerce. Install now and start growing your business!
Mailjet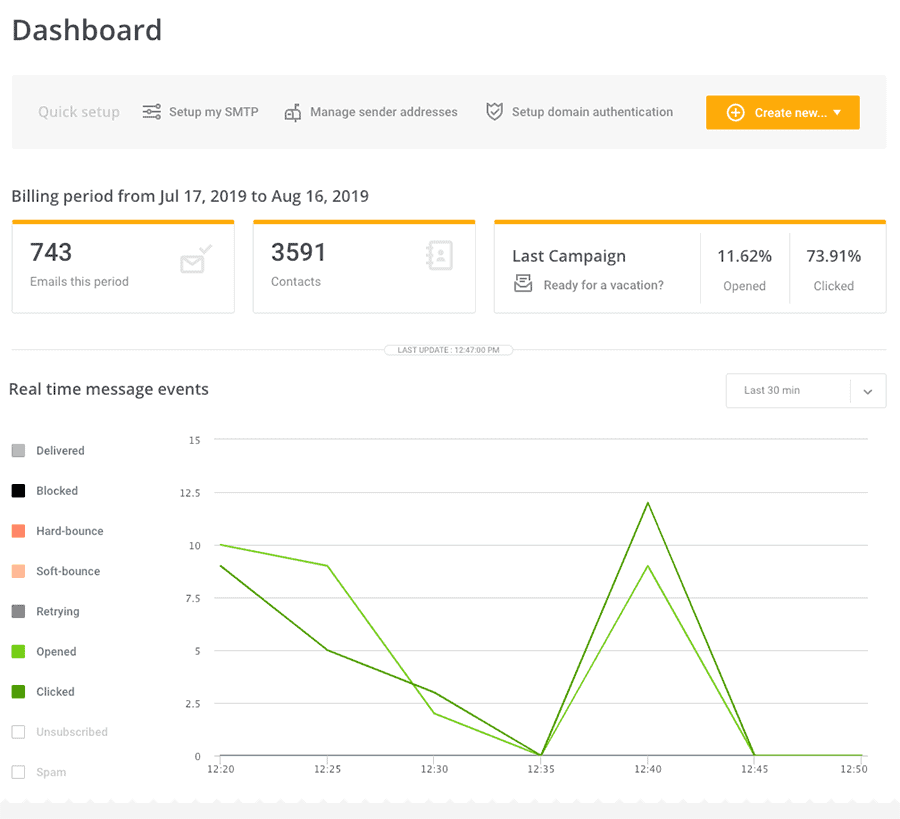 Mailjet's WordPress plugin makes email campaign management and contact list building a breeze while offering customizable options and world-class deliverability and security. Here's why:
Easy Email Management: Create and manage marketing and transactional email campaigns from your WordPress website
Automated Contact Synchronization: Sync WordPress users, comment authors, WooCommerce customers, and Contact Form 7 submissions to Mailjet contact lists
Campaign Builder Tool: Create beautiful and engaging emails with a drag-and-drop email editor or HTML builder
Flexibility: Customize subscription confirmation email templates and texts, thank you pages, and widget forms using filters
Insight and Analytics: Access real-time statistics on campaign performance to optimize email performance
Pricing:
Mailjet offers a Free Plan, as well as,
Essentials Plan for $15/month
Premium Plan for $25/month.
Take your email campaigns to the next level with Mailjet's WordPress plugin. Install now and start building your contact list and creating beautiful emails with ease!
OptinMonster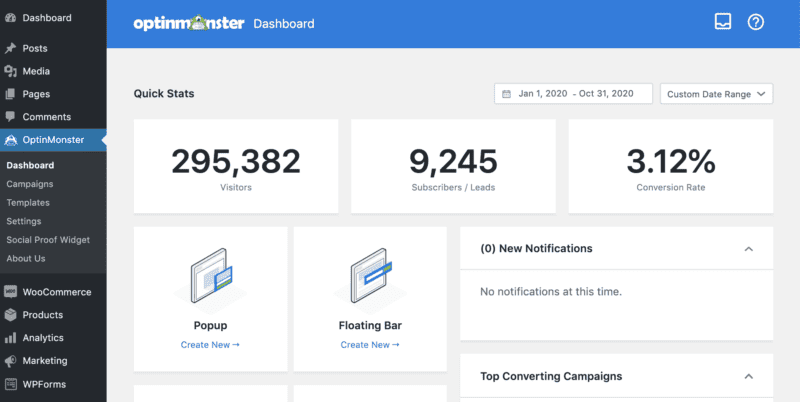 OptinMonster is the one for you! With OptinMonster, you can create dynamic opt-in forms that turn your website visitors into loyal leads. Here are just a few reasons why OptinMonster stands out:
User-friendly features: It makes it easy to customize your forms and target your ideal audience, so you can get the leads you want.
Detailed analytics and insights: It offers insights into your form performance, so you can optimize your strategies and get even better results.
User Integration: You can easily integrate OptinMonster with popular email marketing services to automatically send emails and stay connected with your leads.
Yes/No Popups: Perfect for creating multi-step campaigns and opt-in forms. This powerful tool leads to better list segmentation and increased marketing conversions.
Mobile Popups: This feature is ideal for promoting mobile app downloads or presenting special offers to your mobile visitors. With OptinMonster, you can make sure your message reaches your audience, no matter where they are.
Pricing:
Keep in mind that OptinMonster is a paid plugin, but it's worth the investment: prices start at just
$108 per year for the Basic version
$588 per year for the powerful Growth version.
Ready to turn your website visitors into loyal leads? Try OptinMonster today and start growing your email list with ease
ConvertKit
With ConvertKit, you can effortlessly create email capture forms to increase leads, boost product sales, and send targeted newsletters. Here's why:
Easily design subscription: You can automatically append them to any WordPress post or page, or display them within your WordPress content using Gutenberg block and shortcode options.
Create custom landing pages: In ConvertKit you can embed and customize the landing page on your WordPress website.
Customizable sign-up forms: Allows subscribers to sign up for free content, be notified when they leave the page, and be tagged and segmented.
Use ConvertKit's email marketing feature to send newsletters to subscribers and leads.
Sell products with ConvertKit by easily embedding buttons or link text.
Pricing:
ConvertKit offers a Free Plan as well as
Creator Plan for $15 per month
Creator Pro Plan for $29 per month.
Elevate your email marketing with ConvertKit. Create forms, landing pages, and newsletters to boost leads and sales!
Infusionsoft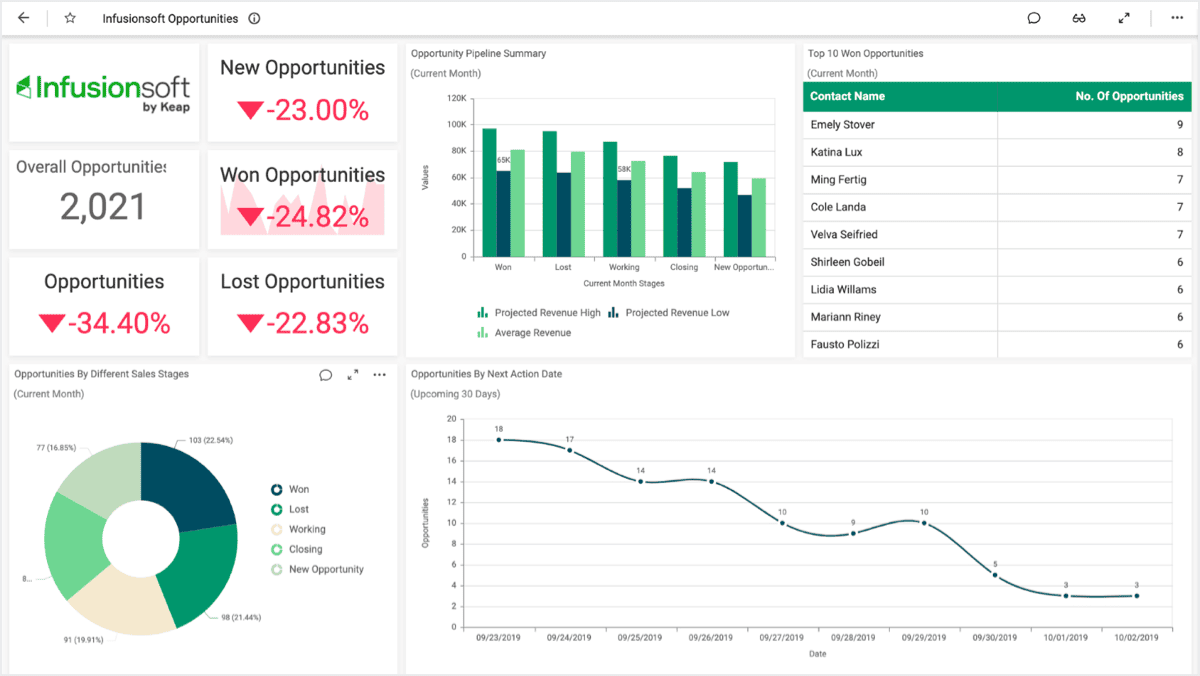 Infusionsoft, by Keap is now known as Keap Max Classic, is the ultimate ally for small businesses seeking to streamline their sales and marketing processes. It is a comprehensive tool for managing small service businesses, combining CRM, marketing, payments, customers, and more into one platform.
Support: Get access to a small business Growth Coach and 24/7 support with all paid plans
Choose from over 2.5k integrations and growing to customize your experience
Billing: Enjoy new eCommerce and native payment options that make billing and invoicing a breeze
Automation: Use the powerful sales and marketing platform to automate your sales funnel and grow your business
Marketing: Access a wide variety of intuitive marketing and landing page templates, constantly being updated by Keap
Text Messages: Try out text message marketing, including broadcast texts with select plans
Pricing:
It offers a
Pro Plan for $149 per month
Max Plan for $199 per month,
Both come with a 14-day free trial.
Streamline your small business sales and marketing with Infusionsoft. Automate your sales funnel, access intuitive marketing templates, and enjoy 24/7 support.
AeroLeads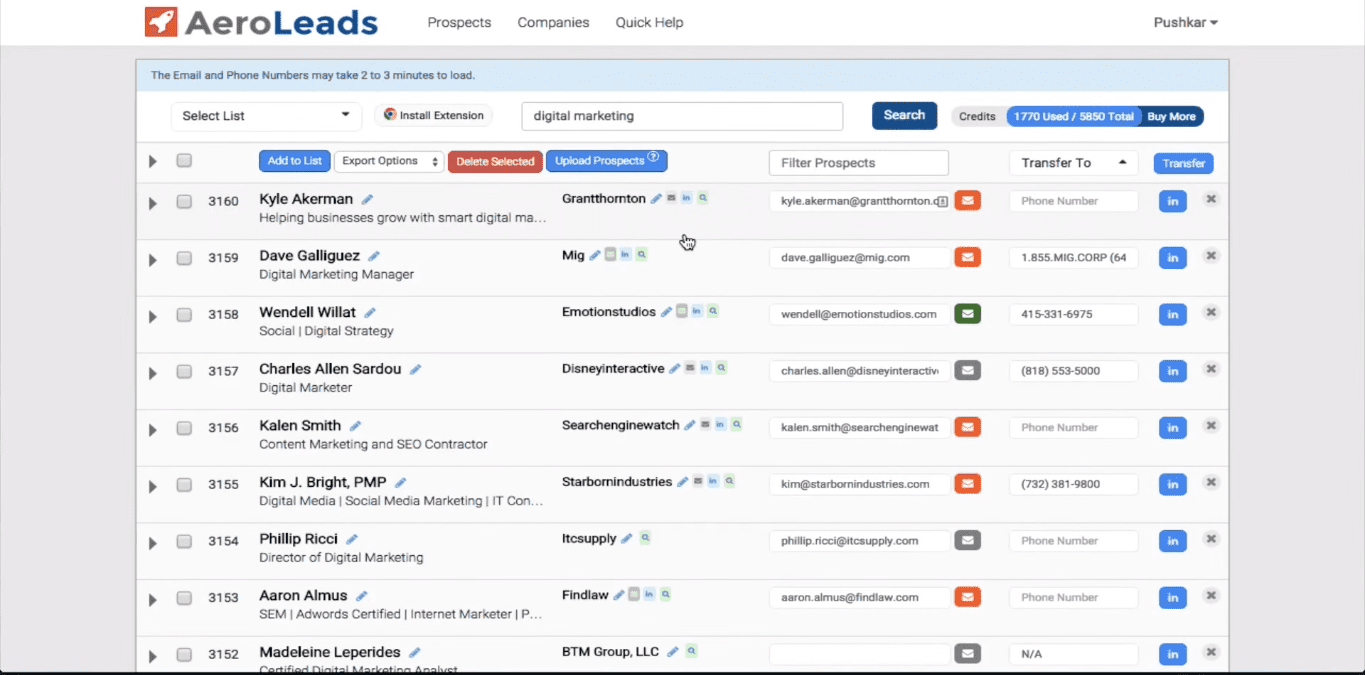 AeroLeads is a web-based software that generates high-quality leads and contact details for your business. It works seamlessly with popular sites like LinkedIn, Crunchbase, and AngelList, and allows you to upload your own lists as well.
Chrome Plugin: It helps in finding targeted sales leads from popular social networking websites.
Identifying Prospects: It can also identify the title, company, location, business, and website of prospects.
Export Data: Users can export the data as a .csv file or transfer it to their CRM software.
User Integration: AeroLeads offers integrations with platforms such as MailChimp, HubSpot, Zapier, and SalesForce.
Upload your own data: It also allows users to upload their own lists for prospecting and sales intelligence.
Pricing:
There is a Free Plan, as well as
Take Off Plan for $49 per month
Climb Plan for $149 per month
Cruise Plan for $499 per month.
Supercharge your lead generation efforts with AeroLeads today and start closing more deals tomorrow. Try it now!
Omnisend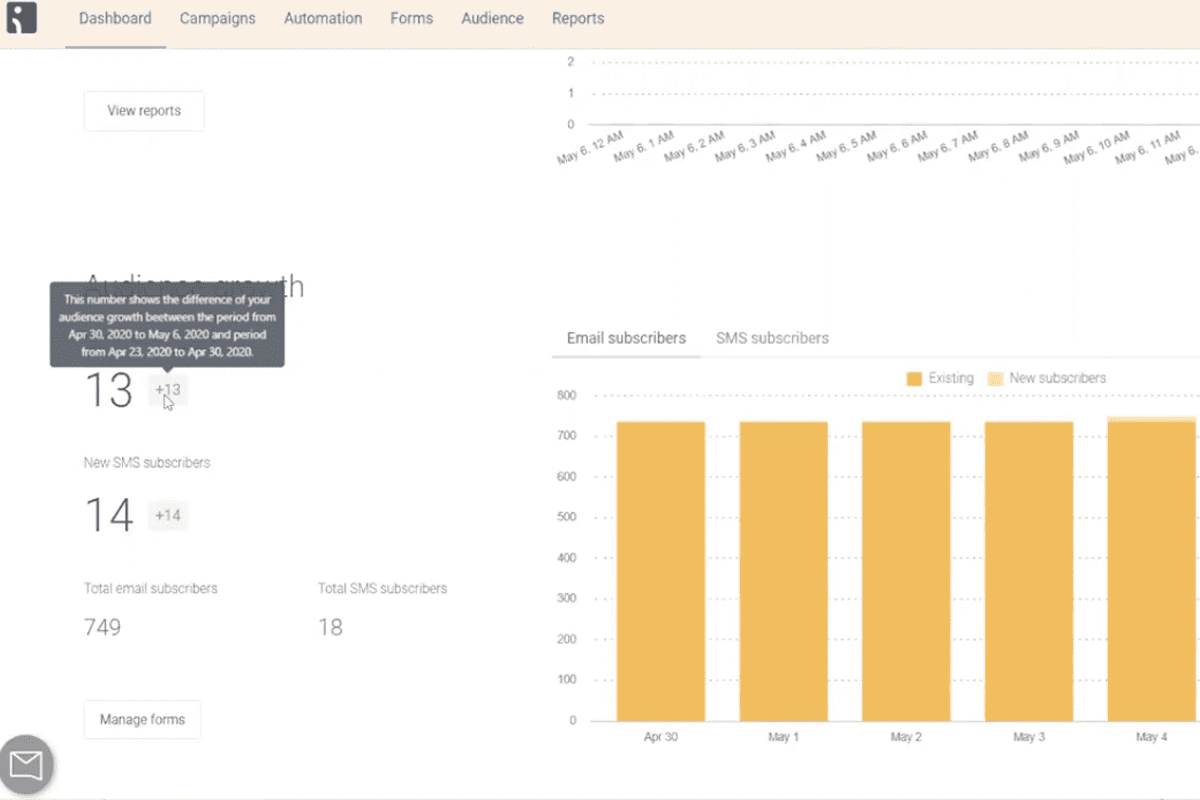 Omnisend has got you covered. With its powerful features, including product pickers and native discount codes, you can easily build an audience and boost sales. Plus, you'll get advanced reporting and analytics to better understand your customers.
Pre-built themed templates: These allow you to quickly create forms for promotions such as Black Friday or back-to-school.
Customization: There are options that allow you to match your brand's colours and fonts.
Gamification forms: Just like the Wheel of Fortune, they are more effective than exit-intent popups for email subscriptions.
Flexible segment builder: It allows you to use up to 500 data points and an unlimited number of segments.
Automation: It includes custom events, send time optimization, post-purchase transactional emails, workflows, splits, and A/B testing, even on the free plan.
Pricing:
There is a Free Plan offered by Ominicend as well,
A Standard Plan for $16 per month.
A Pro Plan for $59 per month.
Boost your sales with Omnisend's powerful features
Mailshake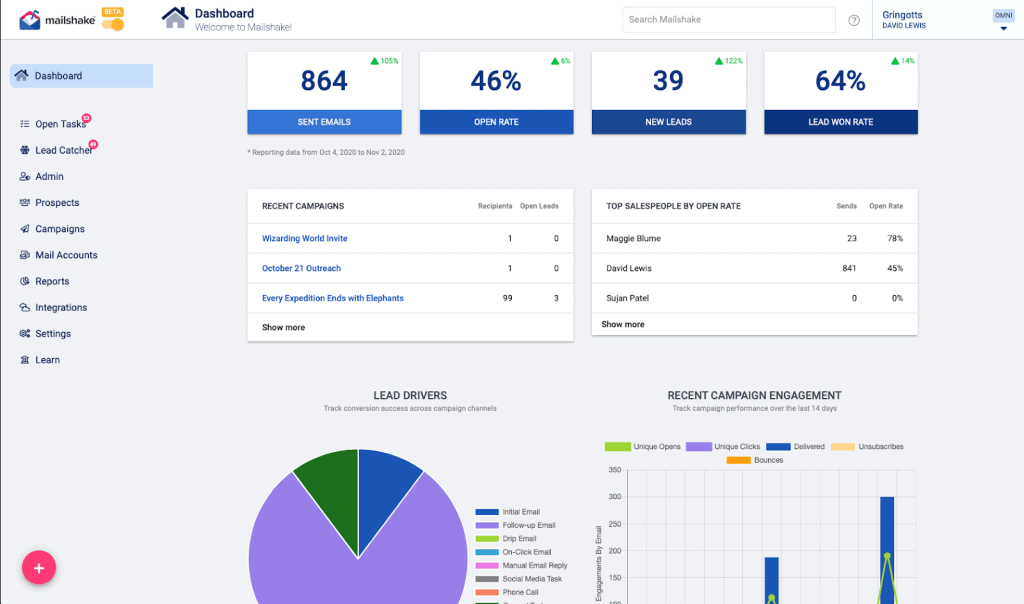 Mailshake is the perfect email marketing automation tool for sales and marketing specialists who want to fully automate outreach processes. It simplifies the cold email pitch and follow-ups with features that are exclusive to the platform.
Maximize your email outreach: automate campaigns, personalize messages, improve deliverability, and use proven templates.
Track and improve lead engagement: Get insights into email performance with open, click, and reply monitoring, as well as A/B testing and conversion tracking with Mailshake Lead Drivers.
Manage your leads effortlessly: Mailshake's all-in-one platform allows you to mark leads, view activity history, and integrate with your CRM.
Pricing:
In terms of pricing, they offer two plans, one for marketers & founders
Email Outreach costs $58 per month per user.
Sales Engagement is for the sales team and it costs $83 per month per user.
Maximize your email outreach and streamline your outreach processes with Mailshake
Why should you choose Icegram Express? Why it is the best among all?
By automating tasks like email marketing campaigns, you can cut down on chaos and boost productivity. Plus, with Icegram Express, you can create personalized campaigns that truly resonate with your audience. Let me tell you why it is the best of all.
Automated Campaigns: Icegram Express email marketing platform automates your campaigns, saving you time and reducing chaos.
Personalization: Icegram Express helps you create personalized campaigns. Engage and convert your audience with targeted messages.
Easy Set-Up: You can set up an email sequence campaign quickly and easily with Icegram Express, freeing up your time for other activities..
Affordable: Icegram Express is an affordable email marketing automation tool that offers excellent value for money.
Comprehensive Features: With Icegram Express, you can take advantage of powerful features like A/B testing and email automation, making it stand out from the competition.
Overall, Icegram Express is the best email marketing automation tool on the market. With its comprehensive features, ease of use, affordability, and automation capabilities, it is the perfect solution for any business looking to take their email marketing campaigns to the next level. So why not give it a try today and see the difference for yourself?
How to set up an EMA using Icegram Express?
Follow these simple steps to automate your email marketing and reach your audience with targeted messages:
Step 1: Navigate to Icegram Express > Campaigns
Step 2: Click on Create Sequence
Step 3: Give the new email sequence a catchy Title.
Step 4: Create your first email by specifying when to send it, and entering the subject and message.
Step 5: Click on Add recipients, and set up rules to target your audience based on specific conditions.
Step 6: After adding the rules, click on Save Rules.
Step 7: Click + Add Email to add more emails to the sequence.
Step 8: Scroll to the top and click Save All.
Bingo! Your email sequence campaign is all set up and ready to go. Watch as Icegram Express automates your email marketing and engages your audience with personalized messages.
Wrapping it up
When it comes to email marketing automation tools, there's no one-size-fits-all solution. It's important to find a platform that meets your specific needs and budget. Luckily, most products in this space offer free trials and/or free product tiers, so you can test out the software before committing.
If you're in the market for email marketing automation, Icegram Express MAX might be just what you need. With its robust email service, Icegram Express MAX has been designed specifically to meet the needs of modern marketers.
So why not give it a try? And with our intuitive interface and powerful automation features, you might just find that Icegram Express MAX is the solution you've been looking for.
FAQs
Which is the best email automation platform?
Choosing an email automation platform that fits your needs and budget is more important than finding the 'Best Email Automation Platform'. You can test each tool's free version to determine which fits you best, but I recommend Icegram Express because you can enjoy many features in the free version itself that you cannot experience with many other platforms.
How do I create an automated email system?
To create an automated email system, you'll need to choose a platform that provides automated email capabilities. You can then design and set up your emails, decide when they should be sent, and automate the process so it runs without your intervention. You may want to consider using tools such as Icegram Express or Mailchimp to make this process easier.
Is MailChimp an automation tool?
Mailchimp offers marketing automation that personalizes customer journeys, sends trigger-based emails, and more. You can also send automated messages that are uniquely tailored to customer interactions with your business.
Can you automate emails in Gmail?
In Gmail, you have the option to schedule your emails for a later time, and they may be sent a few minutes after the scheduled time. You can also create an email template in Gmail, click the Gear icon, then 'Settings', 'Advanced', and 'Enable' on the 'Templates' prompt. Start a new email, type the message, click the three dots icon, and hover over 'Templates'. Save the draft as a new template, name it, and save it. To use the template, start a new email, click the three dots icon, hover over 'Templates', select the template name, add your recipient, and click 'Send'.