Emails are an integral part of our lives. Emails were here even before social networks like Facebook, Twitter, etc. took over the digital world.
Email marketing is an essential tool for bloggers, as it allows them to connect with their audience and promote their content, products, and services in a targeted and personalized way.
When I started off as a blogger, I focussed more on social media platforms. I kept sharing my blog links on Twitter, Facebook, Instagram, LinkedIn, and where not! But I was not happy with the results. Slowly, I realized that there is a lot of noise online. It's difficult for people to find out what to trust and invest time in.
But that's not the case with emails. Most people read their emails every day. Going through every social media post is not possible. But emails certainly grab their attention. So, I will put it down as simply as I can. If you're planning to reach out to people, email marketing is the most effective way. Personalized email marketing campaigns have worked wonders for me.
So, emails are not going anywhere, any time soon. It's time that bloggers like us take email marketing more seriously. Here's why focusing on email marketing is a must for us.
I can sell my products directly
Blogging has no limits. In fact, most of the bloggers I know are coming up with their own innovative products. They are selling courses, eBooks, videos, memberships all over the internet. I know how much an informative writing course coming from experienced bloggers can help out the newbies. New writers who are yet to write their first blog post can easily learn a lot from these resources.
While promoting my writing course, I found email marketing as the most convenient way to reach my target audiences. Rather than sharing and resharing the course link on social platforms, I decided to mail my prospects directly.
I built my email list and designed an email sequence. It took me some time to introduce myself to my prospects. I made sure that they could trust my experience and the fact that I have what it takes to launch a writing course. I also drafted personal emails highlighting how each one of them could benefit from my course. I also distributed free resources like eBooks, newsletters to entice my readers.
And BAM! The results simply amazed me. I achieved a click-through rate of around 6% i.e. 4X more than I received on Twitter.
Here's an example of HubSpot's email to give away free eBooks: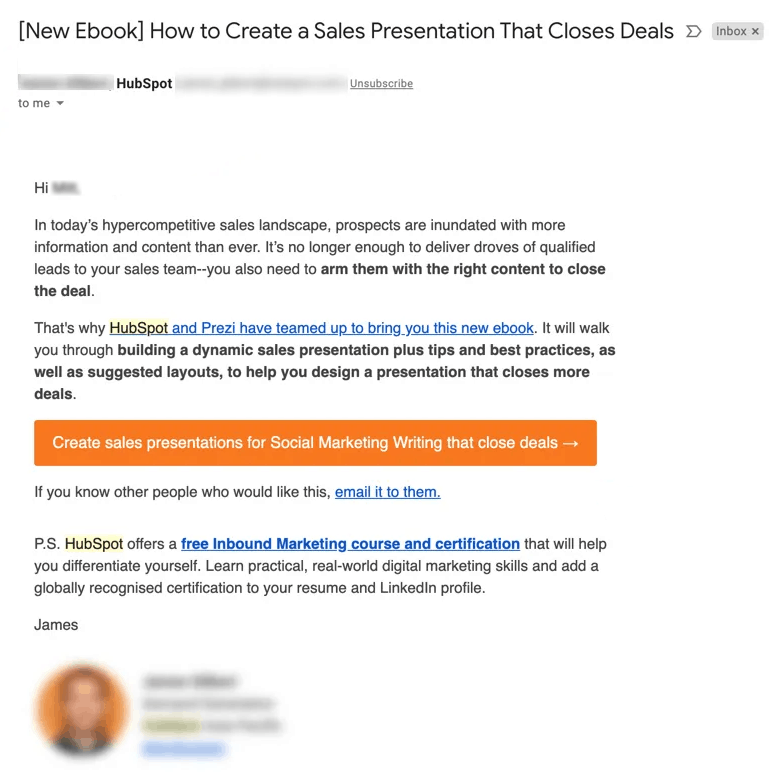 I find email marketing affordable
As a blogger, I am always looking for cost-effective ways to promote my blogs. Honestly, affording all those pricey channels like social media ad campaigns, PPC, influencer marketing, affiliate marketing, etc. is not an option for me yet. Then again, I am not ready to use an ineffective tool. After thorough research, I found out that email marketing is within my budget and it brings results!
Email marketing delivers maximum ROI. For every $ you spend on an email marketing campaign, you can expect a return of up to $38. And for us bloggers, that's a lot to start with.
There are many different email marketing software options available for bloggers, and choosing the best one will depend on the specific needs and goals of your business.
Bloggers need email marketing because it is a highly effective way to build relationships with their audience, increase website traffic, and generate revenue through sales and partnerships.
So if you ask me "why is email marketing important?", my answer will be simple. Email marketing can land you in a win-win situation. It brings bloggers quick responses at a much lesser unit cost.
I can measure the success (or failure) of my email marketing campaign without any complex technical setups
If you're blogging seriously, there's no place for guesswork. As a blogger, I am always fond of those tools that help me with some insights. This is largely the reason why I keep email marketing on the top of my list.
Yes, paid ad platforms also offer extensive analytics to measure the performance of an ad campaign. But, they're pretty difficult. Now, truth be told, I am not a tech geek myself. I cannot do all those critical technical set-ups by myself. I would rather be comfortable with email marketing solutions. It's easier to carry out an email campaign and simpler to review analytics and reports.
I use the Icegram Express plugin for WordPress to track the number of opened emails, the Click-Through Rates (CTRs), and the number of unsubscribes. So, in an email marketing campaign, I can easily understand how successfully my emails are performing and what adjustments I need to make to strengthen my email marketing strategy.
Say I plan to run A/B testing. The whole point of it is to draft two types of emails and find out which type works for whom. With the awesome email marketing solutions, a blogger's job has become way easier. I just have to draft two emails and send them out. That's it.
My email marketing service provider helps me find out the following:
Which type of email fetched greater open rate and CTR?
Which subject line was more liked?
Which intro was more effective on the target audiences?
Here's an email marketing report from the Icegram Express plugin: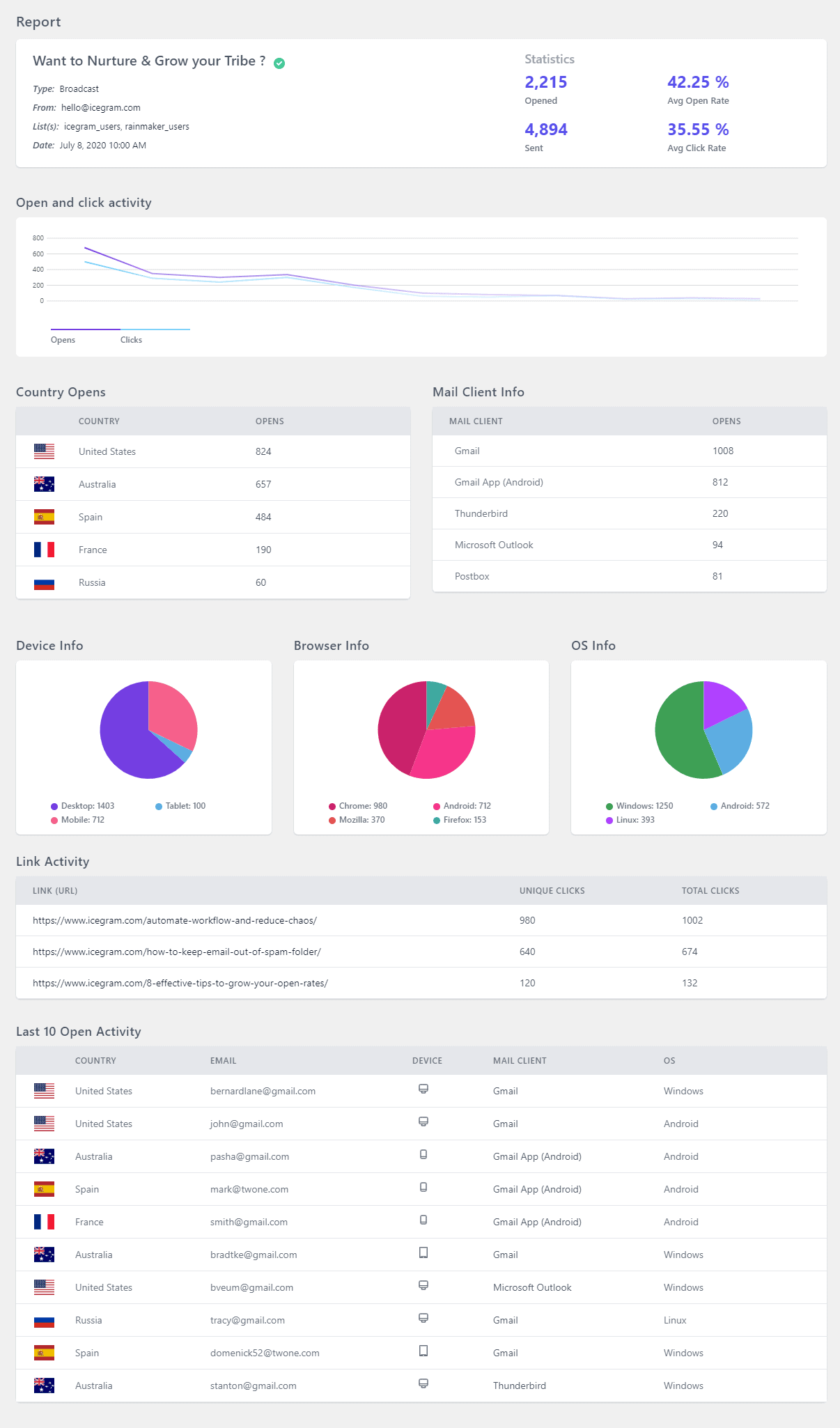 With these answers, I become more aware. Hence, in my next email marketing campaign, I improved my actions based on what I have learned and tested.
Email Marketing helps me to stay connected
Being a blogger, I cannot emphasize enough the importance of relationship building. Emails are a great relationship builder with the target audiences. I maintain an email sequence and it's like my Icegram Express literally wait for my next blog. I don't think I could gain this much support by running social media campaigns only.
That is because social media platforms are already filled with so much commotion. There is fake news, scams and so many twists and turns. Most people are confused about whom to follow on social media. But everyone checks their emails. So, if I try to connect with my leads through emails, I have better chances of engagement and conversion.
To start email marketing, bloggers can begin by creating a list of subscribers, designing and creating email campaigns, and using email marketing tools to automate and manage their efforts.
Also, the social media algorithms are confusing. To build a long-lasting connection with my target readers through social platforms, I have to focus on factors like daily posting time, the number of likes and comments, etc. And that can be hard to handle.
As bloggers, we already have so much on our plate. Apart from writing a blog post, we also take care of activities like keyword research, Search Engine Optimization (SEO), images, and so on. So, focusing on social media marketing metrics can be challenging at times.
The scenario is different with emails. I can send a new email to my Icegram Express at any time of the day – or if my newsletter/email marketing software allows scheduling, I could schedule it for later delivery. Hence, once I send an email to a targeted email list, I can be relaxed as every person will receive my email.
Similarly, I can reach out to the same set of people again and again – without worrying about algorithms and bots.
This way I get to interact with the same people at regular intervals – a keystone for long-term relationships. As my email list keeps growing, I also keep building better relationships with my readers.
Emails don't have any character limits, style guides, or time limit
When I think of promoting my blogs through paid ads and social, one thing surely bumps me. There are a strict character limit and style guide on all social media ad platforms. Take the example of Google Ads. Google Ads have a great outreach for sure. But you know what?
Google Ads are costlier than email marketing software with a stringent limit of 30 characters. Social platforms like Twitter also have a 280-character limit on every post. On top of it, Google has been rejecting a lot of ads lately. That means a lot of trial and error while designing those ads, hence time and monetary costs go higher.
On the contrary, emails don't have any word/character/styling limit. I don't recommend writing long or spammy emails, but you can do what you feel is right for the situation. You can also share any content you want through an email – media files, documents, links to blogs/websites, social media profile links, whatever….
Readers also have the liberty to read my emails at their convenient time. This is one of the biggest reasons why I leverage email marketing as a blogger.
Conclusion
Email marketing management for bloggers involves regularly creating and sending newsletters and promotional emails, segmenting and targeting their audience, and using analytics and metrics to measure the success of their efforts.
I hope you use email marketing more from now on. You can continue doing social platforms and ads but invest in email marketing as a long-term, reliable channel of engagement and conversion.
Email marketing does everything in a simpler and cost-effective way. BTW, use powerful and reliable software like Icegram Express within WordPress to achieve more with less work in your email marketing journey.
All the best!