Email marketing for nonprofit organizations can be extremely beneficial.
Conventional marketing campaigns for non-profits have come to an abrupt end in this online era.
From raising awareness to cultivating relationships with the audience to converting supporters into donors, All of these objectives can be met with the help of email marketing.
Are you considering email marketing but want to make sure that you are doing it right? Then, you are at the right place!
This blog will assist your nonprofit organization in taking full advantage of email marketing.
We've compiled email marketing tips and nonprofit marketing strategies to use in your campaigns.
Let us begin by reviewing the reasons why email marketing is beneficial to nonprofits.
The benefits of email marketing for non-profits
Check out some of the key benefits of email marketing for non-profits
Email marketing boosts donations and engagement
If donating online is simple and convenient, then email marketing is an excellent medium for promoting this type of donor engagement.
Donors only need to hit a button, browse through another page to select their specific fund, and the donation to an organization is complete.
Email marketing eliminates the need for donors to go through the hassle of mailing checks, cash, or direct deposit to their preferred nonprofit.
According to reports, online donations increased by 21% in 2020 and by more than 32% since 2017. The numbers are expected to rise over the next few years, especially with the shift to remote work.
Saves money and time in reaching the audience
That is right! Nonprofit organization budgets are frequently constrained, and resources are scarce. How much from your annual budget went for your most recent postcard campaign?
How much time did it take to go to the post office, write addresses manually, and stick real stamps to campaign cards?
Numerous email marketing tools are available as free versions or at a low cost. Pay that small recurring or yearly fee and you'll be able to concentrate on content, design, and planning your emails.
Email marketing allows you to save money while also making money. In other words, you get more support from volunteers and more donations from donors.
Helps with feedback, testimonials, and reviews
It is extremely valuable to keep track of the experience you provide your target audience. It will assist you in increasing their interaction and engagement with your nonprofit organization.
Email marketing can help you achieve this. You could send surveys via email campaigns to know what people think of you.
With this information, you can come up with the best nonprofit marketing strategies that provide an enhanced experience to your subscribers.
Apart from surveys, emails can be used to advertise your reviews and testimonials. Both are excellent pieces of social evidence that can be used to increase engagement.
Several websites use testimonials to make themselves appear more reliable. This is a common technique because people are skeptical that brands lack credibility. However, they are more confident when they notice that others have previously donated.
Tips for creating effective email marketing campaigns for non-profits
Here are some of the best email marketing tips to include in your next email campaign
Mobile-friendly email design
Be it –
e-newsletters
Fundraising appeals
Event invites
Welcome emails
Thank you emails, and so on
Your email campaigns must be designed to be mobile and tablet friendly. If an email looks bad on a mobile, no matter how useful the content is, it will be deleted in a few seconds.
As per reports, 42%of email is opened on a mobile device so embracing a mobile-friendly design is essential.
Just like your website, a nonprofit email newsletter needs to display an evident donate button and social media icons in it. Here is an example of one of the nonprofit newsletters.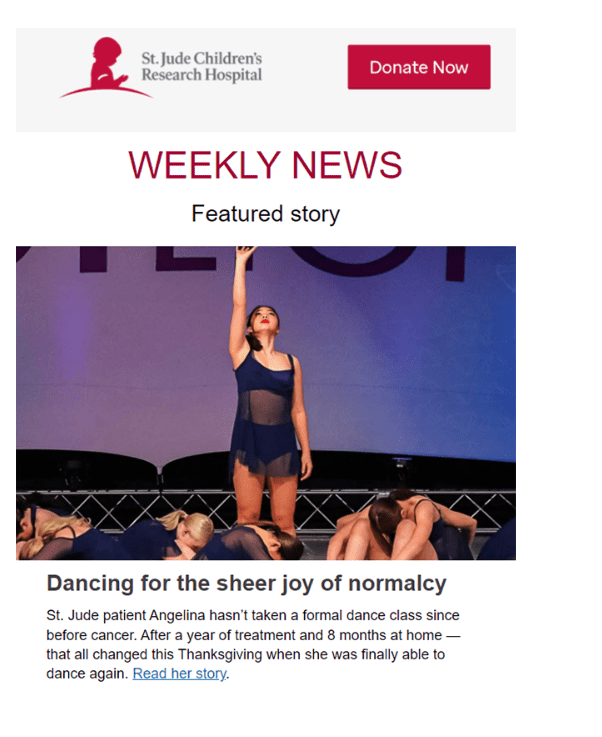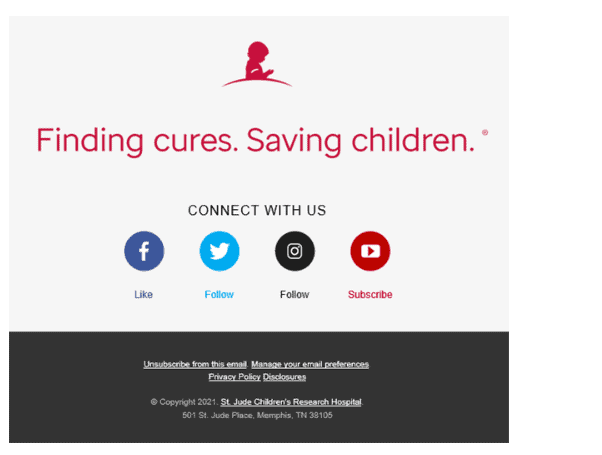 Personalized email content and subject lines
Personalization, well-crafted email subjects, publishing and curating interesting news updates consistently, storytelling, and visual content are all essential for your nonprofit.
Email personalization is basic today, but email marketing will transform in the next 5-10 years.
So each subscriber will have a unique, personalized email experience with your organization, ensuring high open and click-through rates.
Subject lines can impact the open rates of your email campaign. Try with subject lines using A/B testing, and keep characters within 60.
To prevent being shortened in mobile email clients, subject lines should be kept short.
Some best practices to include when crafting subject lines are:
Numbered lists
Questions
Personalized subject lines
Emojis
One liner statements
But do not quit getting innovative with subject titles.
Welcome email
Email marketing services allow you to easily build a welcome email series for your subscribers.
A welcome email is the first interaction you make with your subscriber. It is essential to create a remarkable impression.
In your welcome email, you can include
A video on what your organization does
A note from your head
A clear action item for the subscribers
Simply an invite to follow you on social media platforms.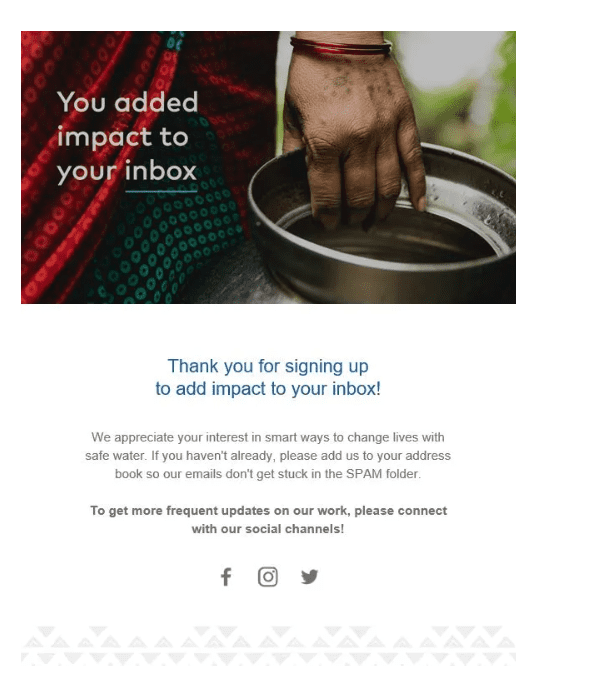 Effective call-to-action when thanking subscribers
A new subscriber has just signed up for your newsletter. Now is an excellent opportunity to use the thank you page and make your subscriber perform the next action. You can convert them into your volunteer or a donor or your social media follower.
Examples of successful email marketing campaigns for non-profits
The objective is to deliver the perfect message at the perfect time. Here are a few email marketing and nonprofit newsletter examples that any nonprofit organization can benefit from.
Email to leverage special days
A huge movement that aims to increase kindness and donations is Giving Tuesday.
Your email should be
Brief and to the point
Explaining what Giving Tuesday is
How your email subscribers can participate
Not too pushy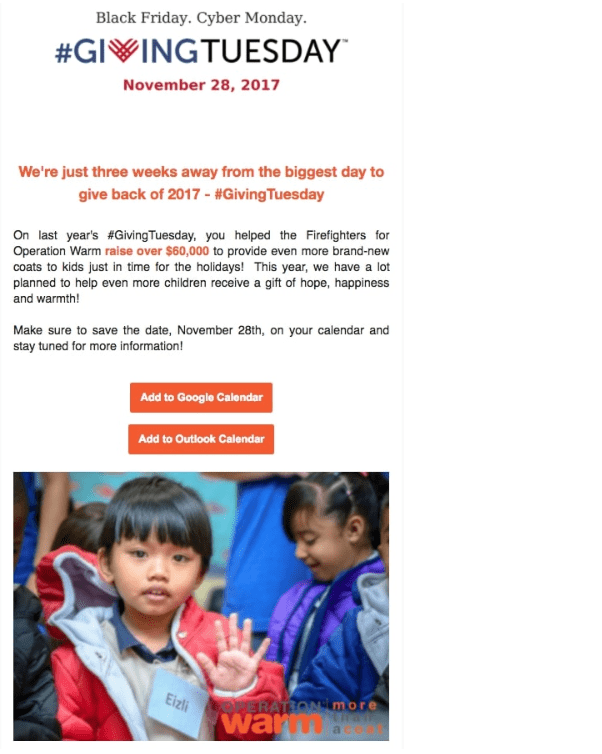 As always, share your achievements and any objectives you have for the upcoming year.
Stories bridge the gap between your audience and the measurable effects of their contributions. By connecting to your readers' emotions with a convincing success story, you can motivate them to donate or volunteer. To maximize this impact, tell a personal story about how your organization has supported a person or a community.
Expand volunteers
Hiring emails can be an excellent way to raise awareness and recruit new volunteers for a forthcoming project. Make use of your mailing list and existing followers. Your emails should conclude with a strong action item for the subscribers to take steps.
Perhaps all you require is to give a clear-cut view of the change your organization hopes to bring and how your readers can help.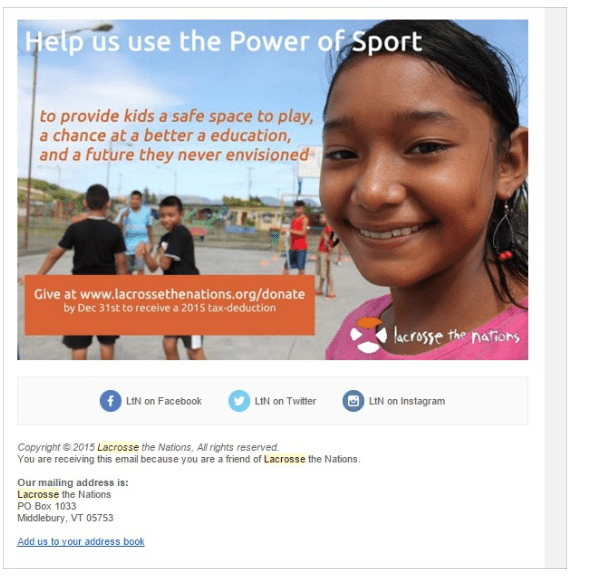 Best practices for building and maintaining an email marketing list for non-profits
The tips listed below will help you build and maintain a healthy nonprofit email marketing list.
Maintain email security
Email bots and phishing scams are becoming more common. Your nonprofit must prioritize email security both internally and in its email marketing efforts.
Aside from requiring a double opt-in, include a reCAPTCHA on your email sign-up forms and avoid free email sign-up extensions and tools.
Develop a robust email list
Ensuring you build a robust email list before diving into email campaigns is essential for getting the maximum reach.
A 'lead magnet' is one way to entice potential subscribers to provide their email addresses. This is a 'free' gift intended to entice your intended audience to provide their email address in order to receive it.
If your organization promotes children's health and many of your funders are concerned mothers, your lead magnet could be a collection of key signs that a child is falling sick.
Re-connect unengaged subscribers and delete inactive ones
Unengaged subscribers are people who have not opened your email in the last six months. It takes place for a lot of reasons:
Your emails are in their spam boxes
They are probably not using that email address
Or just avoiding your emails as they are not interested.
Not only it costs to send emails to hundreds of thousands of people who do not open them but also affects the overall deliverability by lowering your overall open rate.
Sort your email list to find out who hasn't opened an email in the last six months. Send a re-engagement email. Follow up after a week with a new subject line. Send an urgent fundraising email after two weeks. If none of the emails are opened, delete them from your list. This will boost the open rate, and deliverability and help maintain the health of your email list.
How to Create and Send Email Marketing Campaigns using Icegram Express?
Icegram Express is an email automation and newsletter plugin for WordPress and WooCommerce. With this plugin, you can transform site guests into subscribers, automate personalized campaigns, cut costs, and do a lot more.
Here is a quick tutorial on how to run email campaigns using Icegram Express plugin: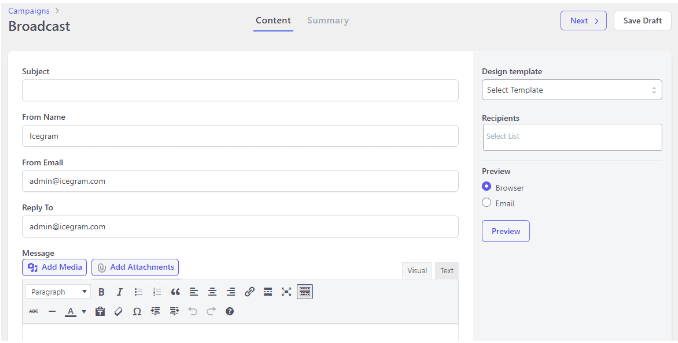 In your WordPress Dashboard, select 'Icegram Express' and choose 'Campaigns'
Select the 'Send Broadcast' option
Provide the campaign details, email subject, email address, draft the email content, select the design template, enter recipients and preview the email.
Click 'Next' to check the summary.
Revise the content based on the spam score
Check or uncheck tracking options and select an option to send the email or schedule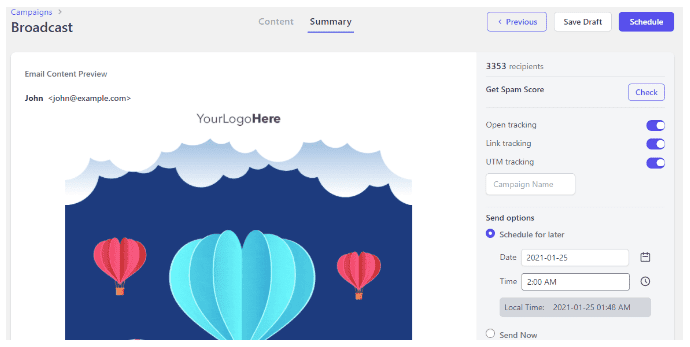 How to measure the success of your email marketing campaigns for non-profits?
Why measuring success is crucial?
Are you curious whether monitoring email campaigns are worthwhile? Here are some compelling reasons to implement it in your team:
The research team gains actionable insights.
It aids in measuring engagement.
Discover new audiences.
It keeps costs down to reach people.
Key metrics
Let us explore the top nonprofit email marketing metrics to track the campaign and get in-depth knowledge in decision-making.
Open rate
Open rate is essential for determining the effectiveness of the email subject line and address field. It is calculated by
[The number of emails opened by subscribers / Total individuals who received it] x 100
Click-through rate
Click-through rate is essential because redirecting people to the website is frequently the primary reason for initiating an email campaign. It is calculated by
[The number of individuals who hit the link / Total delivered emails] x 100
Unsubscription rate
A high unsubscribe rate may indicate a misalignment between what you guarantee on the sign-up form and what you give in the email. Another way to reduce it is to enhance the delivery process. It is calculated by
[The number of unsubscribers / Total subscribers] x 100
Bounce rate
This is a metric that determines the number of messages that did not make it to the inbox of the target audience.
Re-test the email marketing campaign and make sure of error-free email deliverability to reduce the bounce rate.
It is calculated by [The number of email bounces / Total emails sent] x 100
Overall donations generated
Regular re-iterations on this metric are essential to guarantee you can calculate every campaign's performance.
It is calculated by [Donations generated – Campaign expenses / Campaign expenses] x 100
Conclusion
Nonprofit organizations must make every possible effort to inspire subscribers to become donors.
The time and money spent on developing an effective email marketing strategy are well worth it. Take this step today to invest in your organization and its supporters!
Email can help you engage supporters. Be it a donation request, an advertisement for an event, or an update on your latest work.
Always proofread your emails before sending them, and use formatting to improve readability and make them mobile-friendly.