You did all you could to optimize your email. Short and catchy subject line, avoided spam, awesome content. All the common email marketing mistakes you try to avoid.
But did it resonate with your audience? If you can't see the end results of your efforts, you can't hit your goals.
So before you send your next email, make sure to measure the numbers, the email marketing KPIs or email marketing metrics.
Be it generating more leads, brand awareness, getting sales, free trial sign-up, you need to measure all your email marketing campaigns performance.
This blog lists all the most important email marketing metrics and KPIs you must track to determine how you're progressing toward that goal.
What are email marketing campaign KPIs?
KPIs or key performance indicators measure the different aspects of your email campaign.
The basic metrics people track are the open rates, click rates, bounce rates, unsubscribe rates.
However, these types of metrics alone won't really show how effective your overall strategy is.
You need to go beyond these metrics if you are a smart marketer and analyze your marketing campaign performance in detail.
15 most important email marketing KPIs for your business
Whether it is a welcome email, win-back customer email, cart abandonment email or a sales pitch email, track these essential KPIs for email marketing to get a complete picture.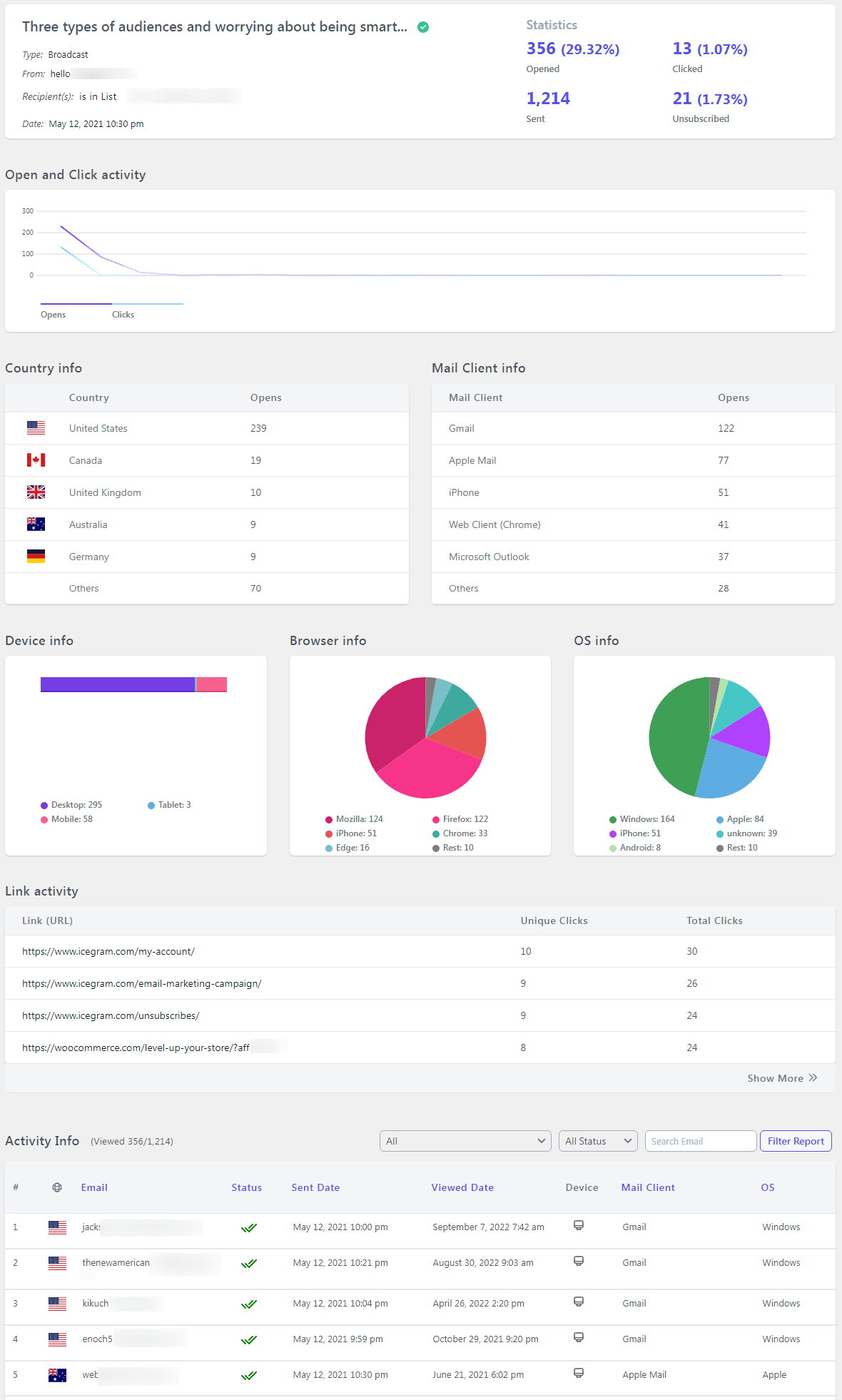 The above image shows some important KPIs for an email campaign sent using Icegram Express plugin.
Now, there can be 50+ metrics you can track but let's analyze these email marketing main KPIs.
After all, it's your valuable time, effort, and money you have invested to launch your campaigns.
Email deliverability rate
This is the number of marketing emails delivered.
You may have 10000 names on your email list, but that doesn't mean all these emails are being delivered. Unfortunately, a 100% deliverability rate is impossible.
Here's why:
People may have marked you as spam
You may be blacklisted by some ISP
Emails not reaching to customer's inbox but junk
Bounced emails
So, if only 950 emails make it into your subscribers' inboxes, 50 people never got your email if your list size is 1000. So your deliverability rate is 95%. A 99% delivery rate is always desirable.
You can also consider the Inbox Placement Rate (IPR) as a KPI to measure how many emails actually make it to the inbox.
Here are some top ways to prevent emails from landing in the spam folder.
Open rate
This metric denotes the number of emails opened.
We may receive hundreds of emails in our inboxes from banks, hotels, e-commerce sites. But how many do we actually open?
Because, after all that hard work, we want people to read our emails. It's how well you put up the subject line that triggers open rates.
Btw…for a list size of greater than 5000, an open rate of above 50% is considered an achievement. But better to compare your open rates to what's typical for your industry so you can have a benchmark.
Now, a 55% open rate does not mean subscribers have read your message fully or taken action.
Your email is worth it when users click on a link in your email (not the unsubscribe link). And that's our next email marketing KPI.
Click rate or Click-through rate (CTR)
This metric indicates how many people clicked on a link in your email to a particular destination.
I rate this metric one of the most important because your main purpose of the email is to encourage your subscribers to take action.
It can be a blog link, product link, any landing page link, affiliate product link, sign up for a membership, start a free trial…
Better you track unique clicks for each link in your email.
This will help you understand which links interested your readers the most and where those links were located. For example, if most clicks are above the fold, you're passing the blink test.
Another example would be the same link – one as a text link and the other as a button. You can analyze which performed better and repeat the same for your other campaigns.
Text, buttons, images, videos, unsubscribe link – track them all.
Unsubscribe rate
The most hated one, but can't be ignored.
This metric indicates how many people choose to opt out of your list and don't want to receive further emails.
However, there are both good and bad to this. A low unsubscribe rate means most people liked your content / didn't report you as spam.
A high unsubscribe rate means your readers weren't interested in your emails anymore. In that case, removing these subscribers from your list could boost your deliverability rate and save you money.
Click-to-open rate
The number of email opens compared to the number of email click-throughs is your click-to-open rate.
If 20 people clicked out of 100 opens, your click-to-open rate is 20%.
This metric can tell you how well your subject line and content are connected. Higher open rates but low click rates indicate good subject lines but less relevant content.
However, low open rates but higher click rates indicate missing out on an excellent conversion opportunity. Maybe, the subject line is flattering out here.
Conversions
Conversions do not always mean sales. It depends upon your marketing goal.
Sale
Subscription
Download
Event registration
Free-trial sign up
and more…
A more significant conversion number when an email is sent to thousands of subscribers is a sign that you crafted a solid email. Well done buddy!
Bounce rate (hard & soft)
A hard bounce is permanent, while a soft one is temporary.
Hard bounces are usually caused by invalid email addresses, deleted email addresses or wrongly typed email addresses. It indicates that you're falling behind on your list cleansing.
When you get hard bounces, remove those addresses from your list immediately to avoid skewed data for other KPIs.
On the other hand, soft bounces are temporary. For example, the recipient's inbox may be full or their server will be down. Your email service provider or email marketing platform will automatically try to resend the message.
Spam complaints
This KPI tells you how many people marked your email as spam. More the spam complaints, the more irrelevant your emails are to the audience.
However, do keep track of this metric. If it is frequent, then it may be some technical problem you need to fix.
Email sending and viewing date and time
Get information on when you send the emails and when people open them. This KPI will help you determine the best day and time to send your emails.
Email list growth rate
This metric tells you how many new people are signing up for your email list.
If the number is higher, your lead magnet or incentive as well as the content you are showing is working efficiently.
Email client usage
This KPI tells you which email clients (Gmail, Outlook, Apple Mail, etc.) people use to open your emails.
It helps you determine which email clients you should craft your emails for.
Mobile vs desktop
Do more people view emails on their smartphones or desktop? Or do they prefer a tablet? Keep a track of this number to design emails accordingly.
Top-performing email campaigns
This KPI tells you which email campaigns get the most opens and clicks. It helps you determine your most successful campaigns.
Browser and OS
Identify which browser and operating system people use when they view your emails.
ROI
Know how much money you are making from each campaign. It's important to track this metric because it tells you how successful your email marketing is at making money.
Why choose Icegram Express for email marketing and tracking KPIs?
Icegram Express is a popular WordPress plugin with 100000+ active installs for email marketing.
It shows you some of the important email marketing KPIs mentioned above and other powerful automation features that save you time and money:
Drag and drop blocks to create email campaigns without any code.
Build email sequences and create trigger-based automation workflows.
Automatic email verification, bounce handling.
Smart spam protection, list hygiene and junk mail cleanup.
Single/double opt-in, spam-bot protection.
Set up abandoned cart recovery emails, send coupon codes.
Integration with Amazon SES, Sendinblue, any SMTP server to send emails
and many more…
Icegram Express makes sure your email gets delivered to the right audience, thus contributing to your marketing campaign's success.
Also, Icegram Express provides rule-based segmentation features. If you fail to segment your lists, all the KPIs won't help you improve. A segmented list is key to higher conversions.
Wrapping up
Email marketing is a potential goldmine and one that has never fallen out of favor.
Make sure it is effective, optimized and monitored regularly.
And for that, the above-mentioned email marketing KPIs and metrics will help scale your business to new heights.