Marketers and product owners choose email marketing for their brand success. Picking the right strategy for an email marketing campaign can accelerate the growth of the product/service in no time. Learn how to create successful email marketing strategies with our 18 simple hacks in this read.
With email marketing, you reach your target audience on an ongoing basis without spending a lot of money. You can use it to position your brand and increase your mailing list in an efficient way without spending a lot of money.
What Is an Email Marketing Strategy?
Email marketing strategy is a list of essential hacks that help marketers achieve desired goals such as increased ROI, better email engagement, improved conversion rate, building a loyal audience, etc. Strategies that strongly help brands scale their reach and revenue via email campaigns will be considered as the proven email marketing strategies.
Why Should You Care About Email Marketing Campaign Strategy?
An email marketing campaign can act as a mediator for passing the messages between brands and audiences. It is the primary mode of communication practiced since the existence of internet availability. You should take this into account and leverage the power of email marketing.
How to Measure an Email Marketing Strategy Success?
Measuring email marketing strategy success varies according to the industry and its major goals. A music-labeled company can consider more plays of their new album as a marketing success. An eCommerce store might consider more sales through email campaigns as a marketing success. It differs based on the niche the brand fits in. However, there exist some general KPIs to measure an email marketing strategy. They are listed below
Better ROI – Return On Investment
Email opens and clicks
Destination page visits
Email replies [if it's related to survey or feedback campaign]
Customer Lifetime Value
Fewer or no unsubscribes
Fewer or no spam complaints
How to Plan Your Email Marketing Strategies for 2022?
Email marketing is the act of reaching and engaging a group of audiences of the same interest. It can do wonders for brands and individuals to grow with minimal or no marketing budget. Planning the email marketing strategies for your next campaign should be effective and meaningful.
Analyze your audience and draw a marketing plan to create, convince and convert your mailing list like never before. Get to know the 18 best email marketing strategies for 2022 and drive massive success strategically in this article.
1. Setup Auto-Responder Drip Campaign
Setting up an autoresponder to your email optin campaign is a wise choice to keep the audience engaged with your brands. Sending an automated welcome email or a quick series of emails to the subscribers can help expose your brand constantly. To prevent people from unsubscribing, make sure your automated emails provide valuable information and resources.
Welcome emails have usually high open rates and that's a good sign of landing your future emails on subscribers' primary inboxes instead of the junk folders. This simple automation hack can give the best headstart to your email marketing success.
2. Provide Double Optin Option
Providing a double optin option to the new email leads can help brands validate the highly-interested audiences. Upon successful email verification through the double optin acknowledgment, brands can send constructive emails to the relevant audiences. This can eradicate the spam activities and bots trying to ruin your email list.
Double optin verification complies perfectly with the GDPR policies as well. The email engagement stands better than the emails sent to the non double-optin leads technically. Implement a double optin strategy today to boost your email marketing success.
3. Segmentation & Email Personalization
Segment your audience based on their interest and specialization for better email marketing results. Segmentation is a part of segregating and organizing the leads based on certain interests or demographics. Making your leads fall under a specific mailing list can be very much helpful in sending relevant emails rather than a boring generic email.
Define your audience and personalize the messages to reduce the cost of your email marketing campaign. Personalized emails have better engagement and also grab the attention of the audiences who are really interested in a certain niche.
Example: If you're running a news website and have got multiple blog categories such as politics, entertainment, business, health and more. If a person is interested in business-related news, you can set up a subscription optin that makes him/her subscribe to the specific list. In such a way that you can personalize the emails based on the audience's subscribed list precisely for better reach.
Personalize your emails with a name and some dynamic data to drive good conversion for eCommerce store owners. Start personalizing your emails and send them to the relevant audience list to supercharge your email marketing success.
4. Craft Catchy Email Subject Line
Setting up an engaging email marketing campaign starts with a great subject line. It helps you get a chance to impress your audiences and triggers them to open the email. Create catchy and informative email subject lines that your audience base would love to read.
Don't overhype or shock your subscribers or fake them with the subject line for the sake of opening your email. Emails shouldn't disappoint the subscribers, following a promising subject line. The chances of people unsubscribing your mail list go high if it was the case.
Prepare a good appealing email subject line comprising the email matter straightforward. Optimized email subject line is one of the strategies to add for email marketing success.
5. Optimize Email Preview Text
Email preview text is a simple one-liner sentence that appears below the email subject line. This one talks about the email subject matter in short and helps readers whether to check the email or not.
Be creative enough to craft the email preview text with a strong call to action to convince the audience to open the email.
6. Avoid Spam Triggering Words
Spam is the most heard term in the email marketing sector and it is a major concern affecting the campaign success. Don't use spam triggering words in your email such as unbelievable, miss out, free, earn quick bucks, additional income, check, hidden, click here, etc.
There are several spam triggering keywords grouped based on the experience for each industry. One should consider avoiding spam words on their subject line and email body to achieve better email deliverability.
7. Produce Engaging Content
Email should convey the message that actually matters to the audience. Prepare engaging and useful emails that help audiences grasp something interesting and useful for them. Educate your email audiences instead of selling your product or ideas directly.
A good informative email can drive massive sales whereas a pure sales email will remain underperformed. Make proper decisions before setting up your email campaign and make sure your emails have quality content worth checking.
8. Design Elegant Emails
The design of the email and the branding assets used in an email campaign play a major role in determining who you are. Create elegant email designs that your audiences would admire and push them to open your email frequently.
Don't bore your customers with generic HTML emails. Focus on designing better emails with the typography and colors that represent your brand for success.
9. Introduce Images & Meaningful Illustrations
Emails sent these days by the product and marketing team focus more on illustrative representation to treat the customers with a storyboard touch. Images with proper ALT text and relevant illustrations in an email speak more than words.
Add images or illustrations that summarize your email content. Research your buyer persona to represent the characters in your email marketing campaigns. This is one of the great email marketing techniques that brands implement to improve audience engagement and keep them in a loop.
10. Keep Appropriate CTA – Call To Action Elements
A well-optimized email campaign wouldn't be complete without a CTA element. Provide appropriate Call To Action elements such as buttons or links to fulfill your email goals. This will make email readers take prompt action.
A good email marketing funnel will have an optimized CTA. Don't confuse your readers with multiple CTAs. Make it simple and crisp! Meanwhile, Icegram Engage plugin comes with various ready-made templates with CTAs for better conversion.
11. Put Up Unsubscribe link
Allowing subscribers to opt-out of the list, is also a good strategy to have a successful email marketing campaign. Provide a simple unsubscribe/opt-out option at the bottom of your emails to comply with the standards and email marketing ethics.
If a person actually doesn't wish to receive further emails, he/she can exit the list. This can reduce the email marketing cost as well as keep the email list with the people who actually sync with your brands.
12. Construct Mobile Optimized Mails
People most often open their emails using smartphone email clients. The rate of emails opened via mobile devices is increasing every quarter as per the recent study. One should take mobile responsiveness as the topmost concern while crafting email campaigns.
Check whether the emails are optimized for standard mobile screens and work perfectly across multiple devices before sending. Don't disappoint your audiences with broken, non-responsive and distorted emails.
13. Send and Acknowledge Test Mail
Testing your own email marketing campaign before making your campaign live is considered as one of the best email marketing best practices. Send a test mail to your email and check whether everything goes well and the email looks responsive across multiple devices as well.
14. Schedule Email Campaign
Spend your time planning, designing and optimizing your emails prior. Scheduling an email campaign is a strategic email marketing technique that avoids confusion in creating last-minute emails. Schedule the campaign for the future after analyzing the best time to send it to the mail list based on the historical performance. It could help you yield better email marketing output.
15. Ensure Healthy Email List
It is advised to keep your email list healthy by removing spam leads and unresponsive leads. Periodically clean your list by validating the quality of your email leads using any email validators. It drastically reduces your email marketing budget with minimal effort. Introducing captcha-enabled email optins can combat spammers and bots at the initial stage as well.
16. Experiment with A/B Testing
A/B testing your email campaigns is a smart way to find which email types and flow works the best with your audiences. Do multiple A/B testing by tweaking simple things like subject line, email tone, illustration, CTAs, etc., and pick the winner.
Running A/B testing campaigns can improve your email marketing results without spending a dime on market research.
17. Analytics & Leads' Engagement Score
Email analytics plays a major role when evaluating email marketing success. A good email marketer would have the stat of all email campaigns such as email opens, clicks, conversion stat, unsubscribes, LTV and more. To improvise your email marketing effort, pay attention to your email analytics.
Score engagement is a score-based rating allotted for every subscriber based on their recent activities. Major email marketing service providers serve score engagement modules to know the valuable leads in the list. Icegram Express plugin has a similar kind of leads engagement score to carry out personalized email campaigns without any hassle.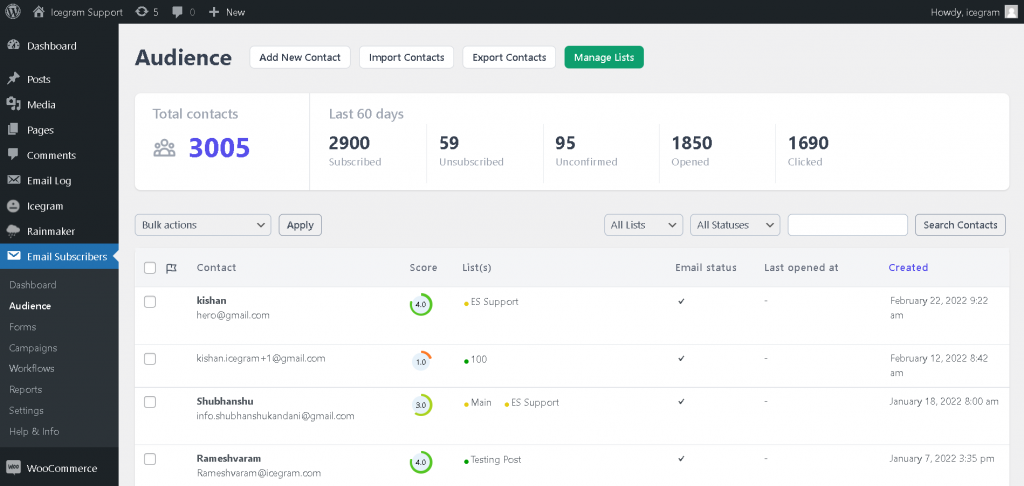 18. Re-engage Inactive Audiences
Sometimes inactive audiences could also turn into potential customers if convinced the right way. Inactive leads in a mail list can cost you more when planning the marketing budget and could possibly affect your email deliverability.
If there are more inactive leads who don't open an email or interact with your campaign, then there is a chance of lower open rates which could affect the entire campaign engagement. Try sending special personalized emails to your inactive email leads and see whether they are interested in your emails or not.
Wrapping Up
Email marketing strategies vary from industry to industry and take more time to decide before final conclusion. Try experimenting new things with a certain group of email audiences and pick the one that works for your niche. The above 18 hacks can dramatically improve your email marketing campaigns with minimal effort in 2022.
Finding successful strategies for your email marketing tasks is a crucial part of your marketing campaigns. Successful email marketing campaigns can do wonders for your businesses for sure.
Create a successful email marketing plan today based on the proven strategies to skyrocket your conversions. If you've got any unconditional hacks that help people craft better email marketing strategies, do let us know in the comment section.