Email marketing is like learning how to drive a car. It may seem daunting at first, but once you understand the basics, you'll find it useful and even fun. Just like that, you may not understand the technical details of email marketing. However, you'll gradually start to get a feel for it and be able to utilize it more effectively.
In deciding to use an email marketing tool, we frequently encounter these questions:
Will this tool help me build my email marketing strategy?
What are the best ways to test and optimize email campaigns using these tools?
What are the signs of a successful email campaign?
How will this tool help me automate or personalize my emails?
In this blog post, I'm excited to take you on a journey through ten of the best email marketing tools out there, exploring their unique strengths and weaknesses.
How to Choose the Right Email Marketing Tool for You?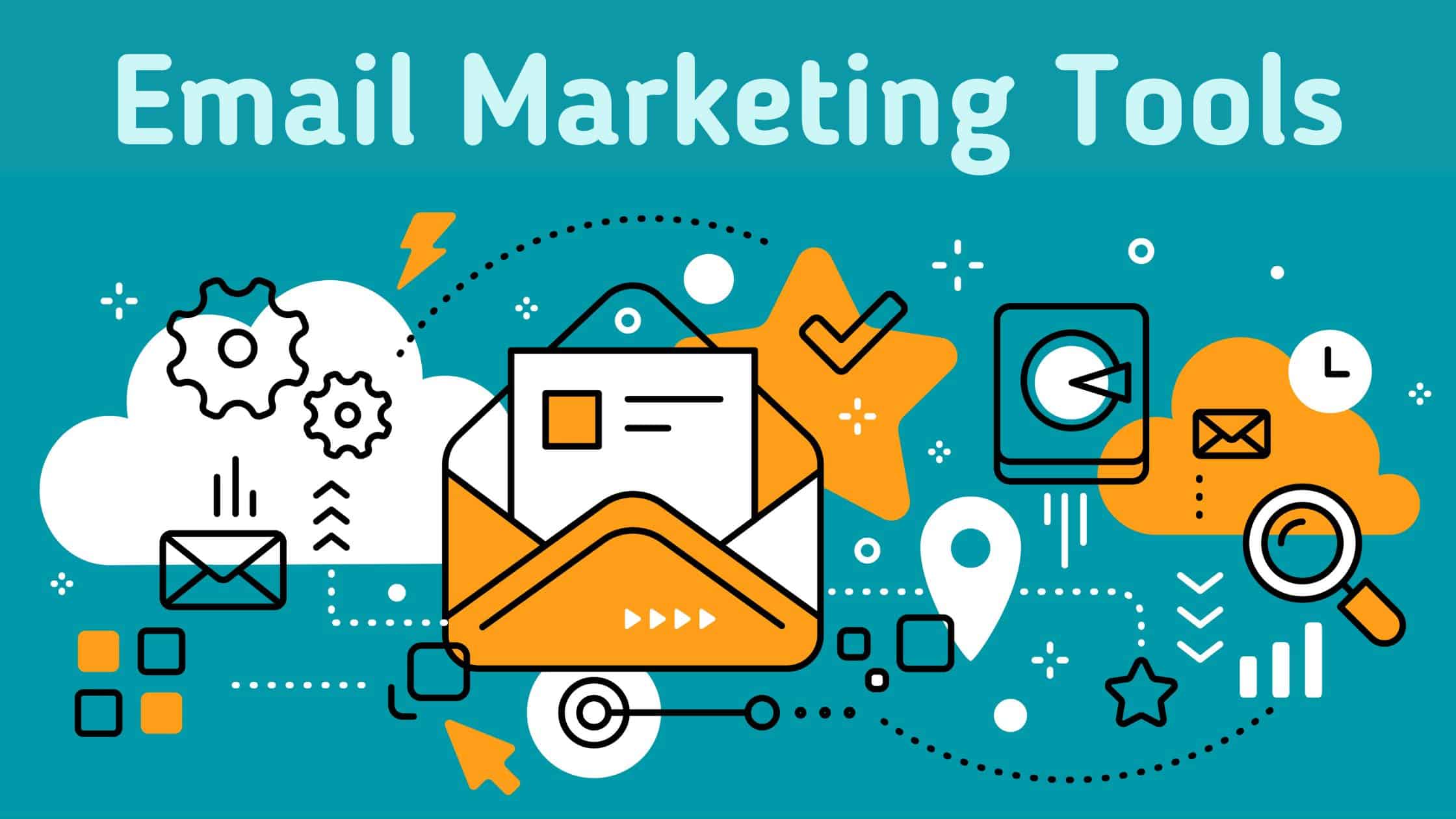 Searching for the right email marketing tool can feel like a trip to the mall, with so many choices surrounding you. There are a lot of email marketing tools on the market, so it can be tough to choose the right one for your needs.
Each one is packed with features like automation, personalization, and advanced design capabilities that can truly transform your email campaigns and drive engagement with your audience. Here are a few things to consider when choosing an email marketing tool:
Price
When it comes to email marketing software, the cost can vary depending on the size of your contact list and the features you need. When choosing a tool, please keep in mind,
Free plans and those costing thousands of dollars per month are available, so it's essential to keep an eye on your activity to monitor costs.
Most software providers offer a free trial period and discounts for annual payments, making it worth exploring your options.
Charges are often based on the number of emails in your database or the number of emails you send out, so active engagement can increase monthly costs.
Whatever your budget or needs, there's an email marketing software plan out there for you – it's all about finding the right fit.
Ease of use
Email marketing platforms have evolved over the years, and it now only takes 10 minutes to integrate a sign-up form, create a template, and send an email to everyone. Crafting visually appealing email templates can be a time-consuming process, especially if you want them to look good on mobile devices.
While all email marketing providers offer visual email builders, not all are created equal when it comes to ease of use. Email support must be available to help troubleshoot any problems that users may encounter.
So, it's worth exploring your options and finding a platform that offers a user-friendly interface to save you time and frustration.
Deliverability
Email marketing is only effective if your messages reach your customers' inboxes. That's why deliverability matters! Here's what you need to know:
Deliverability is crucial for successful email marketing.
To improve deliverability rates, email marketing tools must monitor blacklists, review subscribers, remove problematic ones, and manage IP address reputation.
The top ten email marketing tools on our list already handle these tasks, guaranteeing a deliverability rate of 98-99.9%.
If you want even higher rates, consider investing in a tool that manages your sender reputation and tests your emails for spam.
Integrations
When selecting an email marketing tool, integrations are crucial. Here's what you need to know:
Integrations allow your email marketing tool to work seamlessly with other platforms you use.
Look for integrations with your CRM, eCommerce platform, social media, and other marketing tools you already use.
Integration with your CRM is especially important, as it allows you to manage your customer data and email campaigns from one place.
Social media integrations can help you expand your reach and grow your audience.
eCommerce integrations allow you to track purchases and revenue generated from your email campaigns.
Choosing a tool with the right integrations can save you time and streamline your marketing efforts.
Customer support
When choosing the best email marketing tool, it's crucial to consider the level of customer support available. After all, you want to make sure you're getting the most out of the platform, and that you have someone to turn to if you run into any issues. So, what should you look for in terms of customer support?
Look for a provider that offers multiple support channels, such as phone, email, and live chat.
Check reviews and ratings to see how other users rate the provider's customer service.
Some providers even offer dedicated account managers to help you get the most out of the platform.
With the right support, you'll be able to use your email marketing tool effectively and achieve your marketing goals.
So don't forget to consider customer support when choosing your email marketing tool!
The Best Email Marketing Tools
Getting in touch with your customers and growing your business with email marketing is still one of the most effective ways to reach your customers as we move into 2023. We have put together this list so you don't have to spend a lot of time researching what's new in the world of email marketing.
Here are our top picks for the best email marketing tools of 2023:
Mailchimp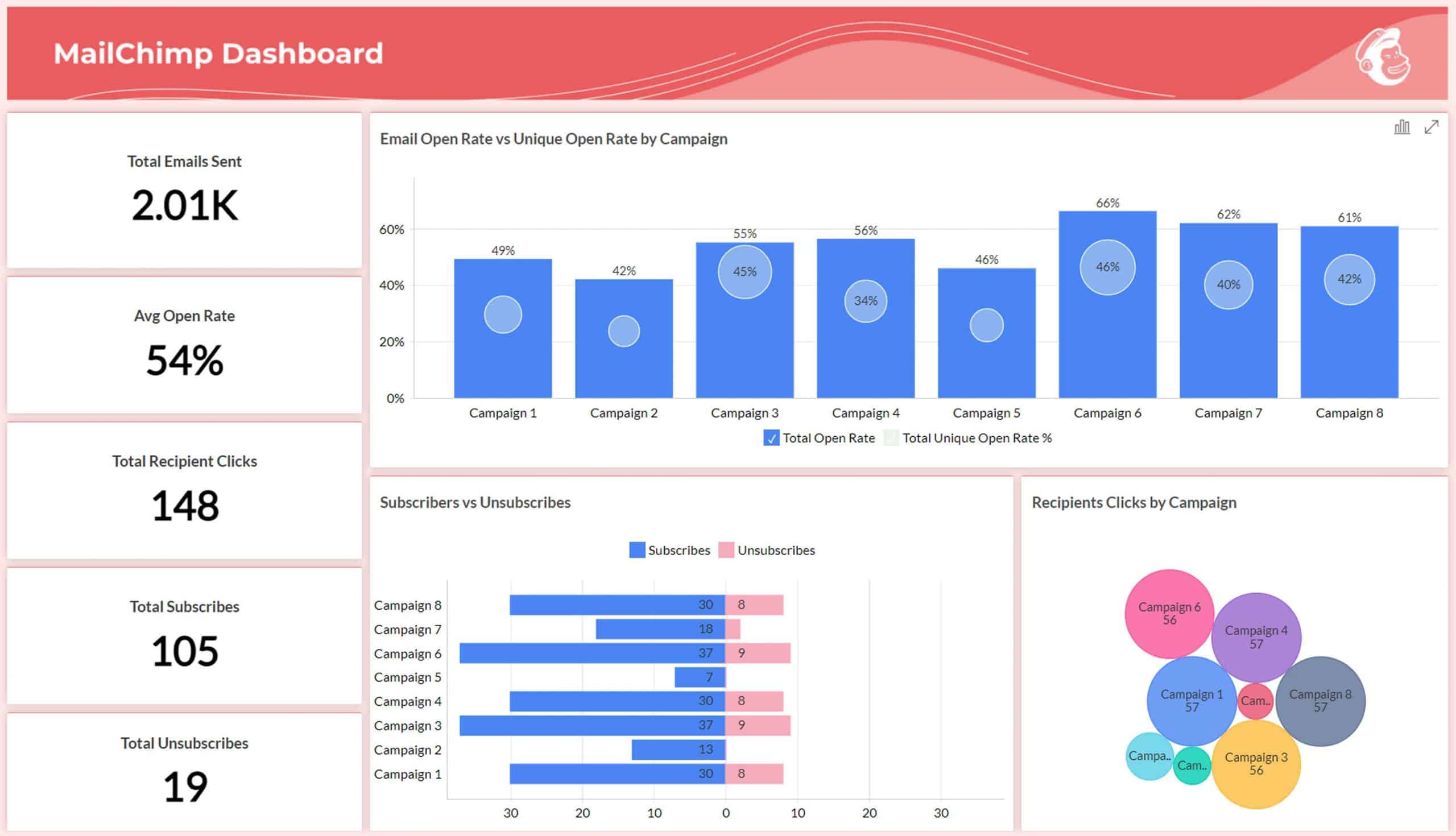 If you're looking for an easy-to-use email marketing platform, Mailchimp has got you covered. This platform is perfect for beginners and startups, offering a user-friendly interface that will have you sending professional-looking emails in no time. You can build a free website, purchase a domain, create ads and landing pages, and even send postcards.
Key Features:
Elevate your email marketing with Mailchimp's predictive insights.
Add personalized touches to your emails with dynamic content.
Create customized customer journeys using conditional logic and branching points.
Identify high-converting messages with A/B testing.
Build stunning websites and landing pages with Mailchimp's easy-to-use tools.
Pricing:
Along with the free plan, Mailchimp offers a Premium plan that can be customized by their team after discussion; along with it, they offer:
The Essentials plan starts at $9.33/month.
The Standard plan starts at $13.93/month.
Both paid plans come with a one-month free trial.
Try Mailchimp today and send stunning campaigns that engage and convert!
Hubspot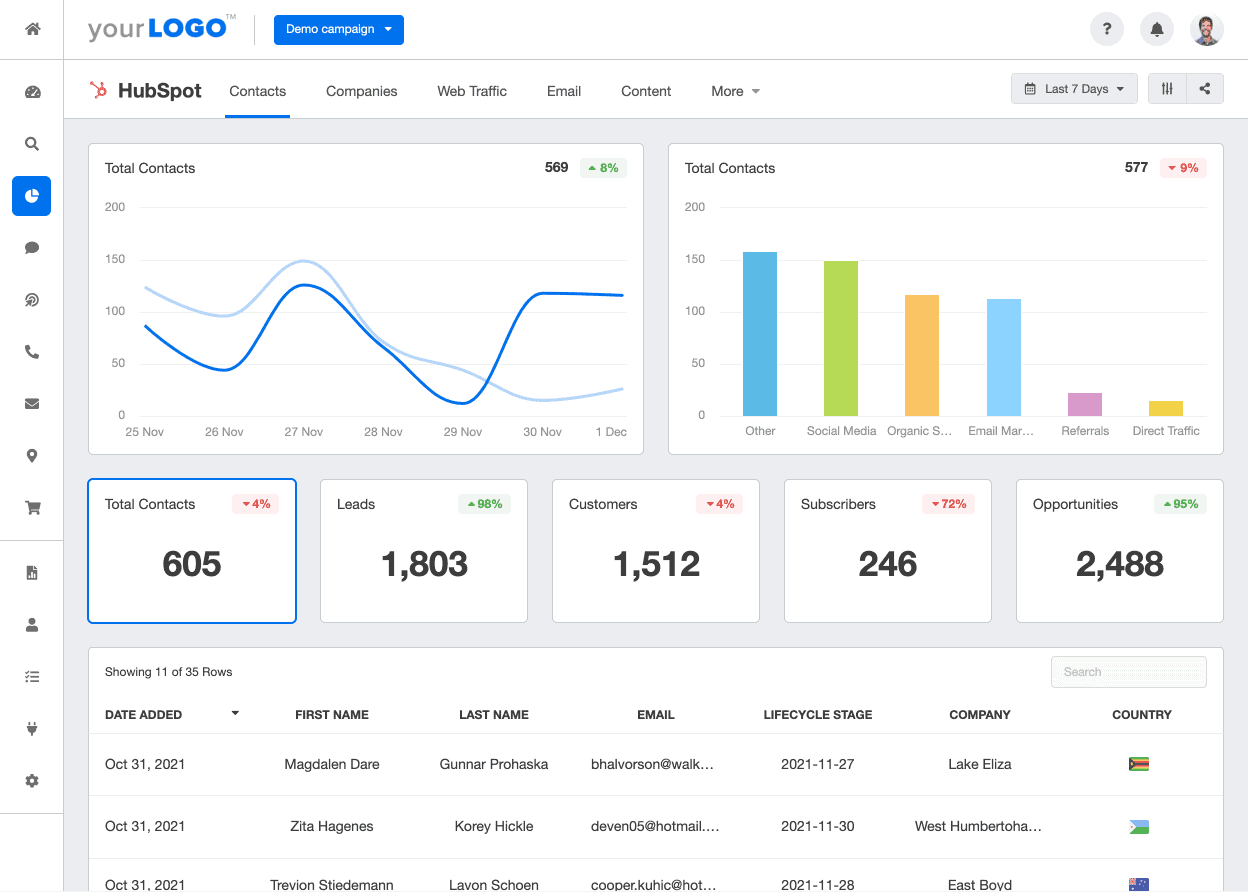 Say goodbye to struggling with email design – HubSpot's got you covered! What's even better is that it's powered by HubSpot's CRM, so you have access to detailed customer data to personalize your emails. If you need more inspiration, check out its marketplace for proven-to-convert templates. Once you've found the perfect template, customize it easily using the drag-and-drop editor to add your own calls to action and rearrange the layout.
Key Features:
Enjoy a full marketing package, including CRM, social media, blogging, and email marketing capabilities.
Keep your deliverability rates in check with the Email Health tab.
Only pay for the contacts you're actively marketing to.
Follow leads throughout their buying journey.
Take advantage of helpful online training resources.
Pricing:
HubSpot offers a free plan as well as
A Starter Bundle for $50 per month for small businesses that include five products: Marketing Hub, Sales Hub, Service Hub, CMS Hub, and Operations Hub.
In this Starter Bundle, you get contact management, email marketing, live chat, forms, lead capture, sales automation, deal management, ticketing, and basic reporting.
HubSpot also offers Professional at $890 per month and Enterprise plans at $3,200 per month with additional features, such as A/B testing, video hosting, custom reporting, advanced marketing automation, and more.
Both the Professional and Enterprise plans include all the features of the Starter Bundle, as well as additional capabilities for larger businesses.
Say goodbye to email design struggles with HubSpot's user-friendly platform!
Icegram Express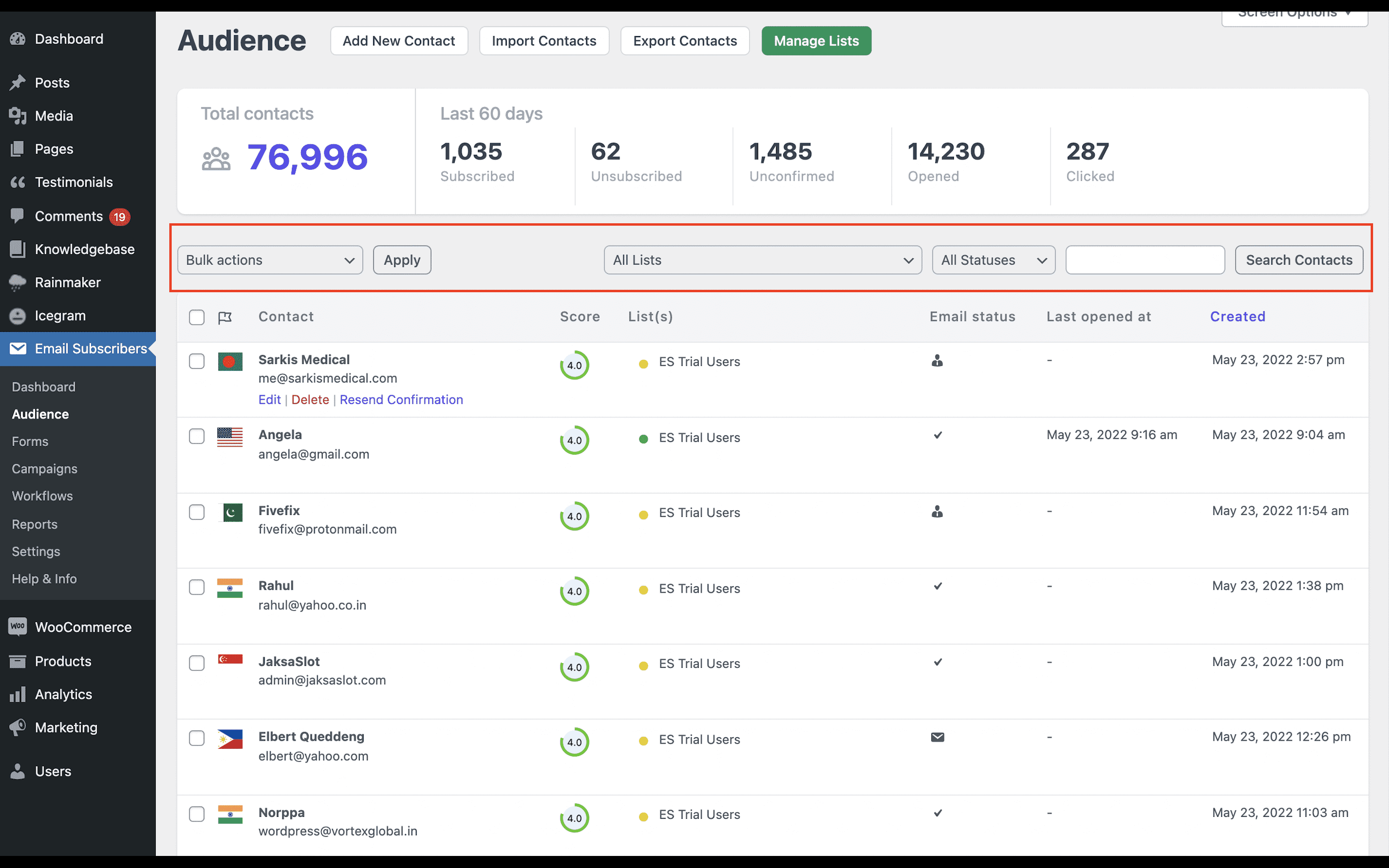 If you're looking for a fast, simple email marketing tool, Icegram Express is a great option. It's easy to use and has a wide range of features, making it a great choice for both small businesses and larger enterprises. The main feature of Icegram Express is its price: it's one of the most affordable email marketing tools on the market.
Key Features:
A drag-and-drop email builder
A wide range of templates
Customizable branding options
A/B testing
Automated email campaigns
Detailed reporting
Pricing:
Icegram Express offers a Starter, Pro and Max plans
Starter Plan is a free plan with basic core features.
Pro plan costs $129/year which provides access to most features and standard support.
The Max plan costs $229/year for unlimited access to all features and priority support.
Get powerful email marketing features without breaking the bank. Try Icegram Express today!
ActiveCampaign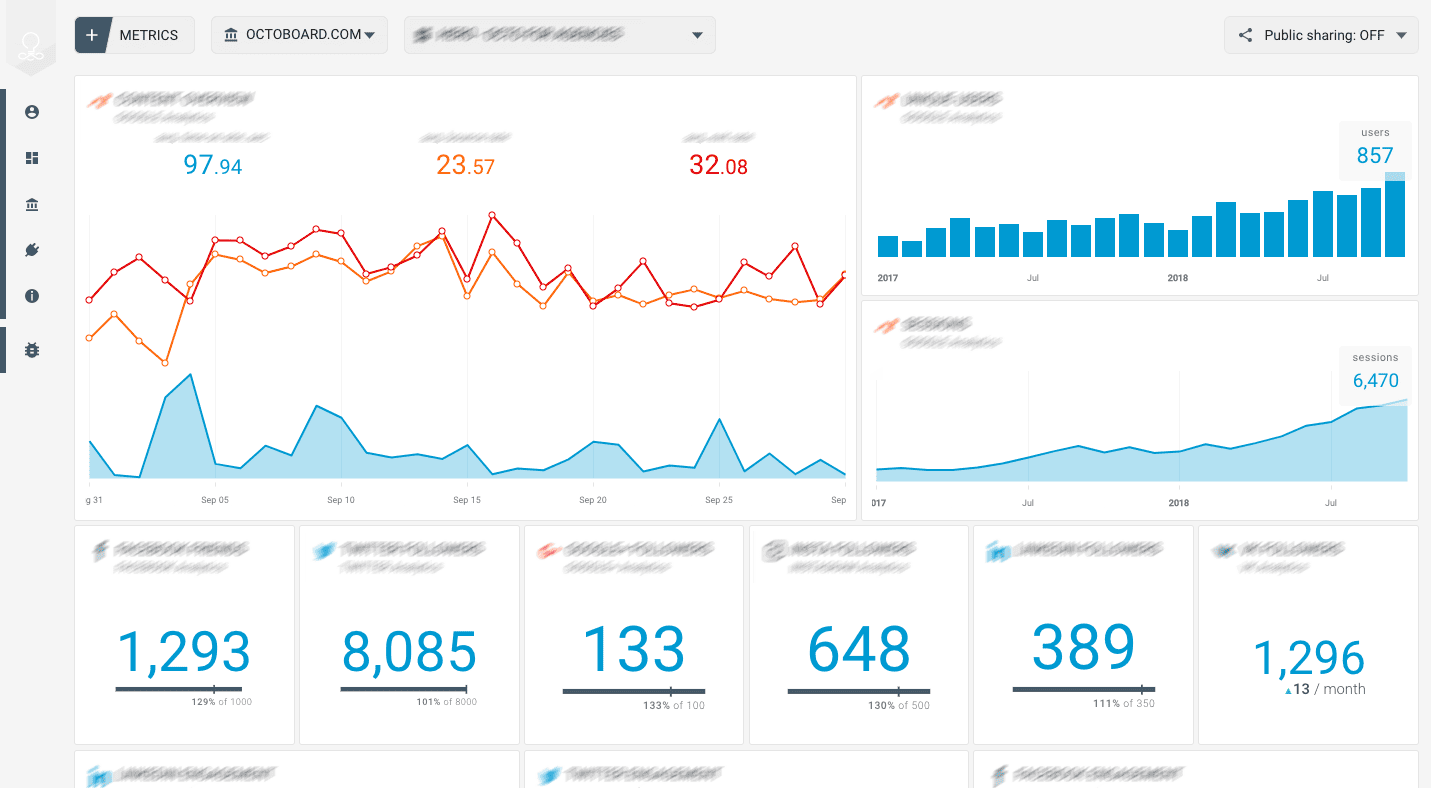 If would you like to have your own personal assistant to help you manage your customer interactions, then ActiveCampaign is the best choice. It's a cloud-based customer experience automation platform designed to help businesses of all sizes automate their marketing, sales, and customer support processes. It provides tools for email marketing, CRM, automation, sales automation, and more.
Key Features:
Segment your audience and use dynamic content to personalize your messages.
Personalize your emails based on any contact information you have.
Conduct A/B testing to find the best-converting emails.
Use simple split testing to improve the email opens, clicks, and conversions.
Built-in landing page builder to help you create high-converting pages.
Pricing:
ActiveCampaign offers a range of pricing plans starting from $9/month, with increasing features and capabilities at higher price points. Here are the main pricing plans:
Lite: $29/month for up to 500 contacts, with email marketing and basic marketing automation features
Plus: $49/month with advanced automation, CRM, and SMS marketing features
Professional: $149/month with additional features such as predictive sending, attribution, and site messaging
Enterprise: Custom pricing for large organizations with advanced customization, integrations, and support
Revamp your customer interactions with ActiveCampaign – get started today!
Constant Contact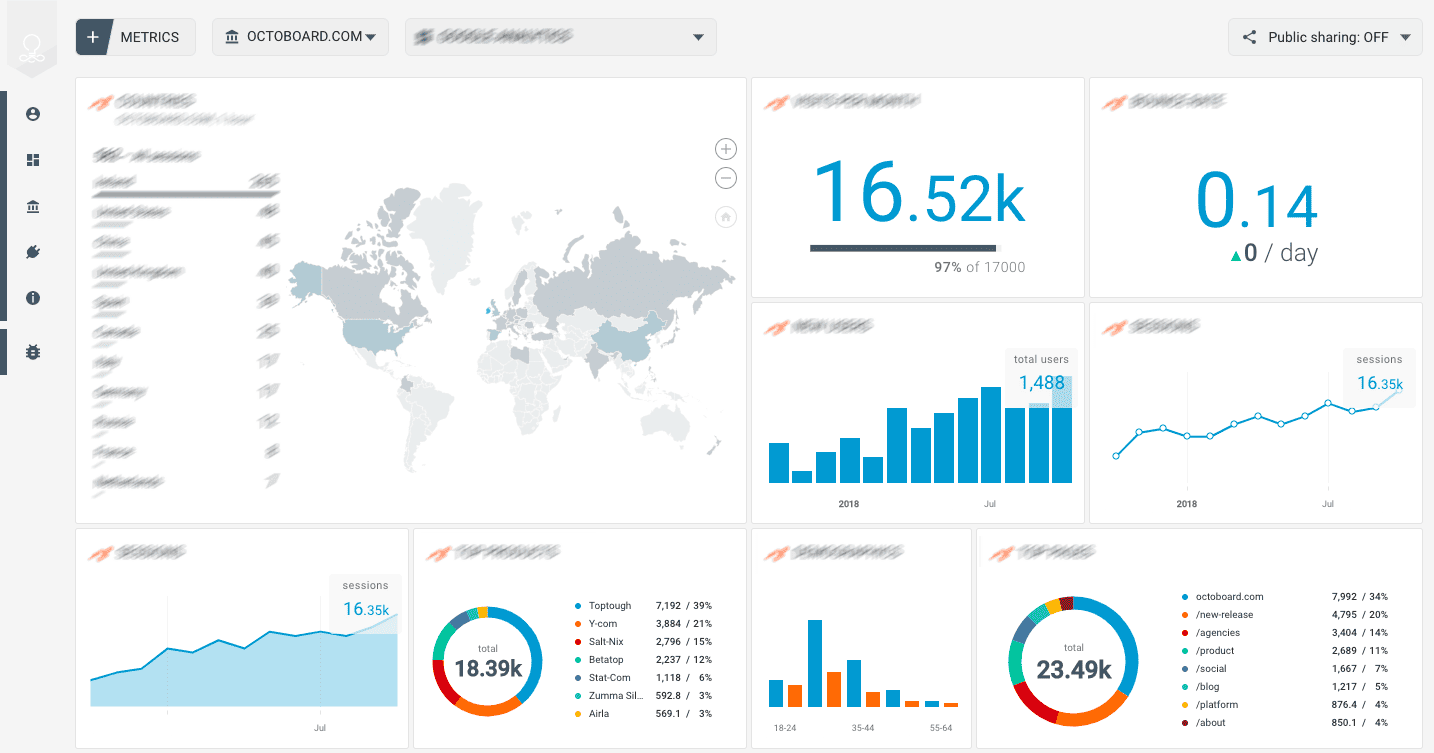 If you're looking to elevate your business to the next level, then Constant Contact is the right one for you. Constant Contact is an all-in-one email marketing platform designed to help small businesses and nonprofits create and send professional-looking emails, manage their email lists, and track email performance. It's easy to use and comes with a range of customizable templates.
Key Features:
Comprehensive email tools covering most needs, with 100s of ready-to-use templates.
Basic A/B testing tools and reporting/analytics included.
Website builder included in all paid plans, along with 300+ app integrations available.
Live chat and email support are available for help and assistance
Extremely user-friendly platform for ease of use
Pricing:
Constant Contact offers a range of pricing plans with increasing features and capabilities at higher price points. Here are the pricing plans based on the number of contacts:
Lite Plan is for $12/ month for up to 500 contacts, with basic features
Standard Plan is for $35/ month with all the features in the Lite plan and premium features including email marketing with A/B testing, automation templates, contact segmentation, and social media ads integration.
The Premium Plan for $80/month provides all the standard plan features plus advanced email marketing, custom automation, contact segmentation, search engine optimization, and a dedicated ad manager (with minimum spend requirements of $5/month)
Transform your email game and take your business to the next level with Constant Contact!
Klaviyo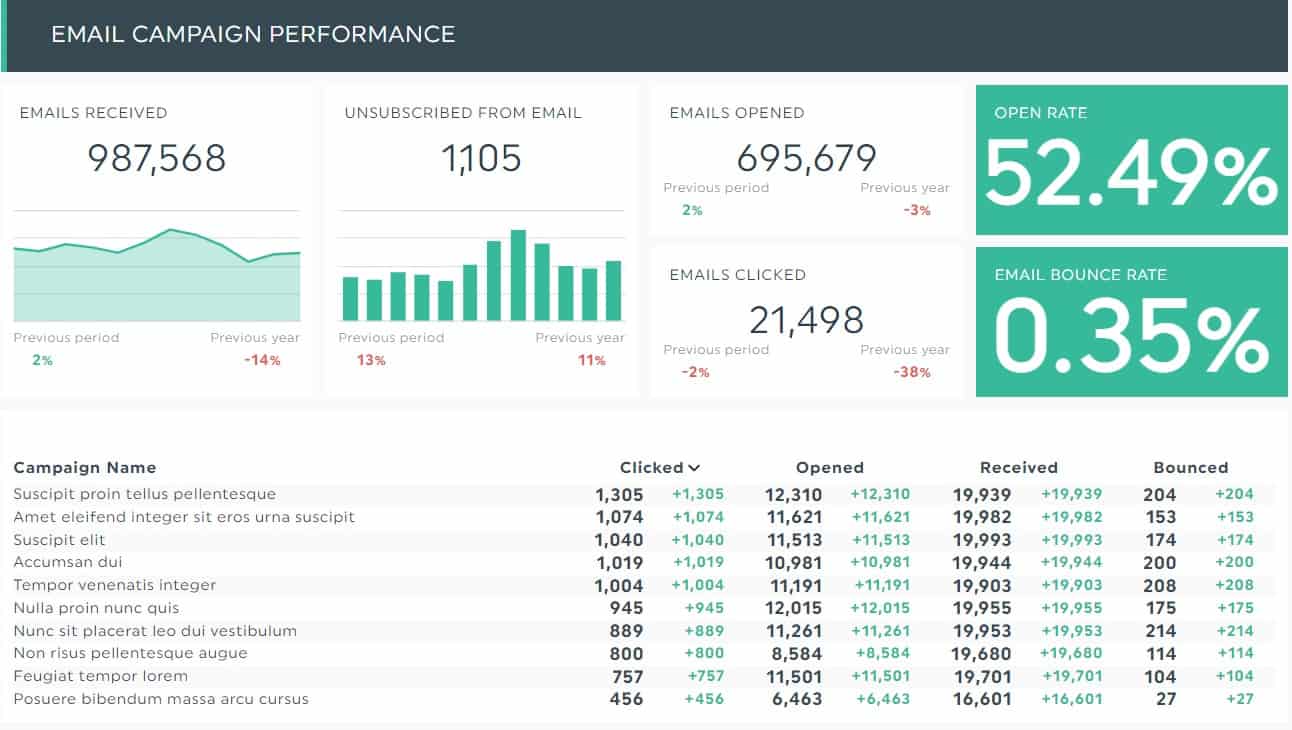 If you're running an eCommerce site, it's important to choose an email marketing platform that integrates well with your eCommerce software. One popular option is Klaviyo, which is used by over 100,000 eCommerce businesses. With a range of native eCommerce integrations, it's easy to set up and has impressive features specifically designed to help eCommerce email marketers improve their performance.
Key Features:
eCommerce-focused with deep functionality and integrations
High-quality email and form templates
Benchmarks feature allows comparison of performance with similar businesses
Predictive forecasts based on live eCommerce data to optimize time and budget allocation.
Pricing:
Klaviyo offers a range of pricing plans starting from $20/month, with increasing features and capabilities at higher price points. Here are the main pricing plans:
Free plan for up to 250 contacts, with basic email marketing features.
Email plan for $20/month with up to 500 contacts and additional features such as automation and integrations
Email and SMS for $35/ month with up to 500 contacts,1250 monthly credit of SMS/MMS and additional features.
Custom pricing for businesses with advanced customization and support needs
Boost your eCommerce email game with Klaviyo – the ultimate platform for eCommerce email marketers!
Sendinblue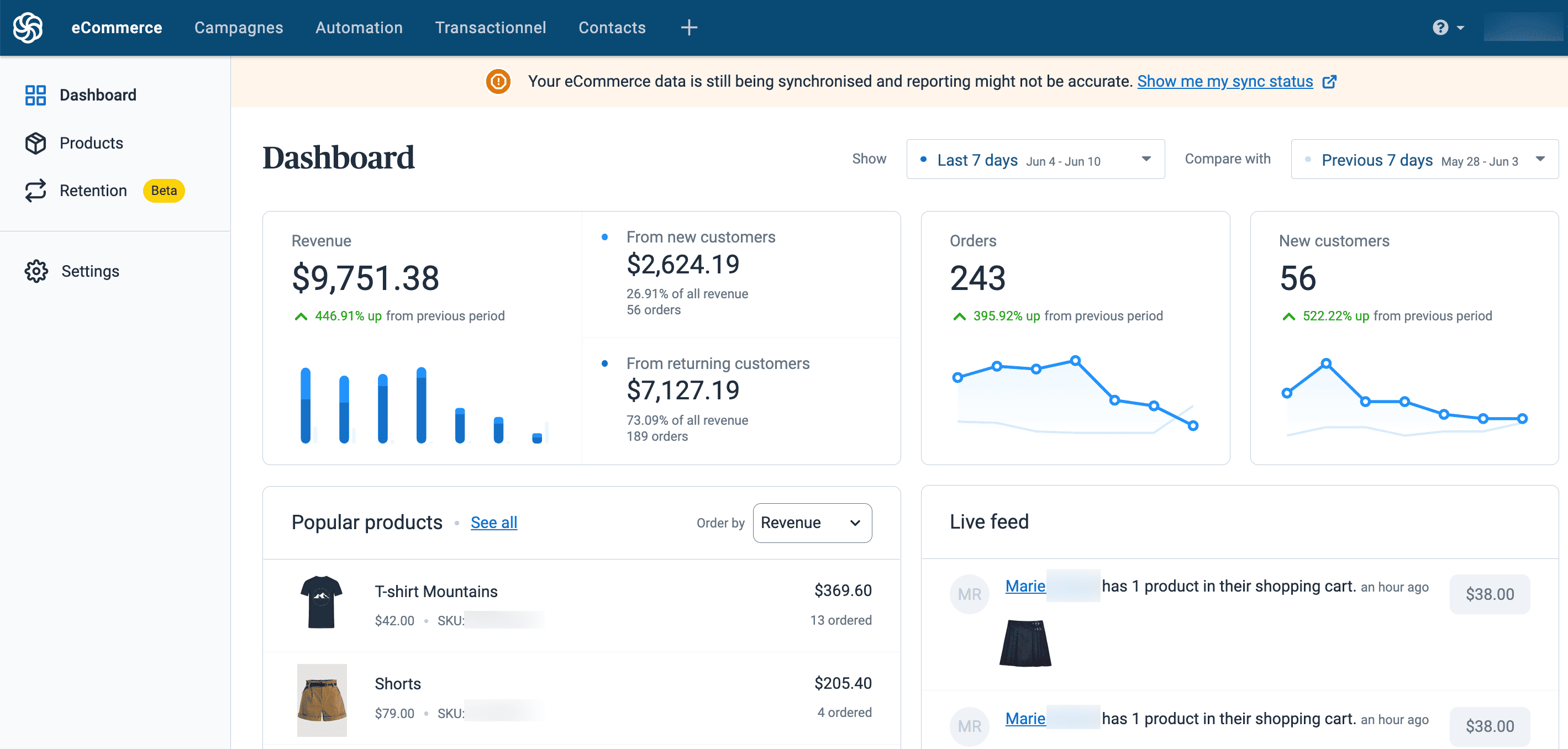 Sendinblue is now Brevo, a cloud-based email marketing and automation platform designed to help businesses of all sizes create and send targeted email campaigns, automate repetitive tasks, and engage with their customers through multiple channels. While it may not have all the advanced features of other email marketing platforms, it's still a great choice for companies looking for strong deliverability rates and a robust API. It offers a range of features to streamline your marketing and customer engagement processes.
Key Features:
Excellent deliverability rates exceeding 99.9%
Transactional automation flows and pre-built email recipes for developers
Pricing is based on send volumes, rather than email list size
Suitable for companies with large lists that email infrequently
Pricing:
Sendinblue offers a free plan, along with a range of pricing plans with increasing features and capabilities at higher price points. Here are the main pricing plans:
A Starter Plan for $25/month with up to 20k emails per month, with basic email marketing features
A Business Plan for $65/month with up to 20,000 emails per month, and additional features such as automation and landing pages
An Enterprise Plan with custom pricing for businesses with advanced customization and support needs
Try Brevo (Sendinblue) today and experience excellent deliverability rates and powerful automation tools.
Campaign Monitor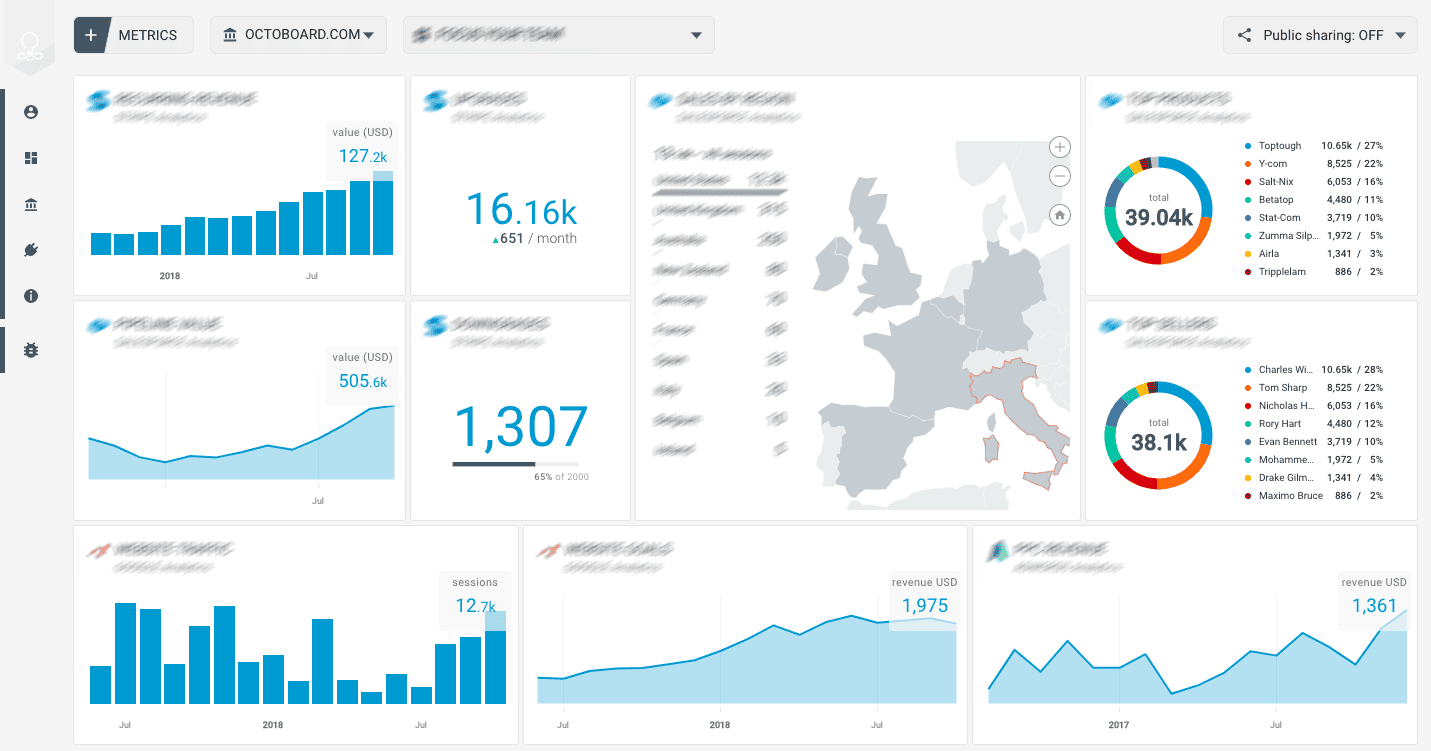 Are you tired of sending bland and unengaging emails to your customers? Look no further than Campaign Monitor! Create beautiful and captivating email campaigns with ease using Campaign Monitor's sleek and user-friendly platform. With drag-and-drop simplicity and stunning designs, you can say goodbye to clunky editors and boring templates. Take advantage of advanced automation features and detailed analytics to optimize your campaigns and drive real results.
Key Features:
Campaign Monitor's drag-and-drop email builder makes it easy to create professional-looking emails without any coding or design skills.
Advanced Segmentation for targeted email campaigns
Personalization with dynamic content based on subscriber behaviour and preferences
Marketing Automation for targeted, multi-step campaigns triggered by subscriber behaviours
Pricing:
Basic Plan: $9/month for up to 500 subscribers, including email marketing and basic marketing automation features.
Unlimited Plan: starts at $29/month for up to 500 subscribers, and includes advanced marketing automation features and priority support.
Premier Plan: custom pricing for businesses with larger subscriber lists and advanced customization and support needs.
Give it a try today and see the difference for yourself with Campaign Monitor
Convertkit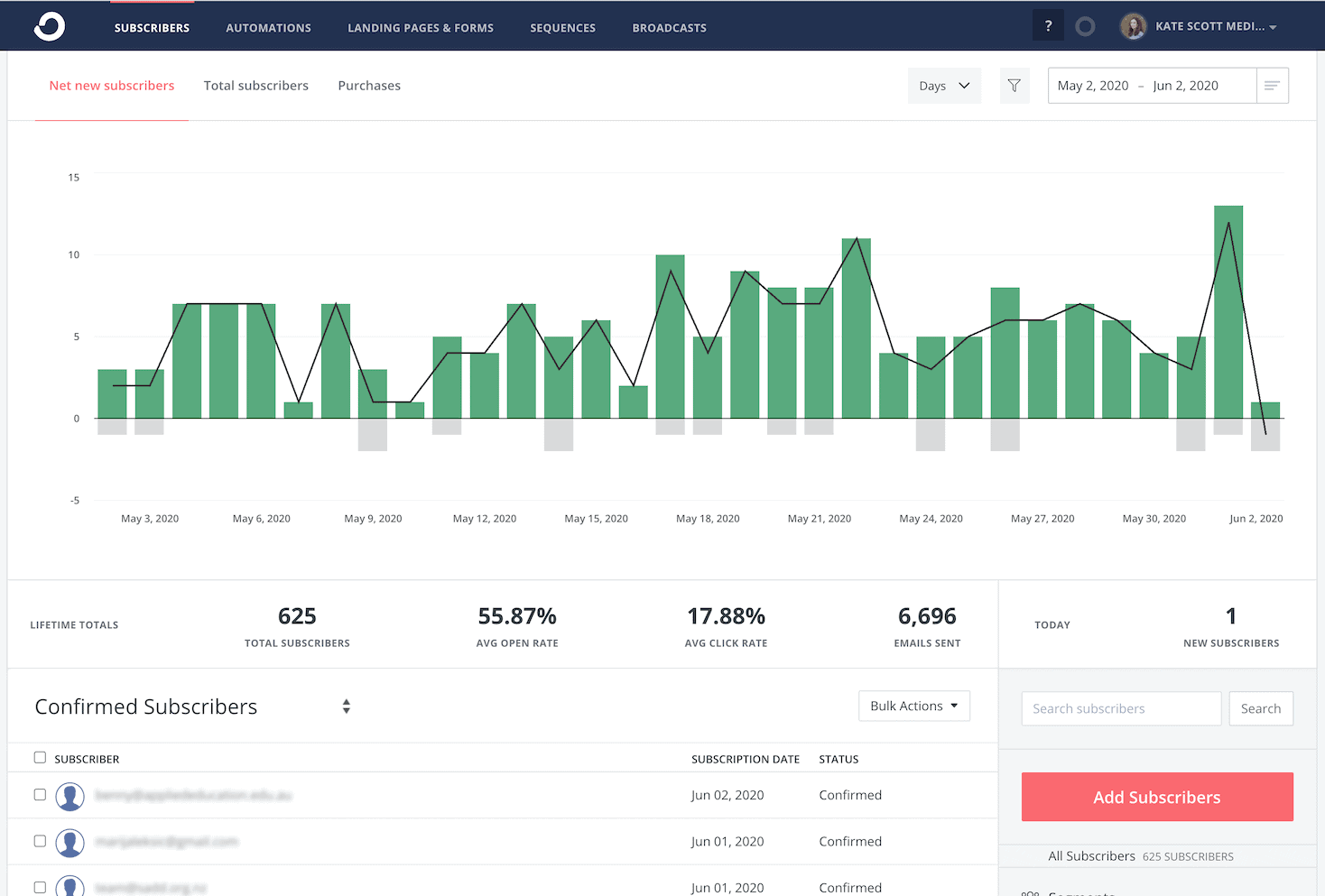 ConvertKit, is an email marketing solution built specifically for creators. With its easy-to-use platform and powerful features, ConvertKit empowers bloggers, podcasters, and other creators to grow and engage their audience through targeted email campaigns. Its intuitive automation tools, customizable forms, and extensive integrations make it the ideal choice for anyone looking to turn their passion into a profitable online business.
Key Features:
Simple and Intuitive Email Editor
Powerful Marketing Automation
Visual Automation Funnel Builder
Tag-based Subscriber Organization
Landing Pages and Forms to Grow Your List
Pricing:
ConverKit offers a        for up to 1000 subscribers, with basic email marketing features as well as
Creator plan for $29/month with up to 1,000 subscribers and additional features such as automation and integrations.
Creator Pro plan for $59/month with up to 1,000 subscribers, and additional advanced features such as Facebook Custom Audiences and newsletter referral system.
Start growing your email list with ConvertKit today and build a loyal audience!
AWeber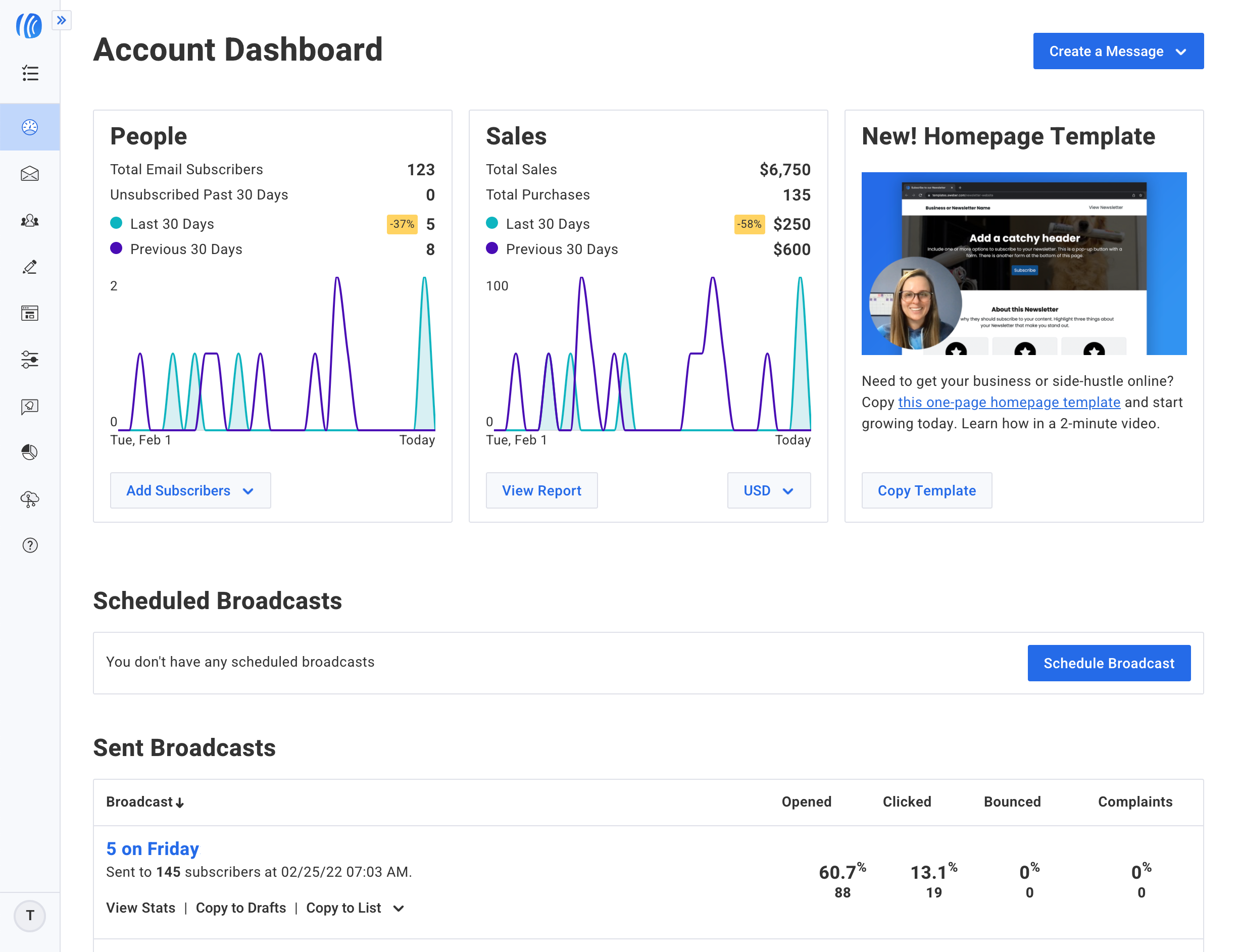 Looking for an email marketing solution that's easy to use and packed with features? Look no further than Aweber. With customizable templates, powerful automation tools, and detailed analytics, Aweber makes it easy to create engaging email campaigns and build strong relationships with your subscribers. Sign up today and see why Aweber is trusted by over a million businesses worldwide.
Key Features:
Drag and drop email editor with customizable templates.
Advanced audience segmentation for targeted messaging.
Automated email campaigns and autoresponder follow-ups.
A/B testing to optimize email campaigns for best results.
Analytics and reporting to track email performance and audience engagement.
Pricing:
AWeber offers a Free Plan for up to 500 subscribers and the other plans that it provides are:
A Lite Plan for $14.99/ month with unlimited subscribers and basic features
Plus Plan for $29.99/ month with priority support and additional features like Advanced landing page features etc
An Unlimited plan for $899/ month with unlimited features and priority support.
Start your email marketing with AWeber today and grow your audience!
Which email marketing software is best for eCommerce?
There are a lot of email marketing software programs out there, each with its own set of features. So, which one is best for eCommerce?
To answer that question, you need to first understand what your needs are. Do you need a simple program that can send mass emails? Or do you need something more sophisticated that can segment your list and send targeted emails?
Once you know what your needs are, you can start looking at different email marketing software programs. Some of the most popular ones include Icegram Express, MailChimp, Constant Contact, and AWeber.
Each program has its own strengths and weaknesses, so be sure to read reviews before deciding on one. And make sure to try out the free trial versions to see which one works best for you.
Final thoughts on the future of email marketing and the role of these tools in its success
In conclusion, the future of email marketing is bright and full of opportunities. As the industry continues to evolve, email marketers can expect to see more tools that focus on personalization, segmentation, advanced tracking, improved deliverability, and integration with other marketing channels. With continued innovation in the field, email marketers can stay ahead of the game and create impactful campaigns that stand out in crowded inboxes.
FAQs
What is the best email platform?
The best email platform depends on your specific needs and budget. There are several great options out there, including Mailchimp, Constant Contact, and AWeber. It's important to do your research and choose a platform that offers the features and pricing that best suit your business.
What is the best free email marketing tool?
Icegram Express is a great option for a free email marketing tool, offering basic email marketing features for up to 500 subscribers. Other notable free options include Mailchimp's free plan and Sendinblue's free plan.
How We Chose the Best Email Marketing Software?
We evaluated the best email marketing software based on features, ease of use, pricing, and customer support. We also considered user reviews and ratings from reputable sources like G2 and Capterra to ensure our recommendations are based on real user experiences.
Email marketing is still more effective than social media marketing because emails are more personalized and targeted, making them more likely to be opened and engaged with. Emails also allow for more direct communication with subscribers and have higher conversion rates compared to social media. Additionally, email marketing allows businesses to own their audience data, while social media platforms can change algorithms and policies at any time, potentially affecting the reach and engagement of businesses' social media efforts.