Of late, I have understood one thing pretty well. People are more concerned about growing their email list than setting up an email sequence. I am not saying that building a mailing list should be off your priority list. But what most of us don't realize is that it is the relationship and engagement we build with the audience that helps us generate profit.
Didn't get it? Let's clear things out with an example. Suppose I am planning to launch an online course. So what will be my initial steps to build a relationship with my target audiences?
At first, I will try to introduce myself through an email. Who am I? Am I qualified enough to launch an online course?
Next, I need my audiences to trust my product. I can show them testimonials of previous clients through an email to make them believe that this course has been beneficial to others. And, when a few of them purchase this course, I will send another email explaining how this course will add value to them.
Now, these emails that I send one by one to introduce myself, to educate my target audiences about a product, and to build a relationship with them are called email sequence.
In the long run, what matters is the email sequence you're following to approach your subscribers. So, settle in. In this article, I'll explain to you 5 email sequence ideas that can easily improve your lead conversion rate.
So, what is an email sequence anyway?
Before I introduce you to some email sequence examples, let's spend some time to understand what an email sequence is. To put it down simply, an email sequence is a series of automated emails that you send to your leads/customers/subscribers based on their actions. You can call it with different names like lifecycle emails, email marketing automation, drip emails, and so on.
These include lead generation, lead nurturing, engaging my prospects/customers, and on-boarding my clients. Unlike a regular cold emailing campaign, the whole thing is automated here! That's the only difference.
It would be a complete lie if I told you that setting up an email sequence is effortless. Because it's not! There are a lot of things that you must consider to create an appropriate email sequence template. The activities that are most important for building an email sequence are as follows:
Planning the email sequence
Gaining a clear idea of target customers' behavior
Drafting numerous emails for different situations
And finally, tracking down all your conversions
By now, you're probably convinced that setting up an email sequence is a bad idea since it will consume so much of your time. But you know what's the beauty of it? You only need to set an email sequence once. If it clicks, you're done. You won't have to worry about it afterward.
So, let's get to the email sequence ideas straightway.
5 Different Types of Email Sequence Examples
Welcome Email Sequence
Suppose you have a new neighbor. Will you get into their house just like that? I guess, No! You'll need them to welcome you before you can enter their home.
The relationship between a brand and its subscribers is somewhat similar. You should welcome the subscribers once they join your email list.
One great welcome email sequence idea is to use a personalized, multi-step series that introduces subscribers to your brand and helps them get started with your products or services.
What I learned from my experience is that a welcome email is a very first communication between me and my subscribers. So, I always put in extra effort to draft a welcome email. You probably know about the saying called "The first impression is the last impression."
When I'm drafting a welcome email, I keep these three things in mind:
I always maintain a positive tone in my welcome emails
I try to guide my readers about the next steps without sounding like a preacher
I make sure that whatever I write in the welcome email is aligned with my brand's voice
Let's have a look at Grammarly's welcome email: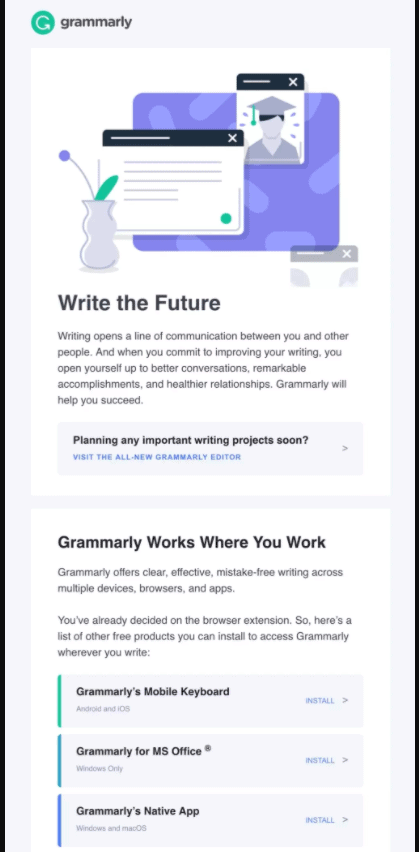 As you can see,
Grammarly maintains a friendly and empathetic tone in this welcome email. Also, this brand has kept it simple and to the point. Without much ado, they have explained how the users can use this app.
Another email sequence template that can be effective is a drip campaign that delivers valuable content over a set period of time, gradually nurturing leads towards a purchase.
Engagement email sequence
Welcoming the subscribers is not enough! With an engagement email sequence, I try to deepen my brand's relationship with the subscribers.
I always send out the engagement emails after the subscribers have absorbed the welcome emails. Through welcome emails, my subscribers can develop an idea of what products and services I have on offer. The welcome email is just to offer them an overview of all my offerings.
But, with the engagement email sequence, I personalize things a bit. I make sure that each subscriber is able to pick out the products and services that fit their personal needs.
Some email sequence examples that can be effective in improving conversions include offering exclusive deals or promotions, presenting customer testimonials, and using social proof to build trust and credibility.
Here is an example email to show you how Netflix masters the engagement email sequence. Have a look: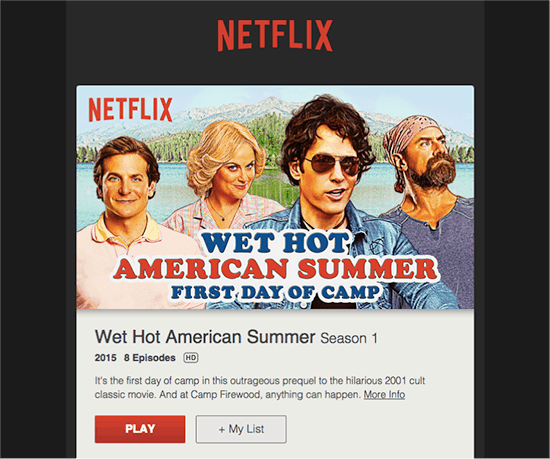 As you can see, Netflix sends personalized movie/TV show recommendations to each viewer. Majorities of the time, these recommendations click with me as these are based on my watch history.
Note: To add cool Call to Actions and On-site Opt-ins, don't forget to download our WordPress Plug-in Icegram Engage for free.
Onboarding email sequence
Let's say that you've successfully converted a lead into a customer. But, what next? We can't leave them hanging in there, right? With an onboarding email sequence template, I try to assure that my new customer knows about the product/service he has just purchased.
It is a common tendency of people to get agitated if they can't figure out how a newly purchased product functions. Hence, my responsibility won't end as soon as I persuade a customer to buy something. If they're not aware of how to use this product or service, they will develop a negative impression of my brand. This also ruins all my chances to sell them another product/service in the future.
And you know what's the worst that can happen? This one customer can give bad reviews to my brand to their friends and on social platforms. And BAM! My brand's reputation will be destroyed completely.
So, to stop all these, I always make sure that I am sending an onboarding email. While drafting an onboarding email, I keep the following points in mind:
I focus on the benefits this product/service can offer to my customers. I NEVER emphasize the product features here. For example, if I am selling a laptop, its features will be the same for all customers.But, the benefits will be different based on different customers' needs. A student will use the laptop for study purposes, a professional will use the laptop for office work and a teenager may use this same laptop to play games. So, I always personalize my onboarding emails to make sure that different groups of customers can relate to them.
I never forget to add social proof to my onboarding emails. I add existing customers' reviews, case studies, etc. It is to encourage the new customers in purchasing more products and services from me. When they observe that other people have purchased from me and they're satisfied with my products and services, they can start trusting my brand.
Let's see how UpScope drafts its one to one emails for onboarding: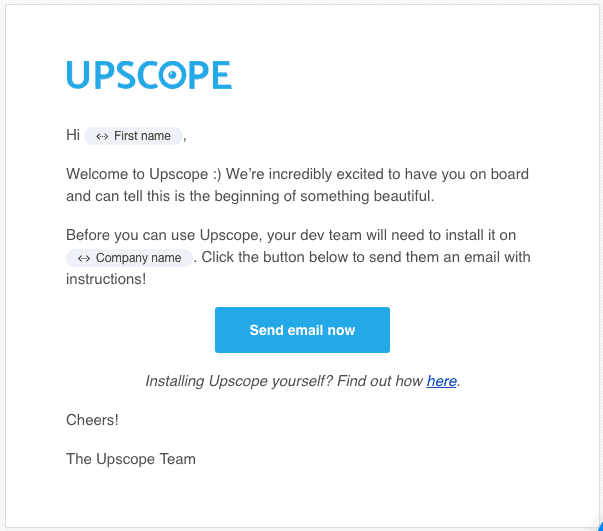 Abandoned Cart email sequence
Did you know that on average, 77% of carts get abandoned? Most eCommerce stores are struggling with this issue. It is the common tendency of customers to browse through your store, select a product, add it to their cart and then forget about it.
Say, you're selling books online. I stop by your store, select a book and add it to my cart. Before hitting the "Buy now" button, I start thinking, "Let's see if I get the same book at a different price in another store."
Now, if you send me an email after 6 days, stating that you have a 10% discount for me on that same book, I wouldn't even remember your store's name. In fact, I could easily send this email to my spam box and unsubscribe from your email list.
But, what if you send me the same email after a day? Well, you can easily bag yourself a new customer.
Well, there can be various reasons behind increasing cart abandonment. Let's not focus on them. Let's see how you can get at least half of these customers to complete their purchase. Here's what I do.
I send at least 3 emails to recover an abandoned cart. Here goes the time sequence that I follow:
I send the first reminder email after 24 hours of cart abandonment
My second email goes out after 48 hours straight
And finally, I send out the 3rd email after 72 hours. This time I add a discount to entice them.
You can always send more follow-up emails if you like. But, I would stop here. Sending more emails could make me look "pushy" and the risk of a customer unsubscribing from my email list is also there. So, 3 one to one emails is sufficient for me.
Here's how Google creates a cart abandonment email sequence: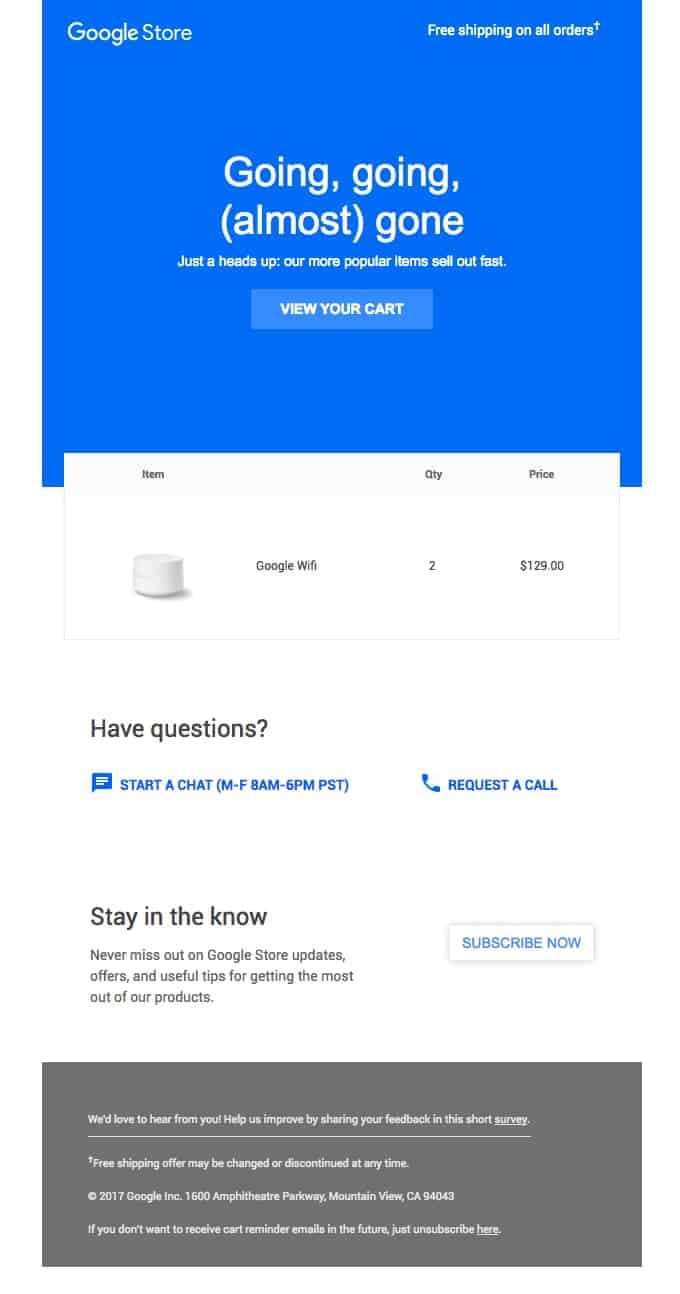 Google includes a personalized CTA in this email to develop an urgency for the customer. The sentence "Going, going, (almost) gone" could be enough to rush a customer and they can complete the purchase at the earliest.
Additional Sales email sequence
I always try to cross-sell my products and services. For example, if a customer buys a dress from my online store, I would show her the shoes, jackets, earrings that could look absolutely gorgeous with that dress.
But, while sending out an additional sales email sequence, I stay extra careful. I make sure that the customer doesn't get my intent to sell them some additional products. I send them as suggestions, nothing more than that.
A sales funnel email sequence can be used to guide subscribers through the different stages of the buying process, from awareness to decision-making to purchase.
So a sales email sequence must never scream "Please buy these, Now!". It should rather say "You can try these out for your own benefit".
Here's how iHerb sends out additional sales email sequence: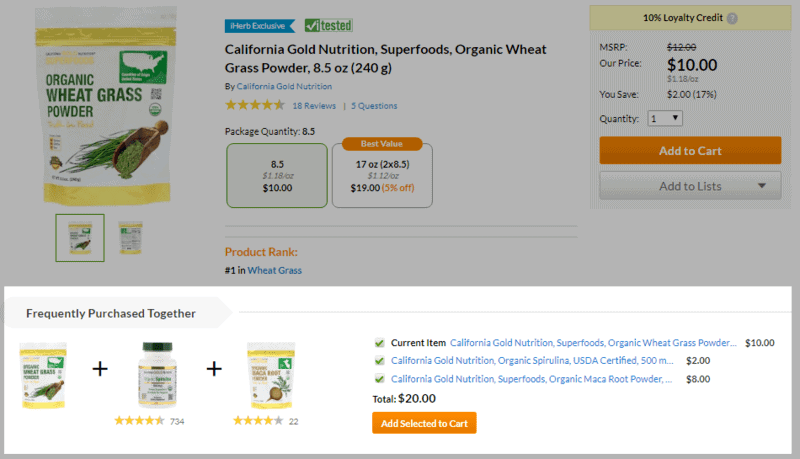 See what iHerb does here. It simply suggests that people often purchase an Organic Spirulina and Superfoods along with the Organic Wheat Grass Powder. But that's it. They are not pushing you to buy these two products.
A conversion email sequence can be designed to focus specifically on converting leads into customers, using targeted messaging and strong calls to action to encourage purchases.
Conclusion
I hope you don't find it all very overwhelming! You can always download our tools like Icegram Express and Icegram Collect to run a hustle-free email marketing campaign and for better lead management respectively!
When I create an email sequence or plan a time sequence, I make sure that my emails are personal and they have an empathetic Call To Action. That's it.
Don't forget to share your story with us. We want to know how you implemented the email sequence in your case. Let us know in the comments section.