Last updated on December 16, 2019
Email Subscribers is changing. We're revamping it to become the best engagement and marketing solution for WordPress users. There are a lot of items on our roadmap, but we want to progress one step at a time.
And the first step is a simple redesign of the interface, menu structure and terminology.
If you're using Email Subscribers plugin for a while, you may need to click around a few places to find menu options you were familiar with.
And you may have a number of questions…
Where did the Subscribers menu go in Email Subscribers plugin?
Why did we rename Newsletter and Post Notifications?
Why did we change the design?
What's going on with our WordPress plugin for email newsletters and blog post notifications?
What was the need for such major changes?
The answer to all those questions is that we got bored of looking at the old design.
Just kidding…
But there is a bit of truth in it!
Look, Email Subscribers is the simplest and most loved email marketing plugin for WordPress.
More than 150,000 creators are using it every day to engage their audiences, to build new businesses, to realize their dreams.
The plugin lets you send timely email notifications about new blog posts, dispatch beautiful newsletters and even send a welcome message every time someone signs up to your list.
We want the plugin to be easy to use and quick.
But we realized there were some bumps in the user experience. Some workflows were not intuitive, some terminology could be confusing and some screens needed refinement.
So here's what we are changing in Email Subscribers 4.0, and why…
Subscribers are now called Contacts
You use our plugin to connect with real people. Not email addresses. Contacts is much more appropriate than Subscribers. Contacts denotes the actual relationship between our users and their audience.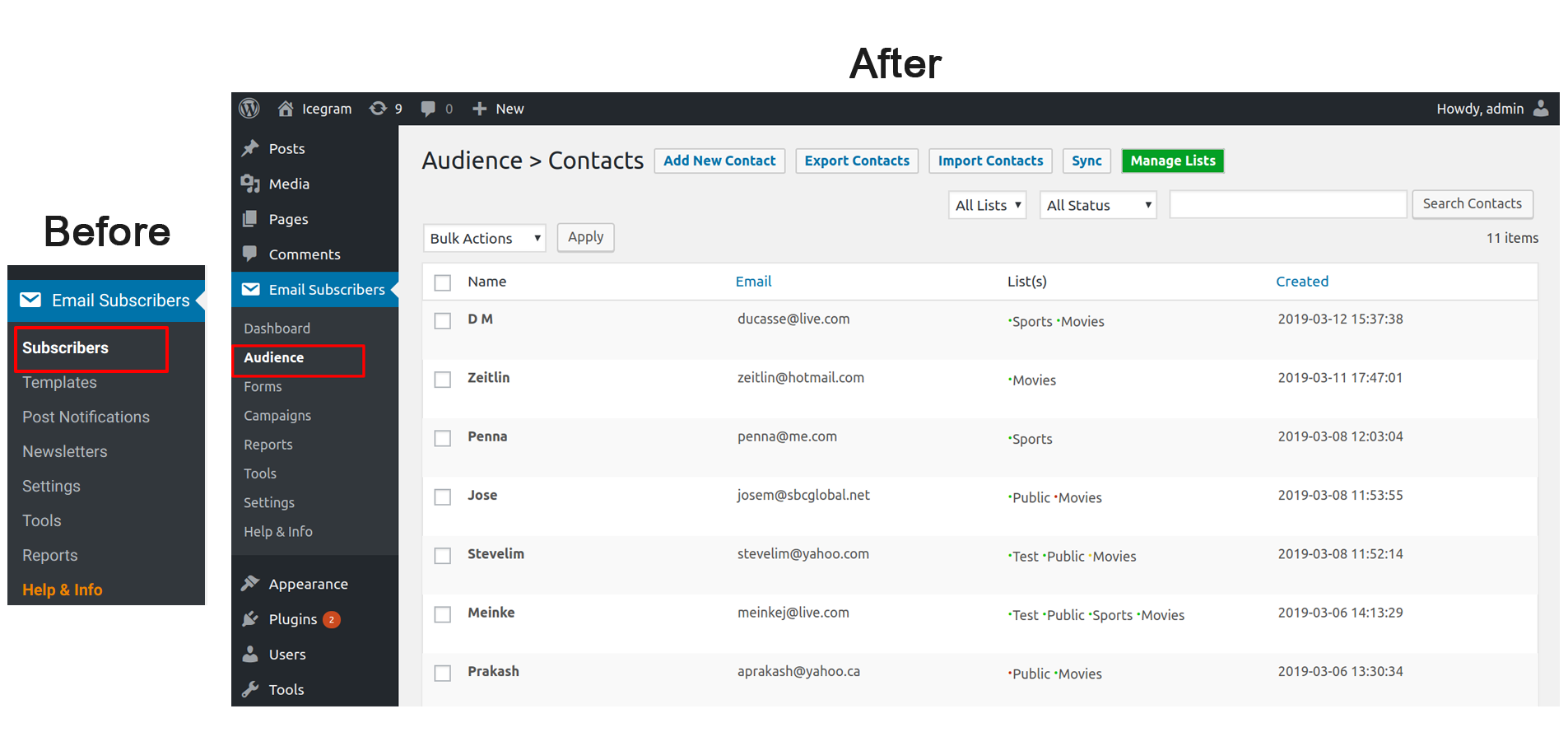 We're introducing Lists
Groups was the way to pull people together in Email Subscribers so far. But we had no way in the plugin interface to create new groups or to manage them. We kept receiving requests to make this process simpler.
Most other email marketing systems call collection of Contacts a List. Whenever we want to invite our friends to a party, we make a List. Whenever we want to sent out gifts, we make a List. So it's perfect to call a collection of people a List.
Starting with Email Subscribers 4.0, you can now create and manage Lists easily.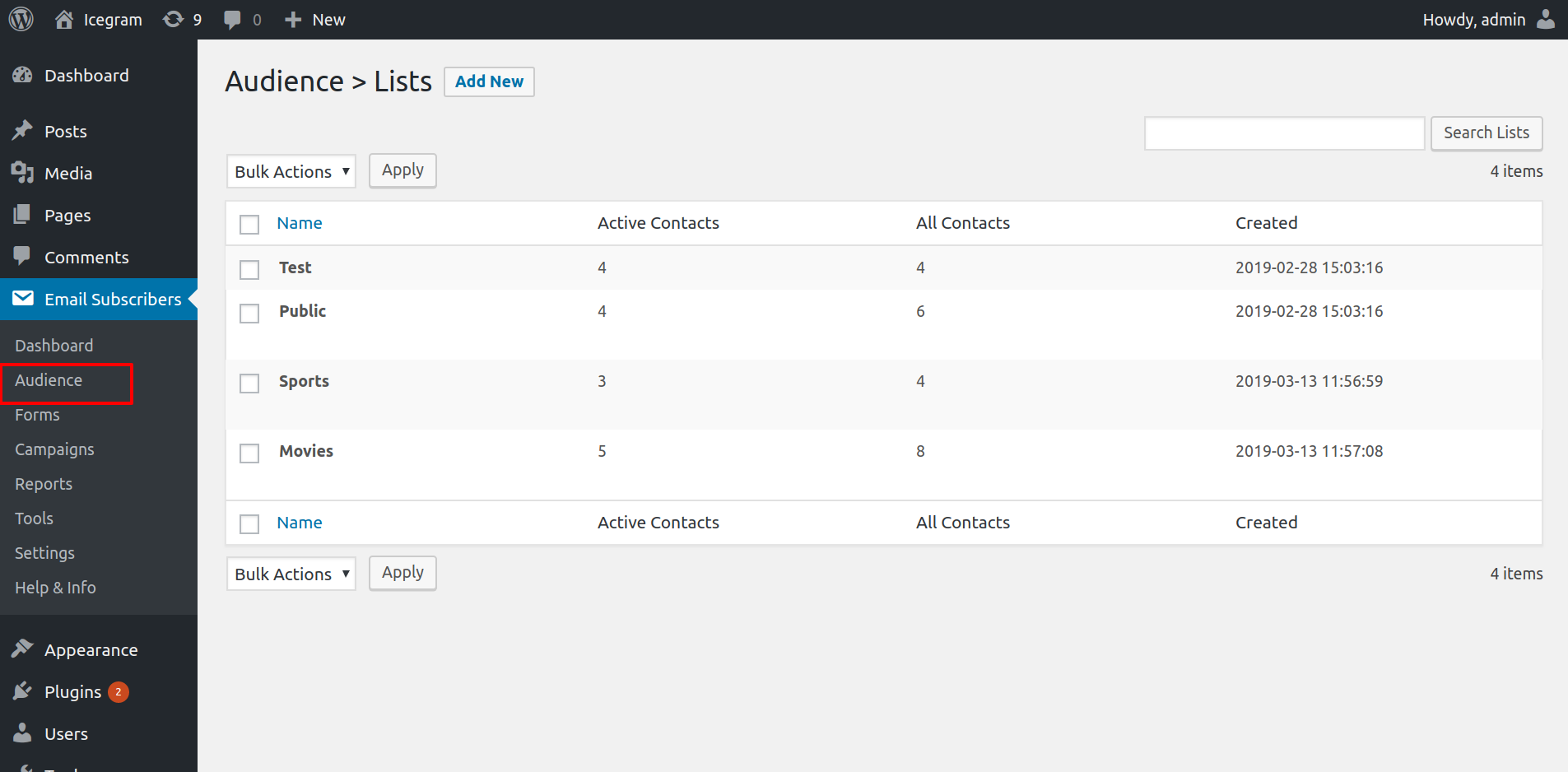 Audience is the place for both Lists and Contacts
Our users are creators, influencers, people who make a difference. And a tribe of listeners is awaiting their creations. We wanted to simplify navigation within the plugin and reduce options at the top level.
So we've clubbed Lists and Contacts together as Audience.
When you think a bit about it, it makes perfect sense!
Newsletters are now Broadcasts
In the physical world, newsletters are communications sent at regular intervals. But you may want to send an email at any time, may be just once. We were looking for a name that encompasses multiple use cases like this.
Broadcasts. That's what it is.
Whether it's a newsletter or a promotion. Whether it's a launch email or an update.. A Broadcast is something you send out to your Audience.

Broadcasts and Post Notifications are types of Campaigns
Most people setup automatic Post Notifications with Email Subscribers. Post Notifications are also sent to a collection of Contacts, but they are automated. We felt Post Notifications is still a perfect name, but just like we combined Lists and Contacts under Audience, we are combining Broadcasts and Post Notifications under Campaigns.
If you use our Icegram plugin, you would be familiar with Campaigns. They are a collection of messages you show to your site visitors.
So look under Campaigns for all your newsletter broadcasts and post notification emails. Even Templates are under Campaigns now.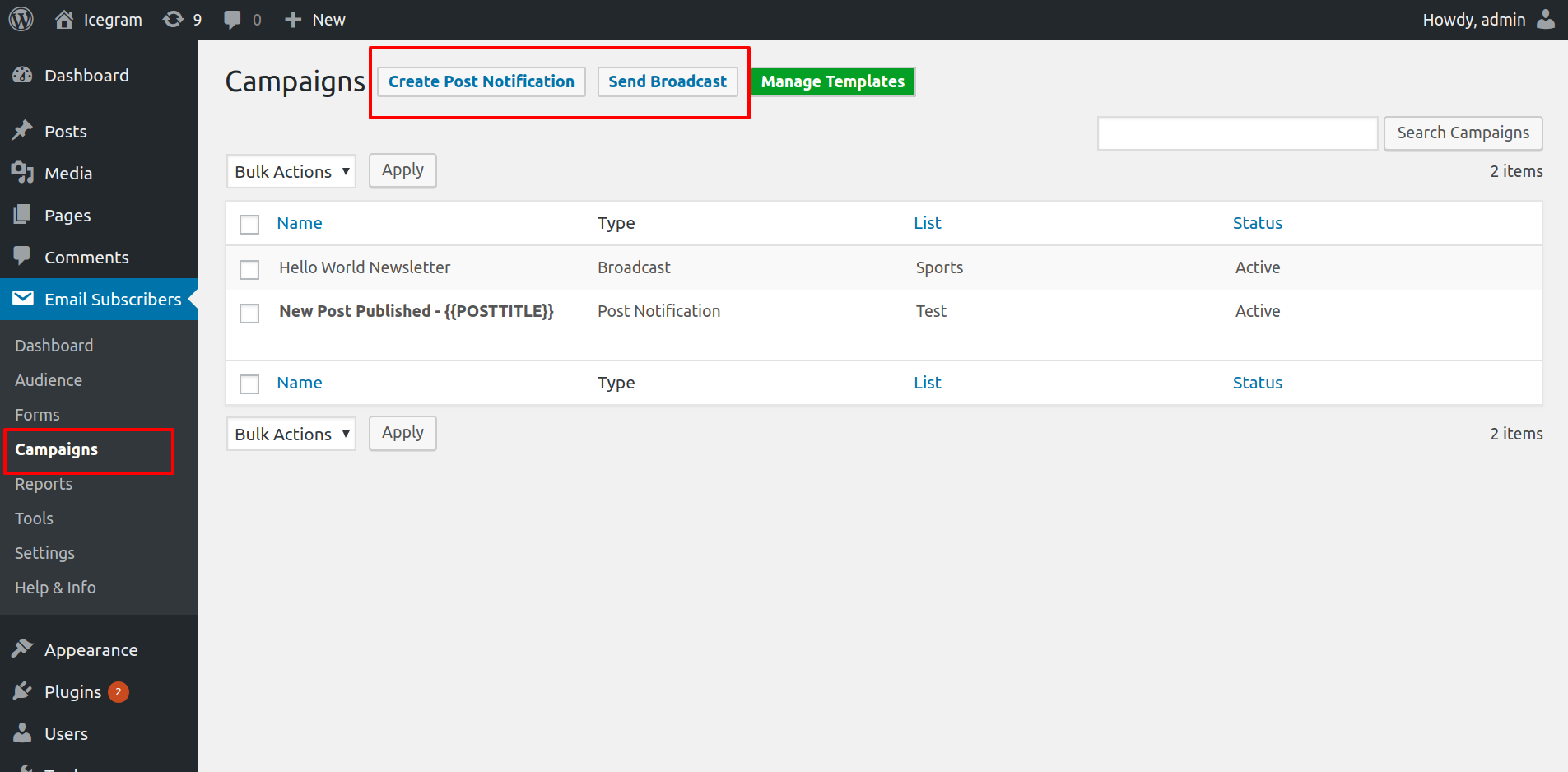 Group Selector plugin has merged into Email Subscribers
We maintained a separate plugin to allow people to subscribe to multiple groups. We're now merging that into Email Subscribers itself. And since we now have Lists, you can allow people to select which Lists they want to subscribe while they opt-in.

Email Subscribers plugin no longer send emails immediately.
Now, plugin doesn't send Post Notifications or Broadcasts emails as soon as Post is published or Broadcast is created. Read more about, why we changed this behaviour and what are the alternatives to it.
Are we going in the right direction? What do you think?
We will keep improving Email Subscribers, and we have a very interesting roadmap. The current update is one step forward in making the plugin simpler and more useful to you.
FYI,
Did you use the new version? What is your experience with the new interface?
Post a comment and let us know.