Show a message based on the visitor's geographical location
Customers love to be treated special. And the best way to do this is by personalization.Icegram Engage already equips you with amazing targeting rules – that help in personalization – and Geo Targeting takes it a few notches higher.
What is Geo Targeting?
What if you could create a special message for visitors from North America? Or how about greeting them in their own language?
Geo Targeting means showing a message based on visitor's location.
Geo Targeting is great for local marketing, segmenting your customer base and engaging with them in a more meaningful way.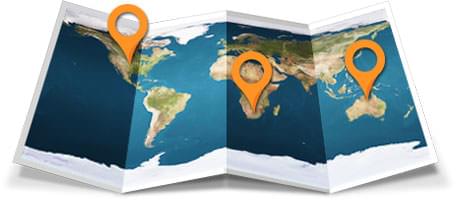 How does it work in Icegram Engage?
Icegram Engage's Geo Targeting addon lets you add geo location rules to your campaigns – just like the other scheduling / page targeting / device targeting / user targeting rules. You can easily add as many locations as you want to show this campaign for.
When a visitor comes to your site, the Geo Targeting add on automatically identifies her continent, country and city based on her IP address. If the location matches the locations you entered in the campaign, then only the campaign will show to the visitor.
How would you use this?
Make Visitors Feel At Home
We are always looking for common things. Commonality creates comfort.Icegram Engage's Tip: Show testimonials of customers from the same location as your visitor. Seeing familiar faces will make them feel home. Use it for any other content as well.
A Great First Impression
People decide whether they may like your business or not within 10 seconds of coming to your site.Icegram Engage's Tip: Instantly connect with your visitors by welcoming them in a way appropriate to their location. Add humor or location specific references to boost credibility.
---
Local Marketing
88% of consumers
who search for a local business online, go to that business within
24 hours.
Icegram Engage's Tip:
Use geo location targeting to
treat visitors from your vicinity extra specially.
Greet them in their own dialect. Perhaps give them a coupon with a great offer.
Offers, Coupons, Events
Customers dig on offers. 48% of users online use coupons.Icegram Engage's Tip: Personalize an offer by location and it will make the offer irresistible.
---
Improve Customer Service
Show what are your store timings in local time. Let people know if you don't deliver to their location. Tell them that you'd be using a cookie if they are coming from EU!!
Lots more..
There are hundreds of ways you can use geo targeting for improved customer experience and higher conversions.
---
Extra Power when Combined with other Icegram Engage Rules
Combine geo targeting rules with other targeting rules to reach out to a niche segment of your visitors.
For example:
Offer an "independence day special" coupon to customers from United States on 4th July.
Cut a deal with "local love" discounts for existing customers in the same city as you.
Provide a free ticket to a concert coming to town next month.
Map image by MathieuBerenguer