A Big blow to Mobile Sites: Google Penalty on Pages with "Intrusive" Popup Ads & Interstitials
Since the dawn of popups, they have been the best friend of internet marketers, bloggers and e-commerce sites to grow their email subscribers list and display offers for visitors. Marketers have reported 1350% increase in subscription rate as well as 10X conversions using popups.
Now, mobile being the hot favorite among millions, marketers targeted their email subscription popups on mobile along with desktops to boost their conversions to more than 1700%.
But now, suddenly Google has made a high voltage announcement that it will Penalise Mobile Pages showing Intrusive Popup & Interstitial Ads from January 10, 2017 and kick them to the bottom in search results.
Oh dear!! It's a huge punch in the face for you and me! Overlay popups, full screen Welcome Mats and standalone Interstitials have been critical conversion boosters for most people – and primary revenue source for many.
With Google cracking down these pages, it's a *$@#&$ situation.
Top 3 reasons Why Google will Punish Sites Using Full Screen Popups & Interstitials
There's always some reason why something needs punishment at a point of time. Keeping the visitors experience of mobile browsing in mind, following 3 reasons poked up as to why Google will punish such sites:
Main content getting blocked– Due to smaller screen space on mobile devices, the main content of websites got obstructed with the display of popups, full screen popups (overlays) and interstitials; also referred as the most annoying ads on mobile.
Poor user experience– Pages that show intrusive interstitials provides a poorer experience to users than other pages where content is immediately accessible.
Accidentally clicking ads– These annoying ads and announcements takes over the whole page and have the smallest possible button for dismissing them, which inevitably leads user to accidentally click on the ad even though the user didn't want to.
What's this penalty?
The main aim of Google Search is to help users quickly find the best answers to their questions, regardless of the device they're using.
So, to improve mobile search experience, Google decided to punish these sites by ranking them very low in search results. The worst would be to rank among the last in search results.
After January 10, 2017, pages where content is not easily accessible to a user on the transition from the mobile search results may not rank as highly as they used to be earlier.
What kind of popups and ads will get you punished?
Google Webmaster Tools says:
An intrusive Popup that covers the main content, either immediately after the user navigates to a page from the search results, or while they are looking through the page.
An intrusive Interstitial that looks like a forced ad which user has to dismiss before main content is accessible
A standalone interstitial (Full screen popup-overlay) which the user has to dismiss before accessing the main content.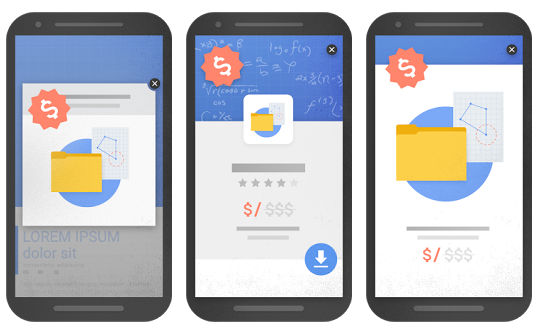 It's very likely to be unhappy for you as it will take away visitors as well as ad revenue.
How this penalty will affect Search Rankings?
Search result is something what everyone pays very close attention to. It's a major source of visitors and Google's continued nudges could make a huge difference in the long run. You will face:
Very low visitors count to the website
Difficult to reach out to audiences
Hard to pitch offers, membership sign-ups, coupons, etc.
High fall in conversion rates
Less sales and ultimately less profits
Who will be the lucky one's to be benefited from this punishment?
Popups, overlays and interstitials to be punished, the biggest benefit will be enjoyed by visitors and they would easily find the content visitors looking for.
Forced popups and interstitials will no more distract and annoy visitors
No more forced subscriptions and accidentally clicking call-to-action buttons
Who will face hard times from this punishment?
Due to fear of lowest ranking in search results, the worries will be big enough for:
Online store owners
Marketers and bloggers
People using AdFly etc..
Plugin sites that makes Popups, Interstitials,
Life coaches
And many others
The big dilemma…
You are most likely to face this dilemma…
If I show an ad via popup or interstitial on mobile, I will be ranked lower in Google…
If I don't show an ad, how will my offer be seen and how will my email subscriber list grow??
But, there's always a solution to each problem and you won't have to scratch your head or consult an expert for it.
There are some green signals provided by Google following which popups won't be considered punishable and won't lower your site in search results.
No Penalty for these kind of ads and popups…
Google Webmaster Tools says:
Interstitials that appear to be in response to a legal obligation, such as for cookie usage or for age verification.
Login dialogs on sites where content is not publicly indexable. For example, this would include private content such as email or unindexable content that is behind a paywall.
Banners that use a reasonable amount of screen space and are easily dismissible. For example, the app install banners provided by Safari and Chrome are examples of banners that use a reasonable amount of screen space.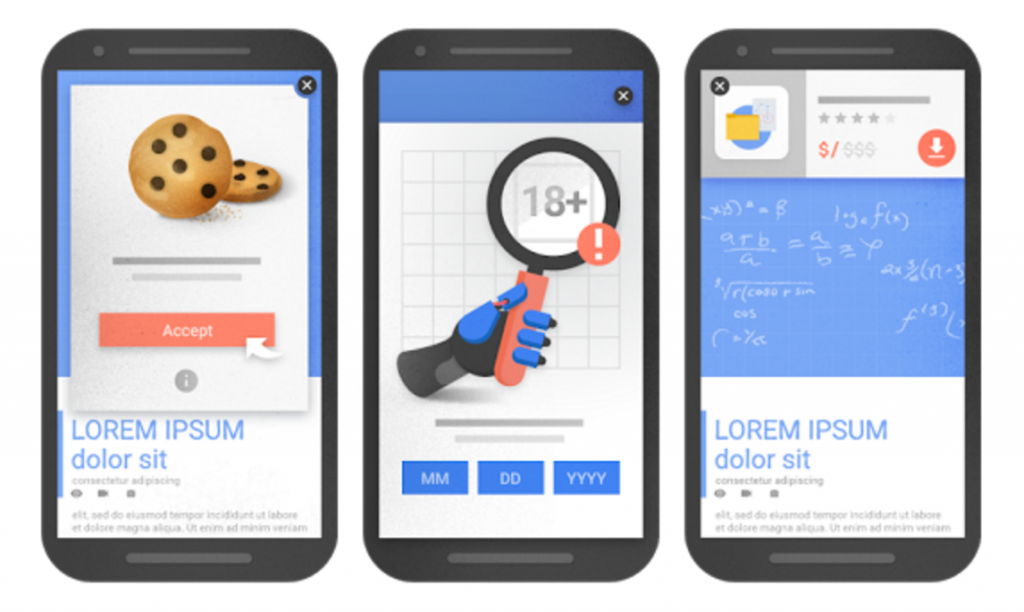 Solutions to keep your rankings intact…
3 Alternatives to convert "intrusive" popups to "friendly" popups…
Use display targeting rules in your popup / interstitial program, and show them only on desktop / larger screens.
Don't use popups and interstitials on mobile. Instead use smaller messages like banners, inlines or slide ins.
Option 1: Hide Popups on Mobile Devices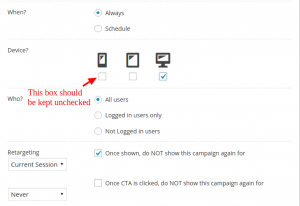 If you are running a popup on desktop, hide the same popup for mobile to avoid Google punishment. This is smart targeting where your popup will be shown only to visitors on desktop but not on mobile devices.
Depending on the plugin you use, you may have different options for targeting. Some may give direct option while in some, you need to use a JavaScript code.
If you are an Icegram Engage user, you just need to make sure that the mobile box is kept unchecked as shown in the image below.
---
Option 2: Use other ad / messaging styles – Banners, Slide ins, etc
There are tons of innovative opt-ins other than popup lighhtboxes or list builders, full screen overlays and interstitials that are highly effective.
Infact, these opt-ins have given a better conversion rate, are small and smartly adjust to the mobile screen space than the age-old pop-ups. So get rid of popups and start using the below solutions/message styles to overcome Google penalty.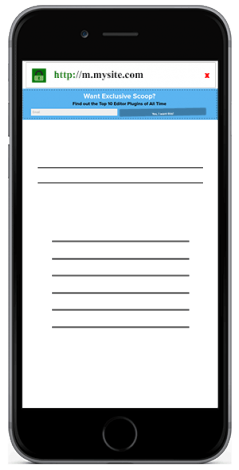 Floating bars stick either to the top or bottom of the page making them highly noticeable and effective. They are like banners and being small, automatically gets adjusted to the screen size of mobile without obstructing the content and making your message clearly visible to your audience. Be it a newsletter subscription, giving resources, membership sign-up or offers, you can add anything.
Key benefits:
Any of 2 display positions- top/bottom occupying clever screen space
No content blocking
Attractive & customizable design templates
Easy integration with all email marketing services
---
Style 2 – Slide-Ins (Messengers)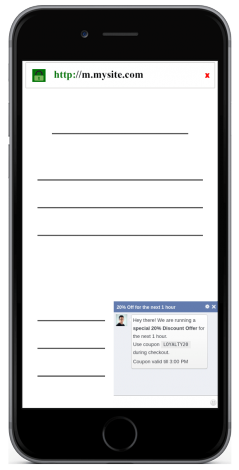 Messenger are also small size optins that can appear at any of the two bottom corners of the screen without blocking website content. Blog announcement, offer announcement, social media follow, etc. you can simply display your message.
Key benefits:
Display positions at the bottom screen corners
Adding Images
No visitor distraction
Easy integration with all email marketing services
---
Style 3 – After-post & Inline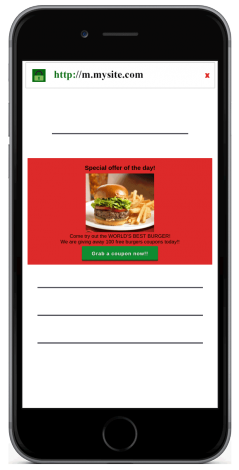 Inline opt-ins are so flexible that they can be placed within your content piece of web-page or after/before your blog post. This can be the best source for asking for email subscription. No visitor distraction at all.
Key benefits:
Flexible to fit anywhere- within content, after/before post, after/before header-footer
Attractive & customizable design templates
Easy integration with all email marketing services
---
Style 4 – Tabs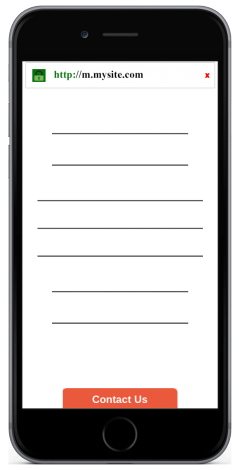 Tabs create huge marketing impact. They are small boxes, non-disturbing and expand on user demand. You can simply ask for feedback from audiences or post your contact details to make visitors reach out to you quickly.
Key benefits:
Quick helper for audiences to contact you without effort
Feedback/suggestions/survey collector
Social Media/ Offers announcement made easy
---
Style 5 – Toast Notifications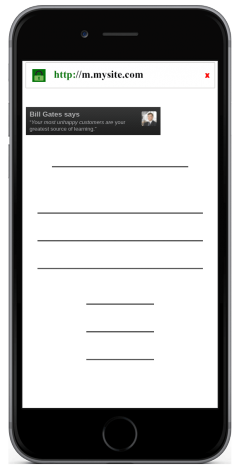 Toast notifications can be used for instant announcements or sharing an inspirational quote. Toast notifications are tiny boxes that uses mobile screen space cleverly completely focusing visitor's attention on your message.
Key benefits:
Being notification messages, they never go unnoticed
Choose any display position
Quick message conveyer to audiences
---
What about previously targeted popups? Will Google penalize my website if I have a popup displayed on mobile view?
Yes, google will most certainly penalize your website if you continue using popups on mobile view after 17th January, 2017.
However, if you are an Icegram Engage user you will not face this problem. As we have taken all the necessary precautions and made sure that websites that use Icegram Engage popups stay unaffected.
Option 3: Icegram Engage Automatically Saves You from the Google Penalty
Along with providing you with other two options of converting 'intrusive popups' to friendly popups – i.e Device Targeting & Mobile Friendly Optins, Icegram Engage automatically converts zero second popups to google friendly action bars.
Icegram Engage internally converts every popup that shows up at 0 seconds on the mobile device to an action bar. This action bar will show the exact headline as your original popup. And onclick of the CTA the popup will appear. Thus, not annoying the visitor in anyway.
To avoid these penalties and ensure that their mobile websites are accessible and user-friendly, businesses should consider using alternative ad styles or hiding pop-ups on mobile devices. Icegram Engage is one tool that can help businesses avoid Google's penalties and create mobile-friendly opt-ins and messaging styles for their websites.
By following best practices for mobile website design and avoiding intrusive ads, businesses can improve the user experience for mobile users and protect their search engine rankings.
The best part is, Icegram Engage identifies if any Icegram Engage popup on your website is targeted at 0 seconds on a mobile device and converts it to an action bar automatically. Not giving Google a chance of penalizing your website and also saving you tons of time and effort.
Want to be fully covered against the Google Penalty?
Then Icegram Engage is your go-to plugin.
Icegram Engage is a free WordPress plugin ideal for lead generation and traffic conversion. It has tons of features for making any website the best in class. If you are a WordPress user, you can simply create and target campaigns on mobile devices.
Mobile-friendly websites are optimized to be easily viewed and navigated on a smartphone or other mobile device. Google has implemented mobile-friendly updates to its algorithms to improve the user experience for mobile users and to ensure that mobile users are able to access relevant, high-quality content on their devices.
Google has also implemented penalties for websites that use "intrusive" mobile pop-ups and interstitials, as these types of ads can obstruct the main content of the website and create a poor user experience.
If you are a non WordPress user, Contact us and we will assist you further.
Icegram Engage gives much more than Google friendly opt-ins…
Besides the 5 message styles mentioned above, Icegram Engage also provides other styles that can be targeted without Google Penalty restrictions: Ribbons, Badges, Sidebars, Stickies- Check out the demos:
Free conversion and impression Analytics to check optin performance on mobile
Split Testing to find which variation converts better than others
Powerful Page & User Level Targeting Rules
Exit Intent and Smart Timing Controls to show opt-in on mobiles
Integration with all Email marketing services: MailChimp, Aweber, InfusionSoft, iContact, MailPoet, MadMimi, etc.
One solution: Infinite Use Cases
With Icegram Engage at your kitty, you can explore a never ending list of ideas to engage and convert your audience without the fear of Google penalty. Other than newsletter subscription and display offers, you can also :
Display sales offers, contest winners
Create scarcity by running a countdown
Trigger reciprocity by giving audience something useful- pdf, ppt, coupons
Add image/video to build credibility
Promote any event, webinar
Ask user to install a mobile app
Ask for feedback
Share an inspirational quote
Give important updates/reminders
Increase your social media presence
Provide contact details
And a lots more…
Comments, Questions, Alternatives??
I hope you make the best of this information. Also if you're using a zero second popup or interstitial kindly resort to one of the alternatives mentioned above. If you need any help, we'd be happy to help you.
PS. Icegram Engage completely supports Google's policy and hopes that visitors get a better user experience real soon.