It's that time of year again—the holiday season is upon us! And while this time of year can be magical, it can also be a stressful time for eCommerce businesses. After all, the holiday season is make-or-break time for many businesses, and eCommerce is no exception. With so much on the line, it's easy to make mistakes in your marketing efforts.
But don't worry—we're here to help you avoid those mistakes! In this blog post, we'll share 20 eCommerce seasonality marketing mistakes that can hurt your holiday sales. By avoiding these mistakes, you can set your business up for a successful holiday season. So without further ado, let's get started!
Mistakes that can spoil higher revenue plans
Don't forget about your existing customers
Your existing customers are the ones who have already bought from you, so don't forget about them when planning your eCommerce seasonality marketing. Make sure you include them in your holiday plans and give them some love.
You can show your appreciation by offering exclusive deals and discounts, early access to new products, or even something as simple as a handwritten note. Whatever you do, make sure your existing customers feel valued this holiday season.
Don't neglect your marketing channels
It's easy to get so focused on driving holiday sales that you neglect your other marketing channels. This is a huge mistake! Your other seasonality marketing channels are still important, and can actually help drive holiday sales.
Make sure you're still investing in your SEO during the holidays. This is the time of year when people are searching for gifts online, so you want to make sure your site is ranking high in the search results. You can also use paid search to drive holiday traffic to your site.
Social media is another important channel to keep up with during the holidays. Use social media to promote your holiday deals and drive traffic to your website. You can also use social media to build relationships with potential customers and create a connection with your brand.
Don't wait until the last minute to plan your marketing strategy.
It's never too early to start thinking about your holiday marketing strategy. In fact, the earlier you start planning, the better. Waiting until the last minute to plan your marketing strategy can lead to a number of problems, including:
You may not have enough time to execute your plans properly.
You may not be able to take advantage of early bird specials or other discounts.
You may miss out on important opportunities to promote your products or services.
So don't wait until the last minute to start planning your holiday marketing strategy. The sooner you start, the better off you'll be.
No proper discount campaigns
One of the biggest mistakes that eCommerce businesses make during the holiday season is not having proper discount campaigns in place. Discounts are a great way to attract customers and boost sales. However, if not done properly, they can also hurt your business.
If you offer too deep of discounts, you will erode your margins and end up losing money. On the other hand, if your discounts are too shallow, customers will not be incentivized to buy from you. It is important to find the right balance when offering discounts.
Smart Coupons has everything you need when it comes to discounts, coupons, credits, gift cards, product giveaways, offers, and promotions.
Not promoting properly
Another mistake that businesses make is not properly promoting their holiday sales. Customers need to be made aware of your sales in order for them to take advantage of them. Make sure to use all of your marketing channels, such as email, social media, and paid advertising, to promote your holiday sales.
Deals not displayed well
Many eCommerce store owners make the mistake of not properly displaying deals, banners, action bars, plugin banners, and inline widgets during the holiday season. This can hurt their holiday sales because potential customers may not be able to find the special offers.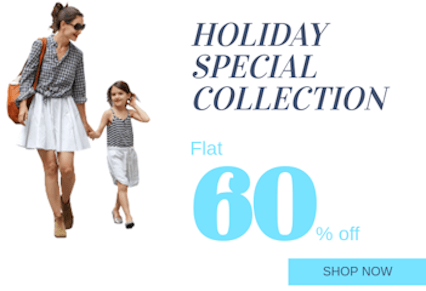 Our go-to plugin Icegram Engage can always help you display banners, action bars, and popups easily. Learn how to create a sidebar message in Icegram Engage.
Not promoting the right product
Another common mistake is not promoting the right products. eCommerce store owners should take the time to figure out which products are most popular during the holiday season and make sure those products are prominently featured on their websites. Giving discounts only on the non-selling products will not be enough.
Missing countdown
One of the most common eCommerce seasonality marketing mistakes is missing a countdown timer on your website. This can hurt your holiday sales because it makes it appear as though you are not prepared for the holiday rush.
Countdown timers are a great way to create a sense of urgency and encourage people to buy your products before they run out. They also help to give customers a sense of how much time they have to make a purchase. If your website is lacking a countdown timer, then you may want to consider adding one.
This easy guide will help you set up a countdown timer, click here to know how to add a countdown timer into the Icegram Engage campaign.
Try Icegram Engage's free version!
Missing email marketing campaigns
One of the biggest mistakes that eCommerce businesses make during the holiday season is missing email marketing black friday campaigns. Email is one of the most effective marketing channels, especially during the holidays. Consumers are bombarded with holiday advertising from all directions, so your email needs to stand out. Make sure your email campaigns are well-planned and executed in order to maximize your holiday sales.
"The earlier you get Icegram Express, the sooner you'll see better results" says one of our happy customers, so why don't you give Icegram Express a chance to grow?
Increase traffic ready
Another mistake that eCommerce businesses make is not being prepared for increased traffic and orders. The holiday season is a busy time for businesses, and you need to be prepared for the influx of traffic and orders. Make sure your website can handle the increased traffic, and that you have enough people on hand to fulfill different requirements in a timely manner.
Not tracking eCommerce sales
Not tracking your eCommerce sales can also lead to other problems. For example, you may miss out on opportunities to upsell or cross-sell products to customers. You also may not be able to take advantage of special promotions or discounts that could boost your sales. So make sure you track your sales data carefully this holiday season!
Maintaining a record of ups and downs can help everything run smoothly. Our amazing in-house plugin Puttler is a powerful business analytics tool on sales, products, subscriptions, customers and visitors.
There are 17 integrations, including payment gateways, e-commerce, analytics, email marketing, API, intelligent merging and corrections, automatic currency exchange and timezone conversion, standardizing emails and addresses, customer analytics, profile enrichment and history and much more…
Missing referral/affiliate program
These programs can help you reach new customers and boost your holiday sales.
If you don't have a referral or affiliate program, you may be missing out on potential customers. Make sure to research these programs and see if they're right for your business. They can be a great way to reach new customers and boost your holiday sales.
The easy-to-use plugin Affiliate for WooCommerce can help you run your own successful affiliate program. Track referrals, sales, commissions, and payouts. Create commission plans and seasonality marketing black friday campaigns. Includes self-care dashboard for affiliates. The easiest way to increase your brand value, get customers and grow revenue.
Would you like to try Affiliate for WooCommerce for your eCommerce store?
Lack of plan
If you don't have a plan for your eCommerce business during the holiday season, you're likely to make some costly mistakes. Without a plan, it's easy to get caught up in the hype and spend too much money on seasonality marketing or stock up on inventory that doesn't sell.
It's also important to remember that not every customer is looking for the same thing during the holidays. Some may be interested in buying gifts, while others are looking for the best deals. Make sure you segment your customers and create different marketing messages for each group.
Don't rely too heavily on discounts and promotions
It can be tempting to rely heavily on discounts and promotions to drive holiday sales, but this can backfire in a number of ways. First, if you discount your products too deeply, you can erode your brand value and damage your margins.
Second, over-reliance on promotions can create a sense of entitlement among shoppers who come to expect deep discounts and will only buy when they can get a good deal. Finally, constantly running promotions can make it difficult to return to regular pricing after the holidays are over.
So what's the alternative? To start with, focus on creating compelling content and offers that will attract shoppers even without a discount. If you do need to offer discounts, make sure they are targeted and strategic, rather than across-the-board price cuts. And finally, don't forget the power of seasonal messaging and imagery to create a sense of urgency and excitement around your products.
Landing pages with inaccurate content
When visitors come to your site, they're looking for information about your products or services. If they can't find what they're looking for, they'll quickly leave. This can lead to lost sales and frustrated customers.
To avoid this, be sure to regularly check your landing pages and update the content as needed. Don't wait until the last minute to make changes – by then it will be too late. Keep your landing pages accurate and up-to-date all season long, and you'll be sure to boost your holiday sales.
Not reaching out very much before the deals begin
Many retailers wait until the last minute to start promoting their holiday sales, which can leave potential customers in the dark about what's going on. Customers may not be aware of your holiday sale if you don't promote it ahead of time. You could miss out on potential sales if you don't let customers know about your deals early enough
To avoid this mistake, start promoting your holiday sale a few weeks in advance. Use email marketing, social media, and other channels to reach out to potential customers and let them know what deals you'll be offering during the holidays. By starting your promotional efforts early, you'll ensure that more people are aware of your sale and are more likely to take advantage of it.
Having a bad checkout experience
This can be a major turnoff for customers, and can lead to lost sales. There are a few things that you can do to avoid this:
First, make sure that your checkout process is simple and easy to use. There should be no confusing steps or extra required fields that are not absolutely necessary.
Second, offer multiple payment options. Customers should be able to choose from a variety of methods, including credit cards, PayPal, and even more.
Third, provide excellent customer service. If there are any problems with the checkout process, be sure to address them quickly and efficiently.
You can now optimize your checkout process by adding, removing or editing fields to suit your needs.
Try out Checkout Field Editor!
The lack of live chat and support
This can be a major issue during the holidays when shoppers are looking for quick answers to their questions. If you don't have someone available to chat with them in real-time, they may become frustrated and go to another site that does.
To avoid this, make sure you have a live chat option available on your site, and that someone is available to answer questions during peak times. You may also want to consider hiring additional customer support staff during the holidays to help meet the demand.
Paying no attention to paid advertising
Paid advertising is a great way to reach new audiences and boost your holiday sales, but many businesses don't take advantage of it.
There are a number of different paid advertising platforms you can use, such as Google Ads, Facebook Ads, and Instagram Ads. Each platform has its own strengths and weaknesses, so you'll need to experiment to see which one works best for your business.
Investing in paid advertising is a great way to reach new customers and boost your holiday sales. However, it's important to remember that paid advertising is just one piece of the puzzle. You also need to make sure you have a strong organic presence on social media and search engines.
Be ready to learn through the process
The holiday season is a great time to try new things and experiment with your marketing. Don't be afraid to try something new and see what works best for your business. The goal is to increase sales and reach as many customers as possible.
Make sure you have a solid plan in place before the holiday rush begins. Know what you want to achieve and have a clear idea of how you're going to get there. And most importantly, be ready to learn through the process. There will always be new challenges and opportunities during the holidays, so being open to learning is key to success.
Therefore, to have a successful holiday sale, avoid these common mistakes and plan ahead. By being prepared and promoting wisely, you can ensure a successful holiday season for your eCommerce business.