Last updated on August 19, 2016
Customer Testimonials: A turning point for businesses
Customer Testimonials are a proven way of imposing the perfect image of your business in the visitor's mind, converting them to your customers.
Stats show that 88% of consumers trust Online Reviews as much as personal recommendations!
39% people first look for reviews (testimonials) and then decide whether to buy that product or not
Click To Tweet
So, showcasing the best customer testimonials in an effective way can boost up your sales instantly!
Here are 5 easy tips to choose the right customer testimonials for your audiences:
1. Choose Testimonials That Specifically Describe Your Product/Service and How They Helped
When a visitor hears about how your product has resolved a problem of another user, people facing similar problems are more likely to convert to your customers.
Also, the testimonials have to be specific-
Something like "XYZ product is so good, excellent" is vague. It doesn't really describes anything other than the feeling of the customer.
But how about this one below: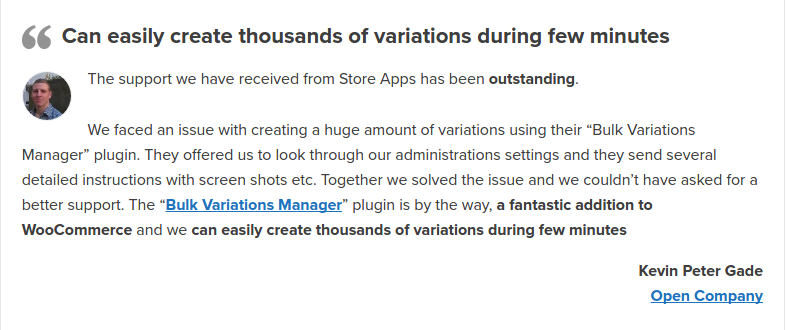 The above testimonial clearly indicates how effective the product 'Bulk Variations Manager' is and whenever a customers get stuck somewhere, there is a fantastic support team of StoreApps to resolve the issues.
So, obviously the latter one is more effective.
This way, testimonials which are more specific information creates a better trust flow in the visitors mind.
2. The Customer Giving the Testimonial is well-known in the industry
This doesn't have to be the case always. But, if your product is being used by some of the well-known people in your industry, half of the work is done there itself.
For example– When Dhiraj Das, a well known blogger, gives a testimonial about Icegram plugin, people who know him are surely going to trust the product and won't give a second thought before buying it.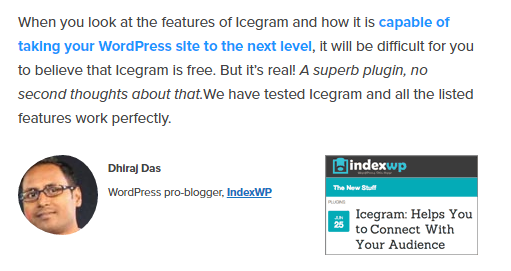 3. Testimonials that prove the point of your business
Every business is a solution to a problem.
Example: Putler helps in quick management of subscriptions and refunds. It also generates sales reports at a super speed for Aktura Technology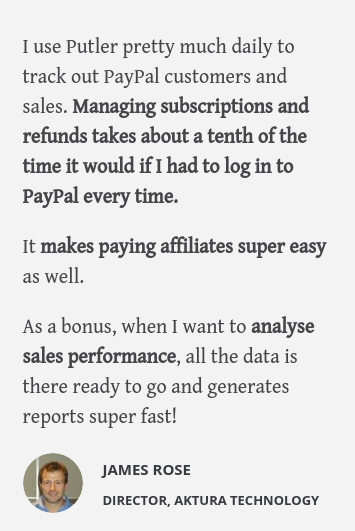 The testimonial that effectively explains the point of your product and how it helped will have a great effect on the visitor.
The one that doesn't really proves the point of your product is almost useless; as it does no good to your business.
4. Testimonials that Addresses Doubts and Concerns about the Problem
As your business is a solution to a problem, it addresses a specific problem.
For example: "How Batch Update feature of Smart Manager helped to export data of 6000 odd lines without any corrupt or missing data.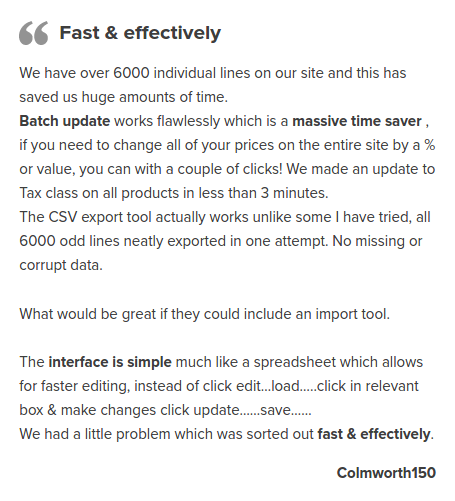 This type of testimonial is immensely effective.
Before the visitor presents some questions to you, they get the answers directly from people who've already used that product. This makes it more powerful.
5. Testimonials that Overcome Objections
These testimonials are sometimes risky and may have an adverse effect.
Consider this example:
"I never believed that Bulk Editing 100's of products at once is an easy task and was expecting the same level of complexity with this plugin. But, when I entered into the dashboard and started using it, it blew my mind. It can never be this easy like it's easy with Smart Manager".
This testimonial perfectly showcases the power of what the plugin can do, and how easy does it makes the process of editing 100's of products simultaneously.
Conclusion
By choosing the right customer testimonials to display on your site, you can only do the best to your business.
Testimonials has and will always play a vital role in the trust flow of visitor towards your business in this digital world.
On taking these 5 tips into account while choosing a customer testimonial to display on your site, you can boost your Business' credibility as well as see more sales coming in.
Know any other effective tip to choose the right customer testimonial? Open up your thoughts in the comments section below.