February has indeed been a month of love and we love our customers to the extreme core.
There were a couple of things our customers reported/ requested us via support tickets and as a symbol of our love to their plea we have now released Icegram 1.8.5.
This version consists of a few fixes and one new update.
New Update
This is related to Form Embed Documentation. We made it tard easier for our clients to seek help by placing the 'Help' button right where you can see it (i.e right next to the add optin/subscription form option.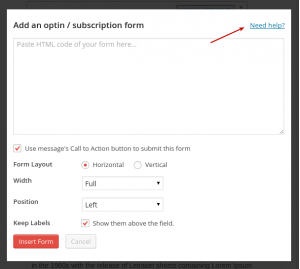 Coming to the fixes we have a string of them
Fix: Default mode of content editor set to visual
Fix: Popup hiding behind header for some themes
Fix: Device targeting rule not working on newer devices
Fix: Preview working only after Publishing –Previously we received a lot of mails complaining about how the preview only worked once the post was published and not otherwise. We took this issue under our wing and woohoo we got it fixed. Go ahead create a campaign and preview it before even publishing it.
P.S. Eager to hear out your experiences on this one!