Welcome to Spooky Halloween Website Ideas!
Halloween is right around the corner, and everyone is looking to spook their customers with a fun Halloween website. Since this is the time of year I thought it would be a great idea to write an article about some of my favorite Halloween website ideas. By following these ideas you can transform your old boring websites into spooky-looking ones that will surely make people gasp in fright!
Halloween is a time of year when people get to be someone different. It's a time to indulge in the frightful and ghoulish, while also enjoying the spookiness of the season.
The holiday is all about getting into character and having fun with it. It's a time for Halloween costumes, decorations, and parties!
For business owners, especially those in eCommerce, Halloween is an opportunity to get creative with their website design. This year we've collected some great ideas for spooky Halloween website designs that will help you stand out from your competitors this October.
This blog post explores some of the best Halloween website ideas that you can use for your own site or your clients' this Halloween 2022.
Let's cut to the chase and get into the Halloween spirit…
How can Halloween marketing ideas help you grow your business?
Halloween is one of the most anticipated events of the year for businesses, with more than $9 billion in expected sales according to the National Retail Federation. With so much to be gained by jumping on the Halloween bandwagon this year, businesses are doing anything and everything they can to promote their store or event to attract customers and stand out from the crowd.
Some advantages of prepping your website for Halloween;
Establishing better connections
Increase in growth
Brand recognition
Wider audience and deeper insights
Increased sales, goodwill, and customer loyalty
Halloween is the time when everyone starts getting into the spirit of the season and dressing up as their favorite characters. While as an eCommerce website owner it is a great opportunity to boost sales during a time of year when you might need some extra help.
Discounts can be used to lure customers and new client acquisition. Invite them over with discounts on products they most likely would want to purchase — specifically those related to Halloween.
The 10 best Halloween website ideas
There are no trick-or-treat options in most countries, but you can still offer some tricks. Yes, it sounds crazy, but it's Halloween marketing.
There is no such thing as a perfect principle for a Halloween-themed website. However, with some creative ideas and utilizing some great tools, you can create an effective Halloween website that will help convert visitors into customers.
Here are some Halloween marketing ideas that are easy to implement without coding;
Logo & Header
The logo and header for your Halloween website will set the tone for your website as a whole.
All roads lead to Halloween and what better way to celebrate than with a website dedicated to the spookiest day of the year? A fun, scary and scary-cool site will surely win in search results for any kind of search query related to Halloween 2022.
After all, people are more likely to click on a website that is full of personality compared with one that looks like a business information page. It might also be a good idea to set up a countdown for THE DAY or maybe for the DEAL DAY if it is needed, as this will create some curiosity among the public.
Don't worry it isn't a big deal with the Icegram plugin!
Follow these simple steps to add a Countdown Timer into the Icegram Engage Campaign.
There are various graphic designing tools like Canva, that can be used to create the design of the logo, header, or footer.
Popup – Normal & Exit Intent
This is a great way to increase your site's conversions, especially on Halloween. There are three types of popup windows: normal pop-ups and exit intent popups, which allow you to direct visitors toward relevant content or to do something specific; and sales page popups, which promote products as soon as a user lands on your website. The sales page popup can be used for sales events, product launches and more.
I know you must be wondering how to make this happen and what can be the best resource to do it quicker than usual; so Icegram Engage can be a great help. It has 12 different types of messages and 120+ ready-to-use campaigns…
Already impressed, aren't you?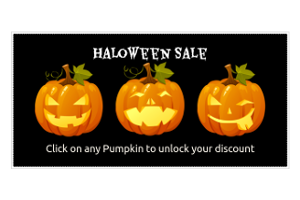 Banners – Sidebar – Action bar & more
Adding banners, sidebars and more to the website will make it look more interesting. The main purpose is to catch visitors' attention.
You can add announcements of the sale, coupon codes, some freebies, or other related offers to add the charm.
This can be easily achieved by adding a sidebar to the website and changing some design elements but you can also add a few more features like an action bar or drawing element.
Website background theme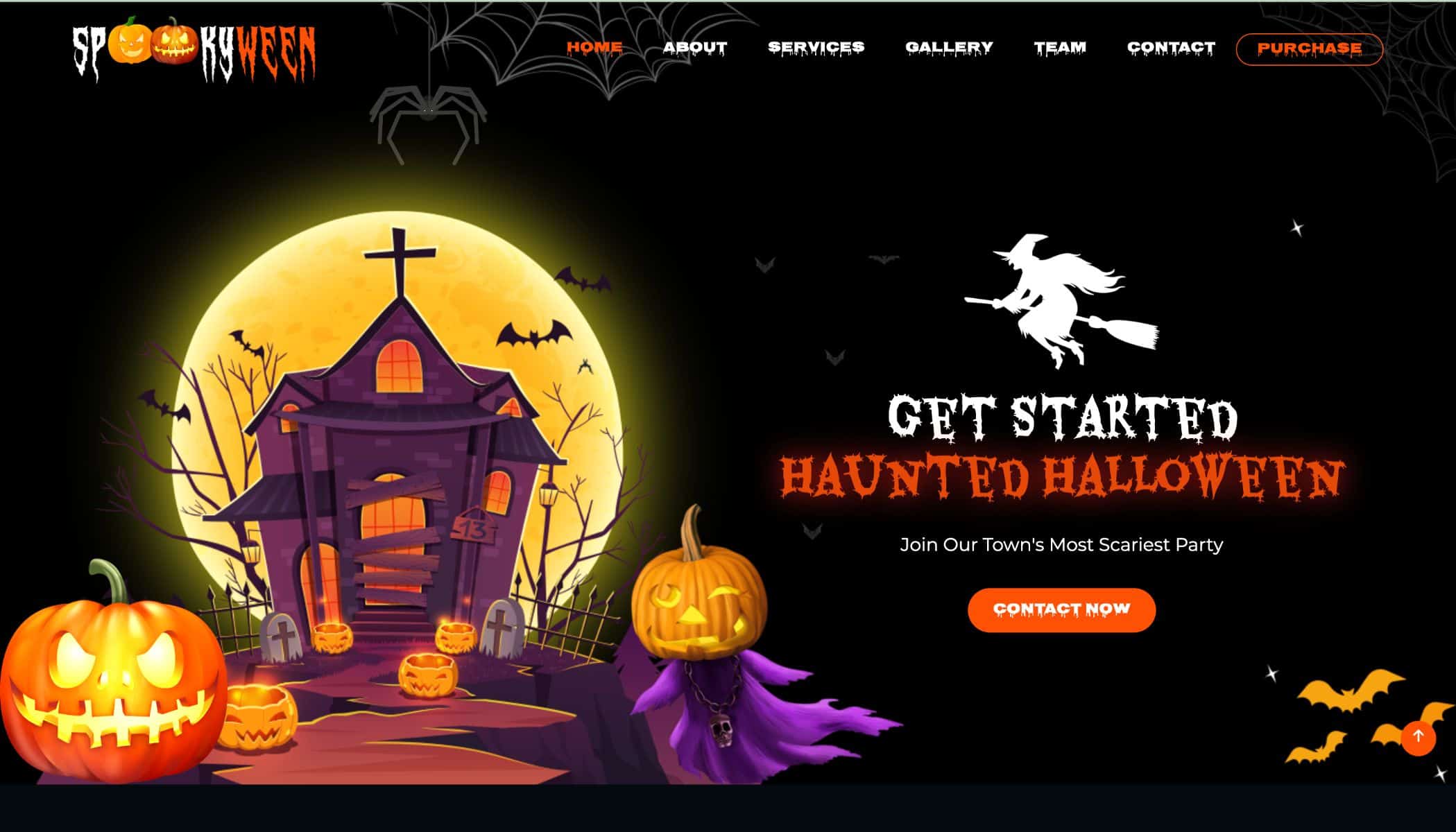 If you want an easy way to promote your business through your website, background themes are a great option. With the plethora of website themes, it can be tough to choose the correct one that matches your brand. You don't have to code any PHP or CSS!
Additionally, If you love Halloween, then a website background template with a Halloween theme designed to spice up your business can be a great addition. Halloween marketing ideas that are easy to implement without coding can help your business stand out from the competition!
You can use WordPress website themes that can make this task easier and quicker.
eCommerce offers – Coupon
If you offer sales and discounts, consider adding Halloween specials. Halloween is an incredibly popular shopping holiday. Create a couple of smartphone and desktop ads with coupons and save money on eCommerce purchases by calling your customers before the end of the month to offer them a coupon for something special when they shop for that special item. Make the process easy with simple links and copywriting.
This busy time of year can make it hard to plan deals and offers, but Smart Offers plugin by StoreApps our sister brand can help you create them and grow your business on autopilot.
Whether you're a new business or an established one, the right holiday marketing can take your business to the next level. Whether you're in the holiday marketing niche or not, creating a Newsletter is a great way to build some serious leads and increase sales.
Email newsletter marketing for Halloween is where it's at. There's just something about getting a bunch of cool stuff delivered to your inbox on Halloween that makes it extra special. It makes you feel good, it definitely gets people to think about how awesome your brand is in their minds and feels like a "special treat". Learn how to create and send broadcast emails with ease.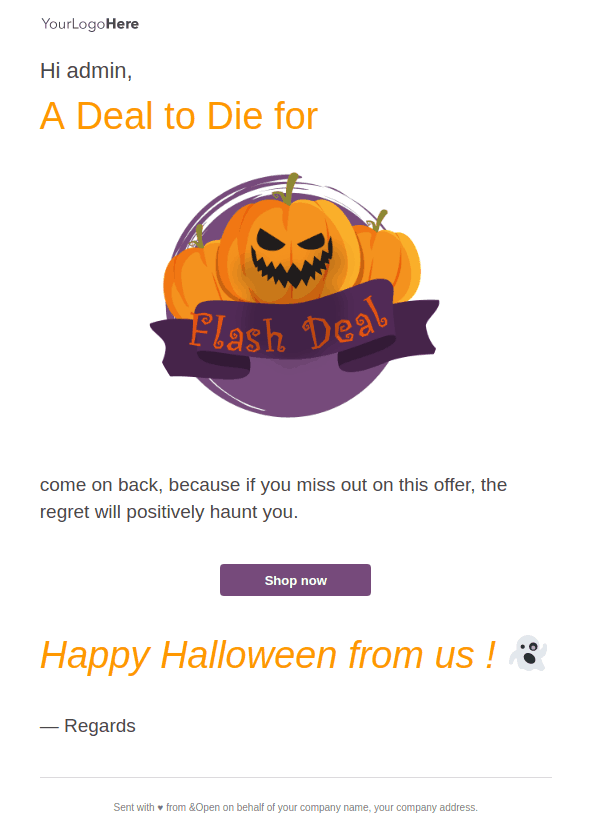 Gamification wheel
Have you ever heard of gamification? It's basically a way to add an element of competition to your marketing efforts. The idea is to make something more exciting or fun, and then turn that into an incentive for people to do it.
There can be a lot of ideas for the gamification wheel like coupons around the wheel, or a freebie with their purchase.
Check out these 8 Best Gamification Marketing Ideas to Boost Your Conversions!
Inline message content Trick or Treat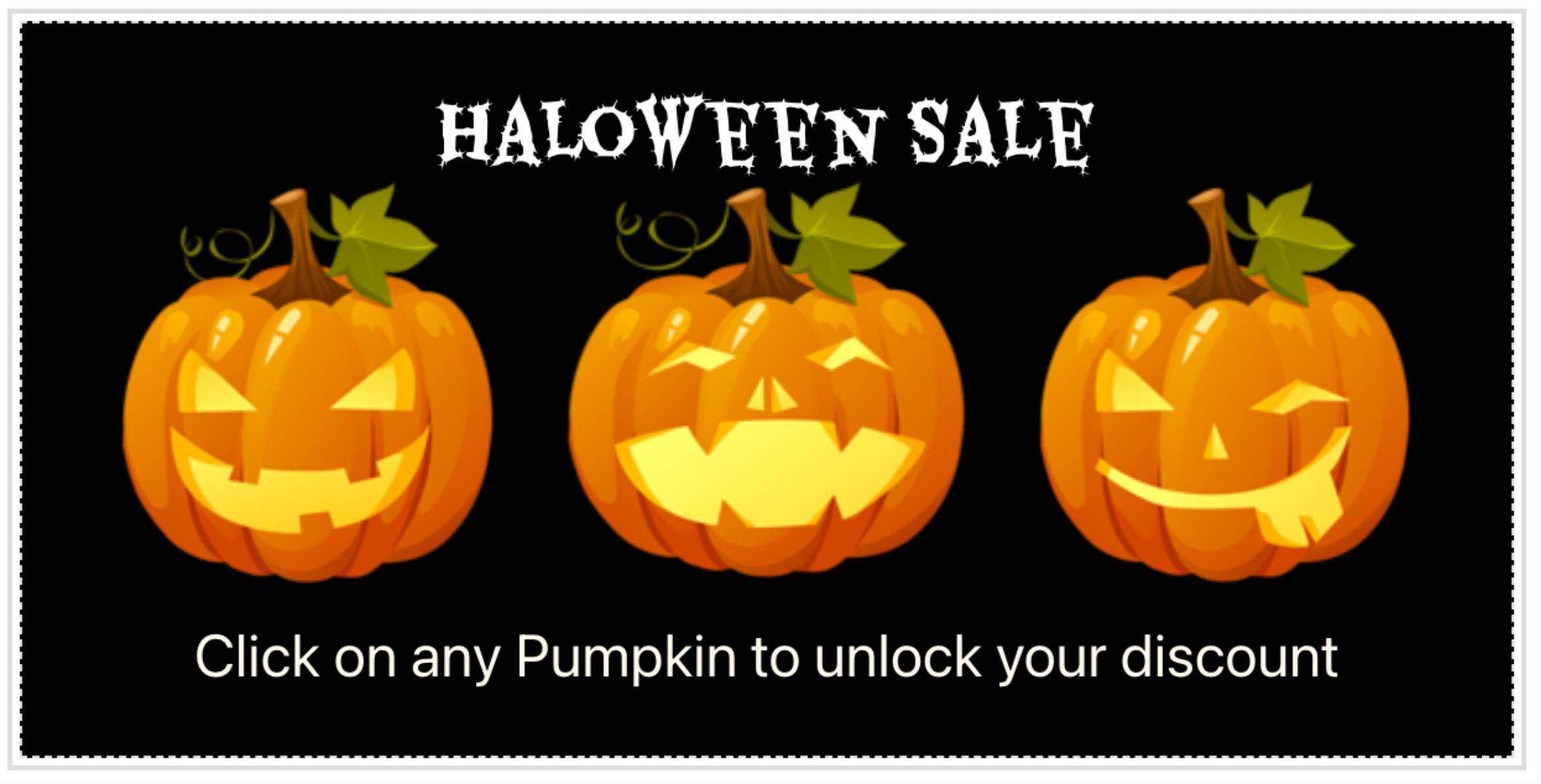 See the above Halloween inline message template in action!
Trick or treat? The answer is both! If you are looking for Halloween marketing ideas, but don't want to get your hands dirty with coding, then the inline message content can definitely help you. As they create instant activity and action for users, they are perfect for landing pages/blogs.
Sounds
It's the time of the year when you can get people to laugh out loud. If you want your site or landing page to be funny, this is the way to do it. With funny sounds, your users will keep interacting with your website and click on your ad. It's a great way to promote your business by tapping into today's generation of tech-savvy consumers, some amazing spooky sounds can definitely make the website wine with the moment.
Sticky notes
In a world of ever-changing advertisement trends, social media and technology, Halloween marketing ideas can be hard to come by. The right way to get the most out of Halloween marketing ideas is by creating fun and creative messages for your contacts in an easy fashion. You could go the digital route and put silly or playful messages on your websites, social media profiles and apps.
It's one of the best ways to surprise and shock your customers with goofy sticky notes.
Overwhelmed with how you will apply the above ideas??? Don't worry. We've got you covered…
In-house plugins that can make your Halloween Marketing deals easier…
Icegram Express Plugin – For email marketing
Icegram Express Plugin is an affordable and powerful email marketing tool for WordPress. You can set up your email marketing campaigns and automate them as per
Features of the plugin include;
Easy automation of one-time and recurring email campaigns.
Maintains audience lists, removing fake and invalid emails.
Improves deliverability and reputation by using a preferred email sender.
Simple email designs crafted to increase engagement and clicks.
Pricing: It is a freemium plugin, with starter plans starting from $6.5/month.
Icegram Engage Plugin – For popups, CTAs & optins
Icegram Engage is a convenient plugin for onsite lead generation, calls to action and conversion optimization with around 12 different types of messages and 120+ ready-to-use campaigns.
Features of the plugin include;
Unlimited usage
Exit / Bounce Catch
Behavior triggers
A/B Split testing and Animations
Retargeting and Geo-targeting
Analytics
11+ types of messages including, pop-ups, sidebar, sticky notes, etc.
120+ ready to use campaigns
Pricing: It is a freemium plugin, with starter plans starting from $97/year.
Icegram Collect Form – For collecting leads
Icegram Collect Form is one of those convenient plugins that have prebuilt forms, it saves submissions automatically, and fixes problems. It is intentionally limited to the most common features to avoid slowing you down or your website.
Features of the plugin include;
There are pre-built forms for Contact Us, Opt-in, Lead Generation, etc.
Automatically saves to WordPress
Submissions are reviewed
CSV export
The fastest and lightest plugin for your website
Forms from other plugins can also be supported
Easy embedding in WordPress
Provides integrations for Icegram Engage plugins, MailChimp, and more
Pricing: It is a freemium plugin, with starter plans starting from $2.25/month.
Smart Offers – For running offers on autopilot
The Smart Offers plugin is a powerful WooCommerce upsell plugin designed to help you increase your sales and average order value. Run targeted upsells, cross-sells, BOGOs, order bumps, dynamic pricing, and discount offers. Provide Buy Now buttons for direct checkout.
Features of the plugin include;
Setup offers without coding
Unlimited offers in the upsell funnel
BOGO and quantity discounts
Cross-sells, down-sell, one-time-offers
Provides powerful targeting rules and actions for personalizing and segmenting
Pricing: It is a freemium plugin, with pro plans starting from $99/year.
Smart Coupons – To create unique coupons
Smart Coupons has everything you need for discounts, coupons, credits, gift cards, product giveaways, offers, and promotions. Most popular and complete coupon plugin for WooCommerce.
Features of the plugin include;
Fixed Amount & Percentage Coupons
Bulk Generate and Send Shareable / Social Media / URL Coupons
Easy Coupon Management & Classification
Customizable Designs
Wide variety of coupons and a lot more…
Pricing: $99/year.
Halloween resources
Hey, do you want to spice up your website experience? Is it time to dress up your ol' web content and make it more appealing? Do you want to add some fun and frolic to your visitors' day?
I know it's a pain to go about hunting for Halloween resources. So I thought of saving you all that research work by sharing more Halloween resources (For FREE).
Download this ZIP file and get Halloween-based images, gifs, wallpapers, etc. Use them where ever you want to.
You can add some spookiness (pun intended) to your website with these Halloween freebies.
There are a number of resources available to you for Halloween, but these all came from my personal experience and with this, I hope you will be able to find exactly what you need.
Have a blast this Halloween with your website, content and all the stuff you have downloaded from here. Happy Halloween to all!
Conclusion
Now that we've got our appetites whetted, let's see what we can learn from these festive Halloween website ideas for our own projects.
We hope you've found some helpful ideas that can give your website marketing a little Halloween boost this year! If we left out any of the best spooky Halloween website ideas, let us know in the comment section below. Also, be sure to bookmark this guide for next year.
Happy haunting!