Split testing has taken a leap. It has introduced a winner selection feature and thus takes away the pain of monitoring campaigns day-in day-out totally.
The Amazing Feature
Split Testing's Winner Selection feature uses scientifically proven techniques to determine the campaign variation that performs the best. It then only displays the winner to your visitors thus increasing the chances of conversion.
Now suppose, you don't trust the system picked winner, and want to have a manual control on the winner..
You can choose the winner manually too.
How it Works?
If you already have a split testing campaign running, the Split testing add-on will start the experiment on its own.And Icegram will start recording, analyzing and recording how the campaign and its variations perform. Depending on the result, the better performing campaign will be picked as a winner automatically and only this campaign will be shown to the visitors thereafter.
Note: For a freshly made split testing campaign you have to turn on the experiment manually.

Incase, you need more control and you do not like to go by the systems choice.. You can select the winner manually. Just click on to the winner symbol and declare any variation of your choice as the winner Manual Winner.

Note: Once the winner has been declared the experiment will go off on its own.
Benefits of Winner Selection
One time setup- Just start the experiments and forget about it. The Split Testing add-on will measure stats, analyze it and choose the best campaign for you.
Single, easy to understand dashboard- All the campaign and variations stats are put up on a comprehensive dashboard. Thus, giving a one glance view of all the campaign variations.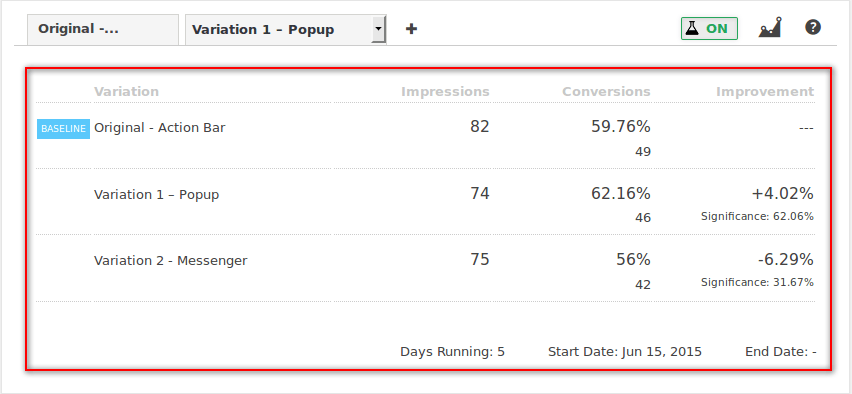 Flexibility- You have full control over the winner. Either let the split testing add-on choose the winner automatically or choose the variation you like manually. No compulsion of any sort.
Saves time and energy- No need of constant supervision of the campaigns. Thus time and energy spent on monitoring is cut down largely.
Over To You
Check the feature out. I bet you will find it useful. Give in your feedback in the comments section below. Ciao!