Optin forms are a huge buzz over the internet. Almost every business wants to grow their list and wishes to stay connected with their audiences for long.
Icegram realized this and we wrote a blog on 'How to embed Optin forms into Icegram' sometime last month. We tried making it easy for our users but found out there were certain issues with the Css formatting. This made the layout of the form look ugly. Also the whole process was very tedious.We felt our customers deserved something quicker and simpler and this made us come up with the following solution.
Now, integrating the layout from any subscription form is a matter of few clicks.
Almost all of the message types of Icegram are fully compatible to form integration except badges, ribbons and notifications.
Steps to Embed Form in your Icegram Message
Step 1: Create a new campaign & add the message type of your choice
Step 2: Tick mark the form checkbox in the content editing panel of the message type
Step 3: Next select a form style.
(Note: this is the style of the input boxes only)
Step 4: Select the position of the input boxes.
They are graphically represented so you can choose them easily.
(Note: if you select the position as INLINE. You will have to manually insert the ig[form] in the location of your choice in your message body.)
Step 5: Paste the HTML code/ short code of your third party service or simply add HTML code for your custom form
Step 6: Save draft and Check preview. If everything is well, Go live!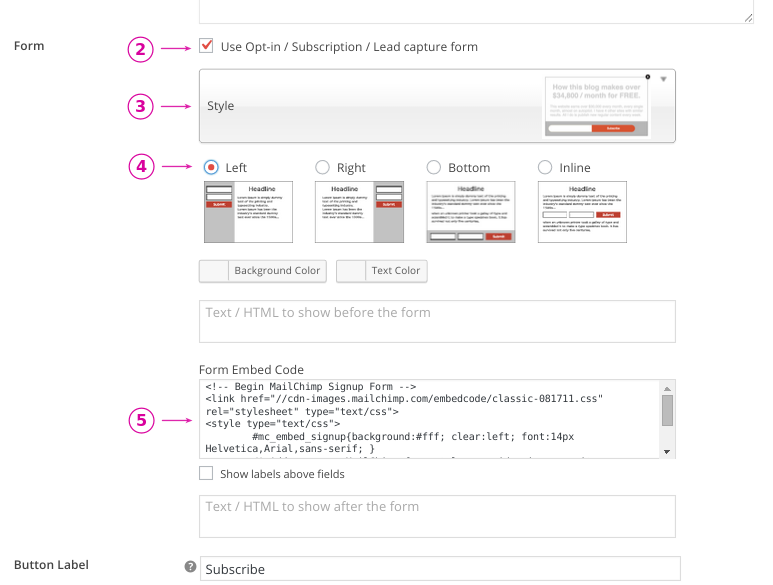 Over To you
Go try it out yourself and let me know how it goes…
Incase you face any problems, either email us or simply drop us a comment right here!