"Content is king" – everyone said. So I started writing blogs, set up a few email marketing campaigns, tried social media marketing; but nothing seemed to work well for me. My email list wasn't growing and the website bounce rate was also high. I always felt I was missing something extremely important.
Then someone said: Lead Magnets.
Setting up different types of lead magnets immediately grew list size and audience engagement. It also reduced bounce rate and improved session duration.
You probably know what they are. And if you don't, I'm sure you've seen plenty of lead magnets and have even given your email address to get one.
In this in-depth guide, let's understand what lead magnets are, why they work, and the top 10 lead magnet ideas that have worked for all kinds of sites. Also, there will be plenty of lead magnet examples for you to refer to. And yeah, we will also look at things that are easy and quick.
Let's start…
So what exactly is a Lead Magnet?
A lead magnet is a valuable resource that you give away in exchange for your prospect's email address. It's typically a downloadable content that people get after signing up for your email list.
There are no hard-written rules when it comes to lead magnets. But it's got to be an incentive, something they will find useful.
So it's anything that will "attract" your "leads" to give their email address to you.
Downloadable content like templates, eBooks, cheat sheets, checklists, white papers, videos etc. work best as lead magnets because you can deliver them instantly, and there is no real cost of delivery.
Lead magnets work for all types of prospects (B2B and B2C). And the more important thing about lead magnets is that they build trust between your brand and your prospects. They are not bait to catch leads, treat them as the beginning of long-term interaction opportunities.
Here's how lead magnets work:
Step 1: A visitor comes to your website
Step 2: You show them a lead magnet offer
Step 3: The visitor accepts your offer, provides his/her contact information, and downloads the lead magnet
Step 4: Now the visitor is a potential lead. You can start sending offers, discount coupons, educational resources, and product information to engage and convert this lead.
But there's a catch…
Let's consider the example of HubSpot here. They are the guys who made the concept popular. They've done lots of lead magnets – including their famous website grader tool.
But back in 2017, HubSpot started with a 130-lead magnet campaign. That literally meant a lot of free content. The results of this campaign were massive. These lead magnets were shared 54000 times across different social platforms.
However, here's the catch. All these 130 lead magnets didn't do well. In fact, 77% of the social shares were generated by the top 10 lead magnets of HubSpot.
So, having any lead magnet isn't enough. You'll need lead magnet ideas that resonate with your audiences. Otherwise, no matter how many free resources you distribute, the results will not meet expectations.
It's time we got smarter with lead magnets!
It's fair to ask these questions, "Why do I have to create free resources? Why is a lead magnet even important? With so many people using lead magnets, has it lost its effectiveness? What efforts does it take to create a lead magnet? Can I not just ask my audience to give me their email address because I'm sending useful content in my newsletters?"
Let's dig deeper.
To be honest, every consumer is highly protective when it comes to their personal information. They already receive 120+ emails every day. They don't want another marketing email in their inbox. So, if you ask for their contact details without offering anything in return, they're probably just going to skip.
But with lead magnets, things change. If your prospects feel that they're receiving something valuable in exchange for their contact information, they can change their mind. The generic newsletter signup requests don't work that well now. To get something from the prospects, you have to offer something to them. And it's got to be something instantly useful to them.
Here's an example. Say you publish a blog titled, "Top 10 ways to use Chatbots to improve Customer Service" and at the end of the blog, you add a CTA (call to action) seeking the readers to join your email list.
Alternatively, you create a downloadable ebook on the same topic and include some strategies and case studies as well. This time, you're writing a shorter blog, keeping the most important content in the ebook. In the blog, you ask them to download this ebook for free, just by providing their email and subscribing to your list.
Which strategy will work better? I have tested and found that the second one works better. But feel free to try on your own.
A Quick Lead Magnet Checklist
Like we saw in the Hubspot example earlier, all lead magnets don't work. So, the lead magnet you offer has to tick all these boxes:
Does the lead magnet solve a problem?
Is it too generic? (The more specific the better)
Does it contain something unique? Something not found elsewhere?
Is it easily understandable?
Does it include some tested strategies that are easily deployable?
Is the lead magnet relevant to your brand promise?
Are you making it easy for people to get it?
Check out Icegram Engage's extensive library to get some cool lead magnet ideas and to build content email marketing strategies to generate tons of marketing leads.
10 Best Lead Magnet Ideas and Examples for Lead Generation
You can create any kind of lead magnet. But here are some ideas that are not that hard to create and still work really well.
Checklists
Checklists or to-do lists are actionable lists that almost everybody needs. More so because most of us are now finding a digital alternative to pens and diaries.
Also, checklists are the easiest to create. You don't need any fancy apps to create one. Just create one using MS Word or Google Docs. Add some pointers, boxes, use vibrant colors, add your brand's logo and your checklist is ready.
Here are some common checklist lead magnet ideas that work for the content / online marketing industry:
Blog post ideas checklist (a list of how to research, write, publish and market blog posts)
Webinar checklists (a list of tools, technologies, tasks, precautions, and pitfalls of arranging a webinar)
An SEO checklist (a list of all points to ensure that your site is SEO optimized)
Extra brownie points to checklists that are printable. That way, people who are still comfortable with the old-school methods can tick-off things from their to-do lists with a pen.
Once the checklist is done, combine it with a two-step opt-in form. In the first step, audiences need to fill-up their contact information and in the second step, they can download the lead magnet.
Let's see how HubSpot created its webinar checklist: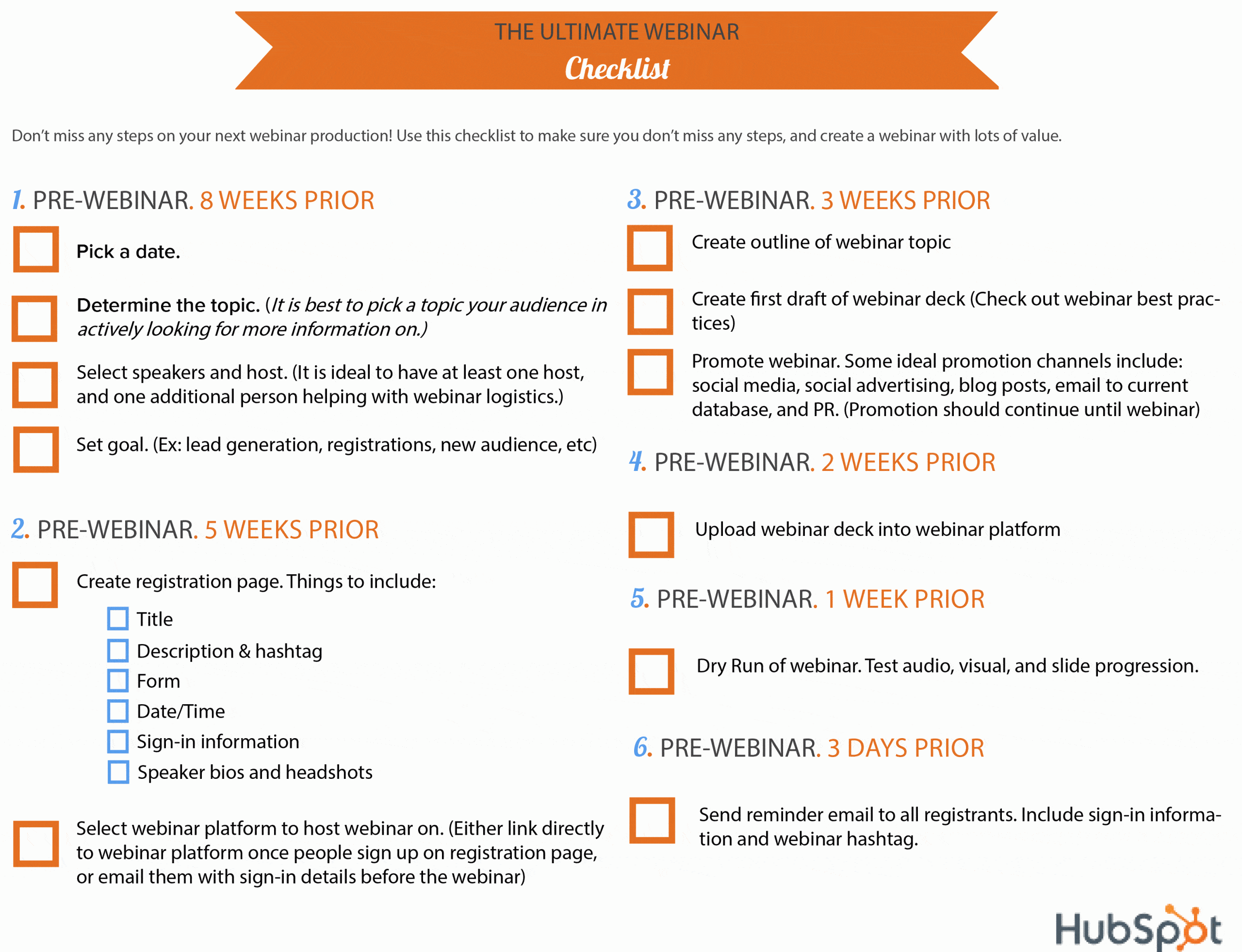 HubSpot has created a colorful GIF webinar checklist. We can see how HubSpot summed-up the entire process of arranging a webinar in 6 pointers.
Arranging a webinar involves a lot of aspects. So if I use it, I will know what to do and when. This is definitely a good lead magnet example.
Cheat Sheets
The format of a checklist and a cheat sheet can be similar. However, a cheat sheet is different in the sense that it offers us some tricks that we can follow again and again. Cheat sheets help us get results with some secret tips that work every time.
Cheat sheets are tempting. Say, I'm a blogger and I am always looking for tricks to rank my blog on Google's first page. If I get a free cheat sheet that helps me with the tricks to rank every blog on Google's first page, will I not want it? Of course, I will.
A downloadable cheat sheet is an example of one of those lead magnets that is very helpful to your audience. Once they download it, they don't have to remember complex sequences of tasks. They are likely to use it again and again. That's totally a win-win situation for them.
Let us go through the SEO cheat sheet from Marketgoo: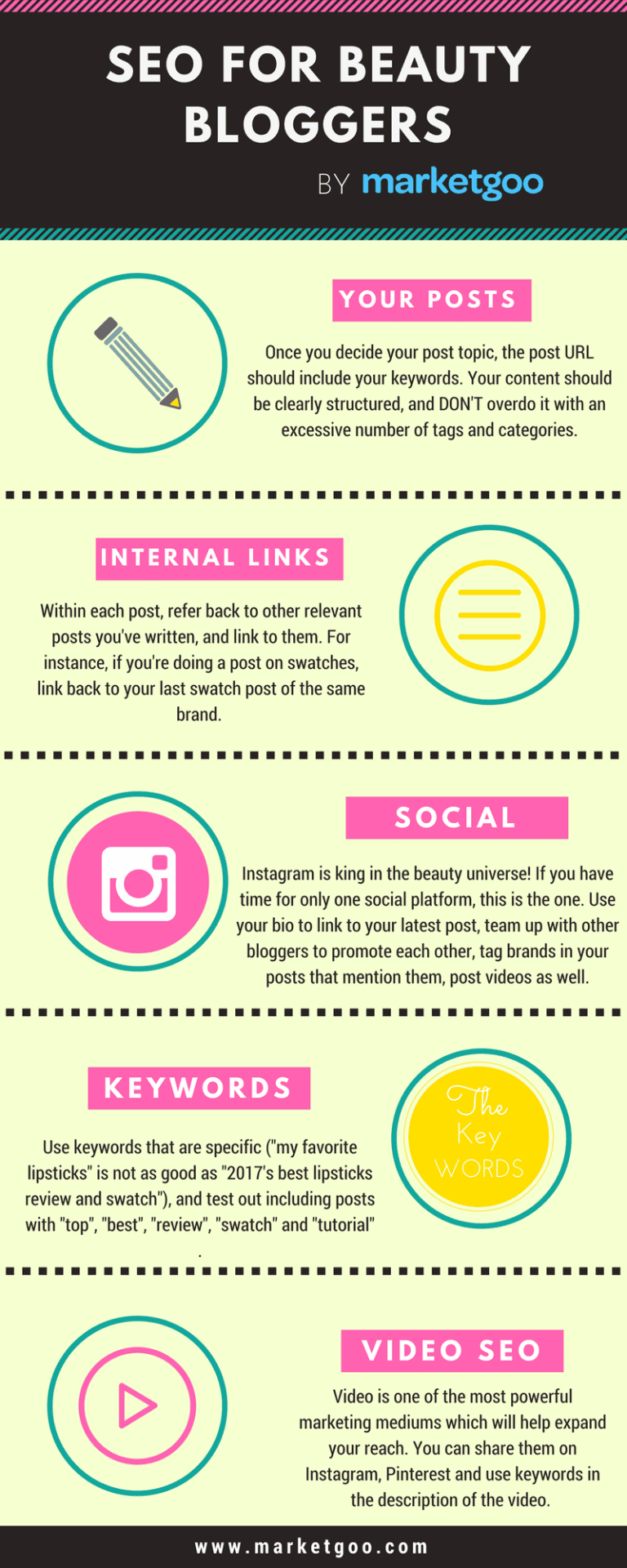 This cheat sheet is especially for beauty bloggers. We can see how Marketgoo has narrowed-down the essentials of beauty blogging in five easy steps.
This cheat sheet helps us learn some of the major beauty blogging hacks like:
We must not overdo our content with too many keywords and tags
We must include internal links to our posts
Beauty bloggers must include their latest blog links to their Instagram bios
We should use specific keywords
We also learned that videos are a powerful tool and beauty bloggers should focus on video SEOs as well
A beauty blogger can take a quick glance at this sheet every time they're creating a new blog post. It's that easy.
Mini-Courses and Tutorials
A lead magnet idea that has been doing the rounds lately is mini-courses. These are educational courses and tutorials. I recently found out that online education is a $275 billion industry. Also, the best thing is that you don't need any specific qualifications or credentials to launch your online courses.
Also, there are no specific rules or patterns for hosting an online mini-course. You can include blogs, videos, slides, quizzes, downloadable PDFs, and any other resource that relates to the course.
Let us find out how HubSpot offers free courses and generates more marketing leads: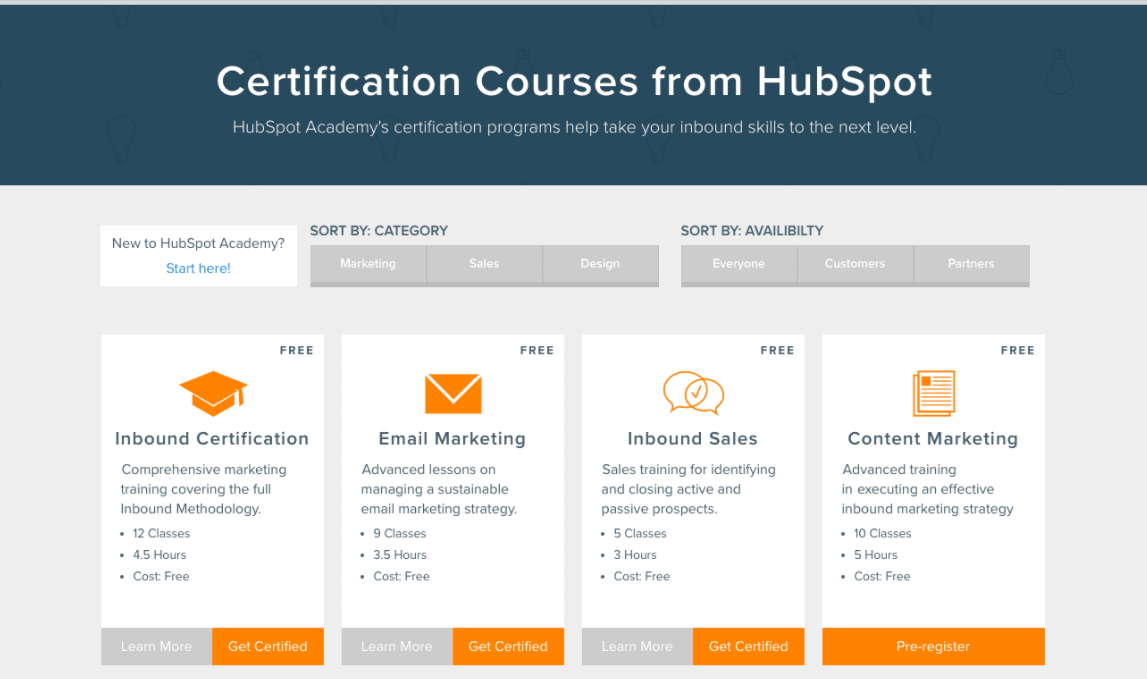 See how HubSpot offers a range of mini-courses that cover different digital marketing areas like email marketing, content marketing, inbound sales, and so on. All these courses are free and you need to sign-up for them with your contact details.
Isn't that a great lead magnet idea? HubSpot is offering a lot of tangible value for free to the audiences and asking for their contact information in return. These courses are extremely entertaining as HubSpot has made a cool combination of videos, downloadable templates, and so on.
Mini-courses are a great way to share your learnings with your community. But sure, they can be a lot more work to create.
Bonus Tip: Whenever you launch your mini-course, don't forget to include the number of steps involved in the course/tutorial. For example, "5 Steps to Master Email Marketing" or "3 Steps to Plan your Blog Topics". We should remember that our audiences want to know how many stages are involved in the course and how soon they can complete it.