Rather than sending boring and crappy emails, it is essential to add value to your customers' mailboxes.
Email customization is one of the most underrated aspects of eCommerce, but it should not be overlooked.
They assist you to customize WooCommerce emails, which will increase customer engagement at your store.
Keep reading! In this blog, we will discuss email customizer for WooCommerce, its features and top WooCommerce email customizer plugins.
What is a WooCommerce email customizer?
A WooCommerce email customizer is a tool that enables you to customize the look and feel of your WooCommerce emails.
This can include things like changing the font, colour, and header image. You can also add custom buttons to your emails, which will allow you to easily add links and other content.
It also lets you customize the content of your emails, as well as the timing and frequency of deliveries.
Why do you need to customize your WooCommerce Emails?
When it comes to customizing WooCommerce emails, the primary reason that immediately comes to mind is branding.
Consider yourself in the shoes of a buyer: after buying an item on a website, you would expect to receive an email from the store the goods you bought that reflect their brand and professionalism.
Transactional emails serve as a communication link between you and your customers. It is vital that these emails are creative and appealing in order to entice your customers to return to your store.
Customization increases engagement. When you customize WooCommerce emails for each individual customer, you increase their likelihood of engaging with the content. This means they're more likely to click through to your sales pages and buy products from your store.
Customization drives conversion rates. Personalized emails will drive your audience to open it and a clear call to action in the email will help you seal the deal.
Improves customer relationships. Mailing relevant and personalized content to your intended audience will allow you to form a strong bond with them.
Key features of a WooCommerce email customizer
Email customizer for WooCommerce allows you to easily customize emails with pre-defined templates, drag and drop editor and more.
Check out the major features of an email customizer plugin:
Drag and Drop editor
Customize emails in WooCommerce without knowing how to code. You can include a logo, message, product images, product recommendations, customer remarks, and other information. All of this is done with a simple drag-and-drop email editor.
Prebuilt email templates
Email Customizer for WooCommerce includes a number of pre-built templates that you can use to customize WooCommerce emails.
You can completely change the look and feel of your WooCommerce emails by simply loading the required template. Furthermore, the plugin's templates can be customized.
This means you can modify the prebuilt template to make your emails more relevant to your business.
Real-time preview
With the WooCommerce email customiser plugin, you can see a real-time preview of your email customizations as you make them. This way, you can make sure that the look and function of the email are as expected before sending it and get it all just right.
Dynamic placeholders
You can add dynamic placeholders such as customer name, user name, order number and much more. Dummy placeholders make template design effortless while keeping messages customized.
Some placeholders are:
user_login
user_pass
set_password_url
reset_password_url
Customer_note
Order_created_date
Send test emails
With the email customization plugin, you can trigger test emails to several recipients. This will allow you to comprehend how the changes you made will appear in your buyers' mailboxes.
User-friendly
The simple email customizer for WooCommerce provides the best user experience by allowing one to easily personalize and maintain WooCommerce templates.
Integration Compatibility
The email customizer plugin works with the majority of WooCommerce plugins to serve the other purpose of your WooCommerce store.
Elements you can edit
Some editable WooCommerce elements are:
Header
Order details
Billing and delivery details
Customer data and more
Some editable email elements are:
Text and Images
Divider
Social accounts
Buttons
Gif and more
UTM campaigns
It's increasingly advanced functionality that not all WooCommerce email customizers offer. You can monitor conversions within the customized emails.
Set the UTM campaign name, origin, and medium.
Understand which links in the emails they click on and which items they purchase from the recommended ones.
Top 5 WooCommerce Email Customizer Plugins
To build an amazing WooCommerce custom email template, here are the 5 best email customizer plugins for WooCommerce.
MailPoet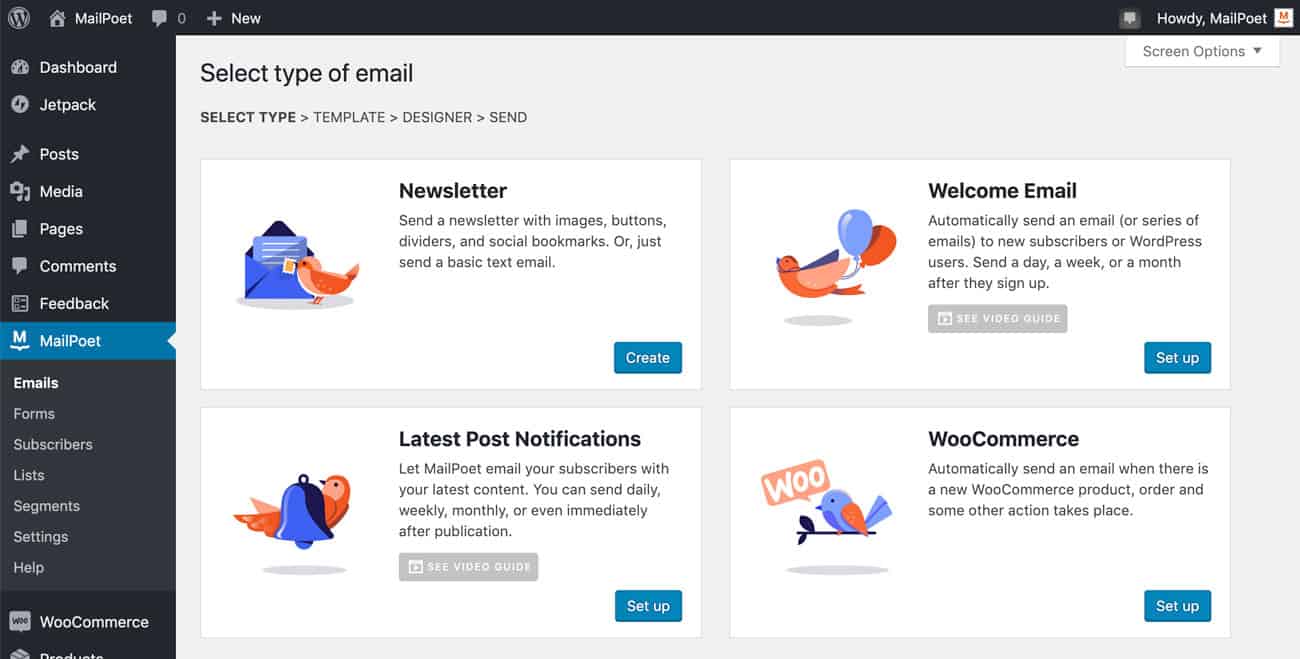 You can send amazing personalized emails to customers depending on their area, total orders, total money spent, and more with this plugin.
You can, for example, send an email to buyers in distinct situations.
After their first buy from your online store, you can send them a welcome email.
Contacting customers who have abandoned their products in the cart.
Sending an email with customized text to anyone who has bought a particular product.
Using its visual template editor, you can create a plethora of email layouts for your store.
Pros
Simple to use
Responsive templates across devices.
Free beginner's plan
Simplified subscriber management
Cons
Price
The monthly business plan starts at 10 USD for 500 subscribers
Icegram Express

Icegram Express is an email and newsletter plugin that lets you gather leads, automatically send new blog post notification emails, create and send broadcasts, and manage everything in one place.
This plugin is designed with all of the demands and requirements of a blogger, website owner, marketer, and developer in mind.
With the built-in WordPress editor, quick colour picker, animations, and form positions, you can personalize your campaign messages faster.
Pros
Drag and drop interface
Run A/B split tests
Detailed reporting for every campaign
Quick forum and email support even for free users
Lifetime free plan
Cons
Lack of our own email-sending tool and need to depend on a third-party tool.
Few template designs are outdated (need more updated templates)
Price
The pro plan costs 129$ per year
Woomail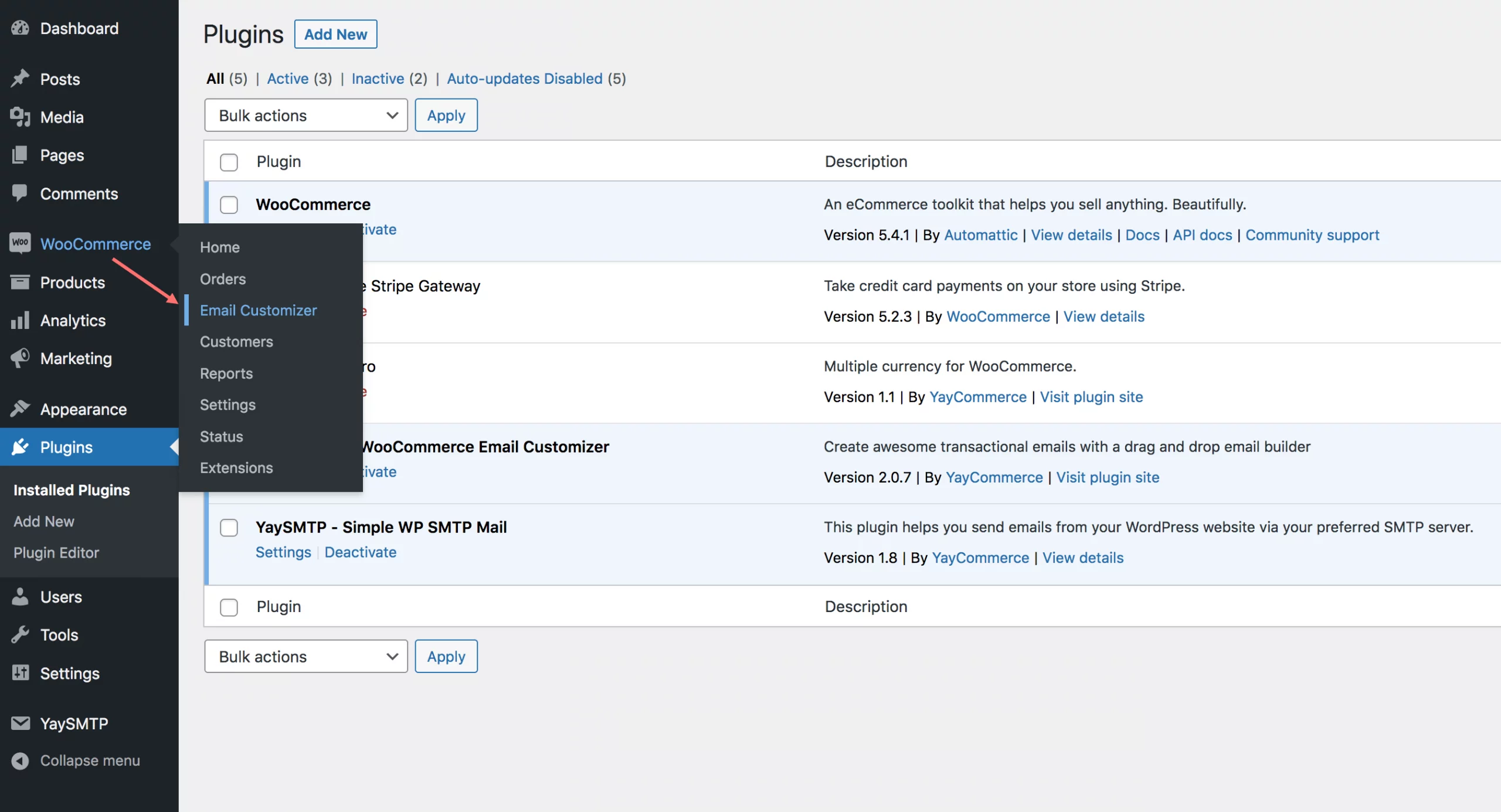 WooMail is an email customization tool that lets you create your preferred email with a drag-and-drop feature. Fortunately, WooMail includes over 10 email templates.
Simply select a template that corresponds to your brand and you're ready to go. And you can create your own template quickly.
Pros
Email preview and email testing
Add dynamic information using shortcodes
Cons
No free version
Pre-defined templates serve as a foundation for customization
Price
The standard plan starts at 39$ with 6 months of support.
Mailchimp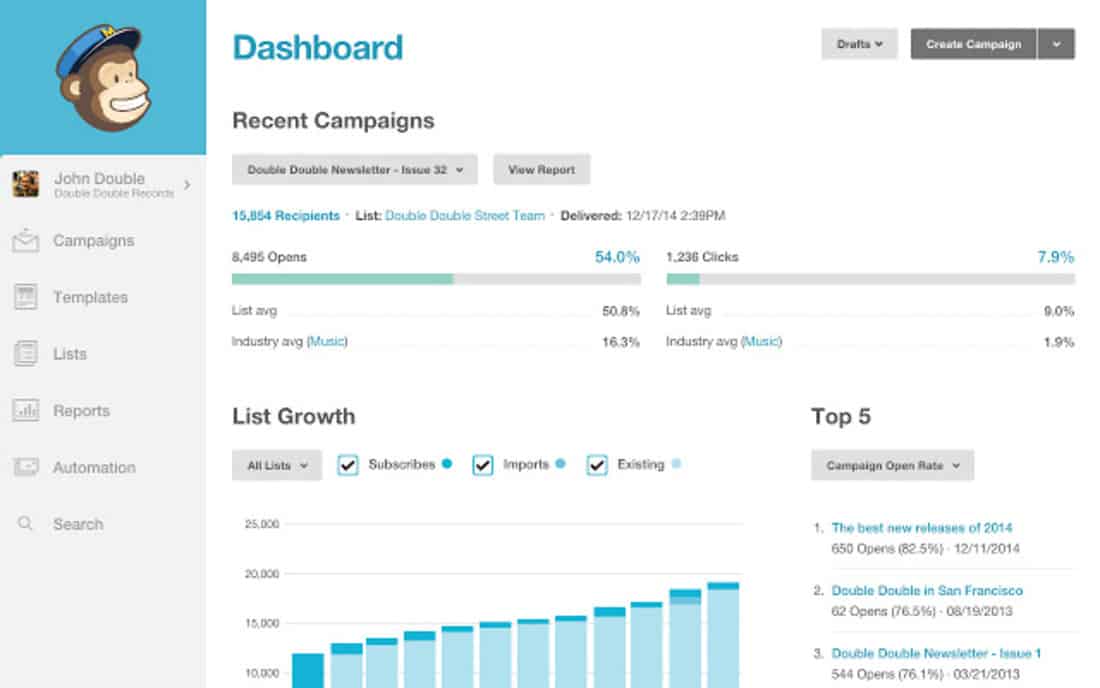 Businesses can automatically synchronize their customer information with their MailChimp accounts. This integration allows for user segmentation, making it simple to send targeted emails.
This WooCommerce customizer plugin allows you to follow up with customers after an order, recommend items to shoppers, and recover abandoned carts.
Pros
Email builders with drag-and-drop editors allow you to produce industry-standard emails that look great.
Cons
The pricing could be changed. The upgrade from the trial version to the essentials may be excessive for clients who do not require the additional send capacity but need A/B testing, etc.
Price
Essentials at 9.25$ per month
Sendinblue

The Sendinblue WooCommerce plugin is the simplest way to integrate your online store and establish better communication.
You can easily produce stunning, responsive emails and customize them with our drag-and-drop email editor to display your business and keep subscribers updated on product launches, promotions, blogs and more.
Pros
Drag and drop editor
Reliable pricing and automation capabilities
Cons
Lacks extensive CRM and automation functionalities for large businesses
Price
The beginner package starts at 25$ per month
What's your favourite Woocommerce email customizer plugin?
All of the plugins mentioned above will assist you in creating catchy transactional emails that will amaze your buyers!
Among them, Icegram Express is our favourite for the following reasons:
Several email designs to pick from
Allows for testing with a test email option before sending.
Maximize the impact of your email campaigns by automating targeted messages.
Customization capabilities – Custom opt-in forms, lead magnets, and email campaigns to capture website visitors' attention and build your email list.
Efficient – Reliable, simple to use and saves a lot of money compared to other plugins.
Check out how to customize WooCommerce emails using Icegram Express plugin.
Conclusion
Your emails speak a lot about your brand. Customizing woo commerce emails can be a great way to improve your customer experience.
By personalizing your emails, you can ensure that your customers know exactly what to expect when they open your email. You can also create custom emails that specifically target your customers.
This helps to target them with the right information and offers.
FAQs
How do I use the WooCommerce email customizer?
To use the WooCommerce email customizer, first, you need to install and activate the WooCommerce email customizer plugin on your WordPress website. Once activated, go to WooCommerce > Settings > Emails to access the email settings. From there, you can customize the email templates to match your brand's look and feel using the drag-and-drop email builder.
How do I send an email order in WooCommerce?
To send an email order in WooCommerce, start by logging into your WordPress dashboard and navigating to the WooCommerce section. From there, click on the Orders tab. Once you've located the order, click on its title to open its details. On the order details page, you should see an option to resend the order notification email. Click on that option and WooCommerce will send an email to the customer with the order details.
In WooCommerce, how do I add custom email notifications?
To add custom email notifications in WooCommerce, you will need to use an email customizer for WooCommerce or a custom code. WooCommerce provides hooks and filters that allow you to add your own functions to modify the emails. With either approach, you can create custom email notifications that better suit your store's brand and style.
How do I customize my WooCommerce email?
To customize your WooCommerce email, you will need to access your WordPress dashboard and navigate to the WooCommerce settings. Under the "Emails" tab, click on the email you want to customize, and you will be taken to the email settings page. From there, you can edit the subject line and the content of the email. You can also add your own logo, change the font, and format the email to match your brand's style.