Popups are wildly popular marketing message type on the internet today. Thousands of people are looking for the best popup plugin for their WordPress sites everyday. And the problem is there are plenty of choices. Both free and paid.
Battle of the Popups
Popups have always been the center of a fiery discussion. Some marketers out rightly favor them, the others criticize its annoying possibilities. However, one cannot ignore the immense power of conversion that a popup possesses.
In this post, we grill totally mind blowing popup plugin Ninja Popups with Icegram Engage.
Nina Popups is a highly popular WordPress popup plugin, sold on CodeCanyon and developed by arscode. Ninja Popups has been around for quite some time and has an excellent collection of themes and features.
We will try and give you a fair, unbiased review of both these plugins, so you can make an informed choice.
Ninja Popups v/s Icegram Engage. – are they really comparable?
Honestly, we can not do a direct comparison of both tools. Mainly because Ninja Popups is only about popups, while Icegram Engage does much more than popups. It includes:
Messengers – like Facebook messenger and others – which are highly converting
Action Bars – like HelloBar and others, but with more features
Toast Notifications – like desktop / mobile operating systems, but not found on WordPress yet
Themes – The Decider?
The whole point of popups is to draw your customers' attention. So themes do carry a lot of weight.
Ninja Popups provides a whooping 22 theme pack. And they have more available. These are well designed, appealing and easy to integrate. The only downside is that if you wanted to customize them, it would be difficult.
Customization is where Icegram Engage shines. By default Icegram Engage comes with 20 good-looking themes. Icegram Engage then gives you the fully powered WordPress editor, with the ability to add custom CSS and JavaScript in the popup body. So if you are a power user, Icegram Engage lack of themes shouldn't bother you.
For people looking for a quick, ready made theme, Ninja Popups certainly has an upper hand.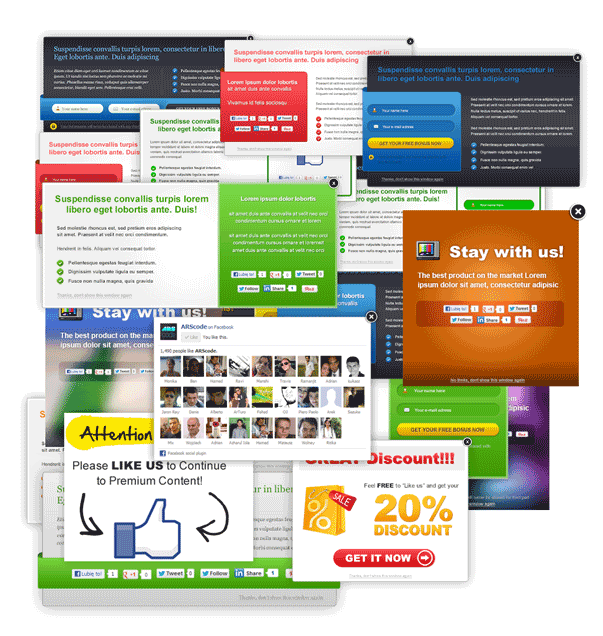 Ninja Popups and Icegram Engage both have themes that are responsive.

Styling – Minimalist or Extravagant?
Ninja popups is loaded with styling options. You can select the color of your header, the button, the background, the text etc. (Caution: People with shorter tolerance level could be annoyed!!)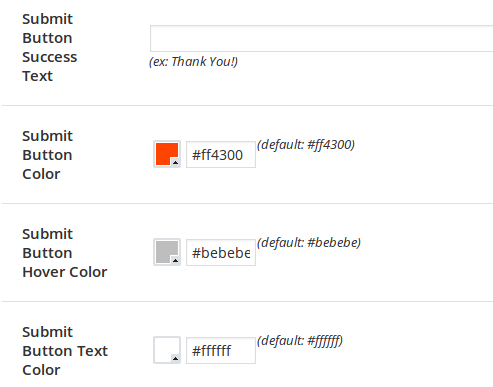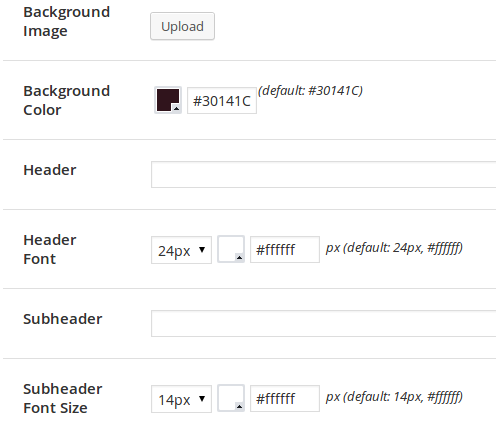 More choices, the more confusion! So Icegram Engage will be a treat for guys who love simplicity. It gives you basic options for styling – background color and text color. The rest of the styling is in themes. This makes it much quicker.

If you know CSS, you can fully customize Icegram Engage messages by adding CSS to the popup body itself – Icegram Engage WordPress editor supports adding custom CSS and JS.
Overlays
Ninja Popups allows you to set the opacity percentage and also a image if required. Icegram Engage doesn't provide any overlay related features.
Ninja Popups allows you to customize how the close button looks. Icegram Engage does not have this option.
Targeting & Scheduling Rules – Deciding the duration of your campaign
Both plugins allow you to target your popups on particular pages or posts. Icegram Engage allows targeting by users and devices also – which can be very useful.
Icegram Engage puts popups (and other messages) together in a campaign. You can define targeting rules for the campaign, and all messages within that campaign will be shown when the rules match.
So you can create a campaign that will be shown on the homepage, and which will show an action bar at the beginning, a messenger after 5 seconds and a popup after 10.
Ninja popups does not offer such flexibility because it's only used for popups.
In terms of scheduling, Ninja Popups lets you set a start date and an end date. It also allows you to set the amount of seconds before the popup shows up.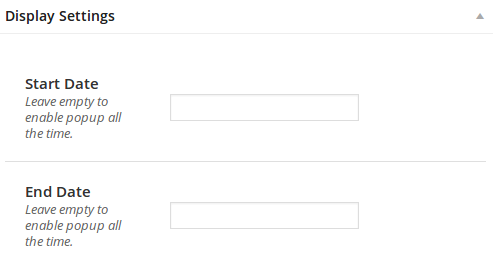 Icegram Engage also offers both these options, but in a slightly different manner. The reason for this different approach is because Icegram Engage is made of campaigns, and each campaign can contain multiple messages. So scheduling date range, is part of the campaign. Whereas display delay time is on a message.

The time when the popup should show up while on a page, is setup under the campaign where all messages in the campaign are shown.
Exit Popup – a popular way of winning back a losing lead
Ninja Popup provides for exit popups. This means a popup will show when the user is about to leave your page.
Such popups have converted better than any other popups and this feature is very useful.
Icegram Engage has a premium addon Behavior Triggers and Advanced Targetting which provides exit intent and alot more powerful triggers.

Cookies and Retargeting
In Ninja Popups, you can set a cookie and decide how often a user should see a popup.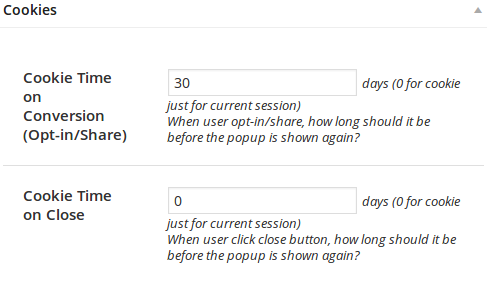 Icegram Engage does this a bit differently. It makes the choice less difficult by giving a simplex checkbox that asks "Once shown do not show the message again for this session."

JS & CSS – The Developer's Delight
Ninja Popups also gives one the privilege to use custom js and css for your popups.
With Icegram Engage you can add custom JS or CSS directly to the message editor (use the Text mode to do this easily). Icegram Engage smartly preserves your custom code and renders it along with the popup.
---
Too cheap to be hip? We don't think so….
Ninja Popups is modestly priced at $22. And Icegram Engage is free! All said and done, the amount of value that they offer have left customers boggled.
Here's how customers reacted to the fact that Icegram Engage is free…
Sharanyan says "The plugin is really amazing, you must charge for this instead of giving it free..".
Chris G. dropped a comment on FaceBook saying I'm really not sure how such a great plugin can be free..
Ninja Popups offers in $22 what biggies don't offer in $199…
So both are great deals!
They don't stop there….They invent new features…
Ninja Popups now also provides A/B testing and Analytics… Icegram Engage is soon catching up and will be rolling out these features along with many others in future.
The Final Verdict – Your Call
A quick summary of Ninja Popups v/s Icegram Engage…
FeatureNinja Icegram Engage
Message types
Only Popups
Popups
Messengers
Notifications messages
Action bars
Themes
40+
6 Customizable themes
Device Responsiveness
All themes responsive
All themes responsive
Styling
Many options
Basic options
Targeting
Available
Extensive
Exit popups
Available
Available
A/B Testing &Analytics
Available
Available
Price
$25
FREE version & Premium Addons
So which one do you choose?
If you just want popups, Ninja Popups is a great deal for just $22. If you want more extensive targeting rules and want to use new, innovative message types that convert even better, go with Icegram Engage.
Let us know what you think… which one works best for you and why?