What closes the deal in the online real estate business? It's the client relationship that is nurtured via email marketing.
How effectively you communicate with potential buyers before and after the sale will keep the needle moving.
Now, not all of us will be good at writing converting emails, and that too for a niche like real estate.
So here we present you some real estate email templates you can use to convince buyers to purchase their dream homes and also maintain relationships with them after sales.
Agents, property dealers, brokers, or sellers…all eyes here.
Why do you need email marketing templates for real estate?
Real estate professionals often communicate with clients and colleagues via email. Email templates can be useful in this context for several reasons:
Efficiency: Email templates can save time and effort by providing pre-written messages that can be easily customized and sent out quickly.
Consistency: Using email templates ensures that communications are consistent and professional across all interactions, which can help build trust with clients and colleagues.
Personalization: Although email templates can provide a framework for messages, they can also be customized to reflect the individual voice and tone of the sender, allowing for a more personal touch.
Follow-up: Email templates can be used for follow-up messages, such as post-showing or post-listing follow-ups, which can help keep the lines of communication open with clients.
Ready-to-use real estate email templates
In this blog, we have mentioned some free-to-use email templates that anybody associated with the real estate business can use, based on their use case. Simple, straight to the point and value-driven.
So feel free to copy-paste them. However, you can stuff these emails with some more information if required.
Welcome email template
Welcome emails can be used by real estate companies.
Say a thank you to the potential customer for joining your email list. They can be first-time buyers or sellers.
Greet them with an email and make yourself/your team available for them.
Follow-up email template / Buyer email template
It's always wise to follow up with a prospect, whether you've met them at an open house or given them a private showing.
This email is a great way to establish a friendly tone and thank them for their time.
Highlight the best features of the property they viewed to nudge them to make a purchase or mention another property, which will pique their interest and leave them curious to see it in person.
Repositioning a property email template
This email is targeted to property sellers when they want to make a deal but there are no potential buyers, the rates have fallen, the online listing is expired and they lack some marketing tactics.
Testimonial email template
Ask your clients (who made a deal with you) for a review and add it as a testimonial in the following email to nudge other clients.
First-time home buyer email template / Thank you email template
If any client closes a deal with you, send them an appreciation showing your deep gratitude at the earliest.
Selling a property email template
Use this email to get the seller's attention and time, so they reach out to you for help to get their property sold at the earliest.
Automate real estate email marketing
You have some email templates ready. All you need is a tool to automate them and some good-looking email designs.
It can be an email blast or some segmented emails.
With Icegram Express plugin for WordPress (100000+ active installs), you are going to save a huge amount of time, and also convert more leads and customers.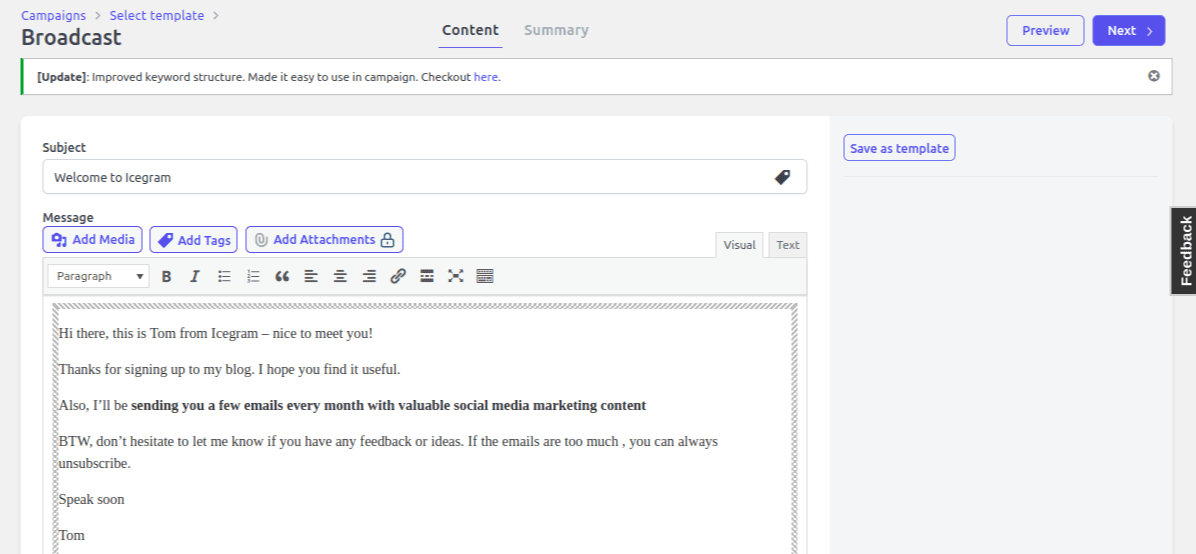 The plugin packs powerful tools and benefits into one:
Send welcome emails and automate follow-up sequence emails
Access high-converting email design templates
Everything unlimited – emails to be sent, lists, campaigns, forms
Automatic email verification and bounce handling
Single/double opt-in, spam-bot protection
Campaign performance stats
Icegram Express will go the extra mile to make sure your emails are delivered to your audience and they take some desired action.
Conclusion
Your clients receive hundreds of emails that they tend to ignore.
But not a property-related email as both buyers and sellers are genuinely interested to make a trade-off. So emails are your best bet to build relationships with these clients.
Maximize your impact by using the above email templates, and Icegram Express plugin, which does all the hard work for you!