You have delicious, food, an exciting menu, a good ambiance and top-notch service.
But in this cut-throat competition, you can't rely on word-of-mouth to fill up your tables every day.
Paid digital ads, street ads and pamphlets are expensive for small businesses. But restaurant email marketing is cheap, it can be automated and returns are also higher.
So as a restaurant owner, what email marketing strategies can win you more diners? How can you attract more customers and increase repeat customers? What tools you can use to save time and automate work for your online restaurant?
Let's find out. We'll also see some best restaurant email templates that have worked found along the way.
Why are email marketing campaigns important for a restaurant?
Here are the top reasons why you must set up email marketing campaigns:
More effective for retention
As per Semrush's stats, email marketing is 56% more effective than any other method for customer retention.
Your restaurant's profitability depends more on how well you retain customers. These are your loyal customers and your best source for recommending new customers to your restaurant.
Build long-term customer relationships
Restaurant newsletters are the bridge to maintaining a strong relationship with your customers.
For potential customers, you can offer them deals and discounts to visit your restaurant and place an order.
For existing customers, you can keep them posted about your new dishes and specials.
Do not forget to send a thank-you email after they visit your restaurant. A simple thank-you email strongly increases your brand value.
With email, you can notify customers about events, gather feedback, resolve customer queries. etc.
Organic search is on a decline
The top four results in Google will be ads. And being in the hotel industry, you need mouth-watering images to woo customers.
And competition is too high in this space. So you can't afford to pay for ads here as conversions are not guaranteed.
Social media is expensive
Like Google ads, social media ads are also expensive. Facebook reach is declining to less than 2%.
Facebook has publicly come out and announced that you have to pay to play. So the posts you make after all your hard work will be seen by none.
Long story short, investing solely in social media and ad marketing is a wasted opportunity.
We don't say to avoid it but keep emails as your primary source for marketing and couple it with other channels. That will make it a successful marketing plan.
Email marketing utilizes much of the same skill set of restaurateurs and it's not at all time-intensive work. Email allows you to reach your users whenever you like.
Now, you know the importance of email marketing, let's move to the ideas to grow your restaurant business.
15 strategies for restaurant email marketing
Here's my list of curated strategies that work well for any restaurant store:
Build your email list
First and foremost, for email marketing, restaurant owners need to build a list quickly.
That's where Icegram Engage comes into the picture.
Icegram Engage is a popular WordPress lead-generation plugin that allows you to build professional opt-in campaigns for your restaurant's website.
You can create twelve types of optin campaigns to engage visitors – popups, floating bars, sidebars, slide-ins…with a form and call to action (CTA) to collect leads and build your list.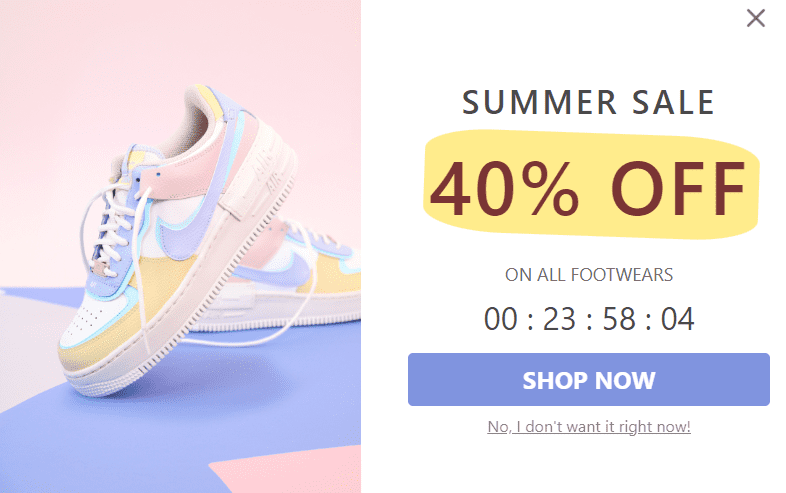 You can find over 100+ high-converting readymade templates to save time, energy, and headaches in the design process.
These campaigns work well because they are coupled with powerful targeting rules. Show them via exit intent, based on geolocation, at specific time intervals for better conversions. You can also split-test them to identify which campaign performs better.
Create a lead magnet
You need a lead magnet that acts as bait for your target audience to sign up.
It can be discounts, recipe books, free coupons for drinks or desserts, guides on healthy eating, etc.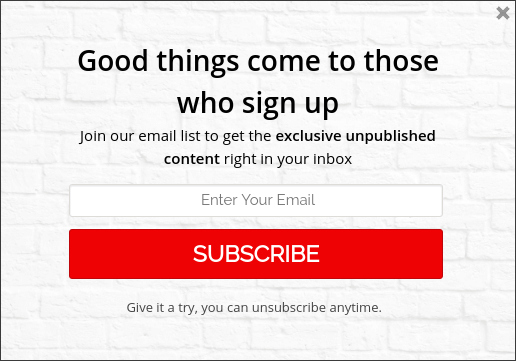 If you are struggling to come up with powerful lead magnets, these 10 lead magnet ideas will guarantee you more subscribers.
Find the right email service provider (ESP)
To send emails, you need a platform to store and organize your email list and send email campaigns to your customers.
There are several options you can choose from like Mailchimp, Aweber, Constant Contact but they are on the expensive side.
You can use Icegram Express to send emails to customers as it integrates with popular platforms like Amazon SES, Sendinblue, SendGrid, Any SMTP server.
It's pocket-friendly and boasts powerful features like automatic bounce handling and batch sending, spam score check, abandoned cart recovery, list cleanup and more.
Welcome customers with an email
It's a simple way to introduce yourself to your customers, a sweet thank you and starts on the right foot.
Ideally, this "Welcome to our restaurant" email should also contain some exclusive offers or resources that customers will find useful.
Clean your email list regularly
In the restaurant industry, it is common to have one-time customers. These are mostly tourists, business-purpose visits who may not come back.
So better to not have them on your list, who won't engage and convert.
And if too many people join your list without interacting with your messaging, your deliverability rates will suffer, too.
So cleaning the list regularly will ensure you have customers that engage and convert based on the message and offers.
Use photos and clear CTAs
Images and videos convert more than words in the restaurant industry. With high-quality cameras and a little talent, you can come up with photos of the tasty dishes you offer.
Add CTAs below the images so that placing an order is just a click away.
Defining a clear, easy-to-understand CTA will ensure more conversions – be it list sign up, placing an order or viewing recipes.
Ask for feedback
People come to your restaurant again not because of the offers, but for the taste and service.
Make sure you collect feedback from customers about your menu, food taste, delivery service, etc. It will give you deep insights into how well you are faring with your customers.
Reward loyal customers
Everyone likes to feel special. A loyalty program can help your regular patrons enjoy early reservations, preferred seating, less waiting time, lower delivery fees, or even discounted rates.
Send coupon codes / gift cards
Email gift cards to your subscribers so they can redeem them on any purchase in your restaurant. To add urgency, set the validity to maybe a month or three months so customers can use it without fail.
For WooCommerce restaurant websites, here's how to create different gift cards.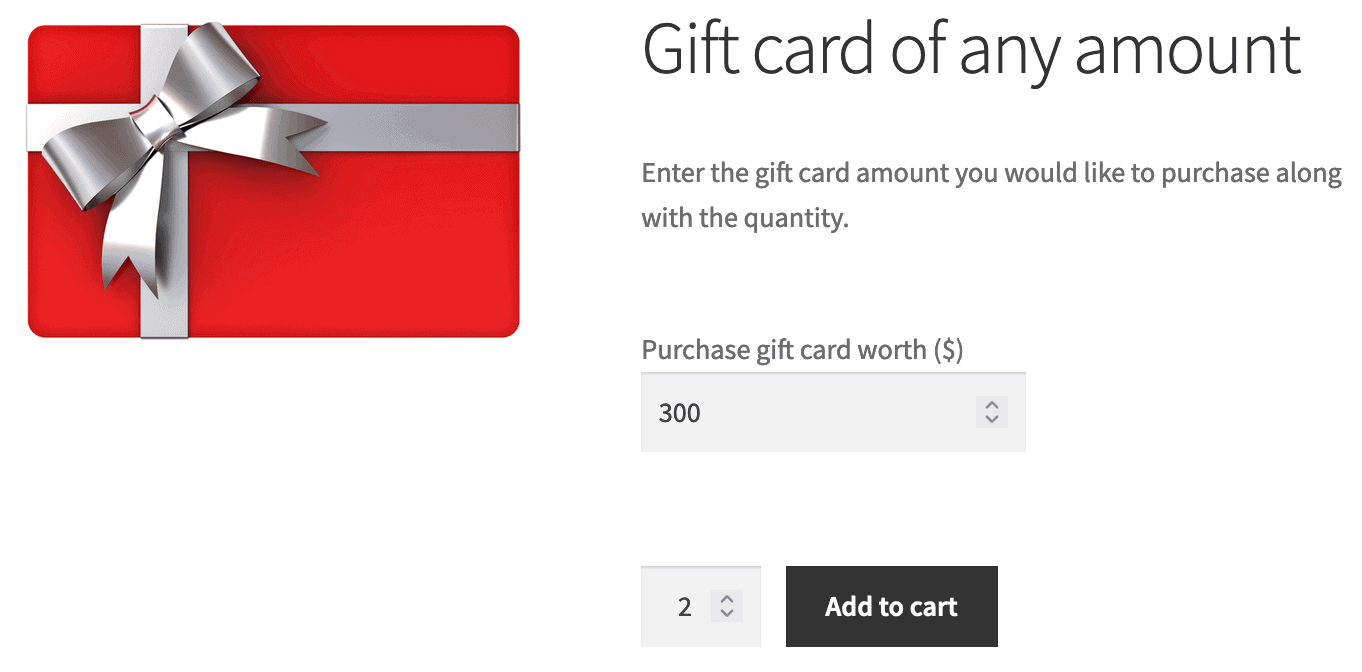 You can also send a small discount coupon on new launches or during festive days like Christmas, Diwali, Halloween where there's a special menu. BOGO offers, upsells, order bump offers work quite well in this industry. (Remember Coke with fries at McD)
It can boost your online sales to a great extent.
Celebrate birthdays and special events
On your patrons' birthdays or anniversaries, wish them via email and also invite them to your restaurant for celebrations.
You can arrange a specially decorated table for them and offer some desserts as a complimentary dish.
Restaurants took to sharing their hot tips and cooking secrets with their subscribers and followers during the COVID lockdown.
It created a meaningful connection with the restaurants or the chefs. There is no reason why such a successful engagement exercise should not be continued now that the world is back on its feet.
Segment your audience
Designing personalized campaigns targeting a segmented audience yields impressive results.
You can segment the audience based on cuisine preferences, order placing channels – app, website, food aggregator…location, gender, age, etc.
It is easier to create innovative programs when you have more details about your target customer persona than a generic one-for-all approach.
For example, you can email a BOGO offer on pizza to people below 30 who order more Italian dishes via your app.
Covid is unpredictable. So via email, update customers about the health and safety regulations, restaurant timings, delivery and other details.
Second, people who fear Covid much more than others will be happy to order online than offline and enjoy their food safely.
Highlight blog articles
If you have a restaurant blog, share some of your articles in a newsletter. Don't shy away from stories about how you started the restaurant business, interviews with your chef and personnel, or news that involve your brand.
Combine email with other marketing channels
Email and other channels make a complete marketing plan. You need to balance email marketing and social media marketing.
You can use Facebook and Twitter for regular posting. Take the Instagram route to share your food menu and offers via stories and posts. Another option is retargeting ads on Facebook.
For offline promotion, another option is to print coupon codes for your restaurant and distribute them via magazines and newspapers. People can redeem them online or offline.
If your restaurant store is based on WooCommerce, then Smart Coupons is the perfect solution to create coupons and print them.
Restaurant email subject lines
When you talk about emails, the subject is the catchy part that decides whether a customer will open the email.
Here are some subject lines you can use for your restaurant store:
1. Tired after a day's work? We have prepared the meals
2. Good meal is waiting for you
3. Dinner plans? A special offer awaits you
4. COVID fear? Order online at 15% off
5. New additions to our menu
6. Buy 1 Get 1 Free for today
7. Happy hours
8. Vanilla or Chocolate
9. Desserts you can't ignore
10. Midnight cravings? We are a click away
11. Happy Birthday Regina – Surprise for you
12. It's sad you missed out on this dish
13. Ready to serve you again
Refer to this blog for more restaurant email subject lines.
Final words
Email marketing is still the best low-cost, yet the most effective marketing strategy for small-medium businesses.
It does not matter if your restaurant is not as big as Starbucks or Subway chains or any five-star hotel restaurant.
The above strategies are bang for the buck to increase your customer engagement, conversion and retention. And for that, Icegram Express is a must-have restaurant email marketing software for you.
I personally like the segmentation strategy while my colleague prefers the gift card one. Which one did you like the most from these? Share your responses below.