Icegram Engage let's you create multiple split tests and monitors each closely to pick the winner.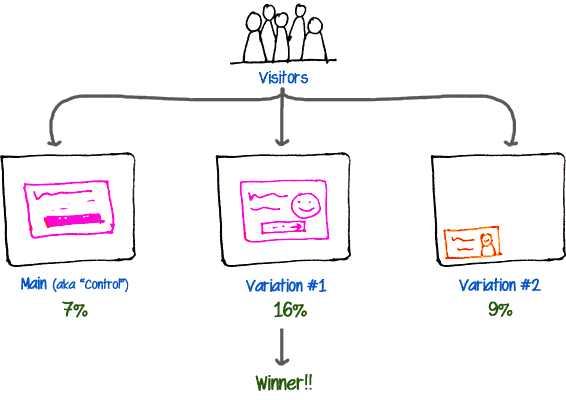 A/B Testing is the most loved feature of marketers. It lets you create multiple variations of a single optin and test them for success.Using Split Testing you can easily create as many variations as you need and make them live all at once.
Here are a list of things Icegram Engage's Split Testing allows you to Split Test
Different types of opt-ins
Various themes
Content
Headlines
CTA's
CTA button colors
Links
Split Testing is the Best Way to Maximize Returns on Your Current Traffic
Try this: Conversion rate for your current message is 4%, resulting in $1000 revenue. You change headline text and that takes conversion to 5%. What does that mean for your bottomline? 25% increase in revenue!
Combine a series of such small changes. Measuring results after each change. Once you finish the experiment, you have a winner at hand. Something that has dramatically raised your revenues and customer engagement.
All without any additional traffic!
There's lot to this Split Testing plugin…
Simple to Setup
Unlike most other A/B Split Testing solutions, you don't have to be a technical wizard to use Icegram Engage Split Testing. It is as simple as configuring and testing multiple Icegram Engage messages.
Unlimited Experiments
Create as many experiments as needed to see which optimizations help your customers convert best. Each experiment is a campaign – just like other Icegram Engage campaigns.
Real Time Reporting
Coupled with Icegram Engage Analytics, you can see the status of your experiments in real time as customers are visiting your site. You can independently track visitors and conversions for each version, and determine which one is converting best.
Unlimited Variations & Messages
Within each campaign, you can create unlimited variations. And each variation can have unlimited messages. You may reuse existing messages or create new and test any element in the message – type, theme, colors, headline, body, button label…
No Need to Supervise
There is absolutely no need to monitor the variations day-in day-out. Icegram Engage does it for you. It uses proven scientific winner selection techniques and selects the best performing variation as the winner.
Flexibility in Winner Selection
Incase, you don't want to go with Icegram Engage's scientifically selected winner and want to select a variations as the winner manually. Icegram Engage allows you to do that as well. Thus, giving you total control.