If you do this right, then you literally crack the code of converting your site visitors into potential customers or subscribers.
Sorry, but no prizes for right answers. It's creating the squeeze page on your WordPress website.
A squeeze page or a lead capture page does what it says – helps you capture leads, which are prospective consumers.
Let's face it. No matter how compelling is your content or site SEO, if your site visitors don't convert, then your efforts go in vain.
Nevertheless, you can do that now after reading this post.
Here, we provide important information about making lead generation easy by teaching you how to create effective squeeze page design.
What is a Squeeze Page?
Well, before you learn the lead capturing secrets, let's clear some basics to get a better understanding.
Have you heard of landing page?
According to Wikipedia, a landing page is the squeeze page or the destination page in response to clicking on a search result or an online advertisement.
Yes, a landing page is where you want people to land on your website.
Then what's a squeeze page?
It's a type of landing page specially designed to collect opt-in email addresses from the site visitors. It is a part of the process of generating leads, called lead generation. A squeeze page, also known as a lead capture page, is a type of landing page designed to collect opt-in email addresses from visitors.
This is a key part of the lead generation process, as it helps to increase readership or subscriber bases, create a dedicated audience for marketing campaigns, and gather contact information for potential customers.
There are a few key tips to follow when creating a squeeze page in WordPress, including solving a pain point in the headline, highlighting benefits in the sub-headline, using a legible font, and creating an engaging copy.
Difference between Landing pages and Squeeze pages
The basic difference is that landing pages are primarily sales pages, whereas, squeeze pages are opt-in pages.
The landing pages are designed to generate sales, whereas, the squeeze pages are planned to make the visitors submit their email addresses or generate leads.
The common unique feature of the landing and squeeze pages is that both have a single-purpose nature and that is conversions!
Why a squeeze page is essential for lead generation
It doesn't matter if you're just a blogger, a newbie marketer, or a bussing e-commerce store owner; you need more subscribers and customers. There are also several WordPress tools available to help with creating an effective squeeze page, including Thrive Landing Pages, Elementor plugin, and OptimizePress.
In addition to these tools, there are also several special WordPress tools that can enhance lead generation, including Popups, Welcome Bar, Optins, and Lead Generation Plugin, and Instapage.
And here's how a squeeze page help achieve your aims:
Increase readership or subscriber base of your blog
Create a dedicated audience for your marketing campaigns
Get loyal readers or repeat visitors of your website
Re-target and make repeated marketing campaigns to select audience
Build a list of potential customers and develop relationship with them
Enhance the chances of generating more sales
and much more..
With a squeeze page, you literally squeeze the potential customer or subscriber through your sales funnel or pipeline.
As per this report, lead generation accounts for about 66% of organizational goals for content marketing. Now, this stat itself speaks for the need of a squeeze page, isn't it?
Inspiring examples: 5 successful squeeze pages from prominent brands
Having detailed all about what squeeze pages are, let's see how they really look like.
Here are a few squeeze pages examples that look attractive as well as bring benefits; the ones that you can model your squeeze page on and increase your visitor conversion rate.
Microsoft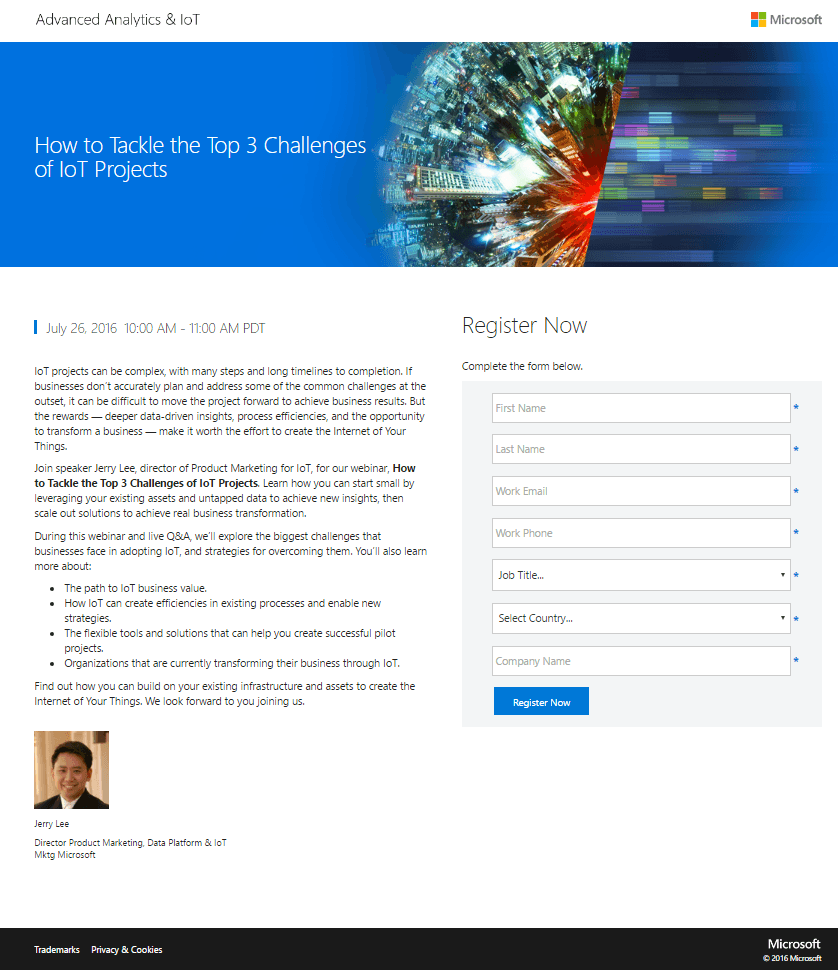 What worked here for Microsoft?
Limited information separated into digestible chunks
Use of bullet points for better readability
A simple form with clear instructions
Uber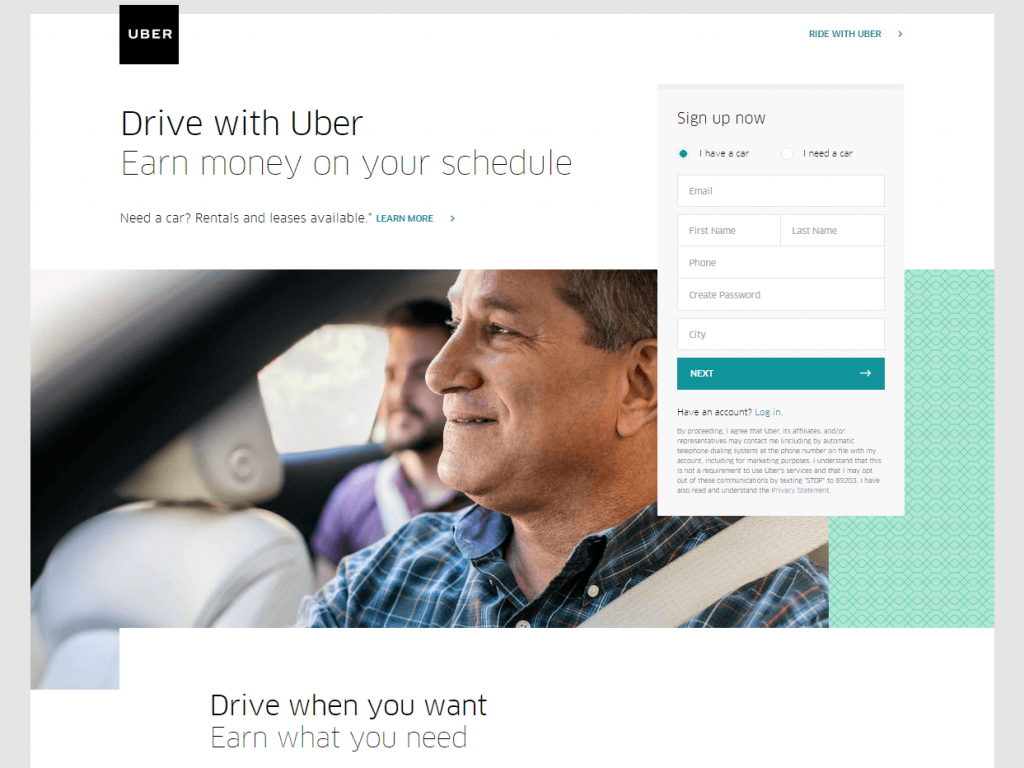 What worked here for Uber?
A solid headline that spells out a clear benefit
Short and simple sign-up form
PayPal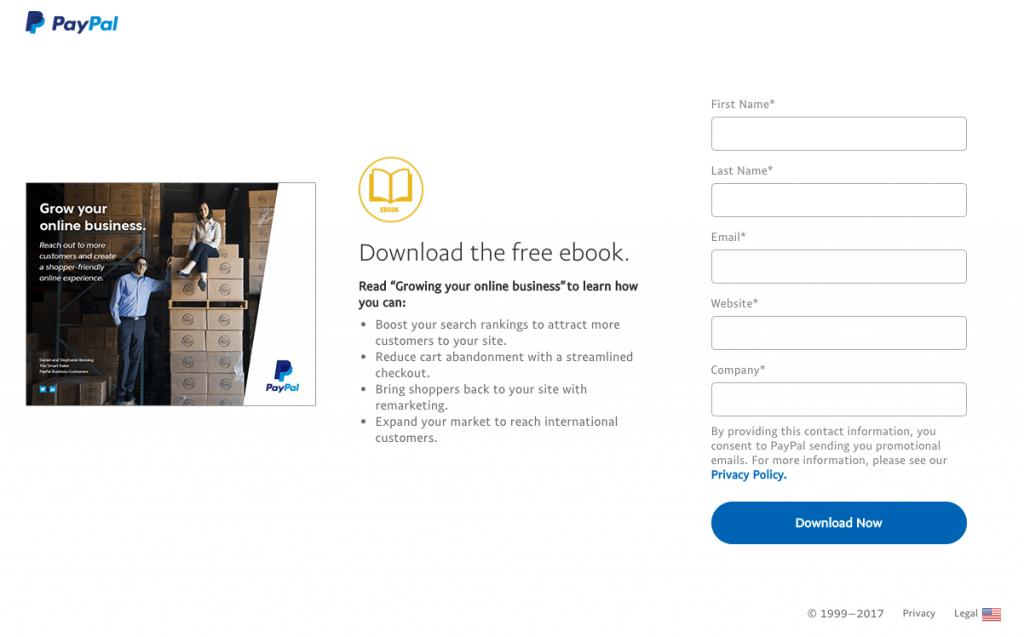 What worked here for PayPal?
Short and summarized text with bullet points to facilitate a quick reading
A plain form and an inviting big blue CTA button
The word "free" that conveys the no-cost nature of the offer immediately
Bonus – an ebook offer to entice the interested visitors
HubSpot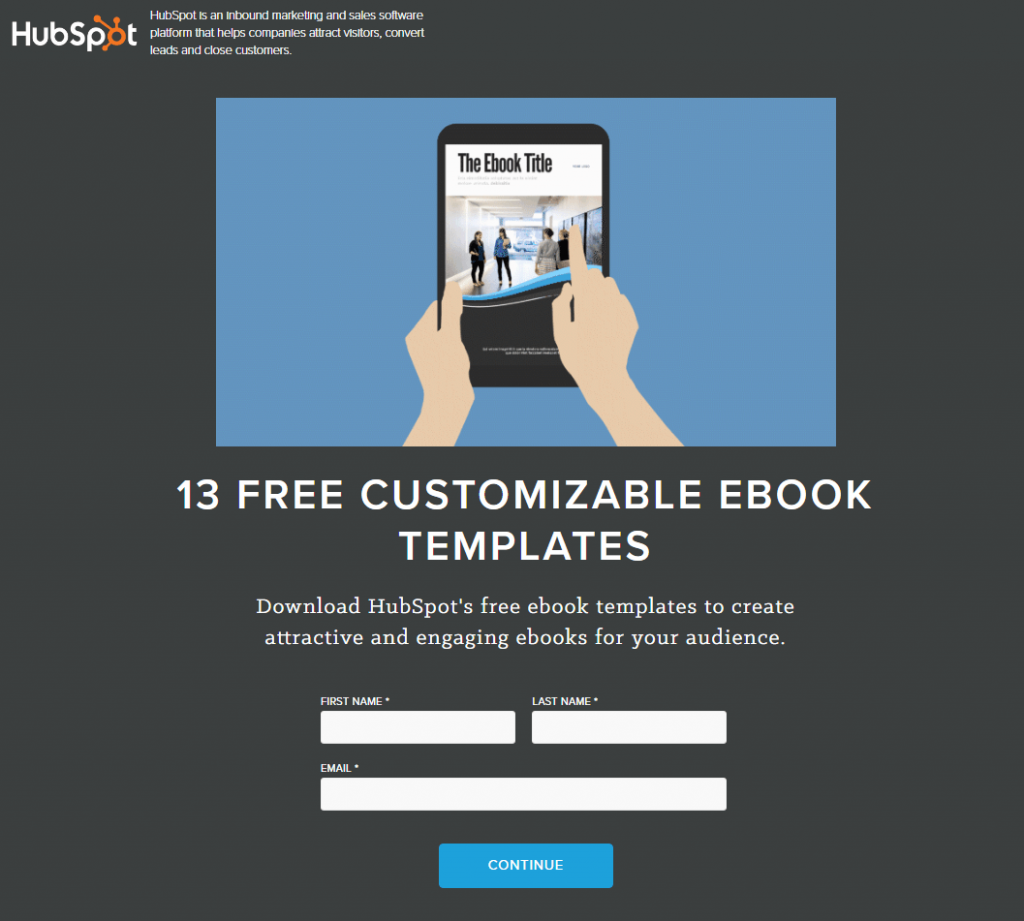 What worked here for HubSpot?
Use of a combination of headline and sub-headline that communicates a strong value proposition
Image to visualise the offer and reassure that visitors will get the right thing
Simpler optin form with a clear and strong CTA button of attractive color
An ebook as an offer to elicit the email addresses from the visitors
Autopilot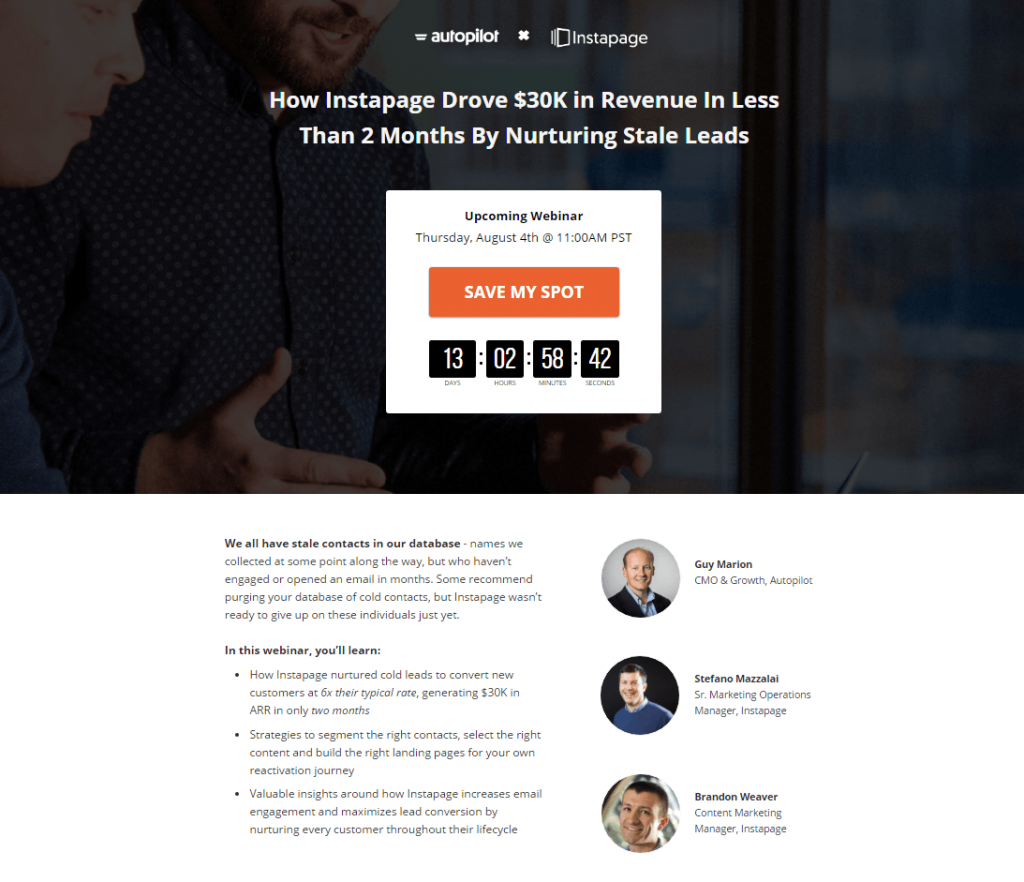 What worked here for AutoPilot?
A strong on-the-face case study headline that offers a valuable resource
Big CTA button along with a scarcity time counter that cannot be easily dismissed
Simple copy split into bullets
Use of the webinar as a lead magnet for interested visitors
17 Hacks to create the best squeeze page
If you observe the squeeze page examples closely, you will notice that there are a few common elements that are used differently on them.
These are the headlines, images, CTA buttons, forms, and other elements. You should know the best way of using these elements on your squeeze page to bring the best out of them.
But Remember! It's the first impression that counts. A visitor may generally stay for about 2-3 seconds on your squeeze page; you need to make yours count in this short span.
Here are the 17 tricks that you can keep in mind while creating your squeeze pages:
Hack 1 – Solve pain point in headline
Since headline is the first thing that the visitor reads, make sure that it's active, bold, clear, interesting, and benefit driven.
It should be right on the money – straight to the point, solve a pain point, and create urgency. Use strong verbs and avoid passive voice.
Hack 2 – Highlight benefit in sub-headline
A sub-headline if any explains and extends the headline. It not only makes the headline more meaningful but convinces the visitor to read further when it promises a benefit.
Hack 3 – Use legible font
The font you use should be clear, pleasant to view and not harsh to the eyes.
The headline should be the boldest, while the subheading could be a little bolder than the normal text, which should not be too small to read.
Hack 4 – Make engaging Copy
The introductory text on the squeeze page should be concise, relevant, and simple.
Ask only close-ended questions as the open-ended questions may take the time to fill in and make the visitor disinterested and eventually drop off.
Hack 5 – Chunk long sentences into bullets
Use bullet points so the reader could skim through them without taking much time.
Especially, make the key benefits bulleted and stand out.
Hack 6 – Balance colour and contrast
Using a color scheme and same contrasting colors for linked elements makes it easier for the visitor to understand at a glance and facilitate smooth eye flow as desired.
Also, make sure the background color is pleasing.
The CTA text should be actionable and describe exactly the action that will take place upon clicking it. It should be short and incite an action.
You can add some words that denote urgency, such as today, now, etc.
In this study, it was discovered that consumers make their decisions based on the color of products.
A bright and contrastingly colored CTA button is most effective. It should grab the readers' attention and be clickable.
Perhaps this guide may help you understand more about colors, their significance and how to use them.
Hack 9 – CTA and signup form
As per this finding, if you place your call-to-action and signup form at the top or above the fold of the squeeze page, the conversions could increase as much as by 41%.
While the CTA button size should be big and placed at the bottom, the signup form should be small and placed at the top.
Hack 10 – Insert help-driven image/video
Depending upon the purpose of the squeeze page, appropriately use an image or video to convince the visitor.
If you're giving away an ebook, use its cover image. If it's an ecourse, use a short video to tell how or why the course would be useful to the visitor.
Hack 11 – Minimize form fields
Long forms only turns off your visitors.
Hence, have as few form fields as possible so as not to cause any friction in the user's flow on the squeeze page.
As per this report, Expedia earned $12 million in profit by removing just one form field.
Once the visitor opts-in, you can get the chance later to get more information.
The Icegram Collect WordPress plugin has all the features to create an effective form that can be used on your lead generation page.
Hack 12 – Offer rewards / resources
Plan to give some digital content as a reward in return for the visitor's email address. It could be an ebook, an e-course, a report/whitepaper, webinar, a checklist, etc.
Do mention the benefits on the signup page that the visitor will get when they opt-in. You can even show scarcity like free only for a limited time, limited seats, etc.
Hack 13 – Create trust at first instant
People are wary that you might spam them or pass on the details to third parties. Therefore, include in a sentence about how you'd use the visitor's email address so as to gain their trust at the first step itself.
You may also provide a link to your privacy policy at the bottom of the squeeze page and display a seal of trust.
Hack 14 – Show the count
When people see a number, they feel it must be good because others are going for it. So, display the number of webinar registrants or the download count after they reach an impressionable count to prove your authority.
Hack 15 – Build credibility with testimonial
Display real testimonials or user feedback of the quality of your content, if you can. This would humanize the landing page and increase the chances of conversion.
Hack 16 – Showcase big names
If you have some big names as your clients, don't hesitate to show your impressive client list on the squeeze page. Anything that impresses the visitor makes the conversion task easier.
Hack 17 – Trigger popups / optin forms
Popups are very effective if used properly.
As visitor's eye tends to drift away from your video or image, a strong opt-in form below it or an popup on exit intent instantly grabs their attention.
These were the fundamental hacks to create an effective squeeze page template. Hoping that you implement them on your website.
Let's now jump on to finding the best tool to create your squeeze page.
5 WordPress tools to create the best squeeze page
A good squeeze page can do wonders for your website – one Hubspot research puts the conversion rate to up to 30% or above!
Now that you know which factors are responsible for creating the best squeeze page let's review a few top-of-the-rack squeeze page WordPress plugins for your site.
Thrive Landing Pages
Thrive Landing Pages gives you a variety of settings and options at your disposal – from content forms and marketing pages to images and templates, to create any type of squeeze pages that you can fancy.
Pros
You can get started within minutes after choosing your preferred professional template.
All landing or squeeze pages are optimized for quick conversion.
There are more advanced lead generation tools to facilitate the creation of one and two step opt-in forms.
Cons
A bit of complexity is involved in cases where you want to restrict the lead generation forms to be seen by the user.
WordPress Landing Pages Plugin
WordPress Landing Pages is a free WordPress plugin, though there are some paid add-ons.
It has some great features like form pre-population and landing page cloning to quicken your squeeze page creation process.
Pros
The visual editor makes the landing or squeeze pages creation much easier for the beginners.
You can track the conversion rates and use the A/B testing tools on your squeeze pages.
Cons
You need to purchase additional add-ons to get access to the advanced functionality of the plugin.
InstaBuilder
The InstaBuilder plugin has a nifty mobile support so all your squeeze pages can be viewed on mobile devices. You also get to choose from over 100 templates and plenty of customizable content elements included in the suite.
Pros
It has a drag and drop editor that makes the squeeze pages creation process easier and quicker.
You can even export and import pages, and pair advanced analytics with A/B testing for better analysis.
Cons
The built-in image editor isn't all the feature-full and users still miss the functionalities of Photoshop.
OptimizePress
Besides facilitating to create squeeze pages and sales pages, the OptimizePress plugin can also help create membership portals, authority blog sites and sales funnels that are mobile-friendly.
Pros
OptimizePress has a unique webinar registration page that comes handy to convince users to signup.
It also includes a real-time live editor with over 40 custom elements to quicken your squeeze pages creation.
Cons
It may be a bit complex and expensive for beginners.
Lead Pages
Lead Pages is an expensive plugin, but it can help you to create your squeeze pages within minutes and manage it completely without the usage of any codes.
Pros
It has all the user-friendly functionalities like custom colors, fonts, images, and drag and drop feature.
It includes a bundle of over 70 mobile-friendly landing page templates to choose from, and you can use them on an unlimited amount of domains.
Cons
It has a pricey monthly fee and users find it too complicated if their need is to have just a simple landing or squeeze page plugin.
These WordPress plugins provide a lot of functionalities. But wait, there are more plugin options, which can help enhance your squeeze pages and give you better results.
5 Special WordPress tools to enhance lead generation
Lead generation is an indispensable process for your website. It's worth putting your efforts and money into enhancing it to achieve maximum visitor conversion rates.
Here are some highly specialized and supportive WordPress plugins that enhance your lead generation process to create highly effective squeeze pages.
Popups, Welcome Bar, Optins and Lead Generation Plugin – Icegram Engage
Besides providing the basic optin, list-building, and email subscription functionalities, Icegram plugin goes a step further.
Using Icegram Engage, you can create powerful call the action (CTA) buttons, attention grabbing unlimited email optin forms, and multiple message styles that can be positioned to display at multiple spots on your website.
Icegram Engage also provides split testing, behavior triggers, advanced targeting, geo-targeting, more CTA actions, and much more.
You can enhance the creation of squeeze pages on your website using 20 high converting and responsive design templates and customize them to suit your website theme.
Download Icegram Engage For Free
Icegram Collect – Best Form Plugin on WP
Icegram Collect is the simplest way to create squeeze forms on your WordPress squeeze pages.
You can insert your subscription forms anywhere on your website without any coding knowledge.
Furthermore, Icegram Collect saves all the lead information acquired through the form submission to your WordPress website's database.
Along with plenty of elegantly designed readymade form templates, you get integration options with many other email marketing services and other apps.
Icegram Collect is a free plugin that is compatible with Icegram Engage and their combined usage make it one of the best marketing tools to have on your WordPress site.
Gravity Forms
Gravity Forms is a premium tool to create advanced forms for your WordPress website. You can easily extend and integrate Gravity Forms with several popular web applications and online services.
You can build complex and powerful forms without any programming knowledge following a simple process of selecting the fields, configuring the options, and then easily embedding the forms using built-in tools on your WordPress website.
Ultimate Landing Page
The Ultimate Landing Page free plugin will help you create coming soon pages, landing pages, and sales page for your WordPress website.
If you wish, you can even set up the landing page that you've created with this plugin as your website's homepage. You also get a collection of customizable templates.
Though with the functionalities of split testing, SEO metabox, and integration with other email servicers and web forms, this plugin is not very feature-rich, yet it serves the purpose of lead capturing and increasing the visitor conversion rates.
Instapage
Instapage is an effective premium WordPress plugin for creating conversion ready landing pages.
You get a suite of conversion tested templates that offer you a faster start to generate leads on your WordPress website.
It provides a collaboration tool that helps to the team members and clients to communicate and speed up the design review process.
Ready for more leads? Take action now!
WordPress is one of the most flexible and easy to manage content management system (CMS). It helps you to create a variety of lead generation pages as per your requirements.
No matter which plugin you use on your WordPress site, if you use the suggested hacks to create your squeeze pages, you'd certainly experience an increase in conversion rates, resulting in more customers and subscribers.
By following these tips and utilizing the right tools, you can create an effective squeeze page on your WordPress website and increase your chances of converting visitors into potential customers or subscribers.
What is your preferred way of increasing lead generation on your website? Which WordPress plugin do you use to create squeeze pages and forms?