What is your worst nightmare as an email marketer? Mine would be a spike in the numbers of unsubscribes. I've been hustling to grow my email list for a long time now. Guest posting, social media marketing, SEO, I did it all. I made sure that I compose a value-packed email before hitting the "send" button. But all these could not save me from an increasing unsubscribe rate.
I even remember asking myself, "How many unsubscribes are too many unsubscribes?"
While this particular question doesn't really have a fixed answer, email marketers always wish that nobody unsubscribes from their lists. Sometimes each unsubscribed email feels like a personal loss and a direct insult to the work we do!
Unsubscribes are real, and even healthy if within a small range. But there are some critical mistakes that can spike readers' dissatisfaction and unsubscribes. In this article, I'll point out these mistakes and help you fix them.
So, let's begin.
5 Biggest Mistakes that Increase Unsubscribes + How to Fix Them
Mistake 1: Sending Irrelevant Emails
Icegram Express are hardly interested in the entire email body. They would simply run a quick scan over the email content to find out if it has something relevant for them. Only if the content is interesting to them, would they read it.
Now we believe that we are only sending what our subscribers want to read – and that we know well enough what they may like. But what we often miss out on is that each niche consists of several sub-niches. Every subscriber on your segmented list may not be interested in all the sub-niche topics.
So while scanning your email, if they don't find relevance, they are likely to unsubscribe from your list. The mistake that I made was to not focus sufficiently on the "relevance factor". And the result was a sudden spike in the number of unsubscribes.
Here's What I did to Fix This Mistake:
The first is being extra attentive to the interests of our readers. The second solution is email list segmentation – splitting a large list into multiple smaller segments based on reader interests and interaction. Segmentation has to be as specific and personalized as possible. You need to create your email list based on the niche and sub-niche specific interests of your Icegram Express. Once you do this, you can send them emails that are most relevant to them.
Here's an example. Suppose you're a food blogger and you have created two specific email lists – Vegetarian and Non-vegetarian. Now, that's a good strategy. But what about the vegans? There is a significant difference between vegans and vegetarians. Vegans don't eat any animal products. On the contrary, vegetarians are ok with dairy.
So, if you send an email about cheese recipes to all the subscribers in your vegetarian email list, the vegans may get offended. If that happens a few times, a significant number of vegans may leave your list.
A good strategy here would be further segmentation – vegans, vegetarians, and non-vegetarians.
Now the question is how do you assess the interests of your Icegram Express? Well, you can ask them questions within the emails. See how Pat Flynn does it: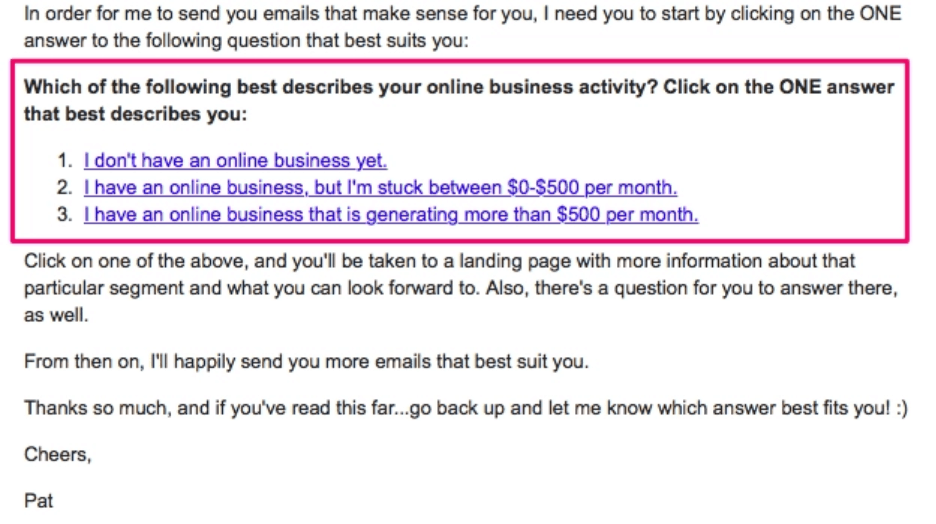 As you can see Pat Flynn comes clear to the customers and requests them to click the option that best describes their interests. This is actually a smart way to segment your email list. This will make the customers feel valued and they will help you find out their interests.
Mistake 2: Our Emails Were Not Visually Compelling
One thing that jumped to me while analyzing some of our emails was that they were not visually compelling. I investigated and listed some design problems:
The fonts were too small
Some images were too large and causing a big blank space when they were not loaded
The colors I was using were not complementary to each other and had low contrast
Most of my emails were text-heavy and boring to some extent
Here's What I did to Fix This Mistake:
The simplest way to fix this mistake was to use email templates. They are created by professional designers and can be industry or occasion-specific. I didn't have to do much hard work. All I would do is pick a good template that'd go with my email's intent and draft accordingly.
Another benefit of using email templates is that they've already optimized for mobile screens. As soon as I started sending visually attractive emails, I could observe better results. For starters, the average unsubscribe rate declined by 5% within 2 months.
Mistake 3: Emails That are Too Pushy or Salesy
I knew that the best way to sell something is by not sounding like selling! But I could not always follow this in my targeted emails. Some of my emails were extremely salesy.
Here's where I started thinking from my subscribers' perspectives. Why would they want to receive promotional emails in their inboxes every now and then? Aren't they already receiving enough of them?
I understood that the key to reducing unsubscribed emails would be to draft more informative emails. I am not saying promotional emails are bad, but to add more value to the readers, I had to provide some information that may benefit them.
If you are experiencing an increase in email unsubscribes, it's important to understand why this is happening and take steps to fix the issue. Some common reasons for an increase in unsubscribes include sending too many emails, failing to personalize your messages, and not providing value to your subscribers.
By addressing these issues and implementing strategies to improve your email marketing efforts, you can reduce your unsubscribe rate and improve customer retention.
Many of my emails asked people to buy a product, without giving them enough reasons.
Another mistake I made was not offering any discounts. One of the greatest email marketing tips I have come across is that "if you're sending sales emails, offer some discounts to make them customer-centric".
I also found that I didn't send promotional emails generally, but when I did, I sent too many of them back to back. The result was a higher unsubscribe rate.
I have also looked into my competitors' approach toward sending promotional emails. This helped me find out where the gap was and how I could fill it.
Here's What I did to Fix This Mistake:
I tried two different strategies.
Strategy 1
I changed my entire email sequence. I started following a new schedule where the focus was more on sending informative emails. I started sending informative emails and promotional emails in a 2:1 ratio. I would first educate my audiences about a product, highlight its benefits and then ask them to buy it.
Strategy 2
I re-drafted my email marketing copy to make it more customer-centric. I focused more on the benefits of a product for individual customers, offered discounts, etc. I also took some inspiration from Crashplan's email copy: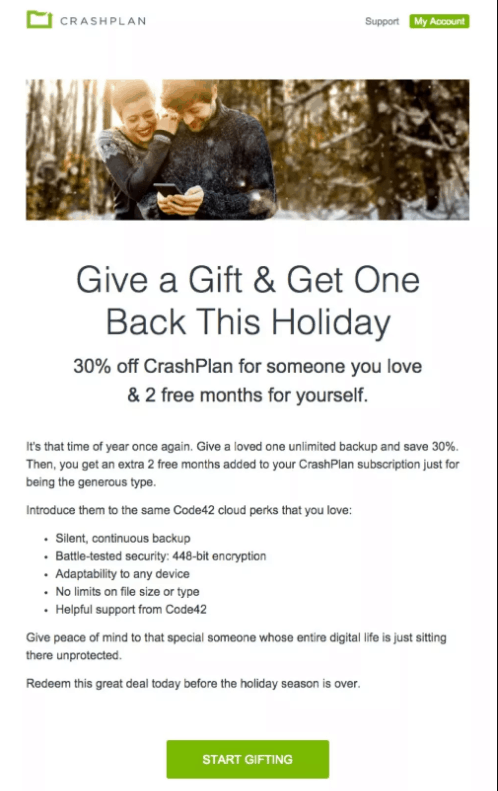 It is a perfect promotional email copy for three reasons:
It offers a 30% discount to the users
It is promotional but not pushy
It lists some major benefits of the product
Mistake 4: Some of our subscribers had signed up for initial benefits. When those benefits were no longer available, they decided to unsubscribe!!
When I reviewed my email list once again, I understood that some of the subscribers had signed up to my list for the initial benefits. These include different lead magnets like eBooks, webinars, checklists, and other cool resources we offered. But, now they're not receiving any valuable returns. And as a result, they unsubscribe!
Can I blame them? I guess no! I have done a similar thing many times. I would sign up for a retail shop for some free discounts, will complete my one-time purchase, and unsubscribe afterward.
I understood that I had to plan some long-term benefits for my subscribers. The effectiveness of email marketing lies in long-term relationship building. I tried to focus on that now.
Here's What I did to Fix This Mistake:
Once I found out the reasons behind the increase in unsubscribes, I tried these strategies:
I updated all the information on different landing pages and sign-up forms. This is to ensure that the subscribers get a clear picture of what to expect from our landing pages before they hit the "subscribe" button.
I removed some emails from my email list that I thought were irrelevant.
I also started a feedback poll for my existing subscribers. The purpose was to get their opinion on what they're expecting from us and how we could revive our email strategy.
This mistake taught me a lot of things. I understood that staying honest with the subscribers is important. If I don't deliver what I promise, they will unsubscribe. Updating content from time to time is way better than lying to subscribers or making false promises.
Mistake 5: I was not using double opt-ins!
Asking the Icegram Express to confirm their email addresses before adding them to my email list is called a "double opt-in". This is one of the email marketing best practices and saves a lot of time and effort for marketers.
Unfortunately, I learned the importance of double opt-ins the hard way. I relied on single opt-ins for a long time and this increased the numbers of unsubscribes like anything! Now I have realized the benefits of a double opt-in strategy.
With double opt-ins I could identify and remove the following types of email addresses:
People entering fake email addresses to receive free resources
Users who mistyped email addresses
Subscribers who enter the email addresses of friends/family members against their will
With a double opt-in, only people who really want to receive the newsletters will confirm/verify their email addresses. We can maintain a clean and verified email list, and overall unsubscribes reduce as well.
To reduce email unsubscribes, you can segment your email list and personalize your messages, provide valuable and informative content, and make it easy for subscribers to manage their email preferences; consumers can also opt out of email marketing through a link in the email or by contacting the company directly.
Some of us may be worried because double opt-ins can cut our email list short. But in my opinion, it is always a good idea to have a shorter email list than having a big one filled with inactive/fake contacts.
Here's What I did to Fix This Mistake:
There was one challenge with double opt-ins though. I realized that getting subscribers to confirm their email addresses can be difficult. So I took some inspiration from different brands.
Let's see what Macy's did here: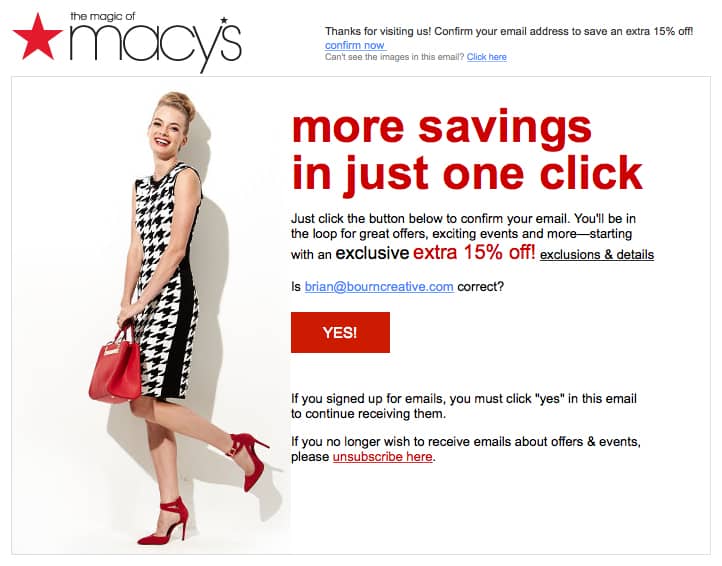 Macy's offers a 15% discount to the users once they confirm their email addresses and become part of Macy's email list. This is actually a smart way to attract customers and to persuade them to verify their email addresses.
Here's another example from Social Triggers,
The sender here has stressed the "urgency" factor. This email will make the subscriber feel that "If I don't confirm my email ASAP, I won't receive the bonus resources." This could work as a trigger and convince the users to verify their email addresses.
So here are the final takeaways from this mistake:
Using double opt-ins helps us maintain an active email list
Double opt-ins can reduce unsubscribes
To make users confirm their emails, we can send them discounts or emphasize the "urgency" factor
Mistake 6: I was sending too many emails!
Once a friend shared her experience with marketing emails. She said that she subscribed to Yandy Lingerie's newsletters. Initially, she was happy to receive their product recommendations and discount notifications. She even thought that this brand was writing progressive blogs on their website.
But then, something went totally wrong. She started receiving promotional emails from this brand every day. Sometimes even 2 emails a day. Her inbox looked something like this: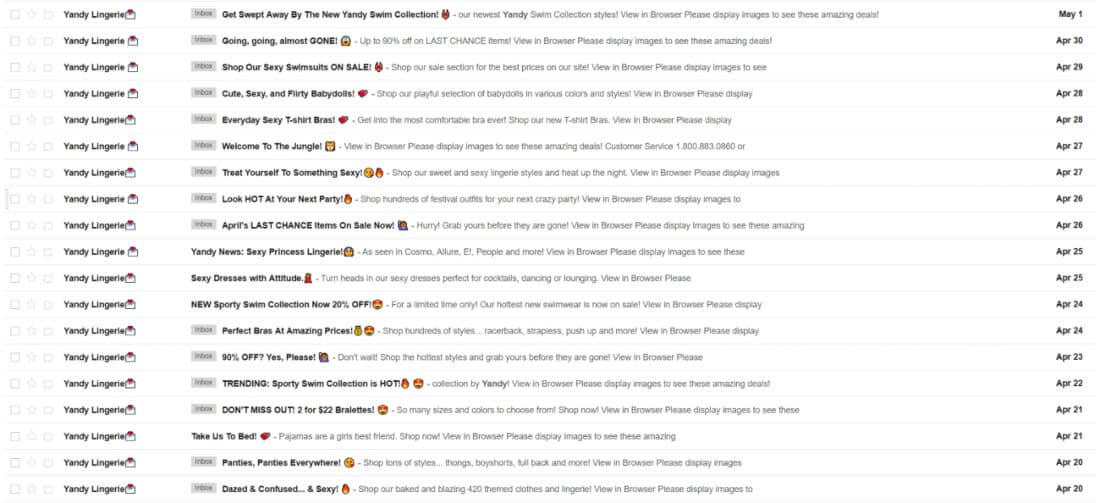 This made her frustrated and unsubscribing from their list was the only option left to her.
Here's How We Can Avoid This Mistake:
I developed two different email strategies.
Strategy 1
I switched to an email schedule where I would send fewer emails. I switched from 6-7 emails a month to one email-a-week schedule. This would give my subscribers some time to read my emails and understand the products I was offering.
To do this, I used Icegram Express Plugin. It helped me schedule my newsletters based on the frequency I select.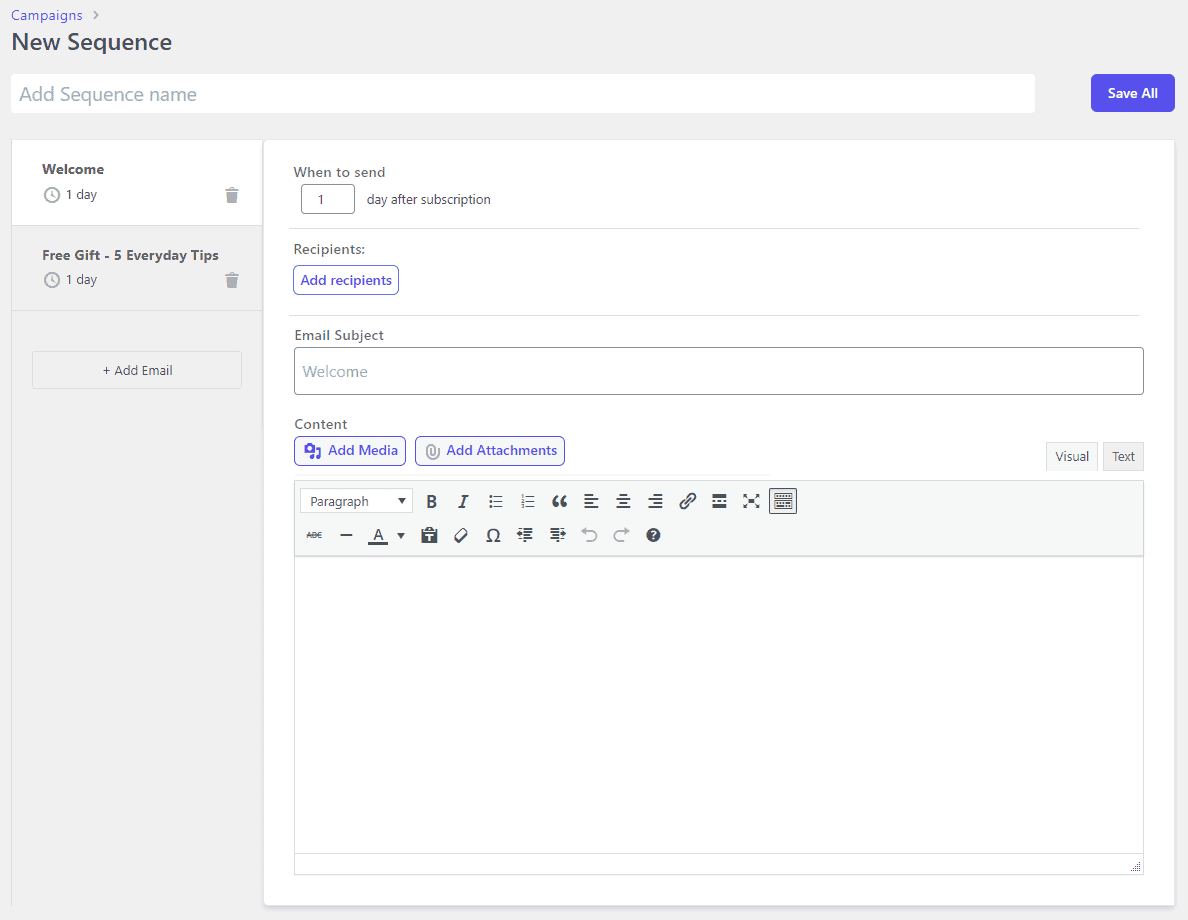 I can create as many new email sequences as I want. I can also select when I want to send, how many emails I want to send, and so on. Segmenting my email list has also become easier with this email marketing tool.
Strategy 2
The second strategy was to give the choice to the subscribers. I asked them how many times they would want to hear from me in a week. I created three separate types of newsletter frequencies i.e. weekly, bi-monthly, and monthly. Later I requested the subscribers to sign-up for whichever email list they prefer. This strategy helped me segment my email list as well.
Conclusion
There could be multiple reasons behind the increasing email unsubscribe rate. The advantage of email marketing KPIs is that they help you understand what went wrong and what changes you should make. Keep tracking the email marketing metrics. Remember that a few unsubscribe email messages are okay. But you should put effort into ensuring you take control before the unsubscribe rate becomes uncontrollable.
Start with Downloading our free WordPress Plugins – Icegram Engage (for tons of optin templates), Icegram Express (for running your email marketing campaigns), and Rainmaker (for creating simple forms) for a better email marketing experience.