With over 49,406 plugins and 1.3 billion total downloads, it would be practically impossible to imagine life without WordPress plugins.
Among that, the Editor plugins – Page Builders have proven to be a massive success over the past few years. Page Builders allow anyone to create website layouts rather quickly and which are also mobile responsive . The best part is you need not know coding to use them. 
So, without giving a second thought, we did a comprehensive research on these amazing plugins, picked the best ones and penned down reviews to help audiences select the one's that suit their needs.
These includes some freemium plugins available on WordPress, some pocket-friendly one's and some third party plugins.
Scroll down for an exclusive list of the Top Best Drag and Drop Editor plugins (Page Builders) for WordPress-
---
Visual Composer
Overview
Visual Composer is a very popular WordPress plugin by WPBakery available on CodeCanyon. It's a visual content builder with an easy to grasp interface, a ton of features and some drag-and-drop functionality.
Visual Composer offers everything you'd need from a visual builder, and it works with your current WordPress theme seamlessly.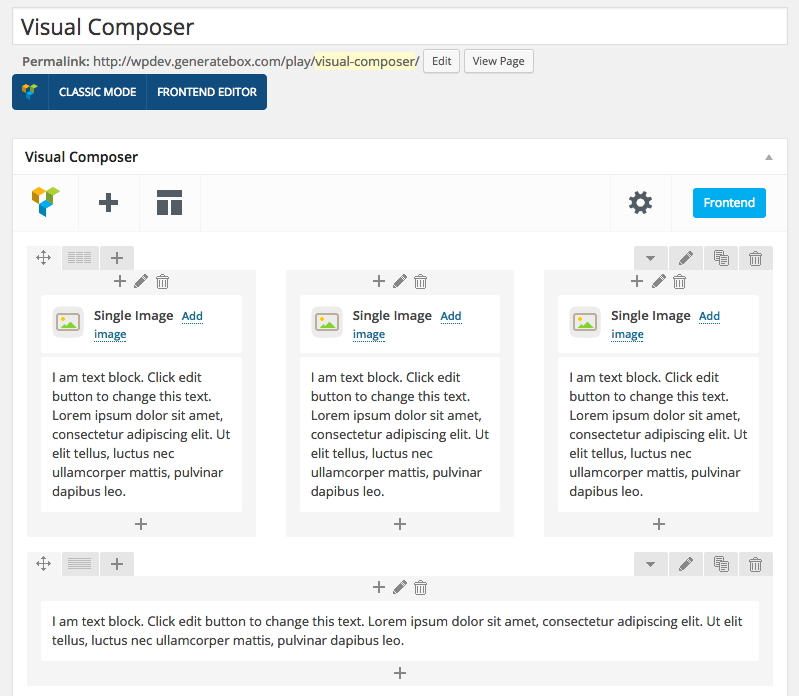 Features
40+ predefined layouts and templates
Compatible with all WordPress themes
Front-end and back-end content editors
SEO-friendly
Comprehensive knowledge base and video tutorials
Compatible with qTranslate, mqTranslate and WPML
Advantages
Can be enabled for any existing post or page.
No web development skills required.
The customer support has a very good reputation.
Works with WooCommerce.
Disadvantages
Creating rows and columns is a bit more manual.
It's shortcodes based. If you uninstall the plugin, the content you've built will stop working.
Pricing
From $49/year
---
Divi Builder
Overview
Divi Builder is a drag and drop page building plugin included in the Elegant Themes developer and lifetime access memberships.
The user-interface is displayed in your post editor and is really simple to understand. You can easily drag rows and columns into your page and you will find lots of useful options such as copy, paste, undo, and redo. You also have full control over margins and padding.
One of the best features of Divi Builder is the Divi library. It offers many pre-made layouts and it allows you to save layouts, sections, rows, and modules. These can then be used across your website.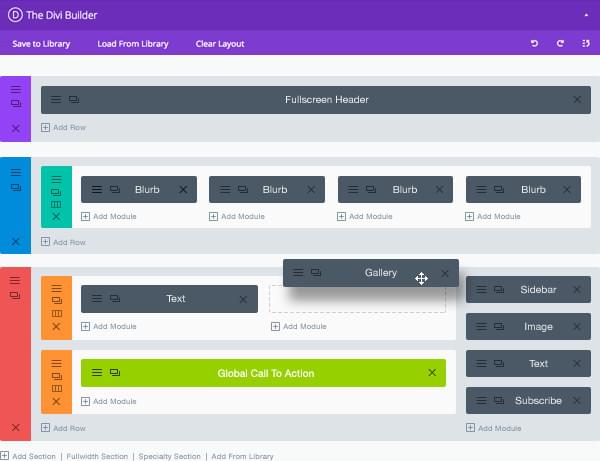 Features
46 content modules
Full customization
Compatible with any theme
No Coding skills required
Full control over margins and padding.
Complete layout spacing control
Advantages
User-friendly interface
The system for creating layouts works really well
A good variety of content-modules available
Predefined layouts are very useful
The library system opens up many possibilities with Divi Builder
Disadvantages
Is not available on its own – An Elegant Themes membership has to be purchased
Lacks some content modules and can't extend plugin functionality that are available in other solutions
Pricing
Included with the Elegant Themes pack.
$89/year OR Lifetime access at $249
---
Thrive Architect
Overview
Thrive Architect is a WordPress page builder that has been specifically made with a goal of helping users create beautiful pages that converts well, turning your site into a marketing machine!
And the plugin lives upto it's mark. With over 20+ different elements, easy to use drag and drop feature, inbuilt lightbox support and 100+ pre-built landing pages for all occasions, you already have everything you need for a perfect landing page.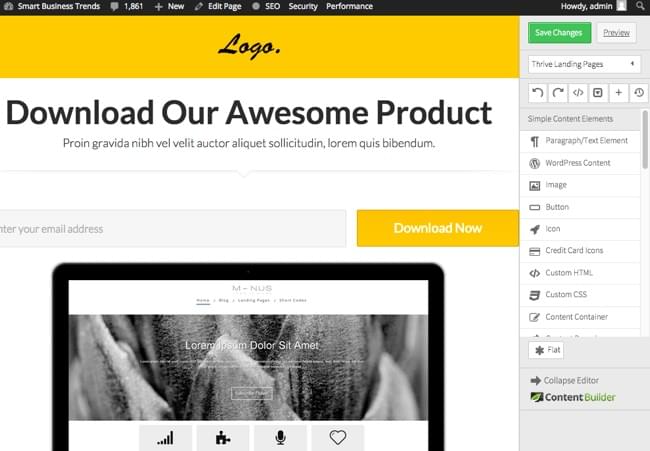 Features
Completely responsive pages
Easy drag and drop mode
Guarantee forms module
Style families
Special start ratings
Advantages
Works with blog posts, pages and all the custom post types
Helps build professional landing pages within minutes
Disadvantages
Lags and glitches experienced when there's a lot of content on the page
After deactivating the plugin, the whole page appears a blank white page & all the content becomes invisible
Pricing
Starts at $299/year which also includes other thrive plugins
---
Conductor
Overview
Conductor is an amazing WordPress plugin that actually blends itself with the current WordPress customizer to offer you options to build and edit your content easily.
Since it is customizer based, there's absolutely no learning curve, as most of WordPress users already know how to work with the Customizer.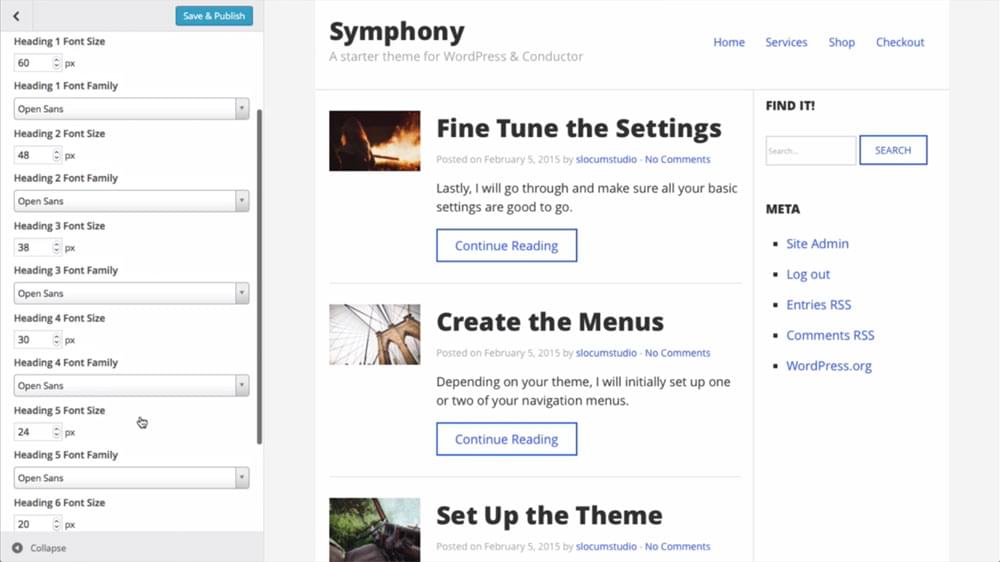 Features
Insert WordPress widgets into content
Modify the look of WordPress theme
Change page layouts
Advantages
Zero learning curve
Page elements styling made easier
Disadvantages
Limited with what you can do
Can only be used to change page layouts and modify the look of WordPress
templates
Pricing
$99/year for up to hundred websites
---
Frontend Builder
Overview
Frontend Builder lets you create beautiful pages and style your content right on the frontend. Everything you build is live, just looks like the way it will look after you publish the page. It's available on CodeCanyon.
The interface of the plugin is clean, with the elements aligned to the left and the editing options to the right, though it takes out a lot of space from your pageview space.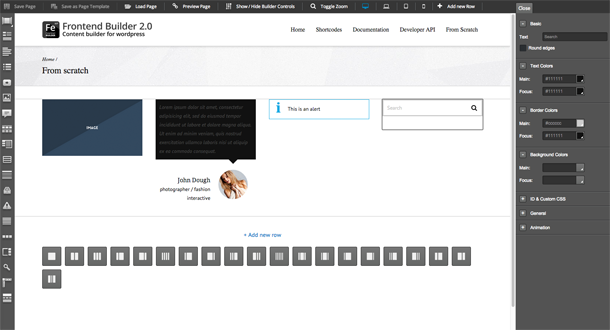 Features
Responsive
Advanced Widgets
Supports animations, parallax and video backgrounds
40+ modules
Advantages
Advanced custom styling options
Lots of Widgets
Disadvantages
Pricing
$56
---
SiteOrigin Page Builder
Overview
SiteOrigin Page Builder is a very popular plugin on WordPress. It's an interesting visual content builder plugin that's packed with loads of features. However, by far the most interesting characteristic of it is that it's completely free.
SiteOrigin Page Builder integrates with your current WordPress theme and lets you use the plugin for your posts and pages. The editing happens on the back-end (through the standard editing screen in WordPress). There's also some drag-and-drop functionality for realigning the blocks.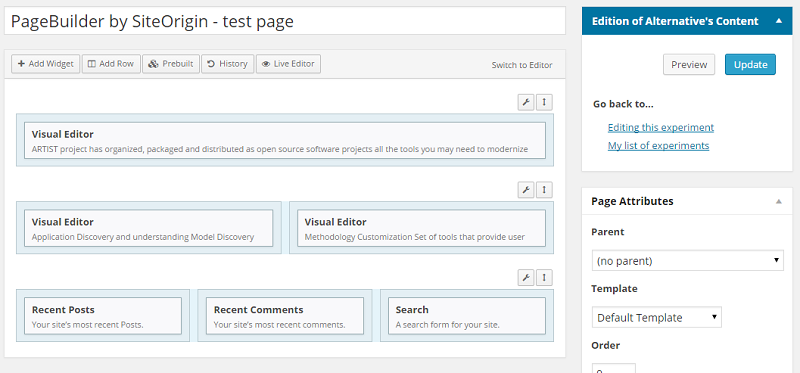 Features
Compatible with all WordPress themes
Responsive and mobile-ready output
You can use WordPress widgets as content blocks
There's a set of built-in content blocks, and an additional set of blocks you can get from an add-on plugin (also free)
Back-end content editing (from WP-admin).
Available in 17 languages out the box
Advantages
It allows you to use the widgets you already have on your WordPress site (including widgets from other plugins)
Works on any post or page
Live-editing
No coding skills required
Disadvantages
Slight difficult. For example, to add any element to your page, first you need to create a new row and only then pick a block/widget to place in it
You can't import layouts from pages you built previously
Pricing
Free + Premium addons to improve existing features.
$29/year
---
Beaver Builder
Overview
Beaver Builder is a popular and an advanced visual content builder with full drag-and-drop support.
What sets this plugin apart is its custom content editing interface. It's on the front-end, and it gives you an exact representation of what your page is going to look like when you publish it.
Everything you build with the plugin is going to be mobile-friendly, and it'll work with your current theme. You also get to reuse your designs by exporting them.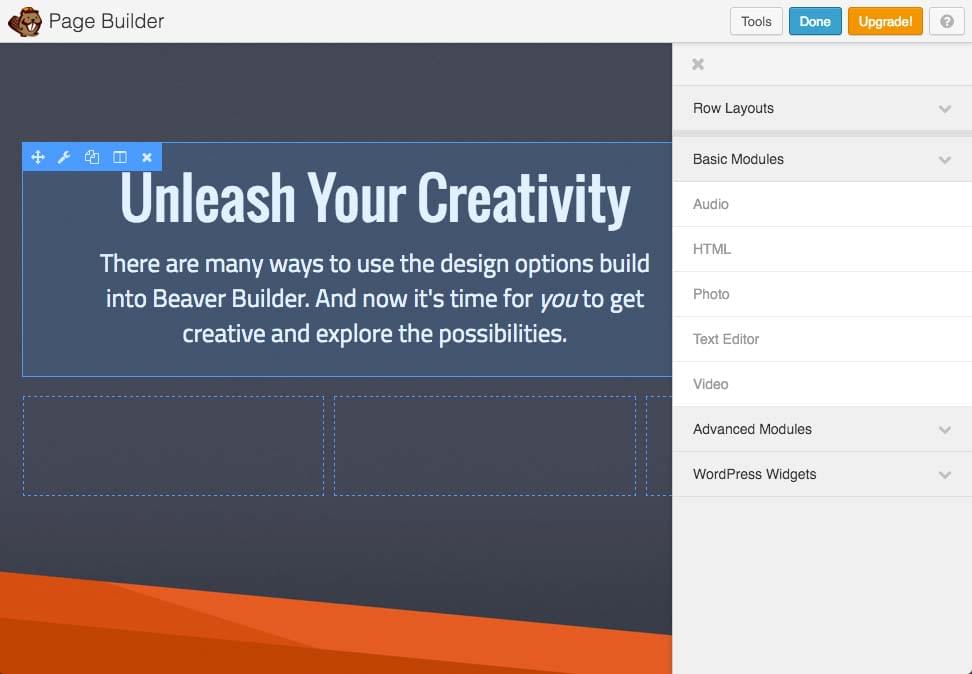 Features
Compatible with WordPress and other themes
Real-time drag-and-drop content creator and pre-built pages
White label option to showcase personal branding across all websites
WPML support
Support for WooCommerce storefronts.
Advantages
Built-in SEO with markup from schema.org and code compression for easier interpretation by search engines
Minimal markup as a result of eliminating unnecessary code resulting in faster page load times
Numerous high-quality modules, widgets, and pre-built pages for quick content creation
Support for the WPML translation plugin and WooCommerce
Disadvantages
Expensive- The cheapest license is $99
Layout editing possible only on the front-end
Pricing
$99 for a single site license
There's a lite (free) version available on WordPress repository.
---
MotoPress Content Editor
Overview
MotoPress Content Editor is a WordPress plugin that hooks up to whatever theme you're currently using, and then lets you add some flare to your blog posts and pages.
It enhances the standard WordPress editor and enables to build websites visually.
It's a drag-and-drop content editor, which means that you don't need any source code or web dev skills to use it.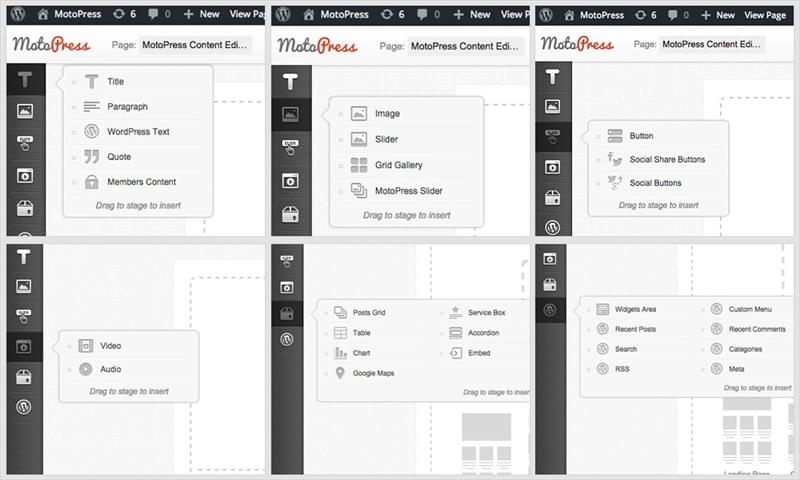 Features
30+ built-in content elements
Compatible with all themes
Responsive and mobile ready layouts
WPML compatibility
Possibility to lock parts of the content and make it members only
Advantages
Can be enabled for any existing post or page. (That isn't always the case with some other plugins)
Intuitive drag-and-drop interface. It recognizes where you want to put each block, and it snaps right in the right place
Lets you create multi-column layouts easily (youmon just drop a new element next to an existing element)
Full Support available
Disadvantages
It's shortcodes based. If you uninstall the plugin, the content you've built will stop working.
To edit your posts using the plugin, you have to click the MotoPress Content Editor button every time you go to the editing screen
Pricing
$39 for a single website license
Free version available on WordPress.org
---
Themify Builder
Overview
Themify Builder is a user friendly drag and drop Page Builder which offers two editing modes – Frontend and Backend.
What makes it better as a time-saving drag and drop page builder is the 40+ professional layouts that are pre-built into the builder. You simply need to replace the text and images and you're done!
Themify builder offers a very user friendly, compact backend to quickly build content as well as a frontend to build and instantly have a live preview of how the page will look after publishing.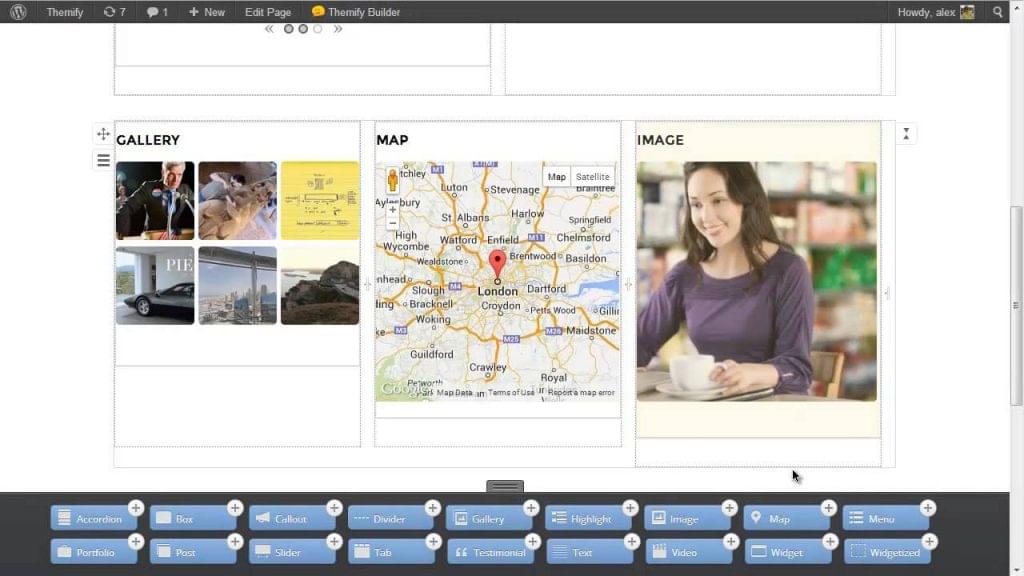 Features
Completely Drag and Drop
2 Different Modes for editing content – backend and frontend
Live preview feature
Quick duplication and undo/redo of elements
Every imaginable combination is possible
Advantages
Very easy to get started
Provides 40+ pre-built layouts
Inbuilt builder caching system to reduce server resources and process pages
faster
Disadvantages
Limited elements. Most of the elements are premium.
Pricing
$59 with one theme
---
Live Composer
Overview
Live Composer, as the name suggests is a page builder for WordPress that lets you operate and edit pages on the frontend. It's a beautiful drag and drop page builder made to help you quickly build pages, edit content and publish it.
30+ Content Modules takes the designing process to the next level. Once you're well acquainted with the interface, it will then take no time in creating advanced layouts within a matter of few minutes.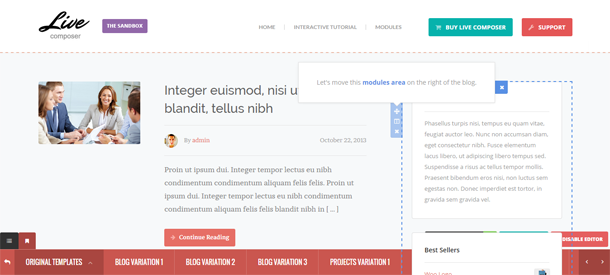 Features
Responsive Drag and Drop Builder
Frontend mode that shows everything live
Several content modules are WordPress oriented to insert custom posts,
comments, etc.
Advantages
30+ Content modules
Easy Interface
Disadvantages
Lack of advanced styling options
Pricing
Free. You need to purchase extensions to add styling options.
---
Page Builder Sandwich
Overview
Page Builder Sandwich is one of the most intuitive drag and drop page builders that works completely on the frontend. No glitches, no hassles; you can build everything quickly, and in real time.
What makes it special from others is the lesser time spent to create, edit and revise elements. When it takes you more than 3 steps to add an image, it takes you just 1 click to add an image in the Page Builder by Sandwich.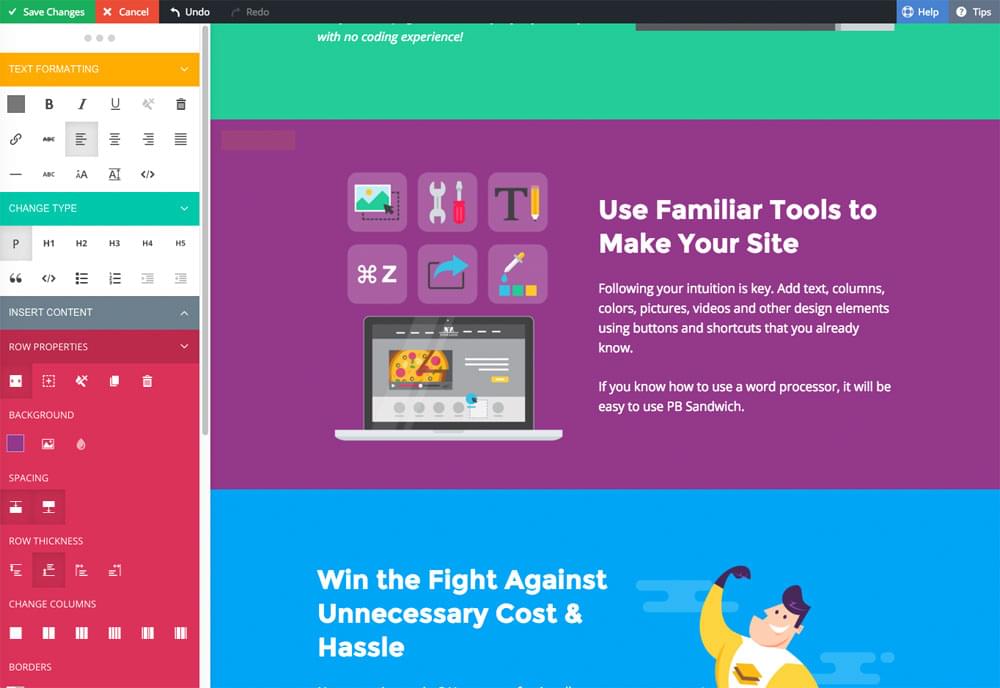 Features
Super quick to use
Frontend mode with everything live
Easy resizing columns according to your own needs
Less resource heavy
Works well with current pages
Advantages
Responsive pages built quickly
Stress free and fluid experience
Very simple to use
Disadvantages
Complex UI. Takes time to get acquainted
Lack of elements
Pricing
Free version available on WordPress repository.
Other plans from $29/year
---
Conclusion
These were some awesome plugins we have reviewed it for you below. Hope you found your required one.
Also, if you have used any other editor plugins or came across which can be handy to use, do let us know by posting it in our comment section. It will be a very good piece of information for all the readers.