Popups – love them or hate them, you just can't ignore them. Well done popups are great for getting leads and subscriptions. So here's our review of one of the highest downloaded popup plugins on WordPress – 'WordPress Popup (by wpmudev)'. And sure enough, we'll pitch it against Icegram – the popups-plus-a-lot-more-for-free WordPress plugin that's gaining huge momentum.
Installation
Both Icegram and WordPress Popup are available for free on WordPress repository and both can be installed and used without providing email id.
Optin Types
Optins still convert the best when it comes to list building and when you provide some innovative optin types, the conversions are more.
Icegram provides 4 optin types-
Popups
Action Bars(header/footer bars)
Messenger(slide-ins)
Toast notifications
Icegram has a total of 12 innovative message types in total(Free + Paid).
On the other hand, WordPress Popup provides only 1 optin-Popups.
Customization
Themes
If an optin doesn't attract your visitors, it's of no use. Good set of built in design and the flexibility to customize it should get top marks…
Icegram
Icegram's designs are a combination of proven and fresh. It includes design styles that have had high conversion on major websites.Icegram contains an amazing collection of 20 free themes spanning across its four message types. It has a total of 74 themes in its kitty (Free + Paid). Each theme can be customized and styled as per user's choice- changing dimensions, adding media file, add background image, etc.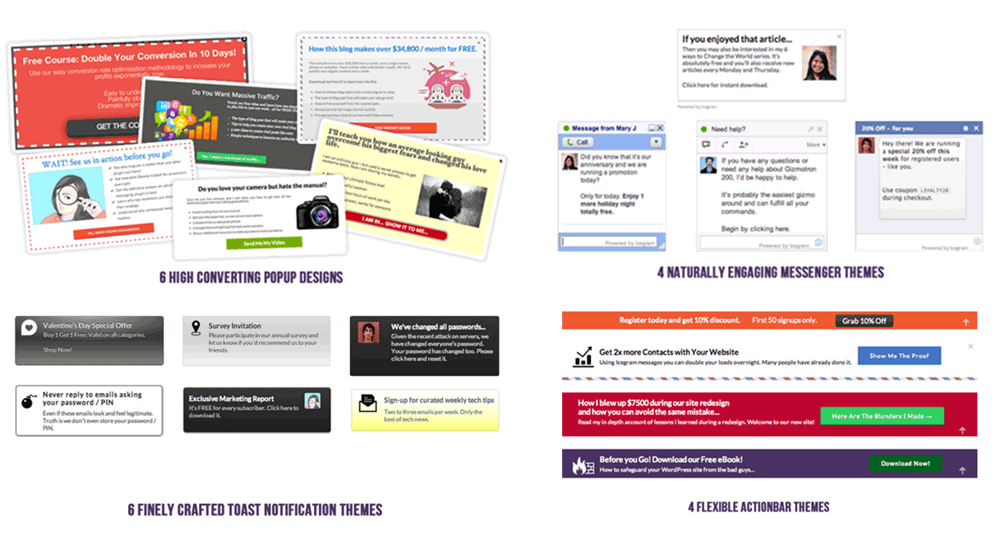 WordPress Popup
WordPress Popup has only 1 theme in its free version. It has 2 other themes in the premium version. Each theme can be customized and styled as per requirement.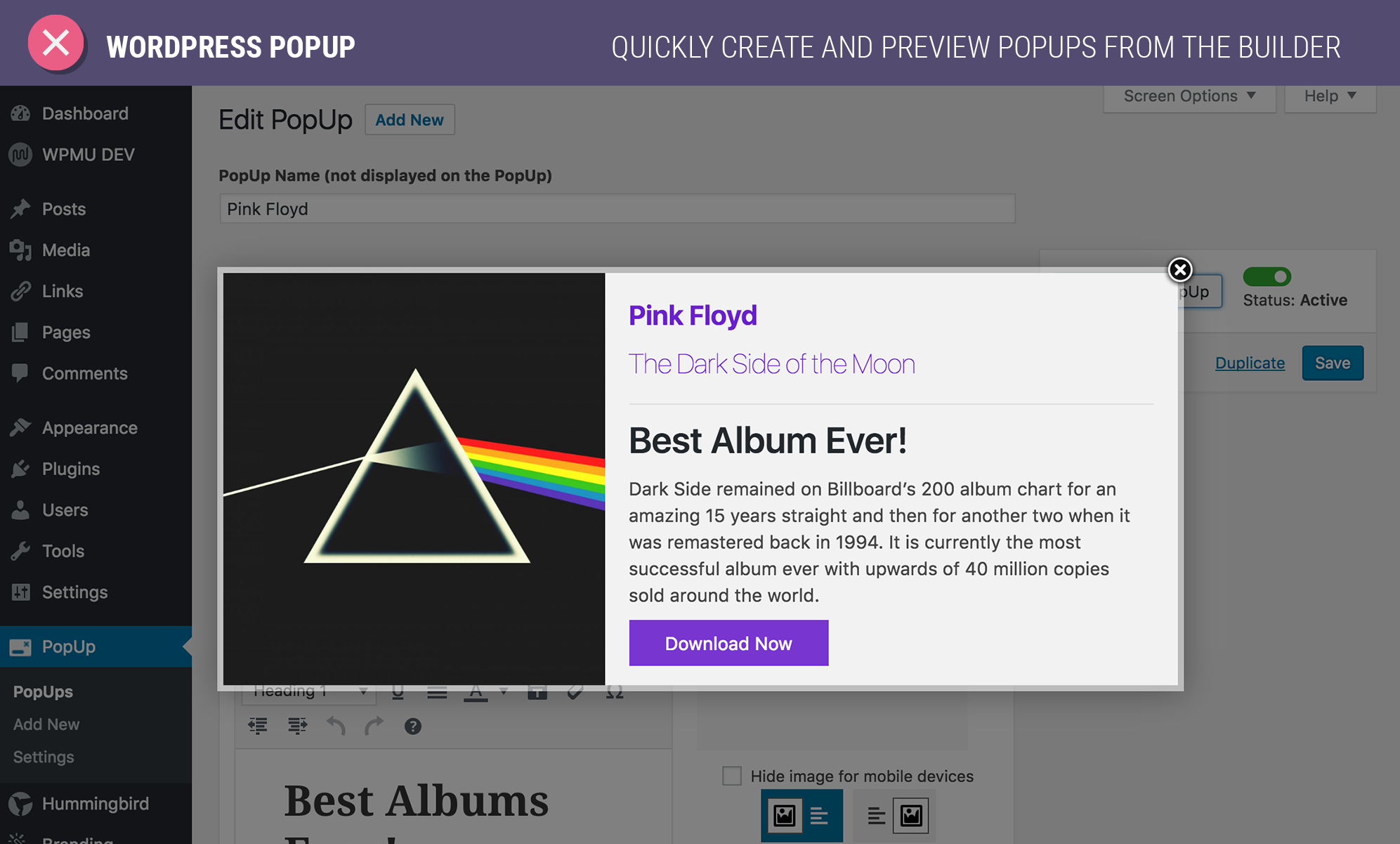 Optin Limit
Top marketers/bloggers show multiple optins on their site to convert visitors by all possible techniques.
With Icegram, you can create and display unlimited optins on  your website in the free version while with WordPress Popup, you can show only 3 popups on the website in free version.
Editing Panel
Both Icegram and WordPress Popup come with a simple and easy-to-use editing panel.
You can add images to your optin as well as change optin size. You can also add your own custom CSS code for your optins.
Both plugins also provide option to preview your optin before making it live on website.
Headline Generator
If themes grab visitors attention, powerful headlines convert them.
In Icegram you can add your own headlines or generate strong headlines from the in-built headline generator.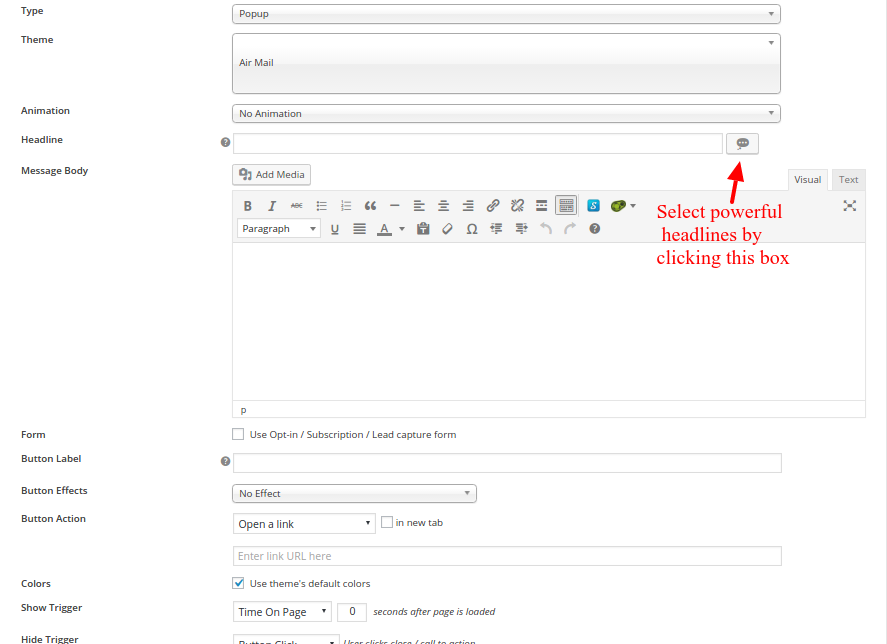 In WordPress Popup, you need to create your own headlines. There is no headline generator.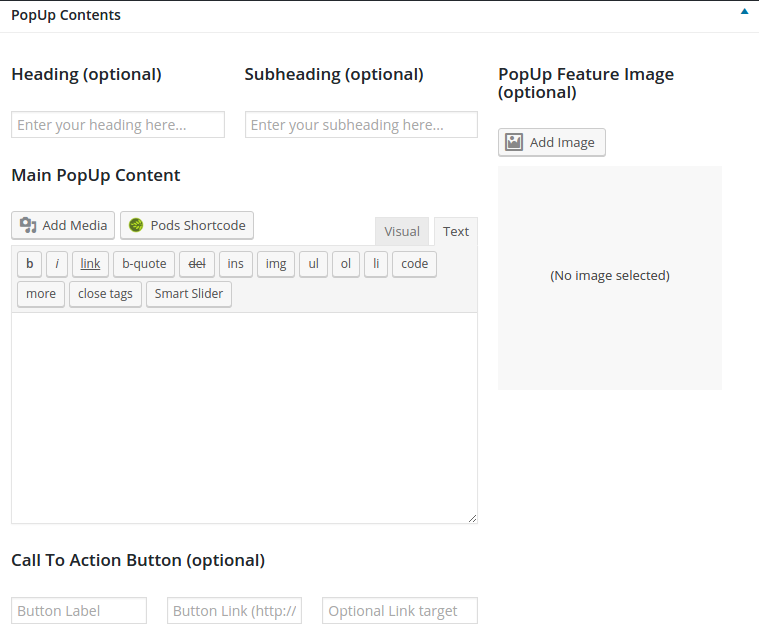 Targeting Rules
More than 90% websites use optins backed with targeting rules as simply showing an optin at any time doesn't give any desired results.
Icegram
Icegram is full featured.. – free as in free beer plus free as in freedom!! There are no limitations whatsoever in the free plugin and you can set any amount of targeting rules easily such as:
When to show optin
Whom to show optin
Show on mobile phones
and more…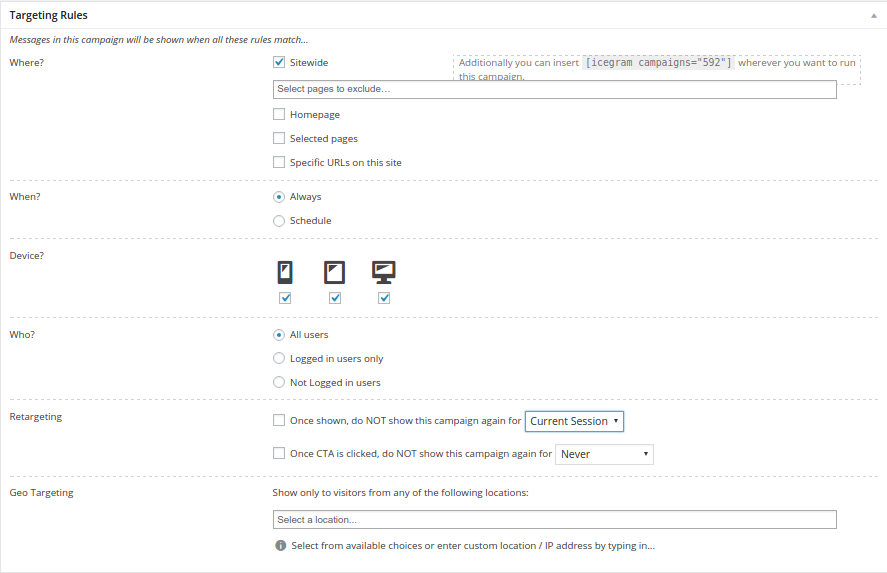 Icegram also has exit intent trigger for all its 12 optin types. It's available as a paid add-on Behaviour Triggers that also includes powerful options like advanced retargeting and Geo-targeting.
WordPress Popup
WordPress Popup also provides good targeting options in the free version such as:
When to show optin
Whom to show optin
Show on mobile phones
and more…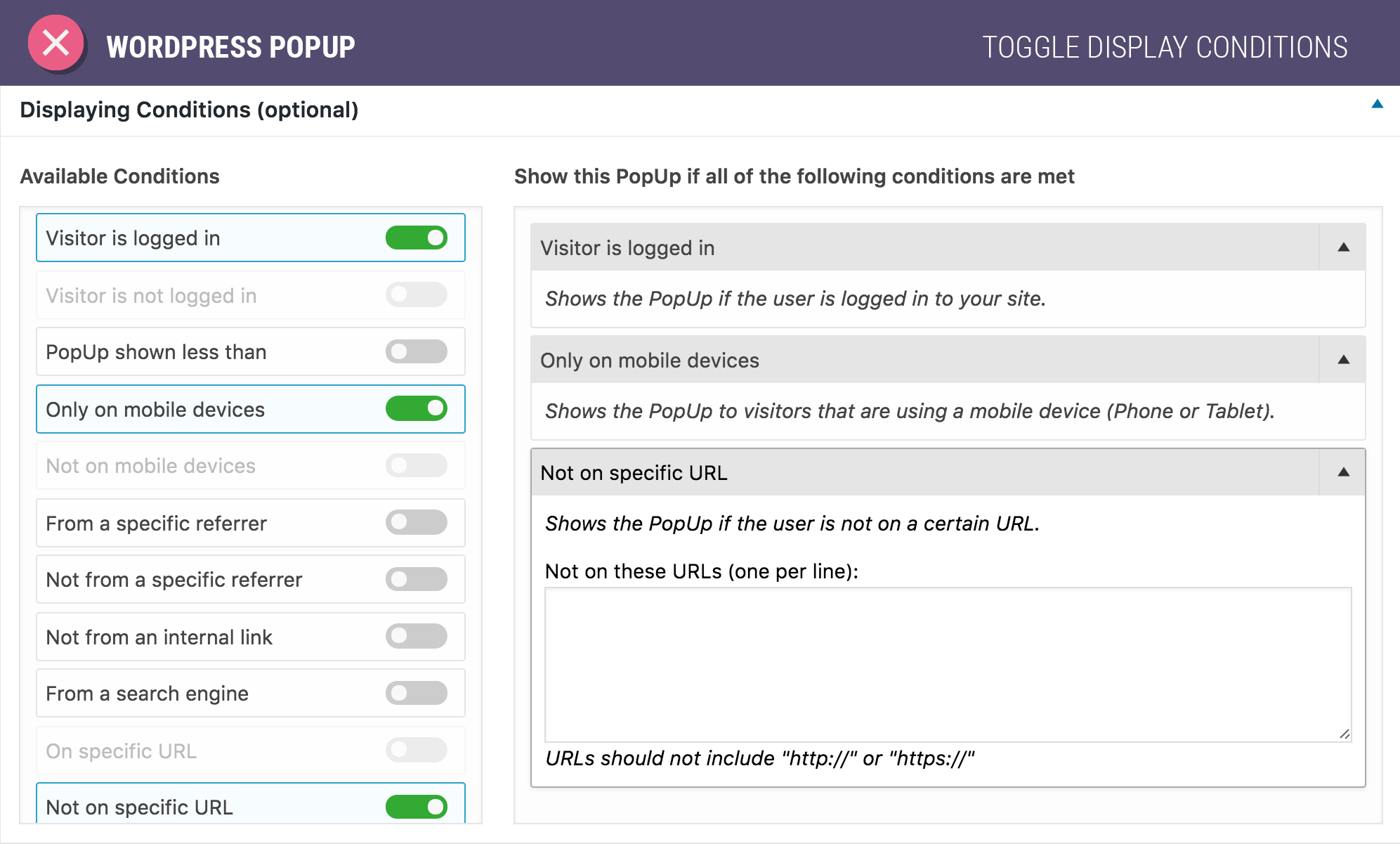 Other targeting rules are available in the pro version.
WordPress Popup too has exit intent trigger but only for popups and in the pro-version.
Other Features
Analytics
You wouldn't like your optins/popups to be an arrow you shoot in the dark, would you?? You want to measure performance of your popups so you can tweak them for better conversions.
Icegram
Icegram provides conversion and impression Analytics as well as conversion rate represented in color graphs which are easy to understand.  You can track how many times your campaigns are seen and clicked upon right within the campaign.

WordPress Popup
Unfortunately, WordPress Popup does not include analytics or statistical features. You'd have to cook up your own solution or rely on link tracking…
Animations
Animations give the necessary style factor to the optins which makes them appear pleasant.
Icegram
Icegram has option to add beautiful Animation effects to it's optins and CTA buttons. It's a paid add-on.
WordPress Popup
WordPress Popup provides some animation effects in the free version while some are available in the pro version.
Free Features at a Glance:
Features
Icegram
WordPress Popup
Popups

Yes

Yes

Header/Footer
Bars

Yes

No

Messenger
(Slide-ins)

Yes

No

Toast
Notifications

Yes

No

Themes
20
1
Number of Optins
to display on site
Unlimited
3
Add images

Yes

Yes

Headline Generator

Yes

No

Targeting Rules

Yes

Yes

Analytics

Yes

No

Animations

Yes 

(Paid)

Yes 

(Free and Paid)
Conclusion: Whose the winner?
Both WordPress Popup and Icegram are free and loaded with features. WordPress Popup may be good for beginners, but is tad too simple. Icegram is the clear winner in this comparison. It knocks down WordPress Popup in almost all aspects – flexibility, power, theme, Whatever..
We can recommend Icegram to you without any reservation here..