Header / footer notification bars are effective on every website. It was Hello Bar that popularized it of course, but today there are so many plugins that provide similar or even better functionality. In this post we compare two such plugins  WP Notification Bar and our own Icegram.
60 seconds to setup an action bar – Quick Configuration
The one page quick configuration panel in both WP Notification Bar and Icegram allow you to setup an action bar in 60 seconds or less!
Here's a look at both: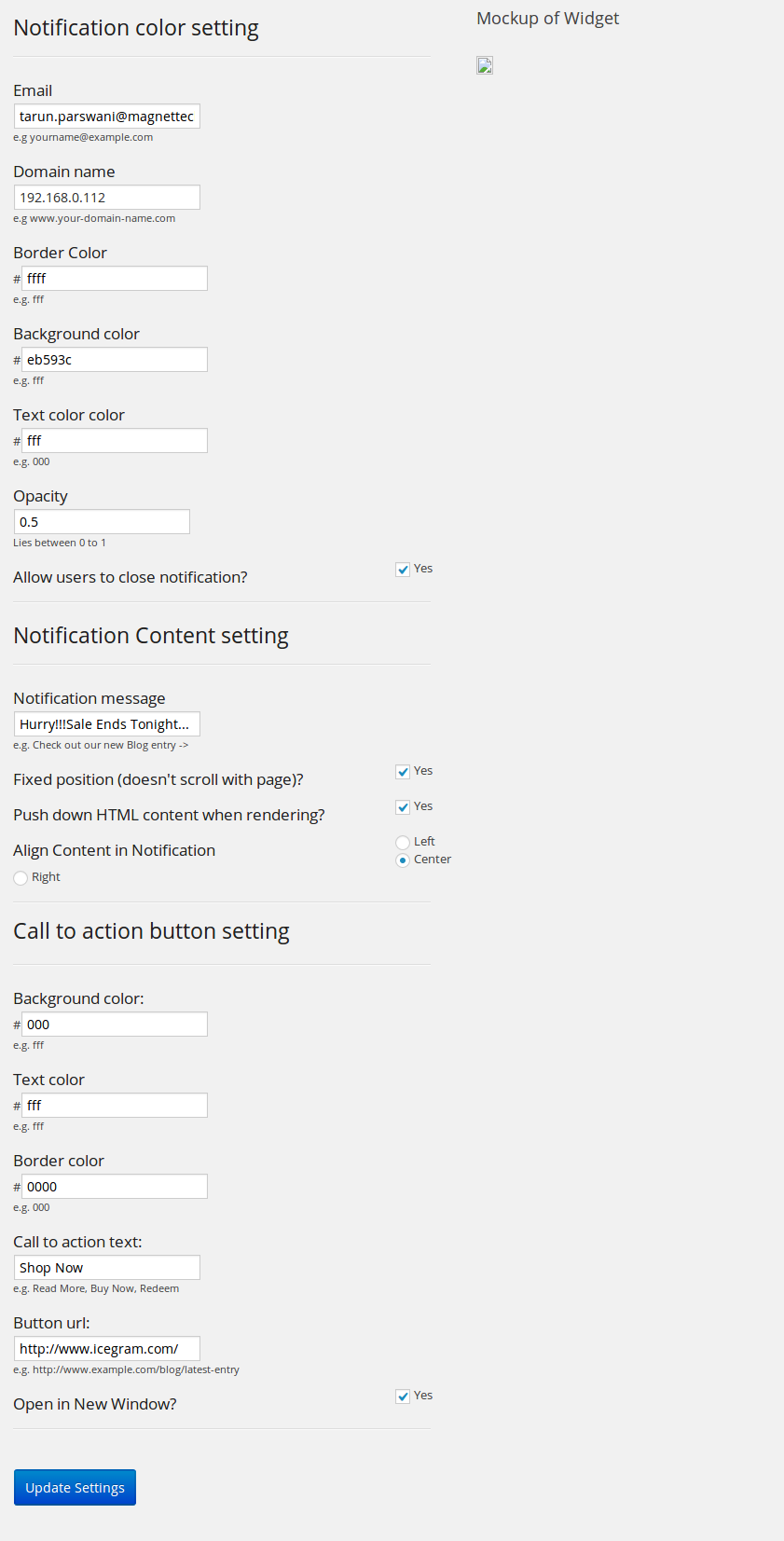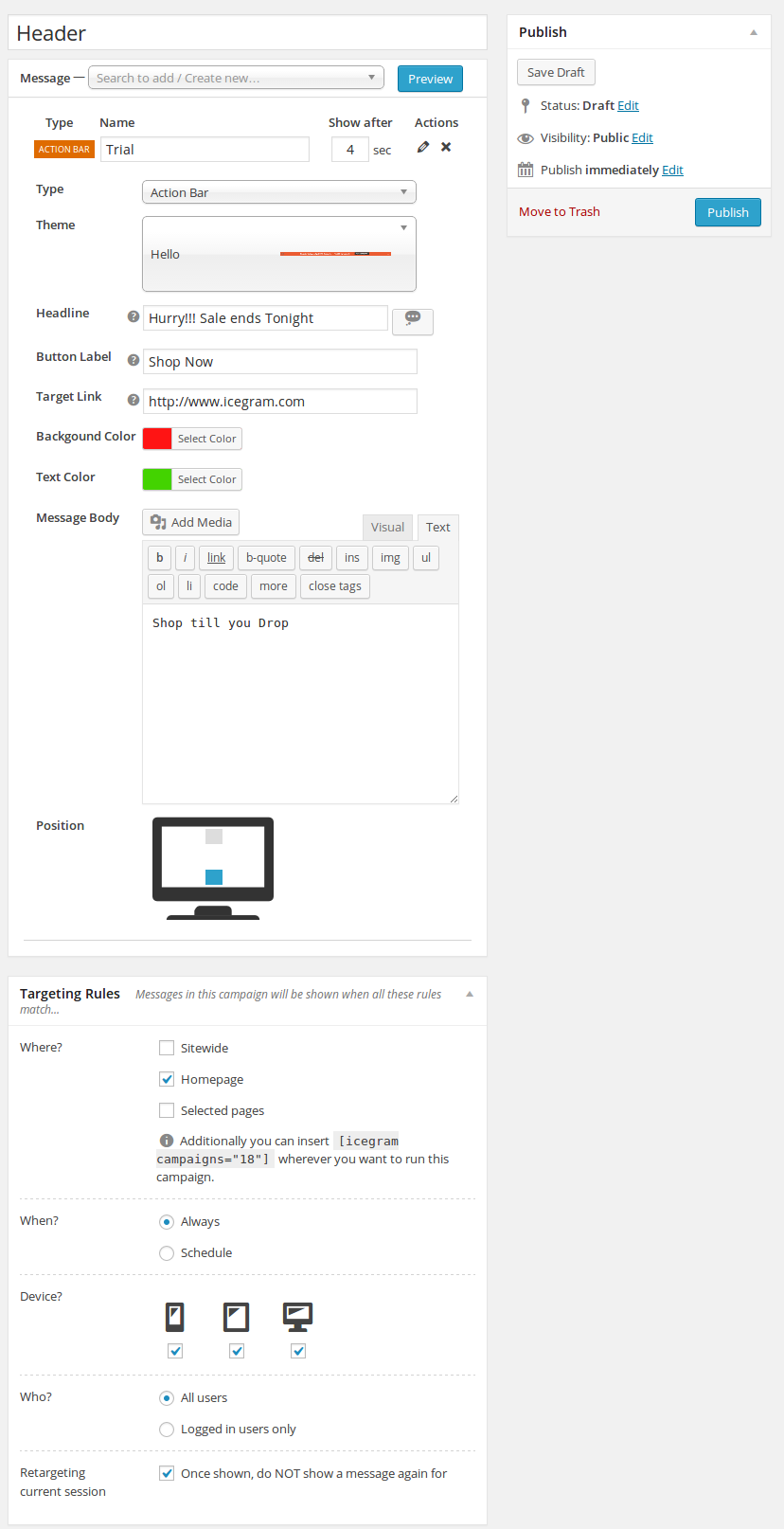 No More Worrying About Getting Headlines Right… Icegram's Headline Generator
Icegram provides a unique feature – a headline generator. Clicking on the idea bubble instantly gives you a new "fill in the blanks, and ready to use" headline. These headlines are proven to convert and make the task of working on your marketing message much easier.

Ease of Customization
If you compare customization options – setting up colors for various elements etc., WP Notification Bar does not provide a color selector, but a text field where you put in hexadecimal color values. Icegram provides an easy color picker. But WP Notification Bar provides color options for more elements – border, background, text and call to action button details. Icegram keeps it simple, and gives color options for background and text.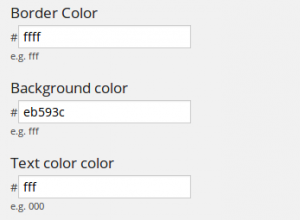 Themes
Icegram includes four different designs for themes – apart from the ability to customize colors. This is a great feature and makes your notification action bar make look different from typical Hello Bar look alikes.
Full Customization with WP editor
Icegram allows complete control over the content of the action bar with WordPress editor. You can add custom CSS and JavaScript and take full control of how your messages look.
Opacity – Translucent notifications?
If you want your notification bar to be translucent, you can set an opacity value in WP Notification Bar. Icegram does not provide a setting for this, but you can do it by adding custom CSS in your message content.

Positioning on the page
WP Notification Bar can only be placed at the top / header of the page. Icegram action bars can be placed either at top or bottom of the page.
Clever Targeting Rules
Icegram has flexible targeting rules that help you decide where, when and to whom the action bar should be shown. WP Notification Bar provides page and user level targeting.
An important thing about Icegram is that it lets you create campaigns. Each campaign has targeting rules. And each campaign can contain one or more messages. These messages can be action bars (i.e like WP Notification Bar, Hello Bar etc) or popups, messengers or toast notifications.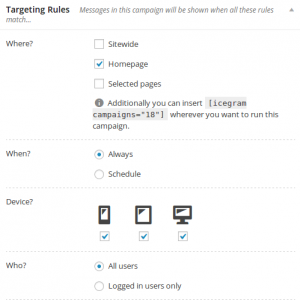 Even clever – Retargeting Rule
Icegram also lets you hide the action bar once the user has seen it for this session. Which is pretty clever.

Summary
Below is a comparative summary of WP Notification Bar and Icegram.
| | | |
| --- | --- | --- |
| Feature | WP Notification Bar | Icegram |
| Configuration Panel | Single page easy configuration | Single page easy configuration |
| Customization | Manual Color Code Selection | Easy Color Picker, Full WP editor |
| Themes | None | 4 Built In themes |
| Opacity | Available | via custom CSS |
| Preview | Available | Available |
| Number of Notification Bars | Unlimited | Unlimited |
| Campaigns | Not Available | Yes, extensive options |
| Positioning | One Position (Header) | Two Positions (Header, Footer) |
| Targeting Rules | Available | Available |
| Re-targeting Rules | Not available | Available |
| Headline Generator | Not available | Available |
| Other Message Types | Not available | Popups, Messengers, Toast Notifications |
| Price | $29 | Free |
That's our review of WP Notification Bar and Icegram. Which one works for you? Do comment 🙂