Enabling and Understanding the Weekly Summary Report in the Icegram Express
The most common mistake of Email marketing is not keeping a track on the analytics of their campaign, which can have a substantial impact on the campaign's objective. Analytics play a vital role, to improve the subscriber's engagement and create an efficient and effective campaign.
Whereas we understand that analyzing Key Performance Indicators requires time and effort. Hence we have come up with a feature called Email Summaries, which is a weekly report sent to the admin email address. It will send you a quick rundown about the contact growth, the number of subscribers or unsubscribes, Sent Emails, Click Rate, and Open Rate without even logging in to WordPress.
These reports can be helpful in a number of ways. For example, open rates can help you understand the engaged audience, sent emails will give a quick note of how many emails are actually delivered in the past week and you can also track how your campaign performed in terms of spam score, the targeted audience, etc.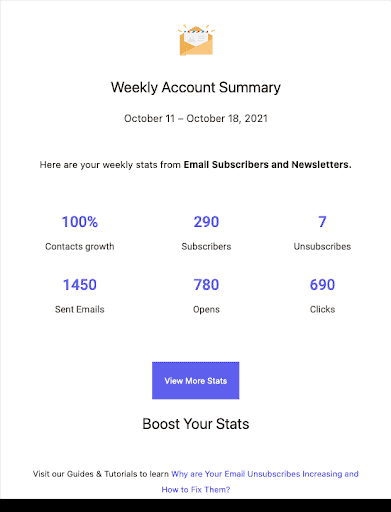 Follow the steps to enable the weekly summary
Step 1: Navigate to Icegram Express > Setting > General.
Step 2: Enable the toggle switch to enable a Weekly summary.
Step 3: Select the automated weekly email that should be sent out, you can change it as per your convenience. (In the above example we have selected Monday).
Step 4: Select the time when you want to get your weekly account summary report (In the above example we have saved 4:00 PM).
Step 5: You will receive an account summary report on the admin email.

Frequently Asked Questions
Q1 How can I disable Email Summaries?
Ans. If you don't want to receive Weekly Summary reports, you can disable this at any time. Open your WordPress admin area and in the left side menu, go to Icegram Express > Setting > Notification > Weekly summary. You can toggle the switch off to disable it, then be sure to save your settings.
Q2 What are the statistics which will be provided in the Weekly Account Summary.
Ans. Opens: The total number of emails viewed by the subscribers in the past 7 days.
Contact Growth: It is the percentage of new contacts in the past 7 days compared to the previous week.
Subscribers: The total number of users that have subscribed in the past 7 days.
Unsubscribes: The total number of users that have unsubscribed in the last 7 days.
Click: The total number of subscribers that clicked on the links in the email in the last 7 days.
Sent: It is the total number of emails sent to the subscribers in the past 7 days.
To know more about campaign performance and analytics click on view more stats in the email which will redirect you to the detailed reports.