All About Countdowns…
'Minute to Win it' how many of you have seen this game show? Assuming a majority, you will probably agree to the fact of how exciting, thrilling a timer or a countdown can make a situation. It is seen that, a timer not only excites the person that's subjected to the timer but also the one that's set it.
Cutting the long story short, I simply want to emphasize on how a countdown can thrill your audience and then compel them to act before time runs out!
For an e-commerce stores, countdowns have proved to be very handy and have grabbed tons of eyeballs. Here are a few examples of how countdowns have been used over the years..
Show a special offer for a particular period of time.
Run a contest
Show a teaser/promote a new product
Conduct a launch
Countdown Timer + Icegram Engage
Wondering if you can set up a countdown timer in Icegram Engage? Absolutely yes! you can. Here are some examples
Popup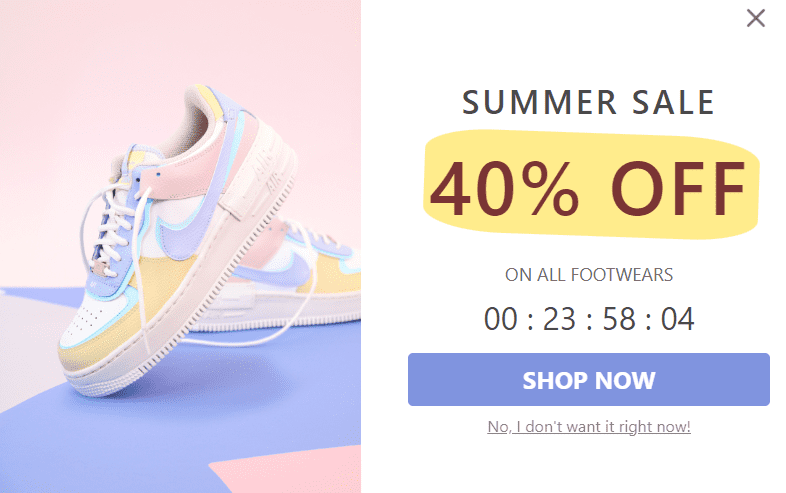 Action Bar

Step by Step guide to integrate Countdown with Icegram Engage
Step 1: Install and Activate Icegram Engage Max.

Step 2: Create New Campaign or Edit a previous campaign.
Step 3: Visit Display Rules > Countdown timer > Enable.
Step 4: Set the timer settings: Start Date, End Date with the Time (Eg 11/12/2022, 15:02).
Step 5: Copy the Shortcode

and Paste it anywhere in the message body in order to show the timer.
Step 6:Save/Update the campaign.
Over to You
WordPress countdown widgets allow you to add countdown timers to your website or blog. To add a countdown widget to your WordPress site, you can use Icegram Engage plugin. Some of the best WordPress countdown widgets include Icegram Engage, HurryTimer, Countdown Timer by WPDevart, and Countdown Timer Ultimate.
These plugins offer a range of customization options and can be easily integrated into your website or blog. By using a countdown widget, you can create excitement and urgency for your audience, encouraging them to take action before the countdown reaches zero.
Any issues? Any suggestions? Tried these or any other countdown plugins? Do let me know your experience below.