How to Redirect Subscribers to a new page/url after successful sign up
How to Redirect Subscribers to a new page/url after successful sign up
You would need to use our free WordPress plugin – Rainmaker for this.
What is Rainmaker?
Rainmaker is our free WordPress plugin to collect leads on your WordPress website. It provides you readymade form templates, styles that can be inserted anywhere on your WordPress website.
Why should I use Rainmaker?
Rainmaker provides readymade beautiful designs that convert faster. You don't need to have any coding background in HTML, CSS, Javascript. The forms are all readymade. You only have to select the form fields, form design and place you want the data saved and deploy it. Apart from that, Rainmaker also has many features.
Be a blogger, marketer or a store owner, Rainmaker is your must have tool to keep in touch with your customers.
Steps to redirect subscribers to a new page/url after successful sign up :
Step 1 : Integrate Email Subscribers and Rainmaker as explained here – How to use Rainmaker's form in Email Subscribers
Step 2 : Create / Edit a previously created Rainmaker form
Step 3 : Navigate to the Form Actions tab
Step 4 : Refer following screenshot. Check the box that says Redirect to URL and enter the URL that you want to redirect to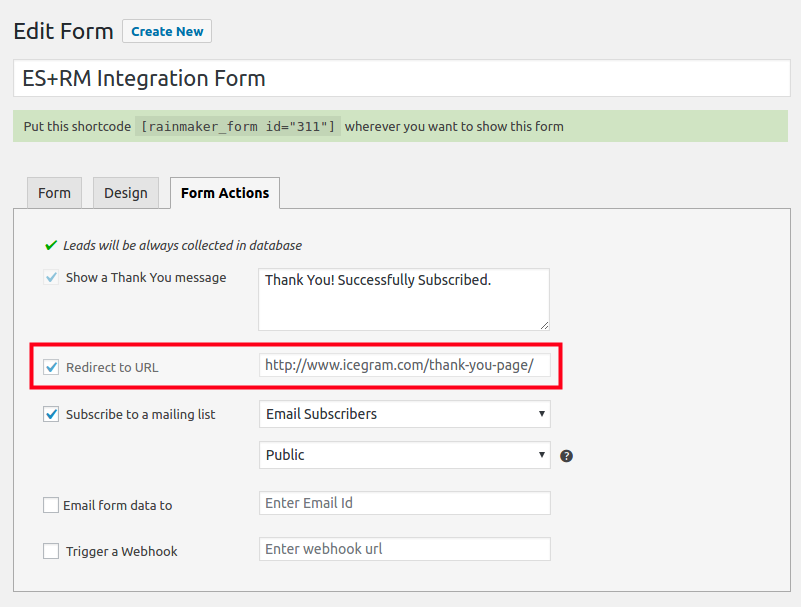 Step 5 : Save the form.
That's it. Now, your subscribers will be redirected to the url that you have mentioned after successful sign up from the subscribe form.
« Back to Email Subscribers